Victorian silver is a product and symbol of the widespread wealth that defined Great Britain during the reign of Queen Victoria, spanning from 1837 to 1901. Silverware, a perennial indicator of social status, was larger and more ornate than ever before thanks to the overwhelming progress of the industrial revolution. Because of its extreme popularity among collectors nowadays, Victorian silver commands a high price compared to other silvers. We're going to tell you about the history as well as how to get your hands on some Victorian silver for yourself.
The Victorian Era 
The Victorian Era was a truly remarkable period of great peace and prosperity for Great Britain. It was a time of innovation, discovery, and most importantly, opulence. The Industrial Revolution brought about by novel manufacturing processes spread wealth to the middle class. Silver items became highly valuable commodities, largely due to the development of electroplating in the 1840s. More affordable than ever, silver became the metal of choice for gifts and displays of wealth.
The History of Silver in the Victorian Era
People began to collect silver for not only its worth, but also for its aesthetic appeal. It was used for creating many different objects, from elegant works of art to simple, everyday items including coins, jewelry, flatware, vases, bowls, candlesticks, and much more.
The aesthetic that defines Victorian silver is characterized by an ornamental design with chased and embossed relief work. Floral and leaf patterns most commonly adorn pieces of Victorian silver. Many items feature an engraving of a family crest or coat of arms.
The Queen herself commissioned many pieces from major firms. A number of them were rewarded a Royal Warrant, a commendation and recognition for people or companies who regularly supply goods or services to Her Majesty. Of course, this tremendously increased the value of the silverworks. 
Victorian Silver Famous Pieces
Famous and marvelous Victorian silver heirlooms were built by renowned silversmiths like Paul Storr, George Jensen, William Smily and Charles Reily . Their pieces are highly sought after by collectors and are worth a great deal of money.
Here are further examples of Victorian  antiques: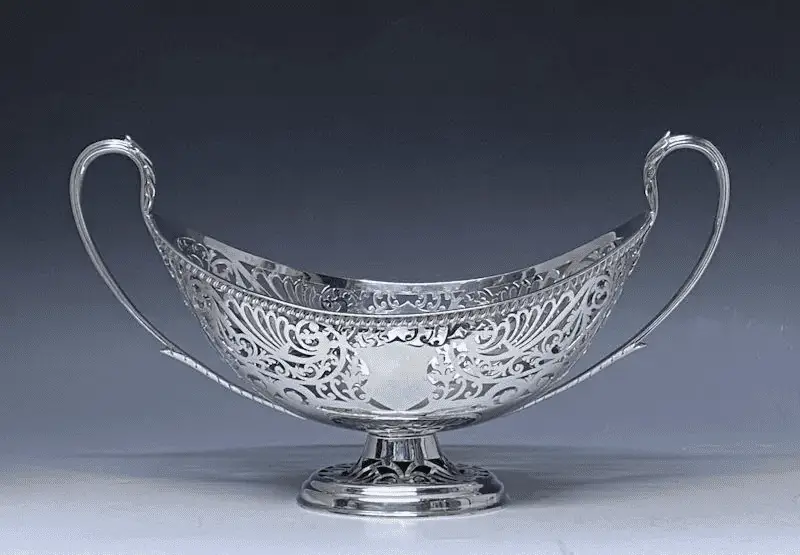 Antique Silver Victorian Basket made in 1901
Here is a typical example of a beautiful Antique Silver Victorian Basket made in 1901 that you can find at William Walter LTD. This beautiful, handcrafted basket is perfect for fruit, bread or even as a stunning centerpiece. Crafted in Victorian times in the Adam style, this basket features intricate openwork scrollwork and rests on an oval base. It is in excellent condition and would make a lovely addition to any home.
Antique Silver Victorian Jug made in 1840
Here is another example of a typical Antique Silver Victorian Jug made in 1840 that you can find at William Walter LTD. It is a beautiful early Victorian classic Greek style silver pitcher (often referred to as an oinochoe) featuring a serpent design at the top of the handle and a serpent's head at the bottom. The hand-carved decoration is beautifully fine and clear, and the inside is golden.
There are small bone spacers between the handles, suggesting it was probably used for hot milk or mulled wine. There is a jug made the same year by the same makers in the Victoria and Albert Museum of nearly identical shape but with Egyptian designs instead of classical Greek designs.
Antique Silver Victorian Teapot made in 1855
This stunning Antique Silver Victorian Teapot made in 1855 that you can find at William Walter LTD, has a body beautifully decorated with scrolls, flower and leaf decorations, and on both sides an empty scroll-shaped scroll. The lid is hinged and marked and has an impressive strawberry-shaped cast sterling silver finish. The handle is solid silver with a shaped thumb.
Collecting Victorian Silver
Victorian silver is a marvelous and timeless way to add value to your home. It's perfect for those who love antiques and history, as well as for investors looking for a solid investment. Here are reasons why collecting them is a great decision:
1) It's valuable. Because of their age and scarcity, they are worth a lot of money, generating a great investment for those who are looking to make money from their collection.
2) It's elegant. Unlike modern pieces which often look mass-produced and impersonal, it has a unique charm coming from its handmade origins. Each one is truly one-of-a-kind, and its beauty will add an elegant touch to any home.
3) It has a rich history. Each antique has a story to tell. Collectors enjoy learning about the history of their item and the people who owned it before.
4) It's timeless. Unlike other collectibles which go out of style, this metal will always be in demand, making it a great choice for those who want to pass their collection down to future generations.
When starting your collection, there are a few things to understand. Let's explore them step by step below:
Familiarize yourself with the different varieties
Not all silver is equal. Victorian silver pieces will have a different composition based on the alloy that was used to create it. You've probably heard of sterling silver, which is an alloy containing 92.5% pure silver and 7.5% from diverse metals, usually copper.
Other silver types used at this time include
Britannia Silver: An alloy containing 95.8% pure silver and 4.2% other metals, usually copper.
Old Sheffield Plate: A method of creating sterling silver by fusing a pure silver layer to a base metal, usually copper.
Electroplated Silver: A process where a thin silver layer is deposited onto a base metal using an electrical current.
Each of these varieties has a different technique with which it was crafted and carries a different value. Be sure to know what you're buying when you start your collection.
Pay close attention to piece condition
When considering a piece of Victorian silver, observe its condition in great detail. While minor wear and tear is to be expected with antiques, significant damage can decrease its price.
Here are things you ought to look out for when assessing the condition of any piece of Victorian silver
Dents or scratches in the metal
Missing or damaged stones
Repairs signs or restoration
If you're unsure of the condition of a particular item, consult with an expert before you purchase.
Recognize the value before purchasing
Nobody likes overpaying. Before buying any antiques, it's a good idea to be aware of all the factors that go into the cost to make sure you're getting a fair deal.
The cost is determined by several factors, including
Type of silver
Age
Condition
Rarity
Provenance (where it came from)
It's always a reasonable idea to consult with an expert and get a professional quote before making any big purchase, especially if there is any uncertainty. If you're wondering what your silver is worth, and where you can sell your silver at a good price, be sure to check out our in-depth article How Much Is Antique Silver Worth?
How to Care for Your Victorian Silver
After you start collecting Victorian silver, don't be negligent and let it rust. With just a few simple practices, you can make sure your collection lasts for generations to come. 
Here are a few tips on how to care for Victorian silver:
Store it in a cool, dry place
When you're not displaying your antiques, store them in a cool, dry place. This will help prevent the silver from tarnishing and keep it looking its best.
The ideal storage environment is a cool, dark closet or drawer. The most important thing is that you protect it from the light, which will discolor and devalue the silver.
Wrap it in acid-free tissue paper or cloth bags
When storing your silver for an extended period of time, wrap each piece in acid-free tissue paper or cloth bags to help prevent it from tarnishing and keep it looking its best.
Polish it regularly
For optimal shine, clean your silver jewelry frequently with a commercial polish or by mixing dish soap and water in equal parts.
Be sure to follow the instructions on the polish you're using. Once you've finished it, rinse it thoroughly and dry it using a soft, lint-free cloth.
Avoid using harsh chemicals 
When you're cleaning your collection, avoid using harsh chemicals such as bleach, which can damage the silver and cause it to tarnish quicker.
If you need to remove stubborn dirt or stains from it, use a soft toothbrush and mild dish soap to gently scrub the affected area. After cleaning it, rinse it thoroughly and dry it with a soft, lint-free cloth.
Conclusion
Collecting Victorian silver is a rewarding and enjoyable hobby. These beautiful antiques will turn into enduring heirlooms with just a little bit of knowledge and attention. By following the tips outlined above, you'll be well on your way to building a collection that will last for generations to come.