Bargain hunters, antiques dealers, collectors and other vintage enthusiasts regularly haunt Brussels' flea markets, like gold diggers. From the Place du Jeu de Balle, to Sablon through Auderghem, all seams are good in order to dig up a "golden nugget" at the flea market!
Brussels ranks as one of Europe's best capital city for flea market shopping. And to the trained eye, its streets on flea market days are literally filled with treasures. So sharpen your haggling technique, put on your raincoat and get your search for bargains started!
Place du Jeu de Balle
Often called the Old Market or "Vieux Marché" in French, the Place du Jeu de Balle flea market is known throughout the world. Not only is it the place where the famous Tintin bought a model of the tall ship "La Lincorne" in Hergé's The Secret of the Unicorn (1943), but also a true paradise for antiques and vintage hunters.
If you want to make beautiful discoveries directly from professional antique dealers, this is the place for you! Embark on a treasure hunt among archaeological treasures and memories of past centuries. A journey to the heart of time, that mingles diverse cultures and languages. Don't forget to get up early to catch the worm! Open daily from 6 a.m. to 2 p.m. (3 p.m. on Sunday). Read our full review of the Place du Jeu de Balle flea market.
When: Monday to Saturday from 6 a.m. to 2 p.m. / Sunday from 6 a.m. to 3 p.m.
Where: Place du Jeu de Balle, Brussels (in the vicinity of Rue Blaes and Rue Haute)
How to get there: Bus 27, 48 (Chapelle, Jeu de Balle) / Tramway 52, 55, 56, 81 (Anneessens, Lemonnier) / Metro 2,6 (Louise, Gare du Midi, Porte de Hall)
Web: marcheauxpuces.be
Le Sablon (Marché des Antiquaires du Sablon)
A true Aladdin's cave for antiques enthusiasts, the Sablon flea market opens every weekend (Saturday 9 a.m. – 5 p.m., Sunday 9 a.m. – 2 p.m.) to satisfy one's crave for vintage decoration. Prices are relatively high, but remain reasonable when compared to Parisian flea markets like Saint Ouen-Porte de Clignancourt or Vanves.
Each weekend, the Sablon flea market drains an incredible amount of tourists and collectors, eager to rummage through luxury furniture, silverware or artwork thoughtfully showcased on the many flea market stalls. All in all, the Sablon flea market offers a wide selection of trinkets to satisfy the many.
When: Saturday from 9 a.m. to 5 p.m. / Sunday from 9 a.m. to 2 p.m.
Where: Place du Grand Sablon, Brussels
How to get there: Metro line 2 (station Place Louise) / Tramway line 92, 93, 94 (Régence – Sablon) / Bus line 20, 21
Web: sablon-antiques-market.com
The Westland Flea Market
For over 27 years, the Westland Shopping in Anderlecht has been gathering every Sunday between 350 and 400 second-hand dealers, and around 10,000 visitors.
Come rain, wind or snow, merchants are always there, waiting for potential buyers looking for second-hand appliances and clothing, jewelry, crockery, knick-knack, car spare parts, etc. And if the idea of a chilly day deters you from going flea market hunting, fret not: the flea market is partly located in a covered area, and hosts a snack bar where you can eat and drink something warm (or ice cold, depending on the season).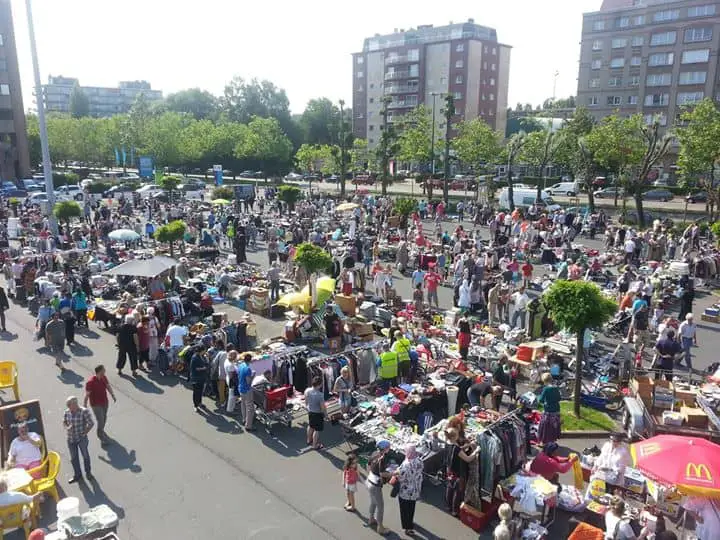 When: Every Sunday from 7 a.m. to 1 p.m.
Where: Westland Shopping Center, Boulevard Sylvain Dupuis 433, 1070 Anderlecht – Brussels
How to get there: by bus (STIB: 46, 75, 89 / DE LIJN : 116, 117, 118, 571, 572 et 810) or by subway (nearest metro station: Saint-Guidon).
Web: brocantewestland.be
Auderghem Flea Markets
Auderghem is famous for flea markets. The two most renown are la Grande Brocante d'Hermann-Debroux (the great Hermann-Debroux flea market), which is held every last Sunday of the month (from 7 a.m. to 1 p.m.) and la brocante du parking du Carrefour d'Auderghem (Auderghem junction flea market) that takes place on the third Sunday of the month (from 7 a.m. to 1 p.m.).
These flea markets welcome visitors in a pleasant and relax atmosphere, which makes them particularly friendly to a younger and older audience.
Smaller flea markets also await visitors on the first Sunday of the month on the Place Pinoy, and on the second Sunday of the month on the boulevard du Souverain.
When & where: 1st Sunday of the month on the Place Pinoy / 2nd Sunday of the month on Boulevard du Souverain / 3rd Sunday of the month on the parking of the Carrefour supermarket / 4th Sunday of the month under the Herrmann-Debroux Viaduct
Web: auderghem.be
The Flea Market at Place Saint-Denis
Every Sunday, the tiny flea market hosted on the Place St Denis (Forest District) reveals its treasures. From knick-knack, junk, old appliances and second hand furniture, the flea market on the Place St Denis (St Denis Square), is the place to try your latest haggling techniques.
Private sellers regularly gather on the square to get rid off their old stuff, which often turns out to be little wonders, only the most resourceful buyers will be able to get at unbeatable prices.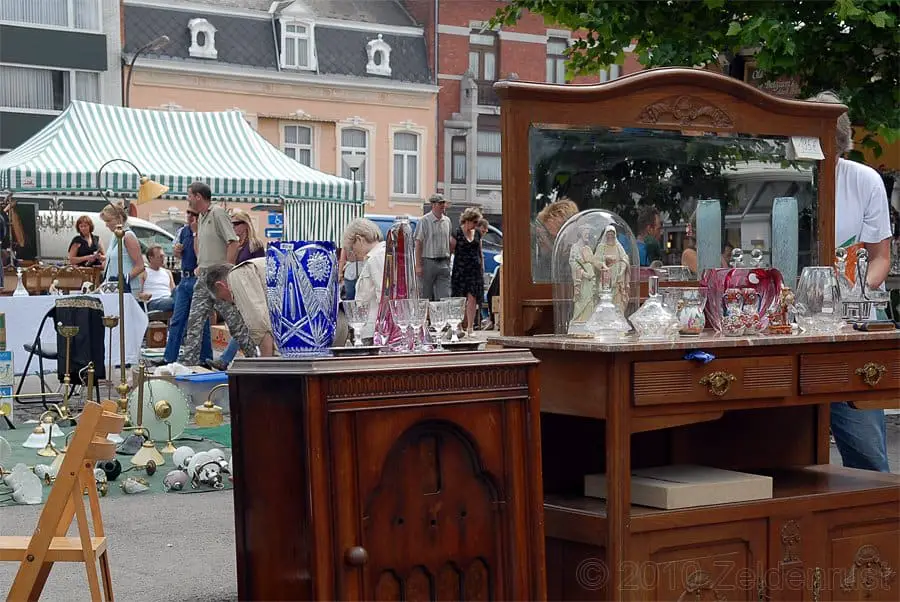 When: Every Sunday from 6 a.m. to 1 p.m.
Where: Place Saint-Denis, Forest (Brussels)
You will have understood it by now: when in Brussels, keep your eyes wide open, as flea markets are held regularly around every corners of the capital city.
Just take the time to make a quick stop on flea market online listings like quefaire.be or brocante.be that keep an up to date schedule of upcoming flea markets in Brussels and its region, and you're good to go! Time to roll up your sleeves and conquer Brussels' flea markets!
---
Dandelion : Our favorite vintage design shop in Brussels
Located in Saint Gilles, precisely one mile away from the madness of the Rue Haute and Rue Blaes (famous for their antique shops and their pretty hefty prices…), Dandelion is without a doubt one of Brussels' best guarded secret.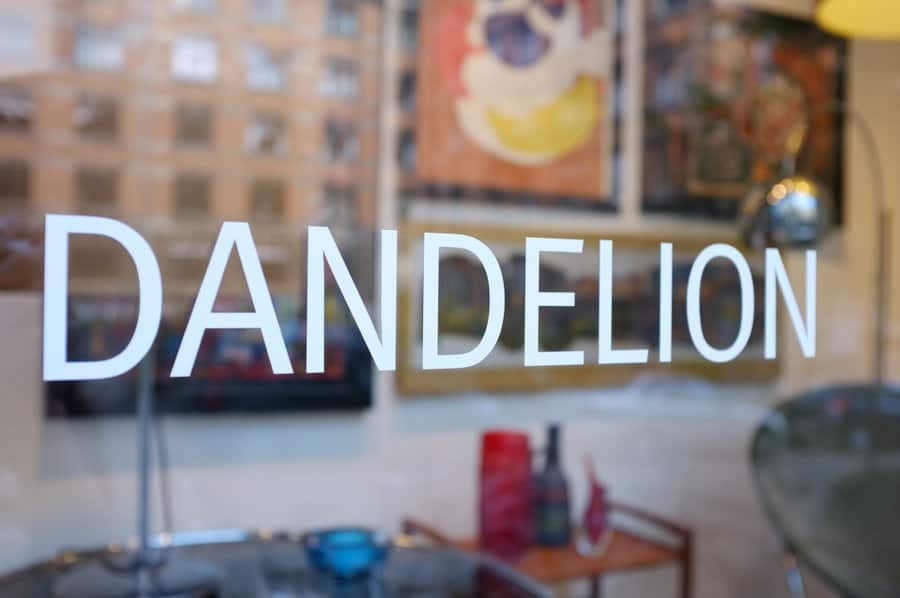 Launched back in 2014, this amazing little vintage shop is the brainchild of Kim & Madeleine, two antique dealers passionate about Mid Century Modern furniture and design. When we use the word "passionate", we truly mean it: not only do they skim Belgium on a regular basis for vintage treasures to add to their own collection and replenish the shop, but they also make sure to strictly supervise the renovating process of any item that needs a bit of tender loving care.
If this was not enough to convince you yet to pay them a visit, maybe this will: besides selling top notch products you won't find anywhere else at this price, they're not making fat profits on what they sell. To the contrary: everything is ridiculously low priced. It is so affordable, that antique dealers from Brussels shop there on a regular basis.
Kim & Madeleine are actually the first antique dealers I met, who seem to be doing this job more for the fun of it than anything else. They truly love what they do, and are outstandingly knowledgeable about it. But for them, money is not an end in itself; it is more of a utility that fuels their quest to grow their beautiful collection of Mid Century Modern objects, for the pleasure of customers like us.
I've tried a few times to convince Kim & Madeleine to raise their prices, but it proved useless. As a matter of facts, Kim seems truly happy with the way it currently works: "Selling affordable vintage furniture & decor is a way for us to democratize design. Also, it's great for our inventory turnover! We're happy, clients are happy, every one is happy".
Socialism in design. We love the idea.
Dandelion, 187 rue de la Victoire – 1060 Brussels (Saint-Gilles), Belgium – tel: +32 (0) 497 220 820
Thursday, Friday, Saturday from 11 a.m. to 6:30 p.m. (and on appointment)
Furniture, lighting, ceramics, drawings, paintings, and highly desirable decor objects.
Follow them on Facebook: https://www.facebook.com/dandelionvintagedesign