In Bangkok, the vintage craze has never been going so well. Over the past couple of years, vast second-hand shops and flea markets have been popping-up around the capital city, and even high-rent shops are now filled with 1950s and '60s furniture, tin toys, antique telephones and old designer frocks.
While the flea market scene in Tokyo is often pointed by Thais as an influence, in many ways the vintage scene in Bangkok is now more vibrant than it is in the country of the rising sun. In Bangkok, an eclectic mix of flea market enthusiasts, entrepreneurs, vintage lovers and collectors, have undertaken to buying everything vintage, retro and pre-loved, shopping everywhere from local antiques shops and night flea markets, to online stores.
Today, the heart of Bangkok's vintage scene is without a doubt The Train Market, also known as "Talad Rot Fai" in Thai. Set in a former railway station of the city near the world famous Chatuchak Weekend Market, Talad Rot Fai operates every weekend from 2:00 p.m. until late at night.
The idea of Talad Rot Fai was born in the mind of two Thais: Thanayut also locally known as "Troy" and Khun Phirot, rented back in 2011 an abandoned warehouse in the train station, to sell their antiques. They also opened a coffee bar, Rod's, which is still located at the entrance of the flea market. Gradually, Thanayut and Khun Phirot offered other merchants to sell their antiques and knick-knack there, and the word of mouth did the rest. Talad Rot Fai quickly became a trendy meeting place for hipsters and flea market enthusiasts in Bangkok.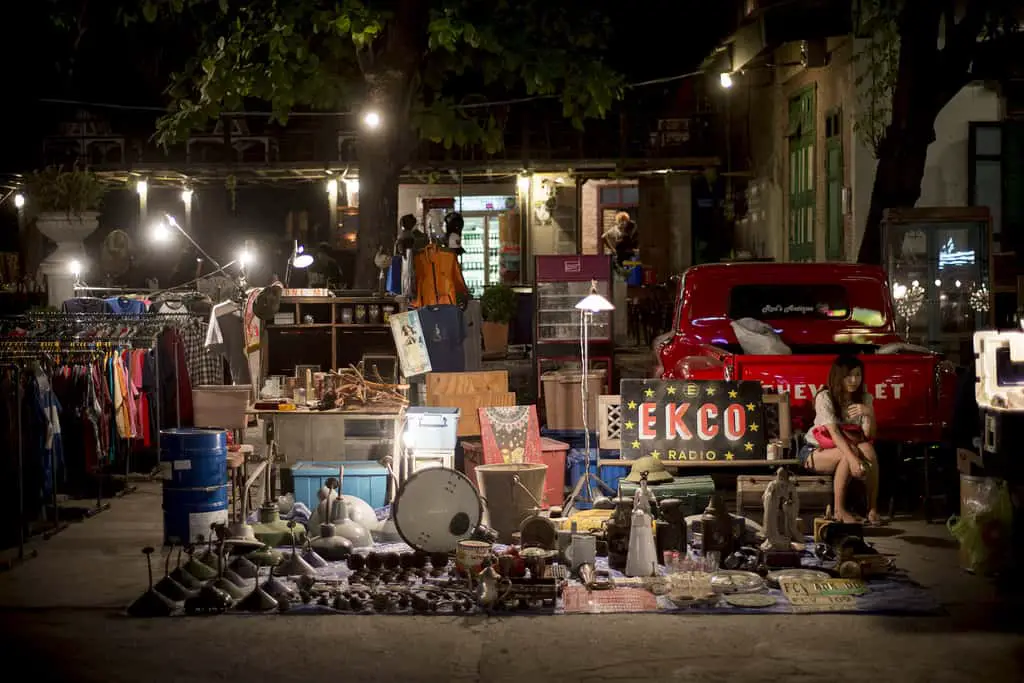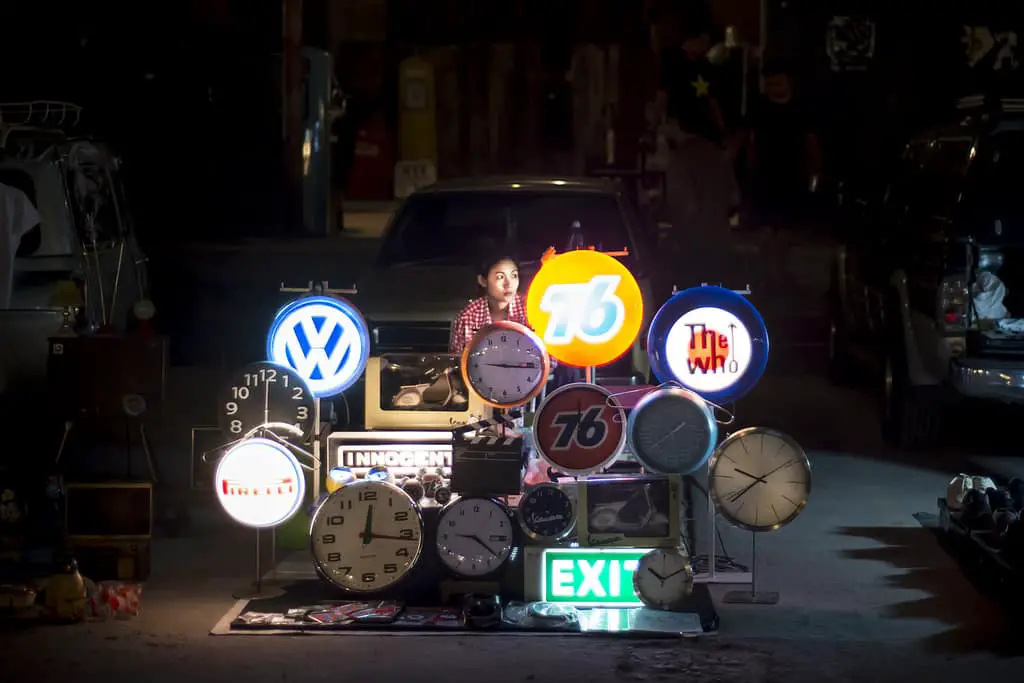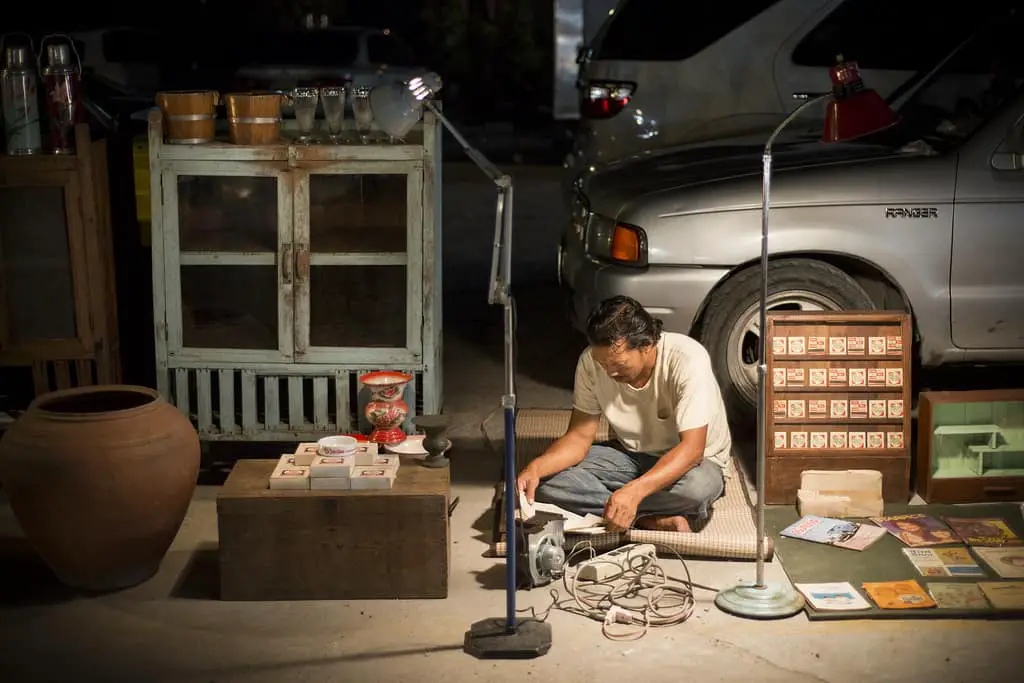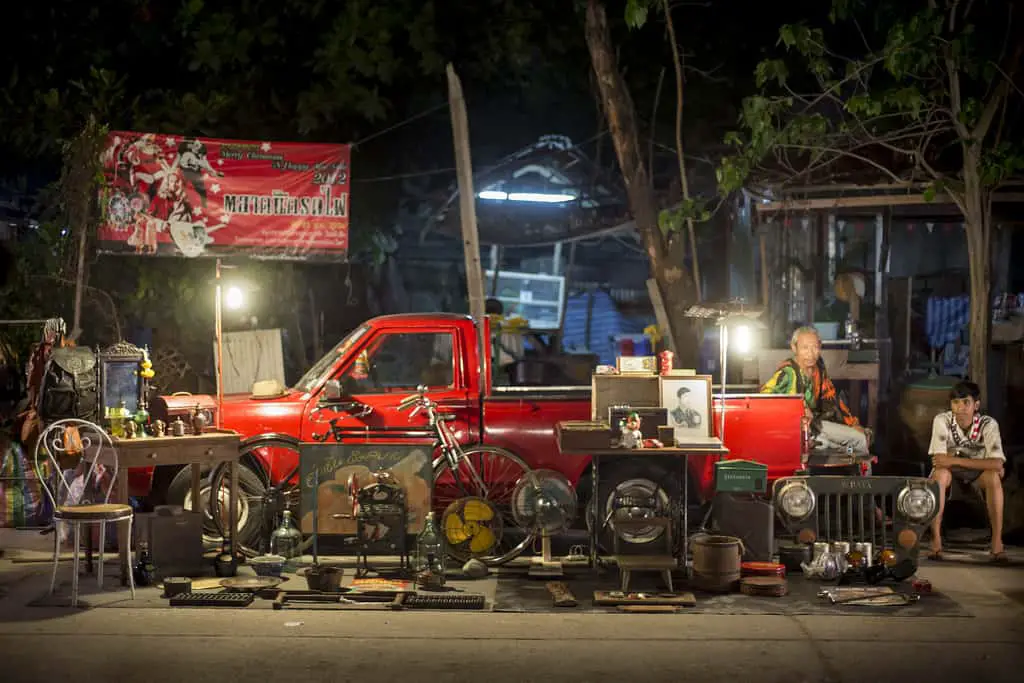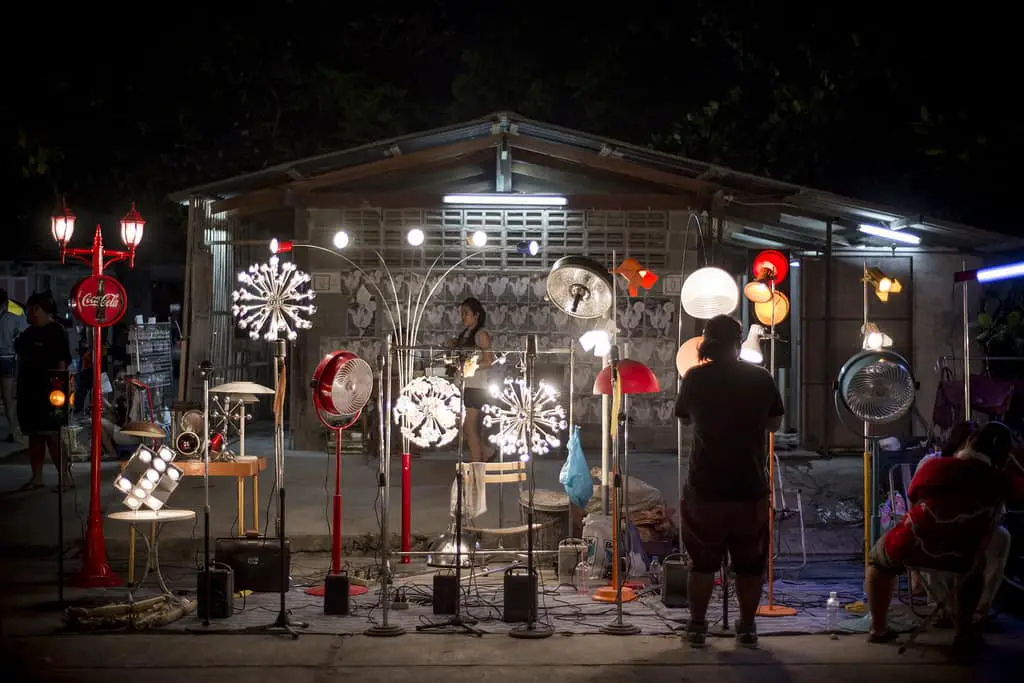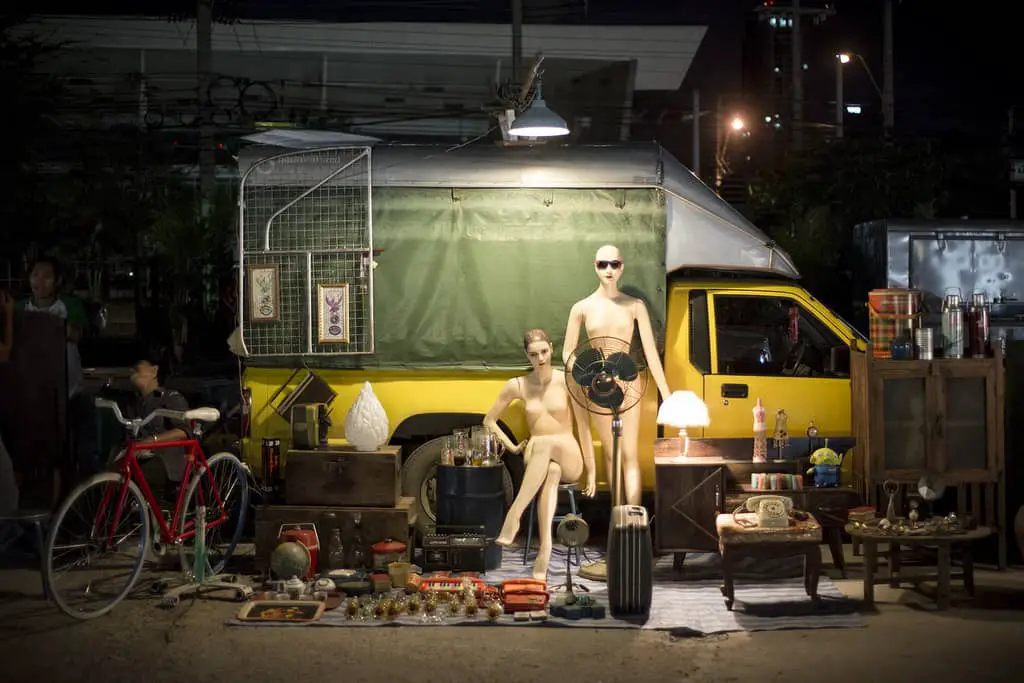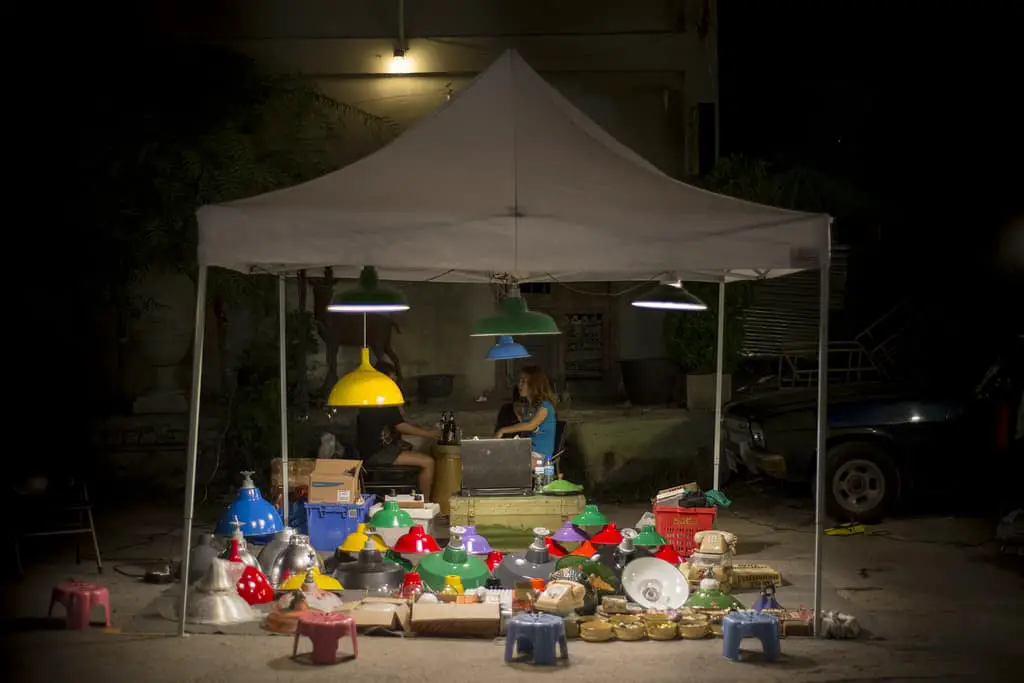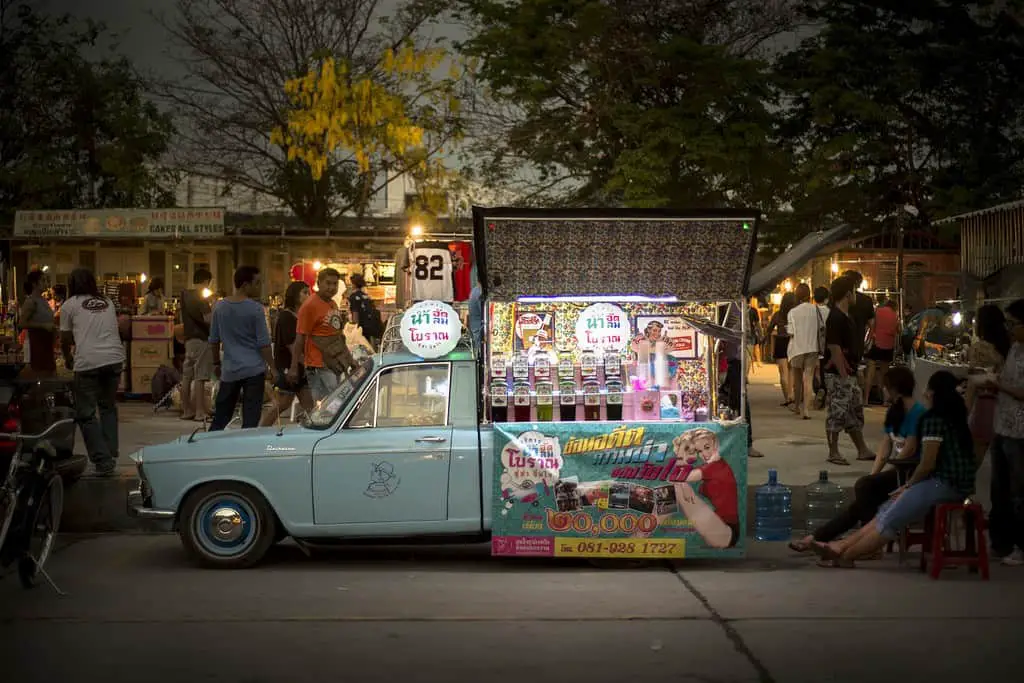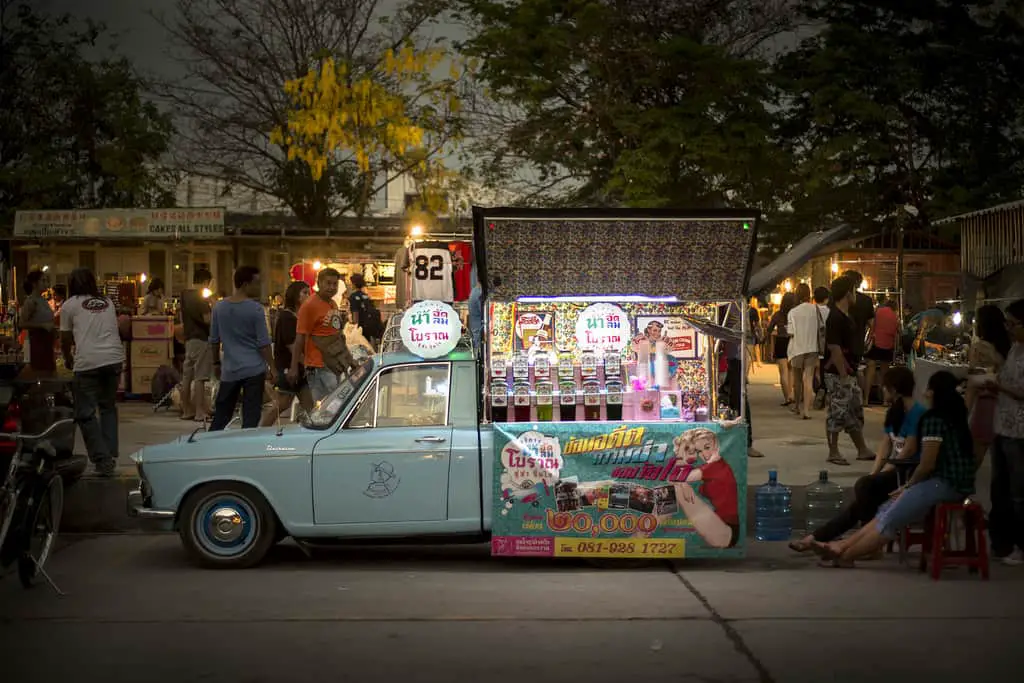 Nowadays, Talad Rot Fai is a genuine flea market festival in its own, with a unique atmosphere: crammed with antique shops and thrift booths selling a variety of stuff ranging from genuine antiques (vintage furniture, phonographs, old TV from the 1960s) to kitschy tat (old records from the 1970s, Matchbox cars, vintage cameras in varying states of repair and candy-coloured bakelite radios), Talad Rot Fai offers a one of a kind opportunity to discover the hipster & underground Thai culture.
Between thrift stores, Tattoo parlors, and barber shops, Talad Rot Fai also hosts classic Vespa scooters and VW Beetles exhibitions. It is also known as good a place to grab some food and a beer.
Because it is not located in a very touristy place, Talad Rot Fai is mainly frequented by Thais. And it is pleasant to walk in a place still "protected" from the onslaught of tourists. Prices are low, the atmosphere friendly, and it's easy to find real treasures.
To reach Talad Rot Fai, just go to the Chatuchnak market and ask any Taxi "Train Market" or "Talad Rot Fai". They will know where you want to go (5 minutes drive, 80 bahts/$2.5).
Where: Talad Rot Fai, Srinakarin Road Soi 51 (behind Seacon Square)
When: Every weekend from 2:00 p.m. until late at night.
How to get there: Easiest way is by taxi ($2.5 from Chatuchnak market). Alternatively, take the BTS (Skytrain) to On Nut, then take Song Thèaw N°4 or N°7 (Song Thèaw are some sort of pickup landscaped like mini bus – ticket price: 7 bahts/$0.2).
---
Ratchada Train Market: A Second Train Market on Ratchada Road
Due to its ongoing success, Talad Rot Fai is now spreading to more locations. Inaugurated back in January 2015, Ratchada Train Market is not as big as the original Train Market, but it shares the same artsy vibe, sells more retro gear and also offers tasty snacks to enjoy while strolling the flea market. Located on Ratchadaphisek Road (much closer from downtown Bangkok), within a few minutes walk from Thailand Cultural Center MRT Underground Station, Ratchada Train Market is very easy reach. It is open Thursday to Sunday from 5 p.m. to 1 a.m.