Leg shields, handlebars, rear-view mirrors and the classic Piaggio emblem on the front: Bel&Bel's Zero Scooter bears a striking resemblance with the iconic Vespa (which by the way, is the Italian translation of Wasp). But then you can't but notice that the two wheels of the scooter are not at their "usual" place (behind one another) but instead, side by side.
Zero Scooter is the latest coup of the Spanish design firm Bel&Bel, which was already famous for upcycling chassis of vintage Vespa scooters and Seat cars into furniture. And although the Zero Scooter carries in its genes and its classic look, a lot of the iconic Italian Vespas from the 1960's-1980's, it is in reality a design variant of the Segway.
Launched 15 years, the Segway PT was the first two-wheeled, self-balancing, battery-powered electric vehicle, that could be maneuvered by simply shifting the rider's center of gravity. After the initial euphoria over this revolutionary electrically driven vehicle, demand soon dried up. Today, the Segway is a punch line, a way for tour groups, warehouse workers, mall security guards, and airport maintenance staff to prevent sore feet.
Segway + Vespa = a stylish two-wheeler
Jesús and Carles Bel, two designers from Barcelona nonetheless believed self-balancing electric scooters still had a future. They decided to take things into their own hands, and give the poorly designed Segway, a little more sex appeal (and a serious new coat of paint). And why re-invent the wheel (please forgive the pun), when you can achieve greatness by using parts of a beloved and iconic vehicle?
Armed with passion, a circular saw and a love for challenge, the Bel brothers turned to original vintage Vespas frames and body parts (most of them coming from Germany) to give their new iteration, an elegant retro outfit.
The result is the Zero Scooter, a purely electrically powered vehicle that can carry a load of up to 220 lbs (100 kg) and climb slopes as steep as 20 degrees. The stylish two-wheeler is powered by two electric engines, each with 1.8 hp. This sleek and stylish Segway on steroids offers drivers a range of 15-20 miles (25-30 km) on one single battery charge at speeds of up to 12.5 mph (20 km/h) on level pavement. Each Bel & Bel Zero Scooter is custom made, and therefore available in large number of colors.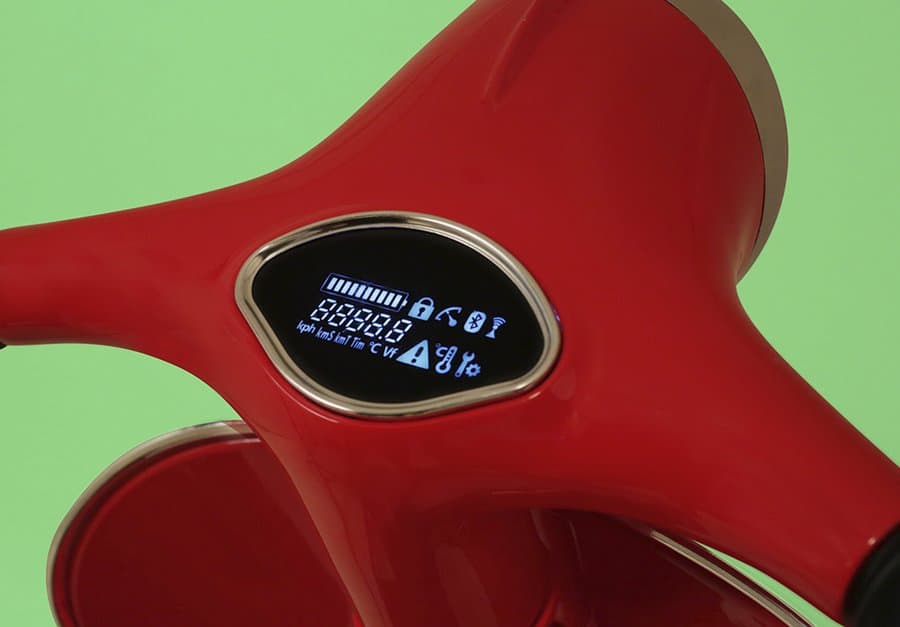 The design duo, who previously tried their hand at designing office chairs from Vespa parts, presented the Zero-Scooter at this year 4YFN Edition, the technological start-ups platform Congress promoted by the Mobile World Congress of Barcelona (22nd-24th February 2016). Back in June 2015, Bel&Bel made a pretty strong impression during the Barcelona Motor Show, and even donated one of its famous BV Chairs to the Piaggio Giovanni Alberto Agnelli Museum, in Italy.
If a Zero Scooter is on your holiday shopping list, be advised that Bel & Bel makes every scooter to order and it can take an average of six weeks to complete one – plus shipping. If time isn't of the essence, feel free to peruse the MAXIHOBBY sales site and place an order online. Zero Scooters are priced at 5.950€ ($6,645 / £4,696) a pop.
Bel&Bel Zero Scooter Specs
Price Zero Scooter: 5.950€ ($6,645 / £4,696)
Maximum speed: 12.5 mph (20 km/h)
Autonomy: 15-20 miles (25 km-30 km)
Charging time: 3-4 hours
Battery: 55V / 450Wh
Engine power: 2 * 1350W (1.8 hp)
Width: 24 inches (60 cm)
Weight: 55 lbs (25 kg)
Maximum load: 220 lbs (100 kg)
Colors: Custom
Bluetooth App for: Apple & Android
Ecological: CO2-Free technology
Certificates: CE, FCC, RoHS
Warranty: 2 years
Maximum inclination: 20°