Zippy and fuel-efficient, scooters have always been a wise choice for avoiding traffic, surging public transport prices, and expensive parking. No wonder why they'are so popular in big cities like Rome, Paris or Berlin! And while gas scooters still own a large chunk of the two-wheels market, electric scooters are getting more traction every day.
When it comes to electric scooters with a vintage look and a wow factor, the market is not short of options. In fact, a few enthusiasts around the world have embarked on a mission of reviving iconic two-wheelers: Italjet in Italy with its Ascot Vintage electric bike, Lohner in Austria with its Lohner Stroller, Vintage Electric Bikes in California with the CRUZ and the E-TRACKER, Oto Cycles in Spain with the Oto Cycles electro bike, and the design firm Bel&Bel with its Zero scooter Vespa Segway iteration.
And if none of the above designs is a strong enough statement for your taste, then you might want to turn your gaze to the Czech Republic and consider the cool Čezeta Type 506, with its distinctive torpedo shape.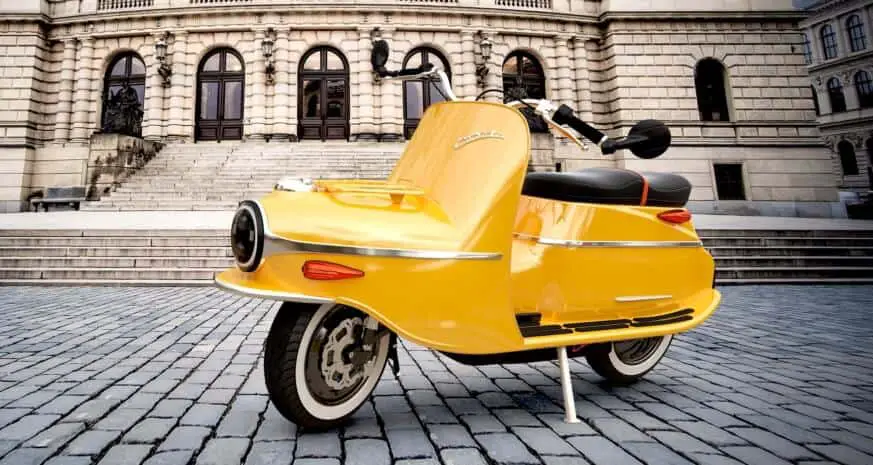 Build by Čezeta Motors between 1957 and 1964, the Čezeta was a symbol of freedom and adventure in Czechoslovakia. The original design of the Čezeta is unique amongst scooters. It is unusually long for a two-wheeled vehicle at 2 meters and has a distinctive torpedo-shaped body with full-length running boards and a long seat that lifted to reveal a substantial luggage compartment, using space that in most scooters is occupied by the fuel tank. Powered by a 175 cc two-stroke single, the Czech scooter earned a reputation for its reliability, as well as the peculiar design with the snout-looking front earning it the nickname "pig."
In 2012, work began on the development of a new Type 506 prototype in Prague by British expat Neil Eamonn Smith. And 60 years on this iconic ride has been revived in 2017 in a new hand-built electric version of the popular scooter. The Čezeta Type 506 keeps its classic looks and beautiful 1950s Space Age aesthetic, but underneath it has been fitted with a new high-tech electric motor system.
The Čezeta Type 506 is a limited edition – Only 600 Type 506 motorcycles are available in 2017 -, luxury, high-performance electric scooter based on the original 1950's design. Precision crafted and hand-built to order in the Czech Republic, the 506 is thrilling to ride yet simple to live with.
This new scooter retains the original iconic design and introduces a powerful rear 11kW hub motor powered by a large custom-made Lithium-ion pack (5kWh) to make a high-performance touring scooter capable of rapid acceleration from standstill (0-50 km/h in 3.2 secs), a top speed of 120 km/h / 75 mph (85 km/h for the 506/01) and a range of up to 150 km / 92 miles (100 km for the 506/1) on a single charge.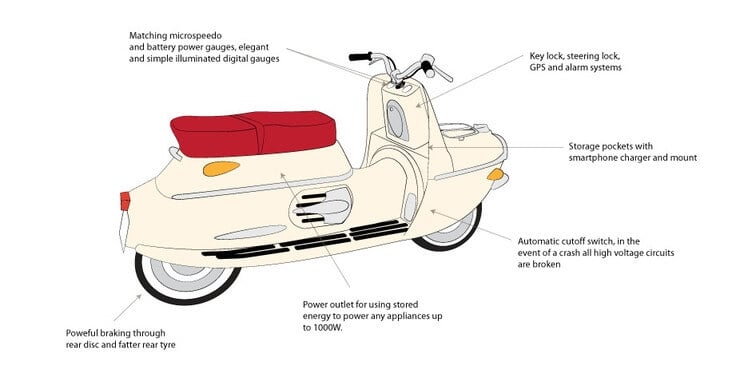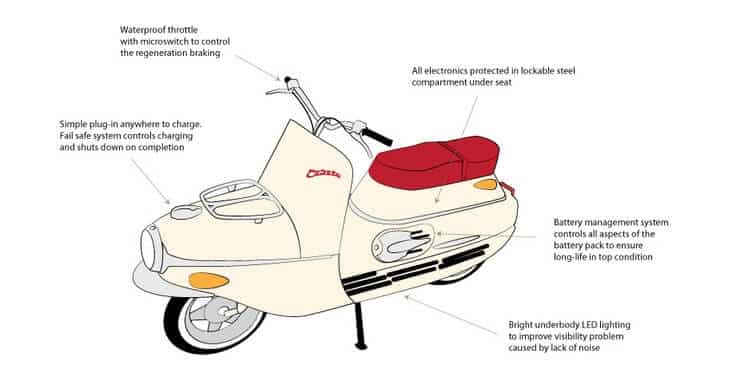 Several accessories are also available, including a solar charger, remote alarm, immobilizer and GPS security, smartphone holder and power, underbody LED safety lighting, plus many more. You can also use the included app to check the battery level, reprogram the speed and acceleration, or listen to music via the built-in bluetooth speakers.
Pre-orders for the Type 506 began in March 2016 to mark the 60th anniversary of Čezeta, with start of production in May 2017. The 506 is available in two performance versions, the 506/01 (9,600€) and the 506/02 (12,000€) and is available to purchase in 24 European countries. The full list of specifications is available here.
Čezeta Showroom
Na Příkopě 23, Prague 1, 110 00
(Pánská passage) – Office hours: Mon-Fri 10am-5pm and Sat 10am-4pm
Website: cezeta.com
Facebook: @cezetamotors.sro