Flea markets in Berlin are the place to go if you want to recreate Berlin's effortlessly cool style, based on a mix of vintage and modern pieces. Buy vintage clothing or even some statement pieces for your apartment and pick up some DDR memorabilia along the way.
For bargain hunters or those who are just happy to browse, visiting one of Berlin flea markets is a great way to spend a sunny weekend. Besides the usual stock of second-hand books, clothing, records and bric-a-brac, which you would expect to find at flea markets across the world, flea markets in Berlin are the perfect place to find rare LPs, 70s vintage lamps, Biedermeier furniture, and freshly pickled Spreewaldgurken.
No wonder Berlin's flea markets are known to be among the best flea markets in Germany.
Enjoy our guide of some of the best flea markets in Berlin:
1. Mauerpark Flea Market – Berlin, Prenzlauer Berg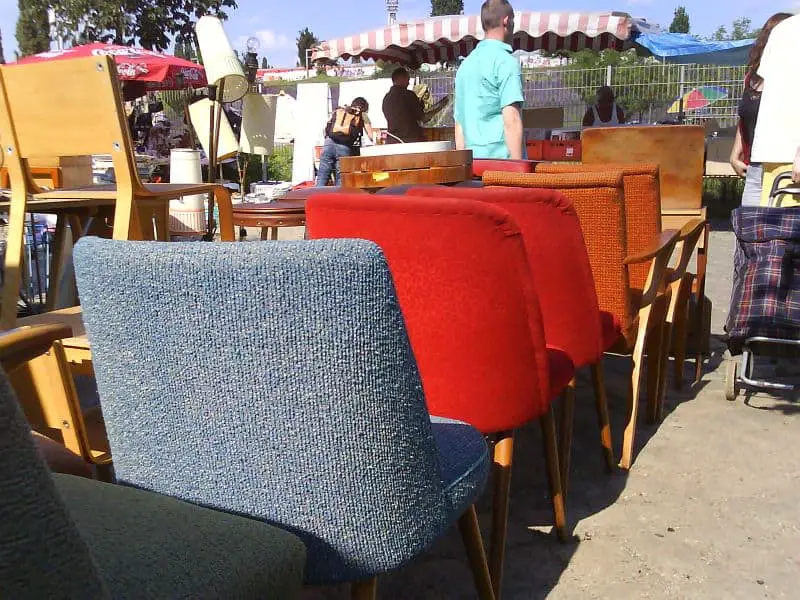 The Mauerpark Flea Market (Flohmarkt am Mauerpark) is located on the western edge of Prenzlauer Berg's Mauerpark (literally: Wall Park). The flea market stalls and offer a collection of new and vintage fashion, vinyl, CDs, DDR memorabilia and antiques, bicycles, and plenty of knick-knacks. The merchandise found at the Flea Market at Mauerpark range from professional local designer stuff to private household assortments.
This Sunday flea market in Berlin is not only popular among the city's youngsters, but also among the more international yuppies of the neighborhood. While a newcomer to the Berlin flea market scene, the Flea Market at Mauerpark has quickly become a favorite among flea market enthusiasts and tourists alike. Mauerpark Flohmarkt is open every Sunday since 2004 and has a veritable festival feel to it, thanks to live concerts and performances. Tip: To take a break from shopping, stroll down Oderbergerstrasse for a good coffee or brunch.
Where: Bernauer Strasse 63-64, 13355 Berlin – Prenzlauer Berg (U2 Eberswalderstrasse)
When: Sunday 08:00 – 18:00
Website: http://www.flohmarktimmauerpark.de/
More about Flea Market at Mauerpark on Fleamapket

2. Arkonaplatz Flea Market – Berlin, Mitte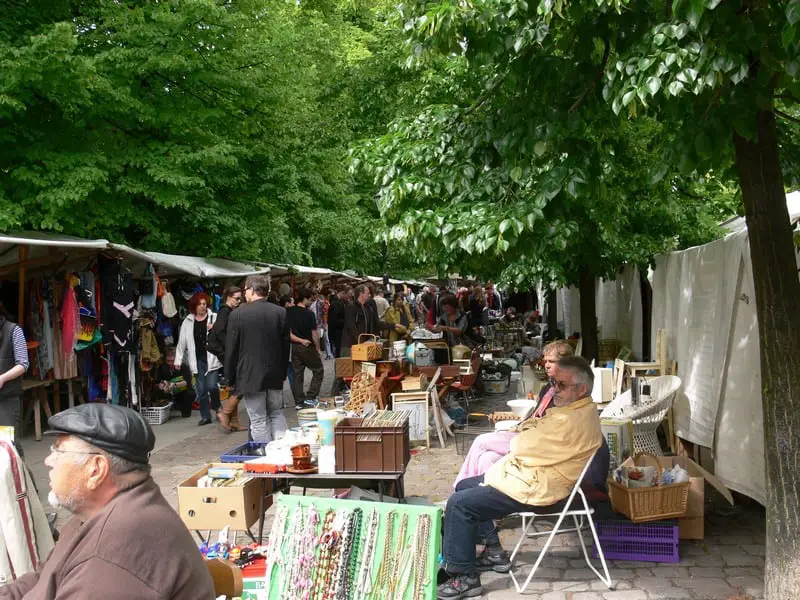 Also known as Trödelmarkt Arkonaplatz, the Flea Market at Arkonaplatz in Berlin Mitte is one of the best flea markets in Berlin and a popular venue for taking a stroll and chilling out in the park on a Sunday. Arkonaplatz Flohmarkt is a hot tip that is mentioned in several travel guides for its beautiful atmosphere and historical age.
The stalls at Arkonaplatz flea market offer a variety of goods, ranging from clothing and bric-a-brac, to vintage furniture. If you want to take a break from shopping, find yourself a sunny spot in one of the square's cafes and just sit back and enjoy your Sunday.
Where: Arkonaplatz , 10435 Berlin – Mitte (U8 Bernauer Str.)
When: Sunday 10:00 – 18:00
Website: http://www.troedelmarkt-arkonaplatz.de/
More about Flea Market at Arkonaplatz on Fleamapket

3. Trödelmarkt Straße des 17. Juni – Berlin, Charlottenburg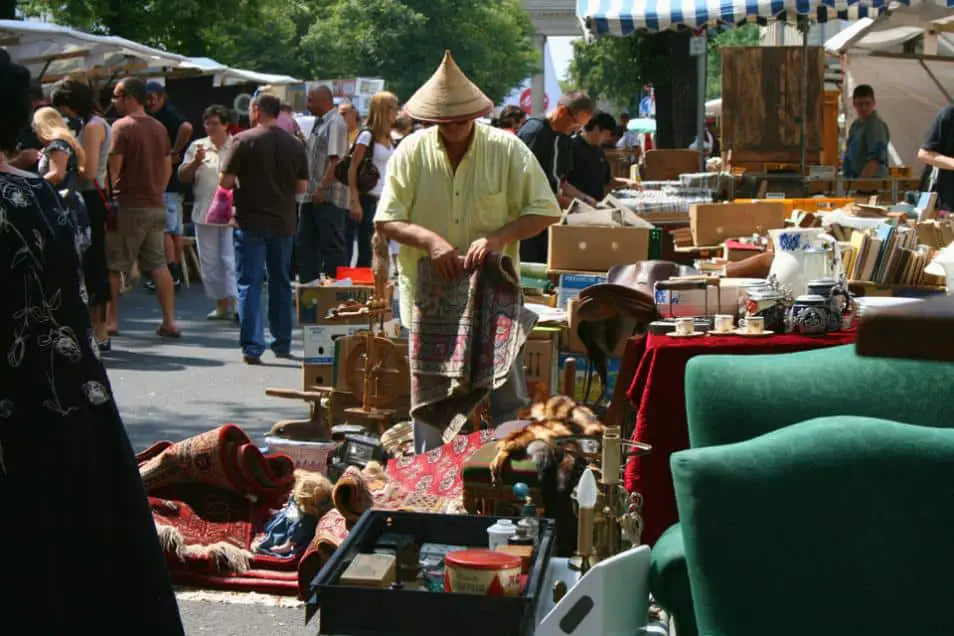 The famous Trödelmarkt Straße des 17. Juni looks back on a long tradition. Held twice a week near the S-Bahn station Tiergarten, the market is Berlin's self-proclaimed "original flea market" (Der Original Berliner Trödelmarkt). Surrounded by historic landmarks, all in the proximity of Straße des 17. Juni, the flea market is one of Berlin's biggest and most touristy flea markets. However, due to the quality and sheer size of the flea market, it is also very popular among the locals. It is indeed not uncommon to see famous personalities stroll the flea market on the weekend.
The bustling and fashionable Straße des 17. Juni flea market showcases a variety of stalls selling all sorts of junk. However, new items are prohibited and the market mainly focuses on vintage merchandise. From fancy buttons and a variety of hand-crafted items to funky second-hand clothes, jewelry, porcelain, old paintings, and LPs – almost anything can be found at this market.
Where: Straße des 17 Juni, 10623 Berlin – Tiergarten (S-Bahn Tiergarten)
When: Saturday and Sunday: 11:00 – 17:00
Website: http://www.berlinertroedelmarkt.com/
Read more about Strasse de 17. Juni Flea Market on Fleamapket

4. Fehrbelliner Platz Flea Market – Berlin, Wilmersdorf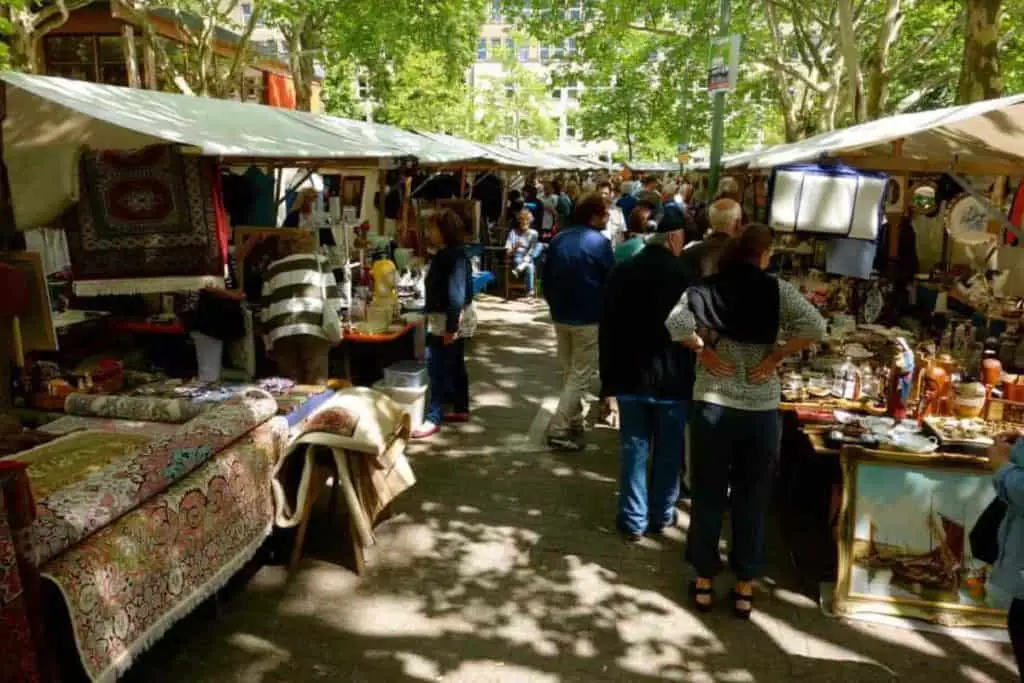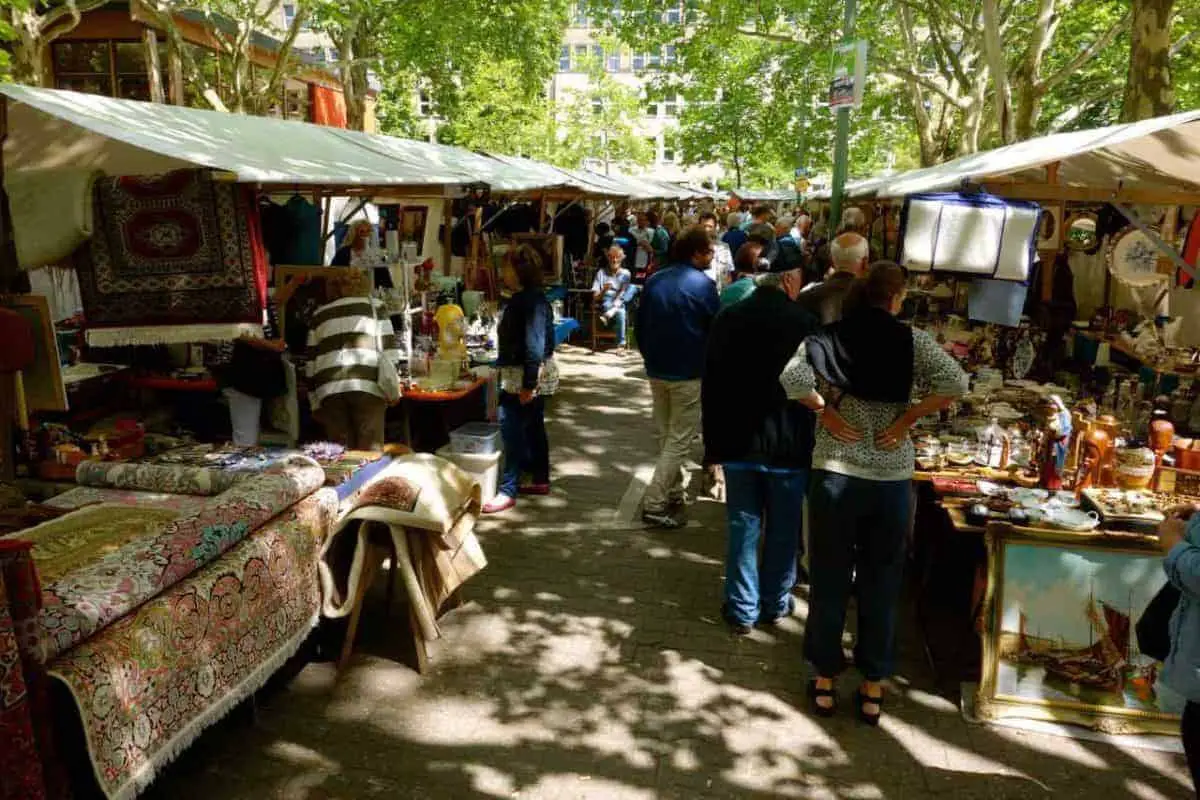 Located on the outskirts of Berlin city ring, in the Wilmersdorf district, the traditional Kunst- Und Trödelmarkt am Fehrbelliner Platz, offers a truly authentic and original flea market experience, as few other Berlin flea markets do. It is a place where art lovers and flea market fans meet, which makes it popular among long-established Ur-Berliners and tourists alike.
The Art & Flea Market at Fehrbellinerplatz mostly showcases art and antiques, but clothing, furniture, and other junk items are also sold. One strictly enforced rule is that flea market vendors must exclusively offer used products. Selling new items is prohibited, thereby a certain level of quality and authenticity is guaranteed.
The flea market am Fehrbelliner Platz is open on weekends, right next to metro station "Fehrbellinerplatz".
Where: Fehrbelliner Pl. 8, 10707 Berlin, Germany
When: Saturday and Sunday: 10:00 – 16:00
Website: http://www.fehrbi.info/
More about Fehrbellinerplatz Flea Market on Fleamapket
5. Flohmarkt am Boxhagener Platz – Berlin, Friedrichshain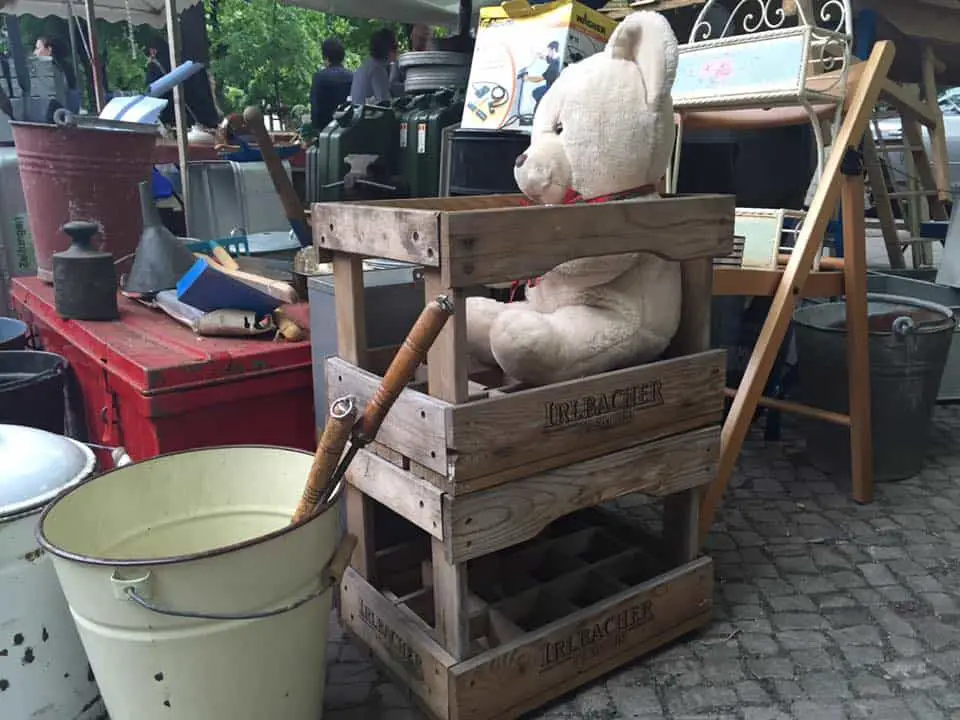 The Boxhagener Platz Flea Market is a little gem among Berlin's flea markets. Boxhagener Platz Flohmarkt hosts a few professionals from the Berlin flea market scene which gathers once a week on Sunday, alongside private vendors, selling stuff they collect or don't need anymore.
The merchandise on sale at the Boxhagener Platz Flea Market represents the changing face of Berlin-Friedrichshain. Flea market enthusiasts can expect to find older folk peddling relics of DDR suburbia alongside members of a younger generation with unwanted belongings to dispose of, to make some money on the side.
Where: Gärtnerstraße 25, 10245 Berlin – Friedrichshain (U5 Frankfurter Tor; Tram 21)
When: Sunday 10:00 – 18:00
Website: https://www.facebook.com/FlohmarktBoxhagenerPlatz/
More about Boxhagener Platz Flohmarkt on Fleamapket
6. Spandau Flea Market – Berlin, Spandau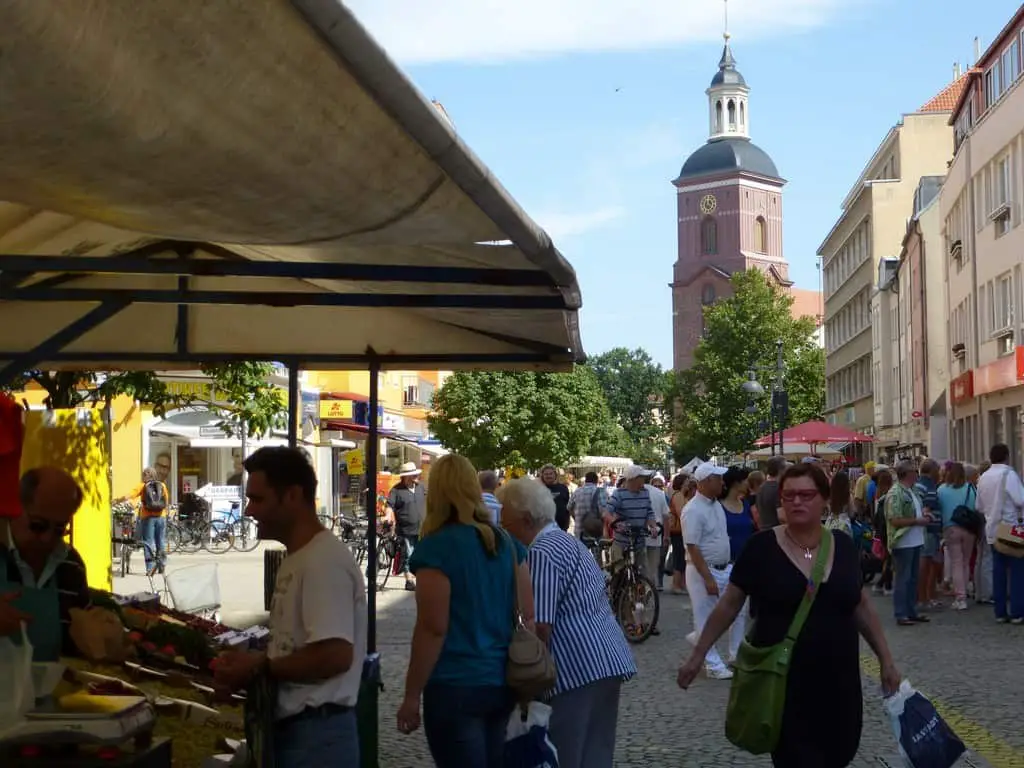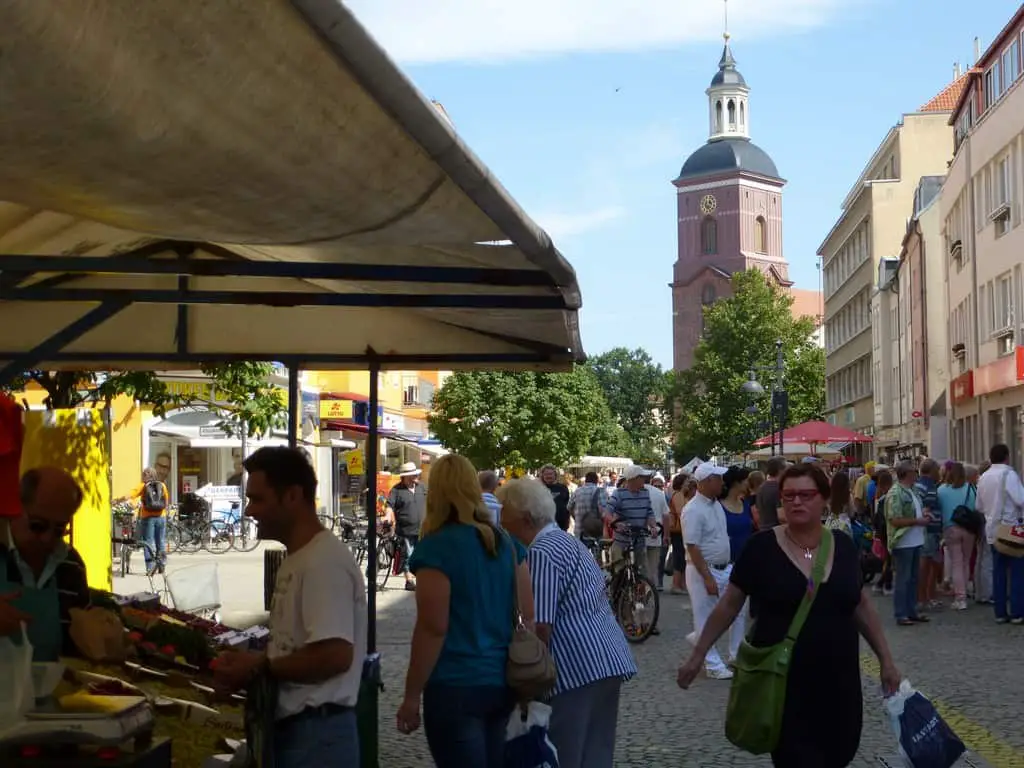 The Spandau Flea Market (or Trödelmarkt Spandau) is one of the rare flea markets in Berlin open during the week. Located at the outskirts of Berlin, the market is a great excuse to get to know less touristy areas of town. Held both indoors and outdoors, the Spandau Flea Market gathers both private and professional vendors. As a result, the merchandise found at the flea market in Spandau is eclectic: from board games and second-hand books to well-preserved antiques and vintage furniture, visitors may find anything here.
Where: Am Juliusturm, 5513599 Berlin
When: Wednesday: 14:00 – 18:00 / Saturday and Sunday: 8:00 – 16:00
Read: http://www.troedelmarkt-spandau.de/
More about Spandau Flea Market on Fleamapket
7. Kreuzboerg Flowmarkt (formerly Moritzplatz Flohmarkt) – Berlin, Kreuzberg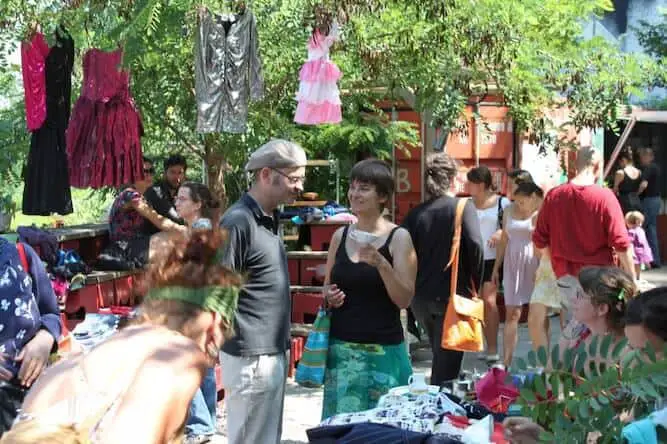 The Kreuzboerg Flowmarkt (Kreuzberg Flohmarkt) is one of the small, but authentic local flea markets in Berlin. Nonetheless, Kreuzboerg Flowmarkt is a must for people who are into vintage clothes, crafts, and unique design products. Don't expect any fancy antiques, 70s vintage, or war memorabilia. This flea market is all about attic junk, second-hand clothing, books, and vintage records. The Kreuzboerg Flowmarkt is definitely more trash than treasure (no yuppies here), but prices are low and there are bargains to be made. The Kreuzberg Flea Market takes place every two weeks from April to October at the urban gardening project Prinzessinnengärten near Moritzplatz.
Where: Prinzenstraße 35-38, 10969 Berlin (U8 Moritzplatz)
When: Every second Sunday of the month (April to October) 10:00 – 17:00
Read: https://flowmarkt.de/kreuzboerg/
Heidestraße Flea Market (Discontinued)
Held in an old railway storage, the Heidestraße Flea Market was one of the smallest indoor Berlin flea markets. Second-hand enthusiasts shopping at the Heidestraße Flea Market were early birds, as most of the traders used to pack up early . The focus of the Heidestraße Flea Market was on antiques and collectibles: furniture, porcelain, books, records and model cars.
Where: Heidestr. 10, Berlin – Tiergarten (U6 Reinickendorfer Str.)
When: Saturday and Sunday: 10:00 – 18:00
Bonus: Flea markets of Berlin on a map!
You can now visualize the best flea markets in Berlin on a map! Not only have we included all the above 7 flea markets, but we've added to the mix 4 additional collectors' antique markets like Ostbahnhof Flohmarkt and Antique and Buchmarkt at Bodemuseum. Just click on the image below to access our map feature for free.