So your eyes fell on this beautiful vintage wall clock seen at your local flea market. And you're already dreaming of seeing it hanging on your wall to give you the measure of time. Before you rush, you should know that some vintage wall clocks, like factory clocks for instance, are special kinds of wall clocks. They require a few adjustments before they can serve their purpose. But it is worth it!
Vintage wall clocks – especially large industrial wall clocks, vintage factory clocks, gymnasium clocks, train stations, or school clocks – are undoubtedly one of the most common interior design objects to be found at flea markets, antique malls, and antique stores. They are also one of the hottest statement pieces you can have in your home.
The tracking of time has always been a preoccupation of humankind, since time immemorial. It is therefore normal that even today we are still attracted by this kind of object, which is not only decorative but also very aesthetic and absolutely necessary.
And just because our wristwatches, smartphones, or the digital display of our household appliances provide us with an accurate measure of time, it doesn't mean that it doesn't make sense to have a beautiful wall clock at home! Quite the contrary!
However, before you rush to buy a beautiful (and very inexpensive!) 1950s factory vintage wall clock produced by renowned companies like Elfema, Siemens, IBM, or Carl Theo Wagner (CTW) that will make a perfect addition to your living room, you should know that these objects are not just "plug-and-play", and require a few adjustments before they can accurately tell you the time.
What are "Slave Clocks"?
Not all vintage wall clocks are created equal. Most large industrial wall clocks found at flea markets and antique stores are "Slave Clocks" (also known as Nebenuhren in German or Horloge Esclave in French) with their industrial look and their own specific mechanism. Other smaller vintage wall clocks might be equipped with a quartz movement. But they are by far as aesthetic as industrial clocks of the Slave Clock type.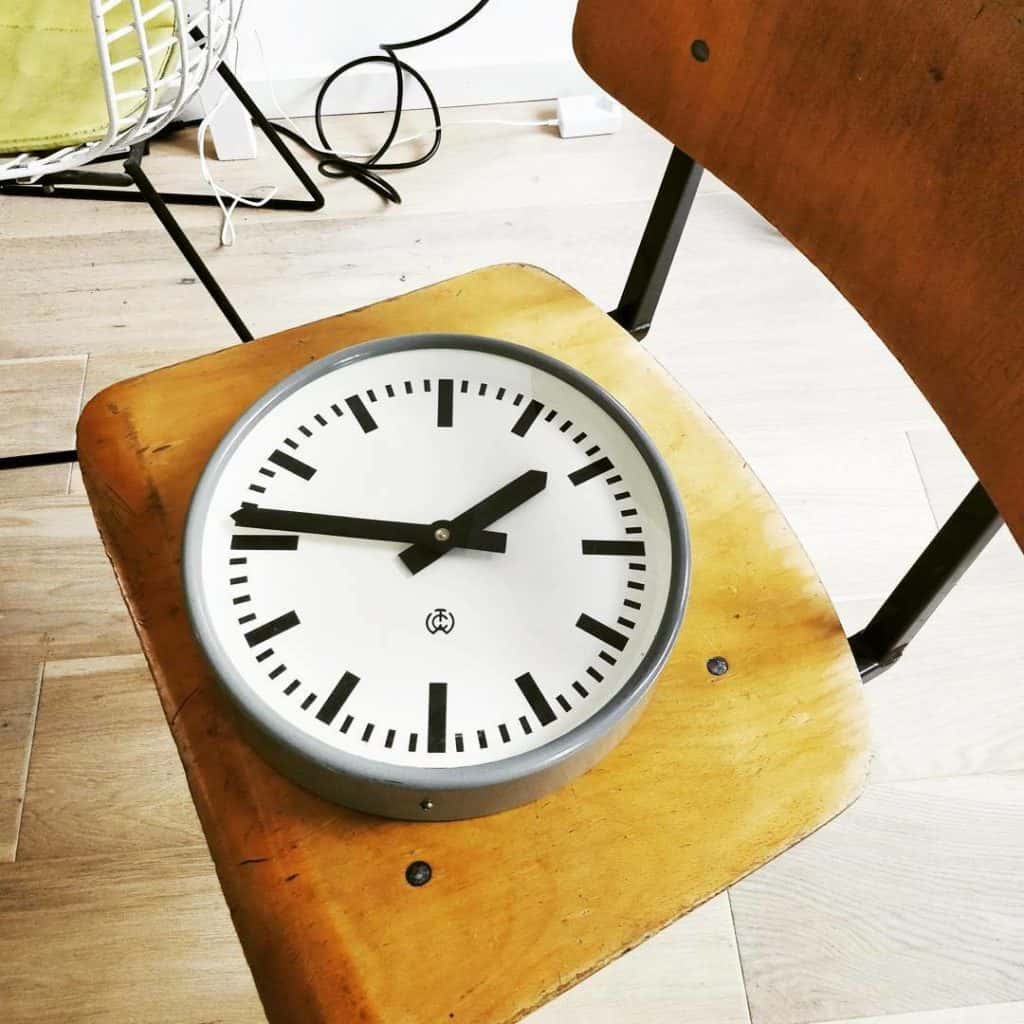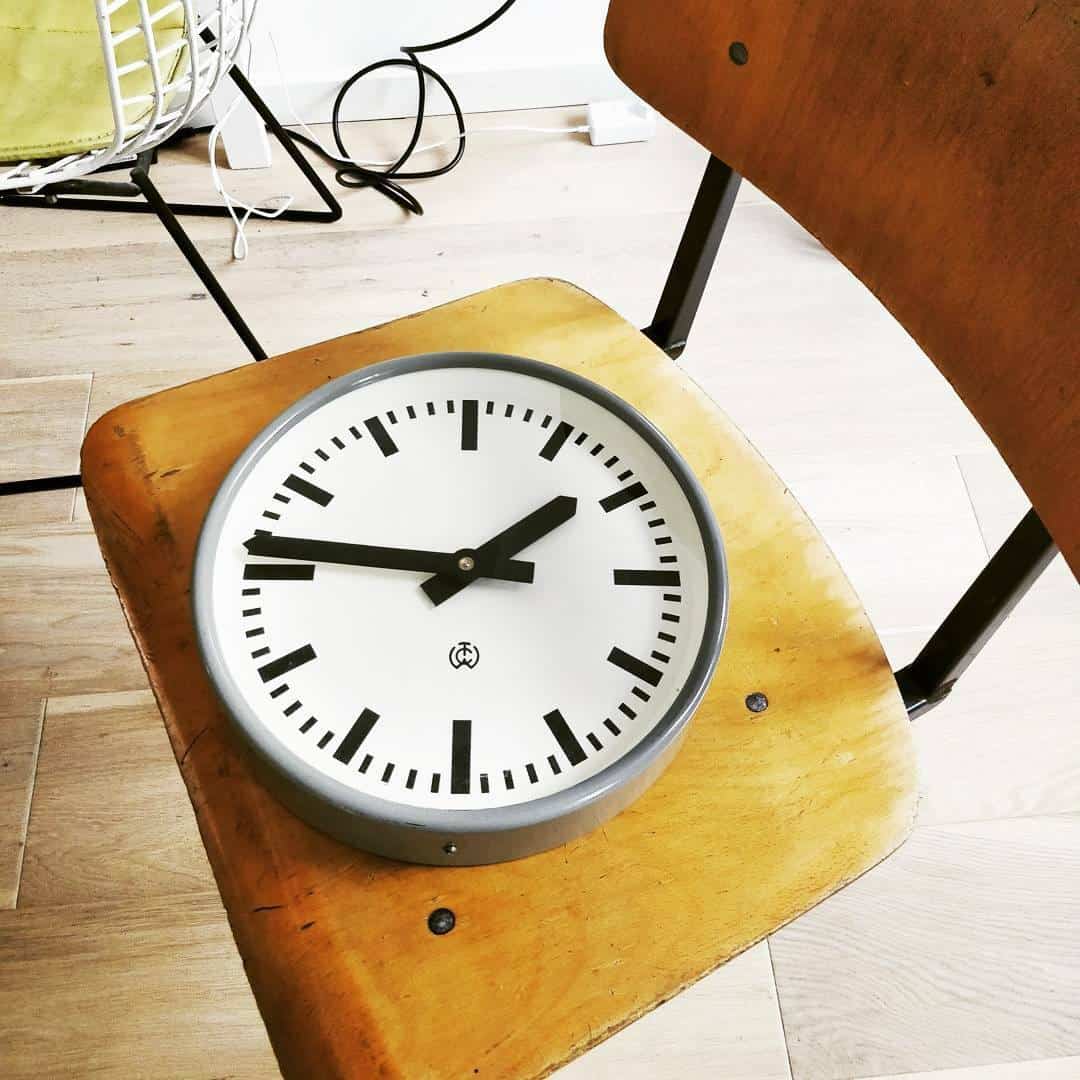 According to Wikipedia, "In telecommunication and horology, a slave clock is a clock that depends for its accuracy on another clock, a master clock". This means that in order to work, the slave clocks must not only be connected to the electrical grid but also require impulses from the master clock to advance. And without a master clock, a slave clock cannot work. Luckily there are two solutions to make a slave clock operate in the absence of a master clock.
Disclaimer: Keep in mind that in either case described in the section below you will need to make technical modifications to the vintage wall clock you have just acquired. But don't worry: these modifications are within everyone's reach. There are also specific online tutorials that can help you perform this upgrade.
Where to buy a vintage wall clock
When it comes to knowing where to buy a vintage wall clock, there are different marketplaces that offer models at various prices. The most common places to find vintage wall clocks are flea markets, vintage and antique stores, and of course online antique sites.
Finding a vintage wall clock at a flea market
Flea markets are a great place to find vintage wall clocks. This kind of decorative item has become very sought after in recent years. And junk dealers like to display them on their booths not only as decoration, but also to show that they offer a varied stock of curios. Finding a vintage wall clock at a flea market has both an advantage and a disadvantage: usually, after negotiation, it will be possible to buy it at a very attractive price – often between $60 and $100. On the other hand, there is no guarantee that it will work. So you will have to rely on your knowledge to inspect its mechanism and make sure it works. In the worst case, if the motor that drives the hands is dead, you can always replace it with a modern quartz movement for less than $10 (more about this, below).
Finding a vintage wall clock at an antique store
Antique shops, especially those specializing in vintage furniture, often have real collections of vintage wall clocks. It is not uncommon to find old school wall clocks, factory wall clocks, and train station wall clocks. There are plenty to choose from. Unlike flea markets, antique dealers charge higher prices. So it is not impossible that a vintage wall clock bought at a flea market for $100 will sell for twice that amount at an antique store. On the other hand, the advantage of buying a vintage wall clock from an antique dealer is that you can get a guarantee that it is in working condition. Or if not, you can use this argument to negotiate the price down.
Finding a vintage wall clock online
Today, it is practically possible to find everything on the Internet. And antiques are no exception. Far from it. Sites like Etsy, eBay, Ruby Lane, 1stdibs have a huge offering of antiques. And that includes antique wall clocks as well. There are of course price differences between these sites; a site like 1stdibs will offer generally rarer and more premium items than a site like Etsy. But when it comes to vintage wall clocks to decorate your wall, there's no need to break the bank either. Like flea markets, online sites offer items generally at more affordable prices than antique stores (because of online competition). And often, the vintage clocks sold on these sites come with a precise description of their working condition. So you know what you are buying.
In the end, it doesn't matter (almost) how well your vintage wall clock works, it will still be a functional and stylish item that tells you the time.
How to make a vintage wall clock work: Slave Clock Impulse Driver vs modern clock movements
The choice of one or the other system will mainly depend on what you want to do with this vintage wall clock: to bring back to life an antique and historical piece whose "heart" was already beating more than 100 years ago while ensuring its technical integrity, or to have a simple and precise tool to keep track of the passing of time. Let's look at the pros and cons of each solution.
How to make a vintage wall clock work with a Slave Clock Impulse Driver (mini Masterclock)
One of the most elegant solutions, and one that allows the integrity of the clock and its original mechanism to be preserved, is the use of a Slave Clock Impulse Driver. I would personally highly recommend this solution if your intention is not only to keep time but also to have a unique and original object in your home. Moreover, this system is an excellent conversation starter!
There's nothing technical about setting up this system, and it's within anyone's reach. There are Slave Clock Impulse Driver type EC4A available for purchase on the Internet for less than $70. A simple google search for the term "Slave Clock Impulse Driver" will direct you to various online resources and shopping sites. Here are a few examples: electric-clocks.co.uk (UK, English), nebenuhrsteuerung.de (in German – this is the website where I got my Slave Clock Impulse Driver to bring my beautiful Carl Theo Wagner wall clock back to life). Before ordering your Slave Clock Impulse Driver, make sure to reach out first to the vendor to ask him which driver your slave clock requires. Certain specificities might have to be taken into account from one clock to another.
If you prefer to build it yourself, here is a useful page that describes the building and setup process.
Basically, a Slave Clock Impulse Driver is a small circuit controlled by a crystal and micro-controller that gives either a 30-second or 60-second pulse to drive a slave clock in the absence of a Master Clock. A typical lifespan for the battery pack located in the back of the clock is around 18 months. The clock can also be powered by an external wired power supply if desired.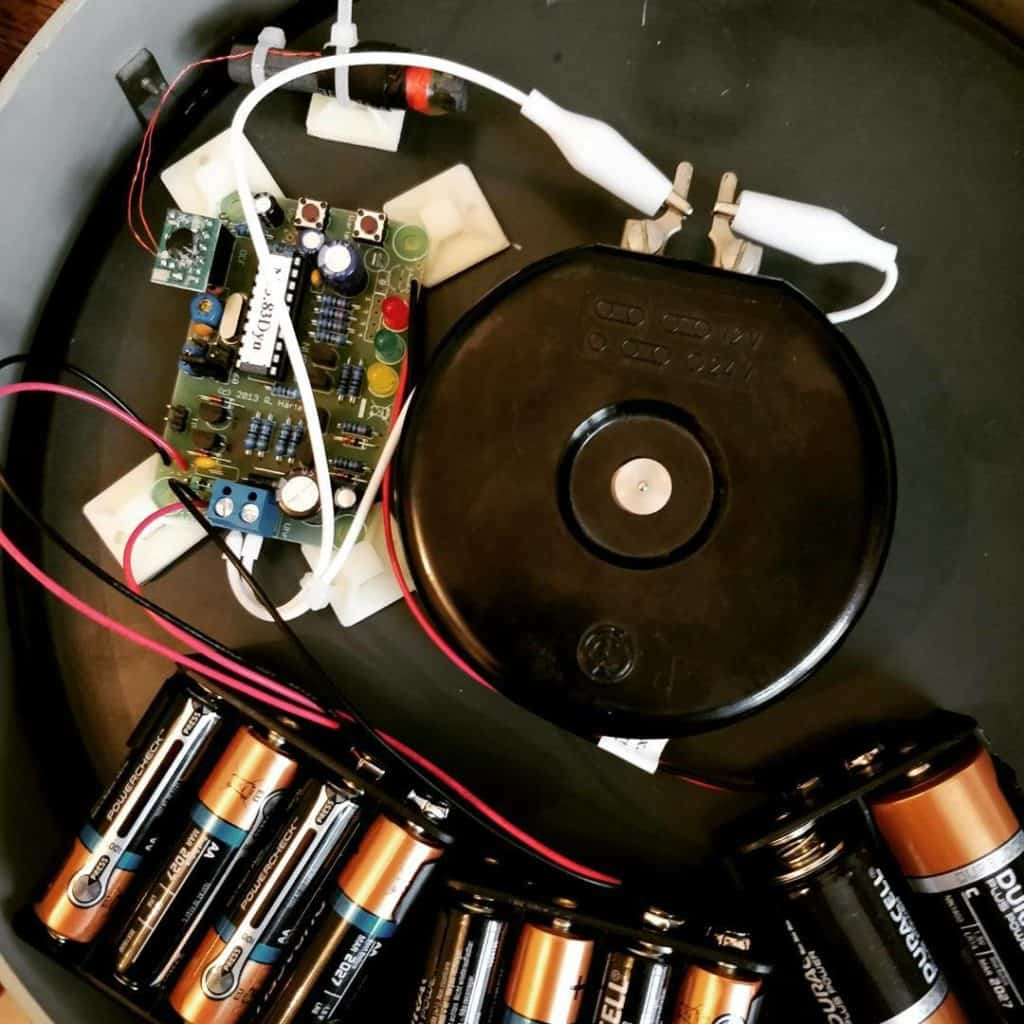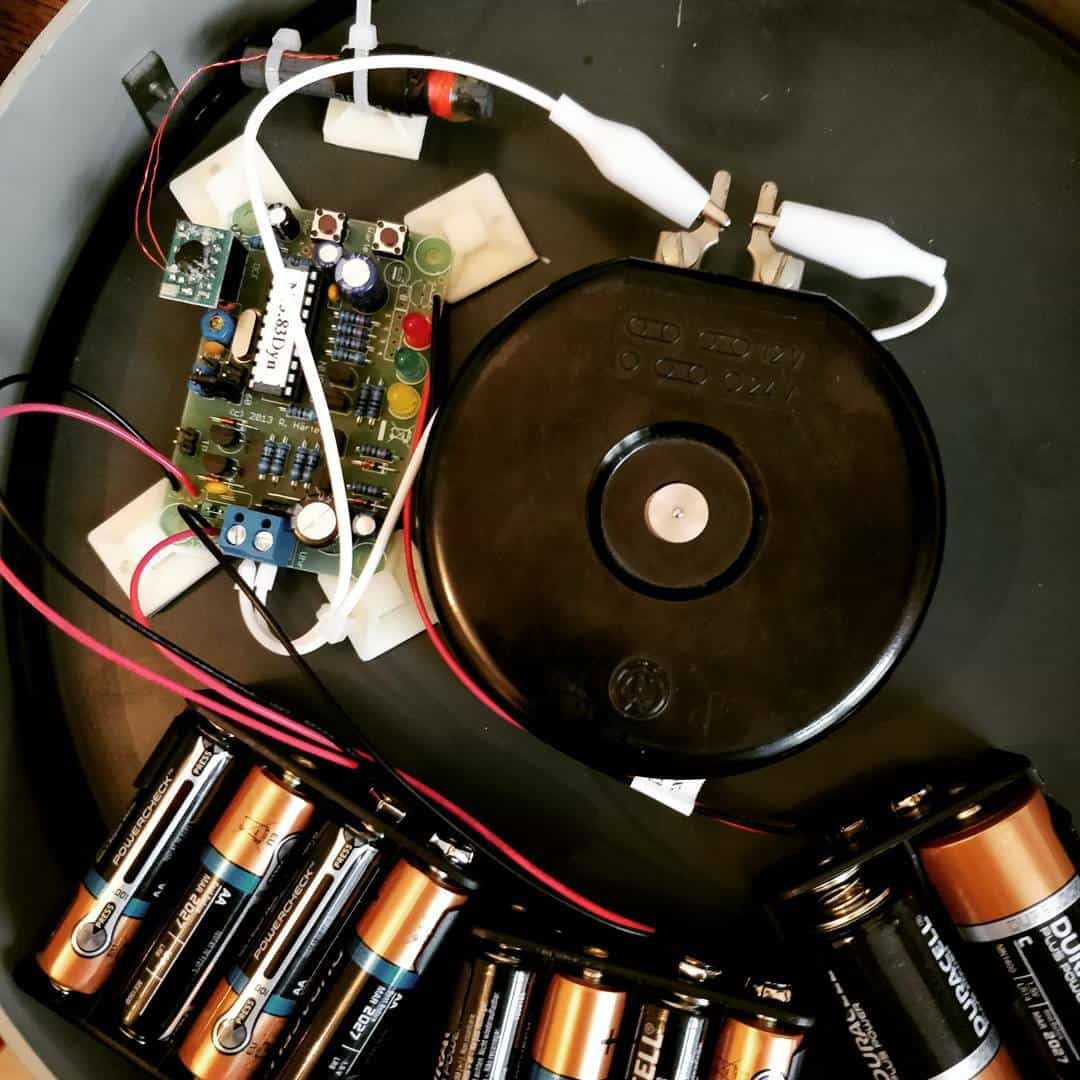 If the Slave Clock Impulse Driver is out of your budget – $70 is not a bargain for everyone-, or if you aim for simplicity and maintaining the integrity of the original clock mechanism is not so important to you, it is possible to replace the original wall clock mechanism completely and relatively easily with a modern quartz mechanism.
How to make a vintage wall clock work with a modern clock movements (quartz, radio-controlled)
This solution may be the least elegant but is undoubtedly the cheapest. A quartz movement can be found on the Internet for less than $10. Premium movements (e.g. equipped with UTS 700 DCF 77 technology) can be found for less than $40.
This section will not be as long as the previous one dedicated to Slave Clock Impulse Drivers, as replacing the original wall clock mechanism with a quartz mechanism is a relatively simple procedure. Simply dismantle the old mechanism, while paying attention to the watch hands, and replace it with the new quartz movement.
Some modern clock movements even include radio-controlled clock movement UTS 700 DCF 77 PREMIUM, which is one of the most accurate clock movement technology in the world today. UTS movements have a built-in radio receiver that monitors the DCF low-frequency time signal that is broadcast from specific places around the world, and that will adjust itself automatically to the time of the Cesium Atomic Clock which shows that exact time according to the national time standard. Basically, you never have to change to daylight savings time, as the movement does it by itself.
Conclusion
At the end of the day, the choice of one or the other solution (Slave Clock Impulse Driver vs modern quartz movement) will mostly depend on whether you are more of a purist, your budget, and the ease of use you wish to give to your industrial vintage wall clock. Remember that we remain the temporary custodians of the antiques we own and that it is our duty and pleasure to pass them on to the next generation by keeping them intact as much as possible.