A long time ago, if you owned a store to sell antiques online, it would have been considered ludicrous to compete against such a giant as eBay. If you were selling vintage online, you would have been selling your treasures at flea markets on weekends and eBay the rest of the time.
Things have changed drastically since then. Nowadays, the e-commerce business is booming and online flea markets and online antique stores are no exception. With rising demand by people looking to buy antiques and vintage online, new shops to sell vintage online (besides eBay) have opened up.
Alternatives to eBay are everything but rare nowadays. In fact, there are plenty of online antique auction sites other than eBay. But also platforms that allow to buy and sell vintage directly, similar to an online flea market. Selling vintage products online has become easier. Particularly since it is even possible nowadays to have your antique items appraised online. But choosing the right platform to sell vintage products has become more complicated.
This guide reviews five of the best marketplaces to buy antiques online which you should give consideration to before you put your vintage products for sale.
And do not forget: Nothing should prevent you from cross-listing vintage products on a number of sites; you don't have to stick exclusively to one marketplace.
1. Ruby Lane: An insider tip among vintage vendors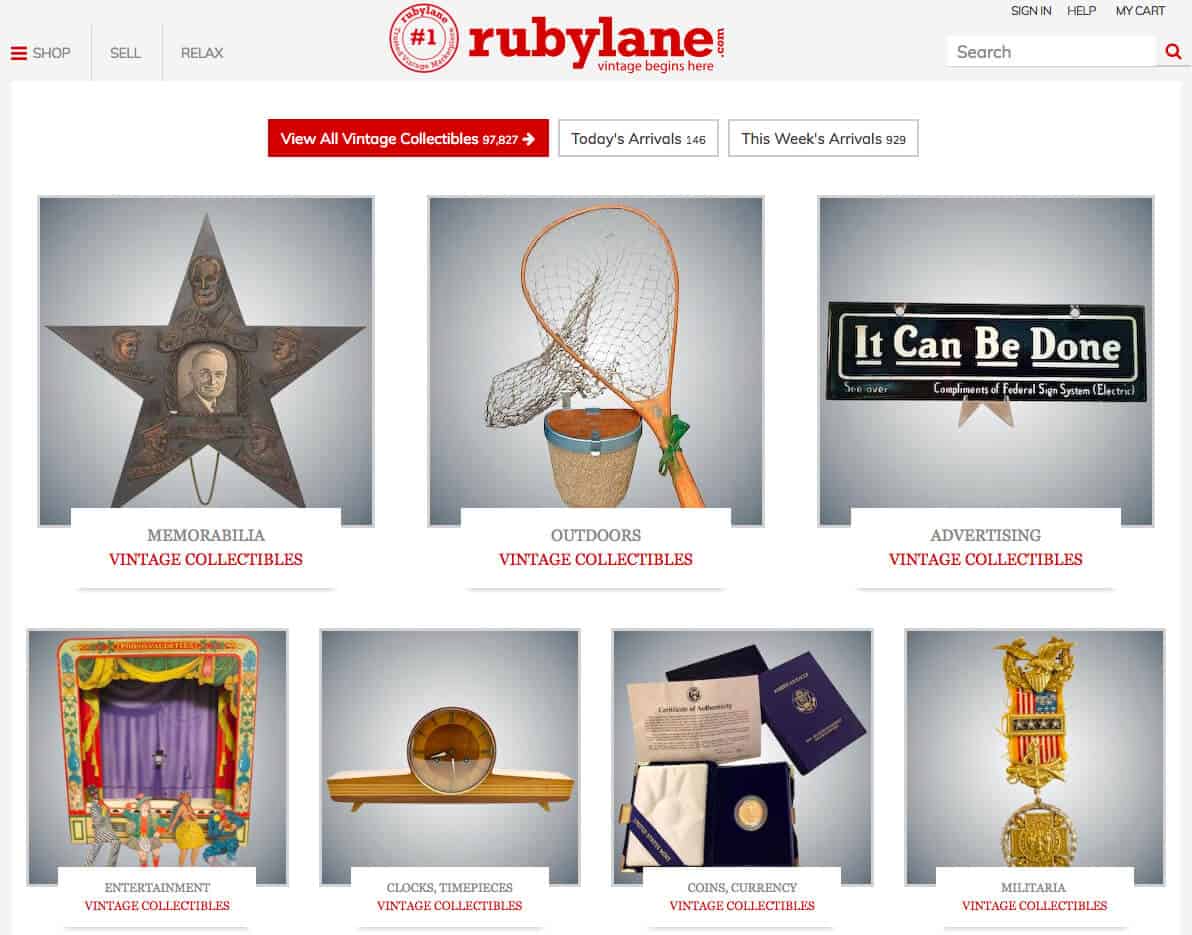 Ruby Lane, founded in 1998, has been around much longer than many of its competitors. Despite being a small player in comparison to e-commerce giants like eBay and Etsy, we start out our review with Ruby Lane. Because it is an important niche platform to buy antiques online, as it focuses exclusively on selling antiques, vintage, and collectibles. This marketplace features over half a million vintage products. Moreover, Ruby Lane has consistently received excellent ratings from vendors. In the 2018 Seller's Choice Awards, Ruby Lane was voted #1 for best customer service (for sellers). And also ranks as the #1 overall recommendation by sellers themselves.
Ruby Lane is the only online antique marketplace entirely dedicated to vintage and antiques on this list. It is one of the market leaders in this niche. Ruby Lane follows a strict vetting process to ensure all shop owners live up to Ruby Lane's quality standards. The online antique marketplace currently hosts over 2,000 vintage and antique vendors on its platform. It caters to over 2 million monthly visitors specifically looking for vintage, antiques, and collectibles online.
An online marketplace truly dedicated to antiques and vintage
In the vintage category, Ruby Lane mainly focuses on vintage collectibles and vintage fashion. Most other items sold on Ruby Lane are antiques, such as furniture or lighting. Due to Ruby Lane's strict vetting process, the vintage products sold online are of much higher quality than those found on less specialized websites. Which makes for a pleasant and less time-consuming shopping experience to buy antiques online on a clean interface. Ruby Lane's vendors cater to a slightly more affluent audience than Etsy. But still offers reasonable prices to online shoppers looking for cheap antiques for sale. Customers browsing Ruby Lane come primarily from the United States, Canada, the UK, Australia, and Germany.
For those who want to sell their antiques online, selling on Ruby Lane has one big advantage: vendors' fees and commission are significantly lower than those charged by other online antique stores and marketplaces featured in this review.
A really attractive commission system compared to other online marketplaces
Ruby Lane's generous 6.70% Service Fee/FVF/Commission is one of the lowest in the industry. This makes selling on this marketplace particularly interesting to merchants with pricey items in their inventory. Vendors on Ruby Lane simply have to pay a flat $54 monthly fee. And this includes the first 50 listings for free. For vendors who list more than 50 items, the model is based on fees per listed item that shrinks progressively, depending on the number of listings. The fees range from 30 cents for up to 150 items to only 1 cent for more than 1001 items.
Ruby Lane is a good choice for seasoned sellers of vintage and antique merchandise who are certain that they want to take their antique business online. The fact that Ruby Lane charges a low 6.70% commission on the selling price is particularly interesting for sellers of valuable vintage collectibles. Private individuals, looking to make a little side-income, may be better off on other platforms.
2. Etsy: The biggest player in the field of handmade and vintage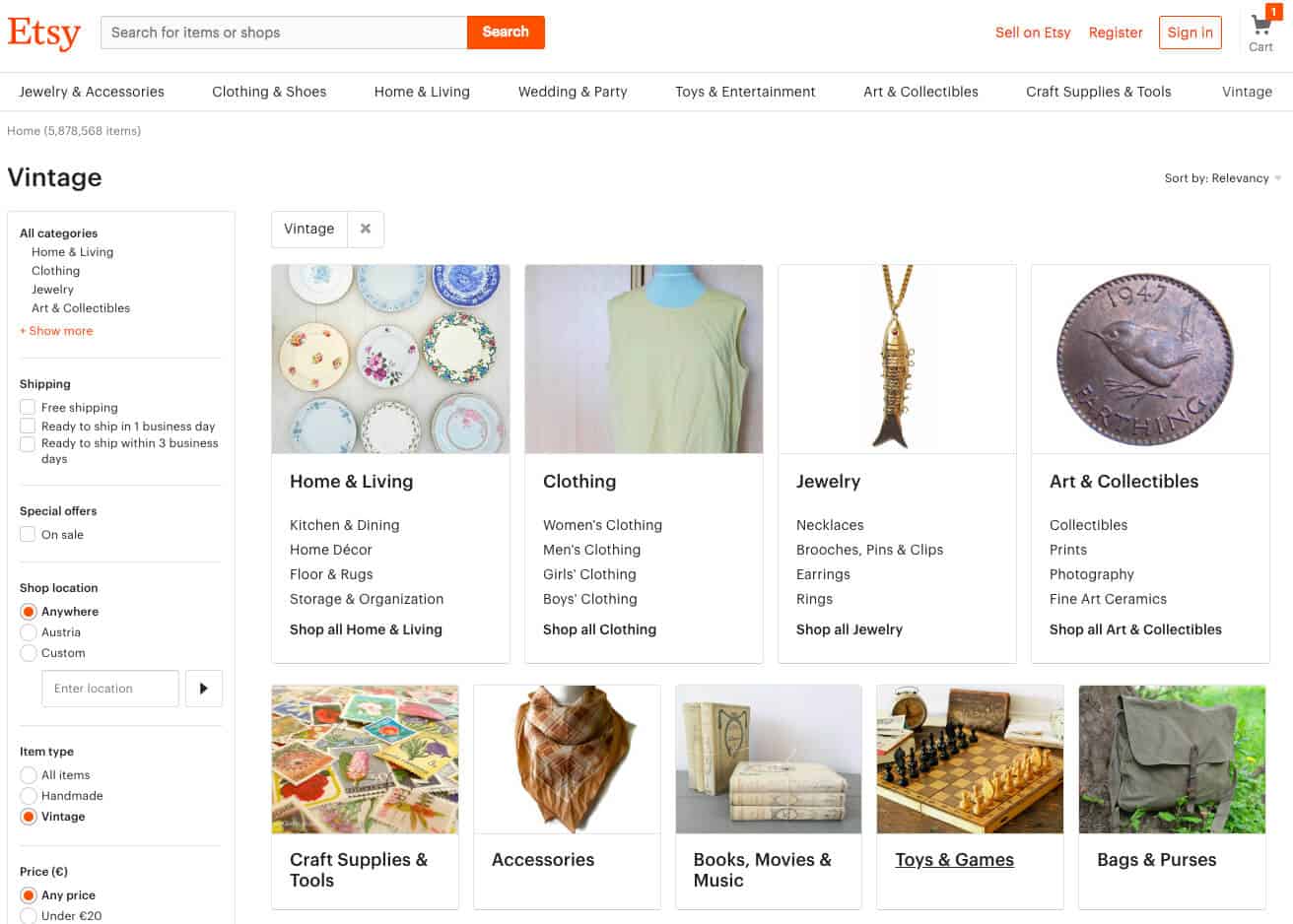 If you are a crafter, Etsy should require no introduction. Etsy established itself quietly in 2005 and has carved off its very own small kingdom in the shape of an alternate market specifically devoted to the purchase of handmade and vintage products. Without all the riff-raff on giant sites like eBay, vendors have actually a better chance to be visible among the competition. And therefore ideally make more product sales to customers looking to buy antiques online.
While it's rather big, Etsy's 50 million product listings are still dwarfed by eBay's entries. But Etsy's strength lies in its focus on selling handmade and vintage products online. In the world of do-it-yourself, vintage, and upcycling, Etsy has become a juggernaut in its own right and is attracting competition of its own. As of today, though, Etsy continues to be substantially bigger than all its major competitors (except eBay). DaWanda, one of Etsy's major competitors in Europe, has abandoned the fight against the giant back in August 2018. DaWanda sellers were then given the option to migrate their shops to Etsy.
A juggernaut in the online antiques and vintage market
Currently, more than 2 million merchants operate stores on Etsy and cater to an audience of 34.7 million buyers of vintage and handmade items worldwide. By integrating DaWanda's 380,000 sellers, Etsy has been able to further strengthen its stand in the European market. In particular in Germany, where most of DaWanda's sellers and customers were based.
Etsy products fall into three primary groups: handmade items, vintage products, and crafting materials that can be utilized to create items of the very first category. The main categories for vintage products on Etsy are home & living, clothing, jewelry, art, and collectibles. Etsy attracts a young and hip demographic interested in unique vintage items. So those sellers who are looking to sell high-end antiques online might be better off elsewhere.
Browse Etsy, and you'll find getting around is pretty simple. Curated products can be discovered in an ever-evolving grid on the category pages. And all sellers have their own Etsy shops, featuring their offered items organized into categories as they please. Listings are clean and simple, and delivery expenses are clear and noticeable. A variety of checkout systems are supported, including Etsy's homegrown repayment processing choice. And If you'd like to get mobile, Etsy features both an app (iOS and Android) and a web-optimized variation of its website.
Not the most interesting commission system on the market, but a very user-friendly platform
From a fee perspective, Etsy charges a listing fee of $0.20 per product; Which is rather reasonable, particularly if you are offering very affordable products. Nonetheless, Etsy recently added, in addition to its 5% service fee, a hefty 15% "3rd Party Ads Fee" on 10% of the sellers' total sales for the month. This brings its total commission fee closer to 20%, one of the highest in the industry.
The bottom line: Etsy is clean and simple to make use of. And it is obviously beloved by both shoppers and vendors. However, it is not an online antique store per se and may not be the cheapest option anymore. But if you sell expensive vintage items online, then Etsy is still a good choice. The only regrettable side-effect of its popularity is the fact that listings in the "vintage" category are sometimes just cheap. For instance, industrial knock-offs of an authentic vintage flea market find, sold by people who seek to take advantage of the trend.
For this reason, if you are really serious about selling or buying antiques online (anything over 100 years old), we recommend that you go instead to an online antique marketplace that really specializes in this area such as Ruby Lane, 1stdibs or eBay
The Best Online Antique Stores for Vintage & Antiques: Marketplaces Fee Comparisons (Ruby Lane vs eBay vs Etsy)
For one month, if you…
Sold items: $5,000
Shipping: $250 estimated at 5% sales
Listing: 20 new items per month, up to 50 items total
| | | | |
| --- | --- | --- | --- |
| | Ruby Lane | eBay Store | Etsy |
| Listing Fee | $0.00 | $0.00 | $4.00 |
| Monthly Fee | $54.00 | $27.95 | $2.00 |
| Service Fee/FVF/Commission | 6.70% | 9.15% | 5.00% |
| Fee for Items Sold | $335.00 | $457.50 | $250.00 |
| Commission 3rd Party Ad | – | – | 15% |
| Est Fee for 3rd Party Ad à 10% sales | | | $75.00 |
| Fee for Shipping the Items | $16.75 | $22.88 | |
| Free Shipping, Paid by Seller | | | $250.00 |
| Total Monthly Fee | $422.50 | $531.20 | $581.00 |
| Variation vs the most affordable solution | – | +25.7% | +37.5% |
3. Bonanza: An eBay alternative for second-hand merchandise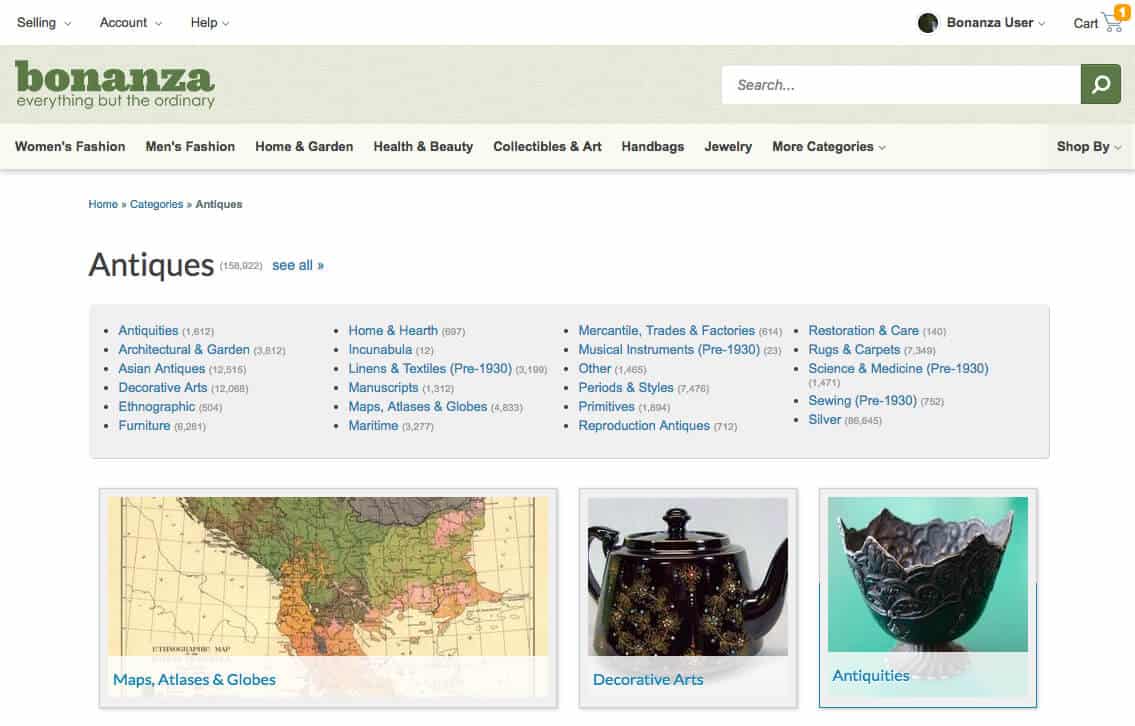 Collectibles on Bonanza
Greatly concentrated on newer second-hand items and fashion, U.S.-based Bonanza features 50,000 registered sellers and 23 million listed products. Unfortunately for those looking to sell or buy vintage and antiques online, Bonanza may not be the best choice. Their vintage shop is not very prominent, as it is not a standalone category. Instead, it has been integrated into other product categories, which include fashion, home, beauty, and more. The collectibles category is the easiest place to spot vintage products on Bonanza, although you can also find vintage fashion in the fashion category.
An online flea market known for its excellent customer service
On the plus side, Bonanza is an online flea market known for its excellent customer service for its sellers. Bonanza supports extensive checkout choices and does not include listing charges, but it does charge a 3.5 % closing fee (0.50$ minimum fee for small amounts and additional fees for items over 500$ value).
If you're a seller, another feature that sets Bonanza apart from the competition is the extensive import tool. This allows you to easily add existing shop listings from other sources, such as eBay, Etsy, or Shopify. Bonanza also offers advertising options beyond featured listings, using platforms such as Google Shopping. There is no Bonanza app, but customers on smartphones can use the mobile-optimized version of the website. Bonanza's website appears user-friendly, albeit a little less visually appealing than Etsy. Every Bonanza store features a built-in chat system, supplied for free by the website. And the site is rather straightforward to use.
4. Zibbet: A beautiful low-cost solution for small vendors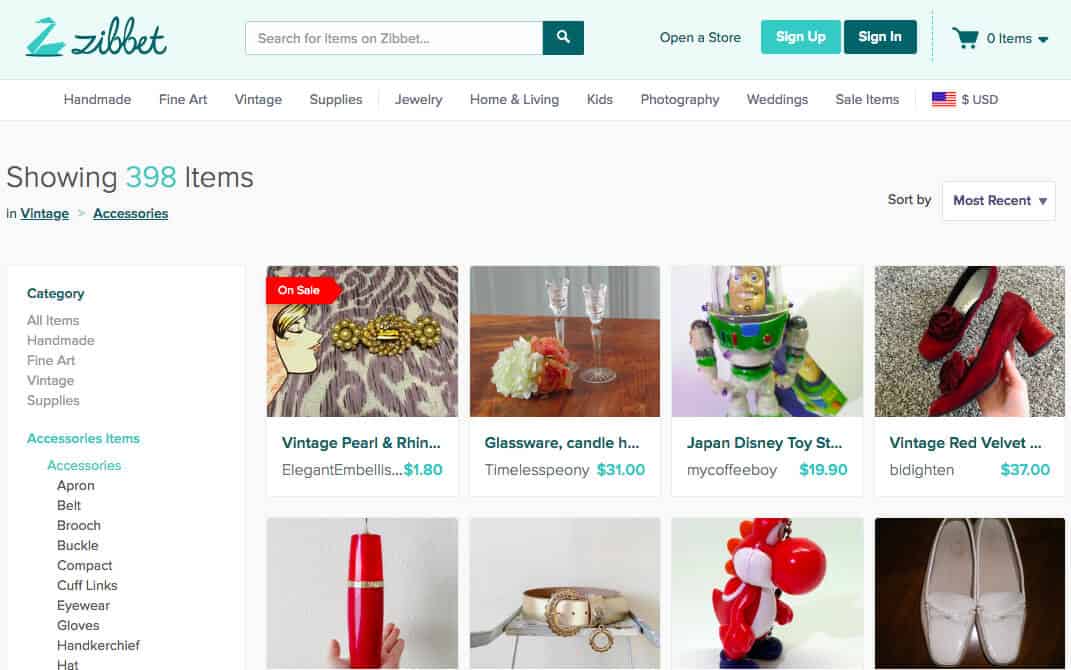 online shop vintage zibbet
Although Zibbet has been around for a while, it remained tiny in contrast to its competition. While the company is based in Australia, the majority of vendors, nevertheless, appear to be based in the United States, and most products are sold in U.S. dollars. Just as Etsy, Zibbet focuses on handmade and vintage items. Its interface is rather similar to Etsy, but slightly more minimalist, which makes for a pleasant user experience.
Vintage products are one of Zibbet's main categories, with a strong focus on smaller items. Such as vintage accessories and vintage jewelry, as opposed to bulky furniture. If your merchandise leans more towards the antique category, you may be surprised to find antiques for sale listed as a sub-category of "vintage merchandise" – two categories that seem rather blurred on Zibbet.
Why should you consider using Zibbet instead of another online store for vintage
Primarily for its charge framework: If you are a tiny vendor, Zibbet is entirely free! In the free plan, shop owners may sell up to 10 items a month. But they will be limited in terms of features. In addition, unlike other online shops, Zibbet does not charge separate listing fees and commissions. Zibbet works with a simple flat-rate subscription model, ranging from 5$ to 20$ a month. This depends on the number of items you sell and the features you would like to take advantage of.
Another feature that sets Zibbet apart from the competition is the option to create a standalone website in addition to your Zibbet shop. This may be an interesting choice for vendors who are not particularly technology-oriented but still like to customize their own webspace. That in order to promote it among clients without passing through the main platform. Vendors who are interested in giving their product sales pages the optimum amount of creative effect should take a lengthy glance at Zibbet.
5. Selency (Brocante Lab): Unique furniture, vintage home decor and online antiques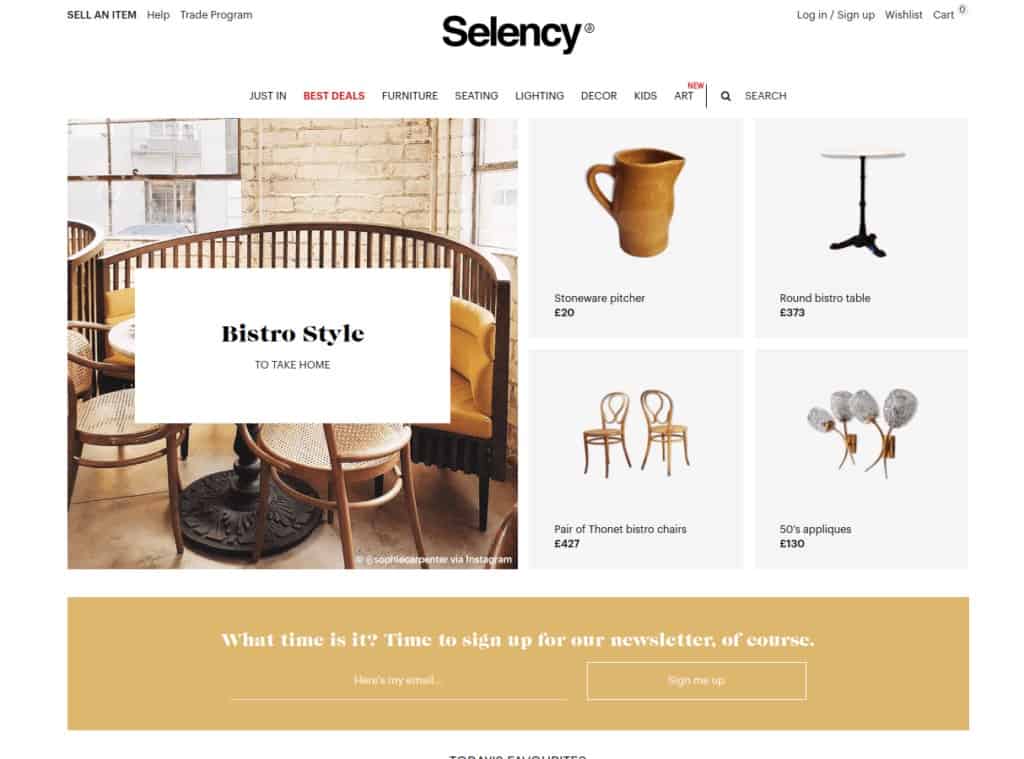 The brainchild of two passionate fans of vintage furniture and home decor, Selency was created in September 2014. It was originally launched under the name Brocante Lab. It is one of the first European online community platforms and online antique stores specializing in vintage furniture. This includes industrial, Scandinavian, mid-century modern, Art deco, and interior design accessories.
The main strength of Selency lies behind the fact that every single antique for sale on the marketplace has been hand-picked by Selency's team of professional shoppers and vintage connoisseurs. The seller, the origin of the product, and its genuineness are always manually checked. This ensures that the platform's listings are not crippled by knock-off merchandise or of dubious origin. And the product stock is replenished every single day.
Unique pieces of furniture and inspiration to decorate your home
In total, there are over 100 000 items curated by Selency's moderators. And since Selency focuses on quality only, shoppers can rest assured that they will find unique pieces of furniture and inspiration to decorate their homes. Last but not least, Selency is a secure online antique store. The company's online payment system facilitates transactions. Vendors are paid directly by Selency via a transfer to their accounts. And buyers can pay via their PayPal account or with a credit card with complete peace of mind. The icing on the cake: Selency offers shoppers reliable door-to-door delivery solutions
All in all, Selency offers vintage lovers and antique enthusiasts interested to buy antiques online the joy of browsing thousands of items. Directly from the comfort of their own couch. With the added value of trustworthiness and simplicity.
Other alternatives for selling antiques online
We have listed only a handful of marketplaces in this article, in order to keep it concise. However, there are of course other online platforms that also offer more or less similar services. Here is a non-exhaustive list of marketplaces dedicated to buying and selling antiques online:
Catawiki: Founded in 2008. Catawiki is an online auction platform for buying and selling special items and collectibles. The marketplace hosts weekly online auctions in various categories such as vintage comic books, model trains, coins, watches, art, jewellery and classic cars
1stdibs: Founded in 2000, 1stdibs is an e-commerce company with an online marketplace. It sells luxury items such as high-end furniture for home decor, fine art and jewelry.
LoveAntiques: LoveAntiques.com is the premier online antiques website connecting genuine antiques from trusted members from across the UK. Owned and operated by IACF (International Antiques & Collectors Fairs), this marketplace features a wide assortment of different rare antiques.
Where to sell vintage online?
There are many things to consider when choosing an online store to sell vintage merchandise. Above all, you must know your own target group and where to find them online. In addition, you need to have a good idea of how many items you expect to sell (and how many you would like to list). This will help you figure out which platform's pricing model is the most attractive.
Of course, there are more than just four eBay alternatives if you wish to sell vintage online or look for antiques for sale. In addition to the global e-commerce platforms reviewed in this article, there are plenty of local websites that may be worth checking out, or platforms focused on selling particular types of vintage items (such as selling French antiques online). Moreover, if you're a private vendor looking to clean out your attic, you might find apps to be a good choice. There are apps to buy and sell vintage via in the US or apps to buy and sell vintage in Europe.
This article was focused on online antique stores to sell vintage items and cheap antiques. However, there is also a huge online market for quality antiques and high-end vintage products. With a handful of competing online platforms, such as 1stDibs. Selling vintage and antiques online directly on social media platforms or on your own website also is a trend that has proven successful for some. There are plenty of ways out there to sell your vintage items. So don't be afraid to try more than just one.
Iconic Mid-Century Modern Home Decor as online antiques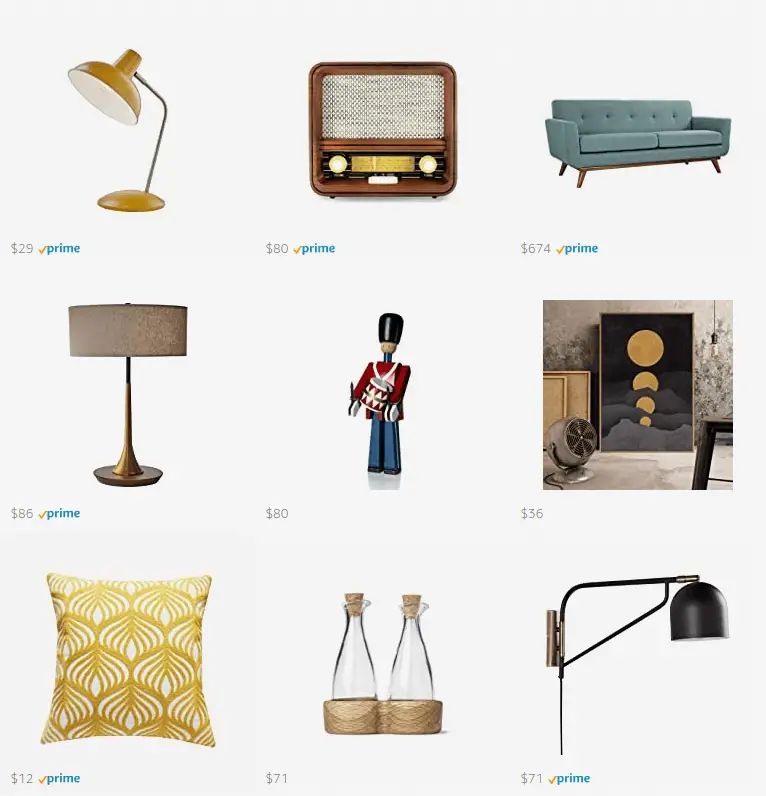 Because sometimes you just can't find it at the flea market or afford it from an online antique store, the easiest and cheapest way is to get it online! We hand-picked the slickest and most iconic Mid-Century Modern Home Decor items available on Amazon. Some homeowners will commit to a fully mid-century modern home. But anyone can easily infuse this look into their living rooms with a few items. For instance by thoughtfully picking some affordable antiques from this curated list. We selected them for their clean lines, organic forms, minimal ornamentation, and high functionality.
---
This article contains affiliate and sponsored links that come at no cost to our readers and help us run Flea Market Insiders. The article fully represents the views of our editorial team.