Almost half of Canada's population lives in Ontario, which means there are a lot of people selling forgotten treasures – and even more people in search of them. Our extensive list provides you with all the need to know information about the best flea markets in Ontario, selling only the finest, high-quality and authentic antiques and collectibles.
The province of Ontario is loved for many reasons – endless forests, Niagara Falls, maple syrup, and Canada's beautiful wilderness. But that's not it! Just like Montreal and Quebec City are home to one of the largest networks of antique dealers and collectors in Canada, Ontario features an abundance of vintage and antique markets selling all manner of memorabilia and collectibles.
Discover our favourite 9 flea markets in Ontario, and start scouring markets for fantastic antiques and memorabilia like retro Toronto postcards, old-school ice hockey jerseys from the 1980s and commemorative plates from the 1976 Olympics!
As usual with our flea market reviews, we carefully hand picked the best local flea markets which only showcase the finest antique and vintage products. Therefore we skipped all the swap meets, farmers markets and likes, to focus only on the real good stuff.
#1 Flea Markets in Ontario: Waterford Antique Market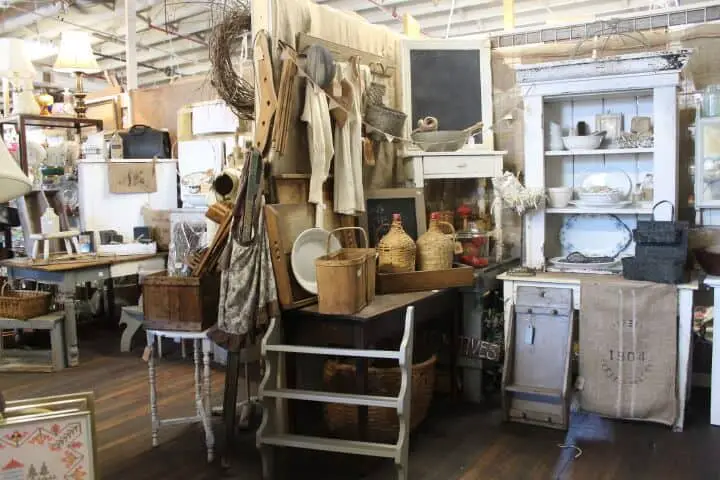 After opening in 1999, Waterford Antique Market has gone from strength to strength. Sieve through an enticing array of bric a brac, knick knacks, vintage Canadian pottery, upcycled furniture and antique homeware.
We suggest setting aside a day to browse the entirety of the selection at The Waterford Antique Market. If you're looking for something particular and can't find it – ask the owners! They have great connections, so chances are they'll be able to help you out.
If you find the perfect item right away, we suggest you don't hang around too long before buying it. Things get snapped up quickly at the Waterford Antique Market. Whether you're a hardcore vintage shopper, or just want to pop along for a browse – we can guarantee that you'll come away with a real treasure in your mitts.
Where: 80 B Alice Street, Waterford, Ontario, N0E 1Y0
When: Wednesday – Sunday: 10:00 – 17:00
More information: Read here our full review of Waterford Antique Market
#2 Flea Markets in Ontario: Aberfoyle Antique Market
Aberyfoyle Antique Market is just an hours drive from the lively city of Toronto. Home to regular traders and customers, who travel from all over Canada, this market has been around since the early 1960s.
Opening for business every Sunday, Aberfoyle Market hosts more than 100 quality dealers showcasing antiques, collectibles, folk art, and much more. Let your day whittle away as you rummage through hundreds of eclectic stalls selling old-fashioned furniture, antiques, secondhand clothes and homeware.
This Canadian market boasts a great layout – customers don't feel cooped up, or worse, come home feeling that they've missed out on an entire section. After exploring the tons of stalls on offer, tuck into some hot food in the restaurant. It's a fun-filled day out for the whole family!
Where: 57 Brock Rd S, Guelph, Ontario, N1H 6H9
When: Sunday: 08:00 – 16:00
More information: Read here our full review of Aberfoyle Antique Market
#3 Flea Markets in Ontario: Christie Antique & Vintage Show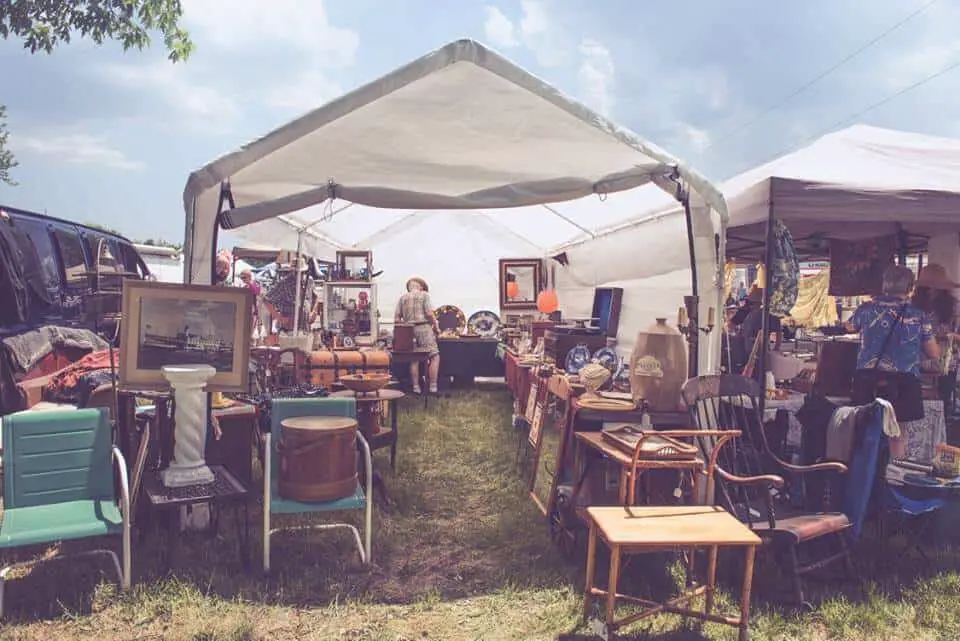 Attracting vendors and buyers from across Canada for nearly 30 years. The Christie Antique & Vintage Show hosts two events every year – one in spring and one in fall. Around 10,000 shoppers turn up for the event and explore 10 acres of land, full of forgotten treasures.
Visitors can expect to find some impressive items here, such as Native artifacts, folk art, rugs, jewelry, furniture, textiles, cut glass, sports memorabilia and much more. In fact, the Christie Antique & Vintage Show features over 1,200 collecting categories from 250 different vendors.
We suggest that you travel to this event as early as possible. Traffic jams are unavoidable due to the amount of people driving to The Christie Antique & Vintage Show. However, despite the swarms of visitors, the show is organized impeccably. You are guaranteed an incredible time at the this vintage show and shopping haven.
Where: Christie Lake Conservation Area, 1000 Hwy 5 West Dundas, Ontario, L9H 5E2
When: 4th Saturday in May: 08:00 – 17:00 2nd Saturday in September: 08:00 – 17:00
More information: Read here our full review of Christie Antique & Vintage Show
#4 Flea Markets in Ontario: Sunday Antique Market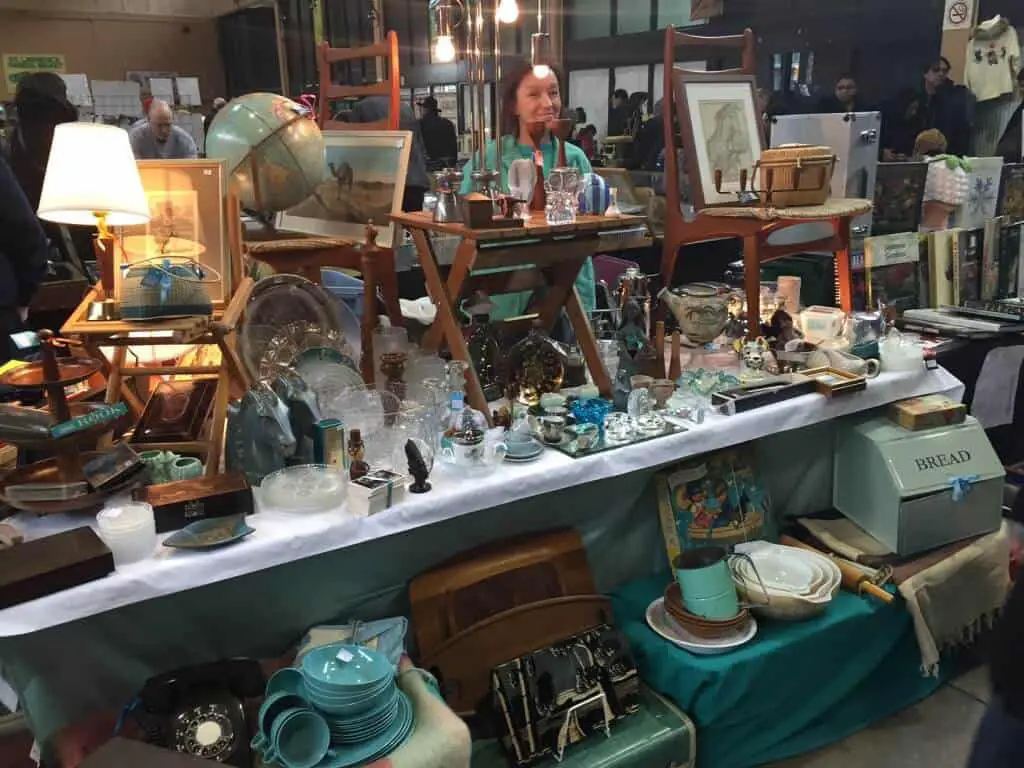 Sunday Antique Market previously took place at St. Lawrence Market north, however, it has recently moved address. All of their wondrous vintage vendors are waiting to be discovered at The Esplanade in Toronto.
You'll find unique and eccentric items, such as vintage fantasy card holders, beautiful postcards, typewriters, floral curtains, mid-century furniture, and vintage cameras such as Plaubel Makina W67 and Kiev 88. The merchants are friendly and enjoy talking with customers about their mutual love for all-things-vintage.
There is no admission fee – which attracts a lot of people who come along in search of something to do with their Sunday afternoon. This makes it a lovely social occasion as well as a shopping occasion. If you're looking for vintage knick knacks, an entertaining day, and some delicious food – Sunday Antique Market is well worth a visit.
Where: The Esplanade 125, Ontario, M5E 1B1
When: Sunday: 07:00 – 17:00
More information: Read here our full review of Sunday Antique Market
#5 Flea Markets in Ontario: Roadshow Antiques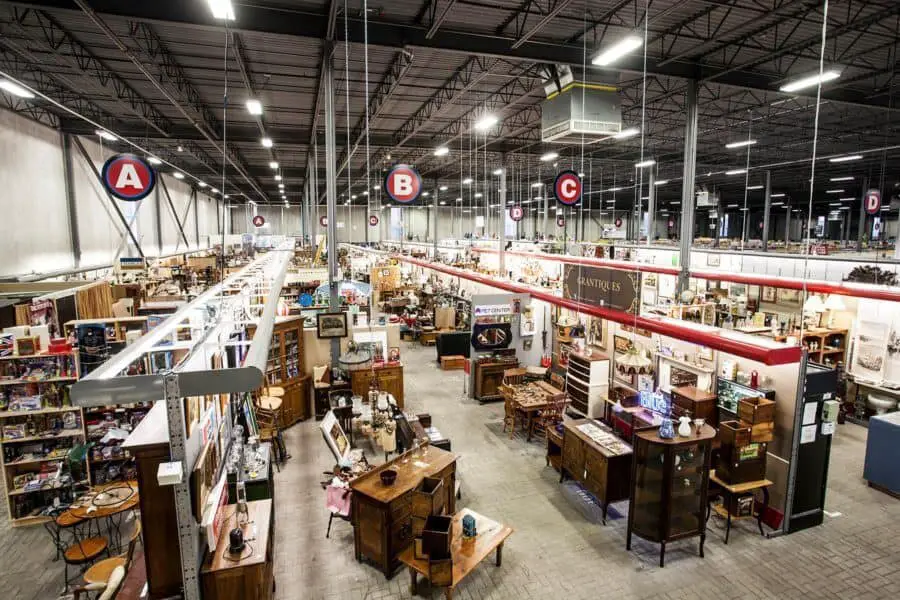 Roadshow Antiques is made up of two mammoth shopping events in Ontario; Roadshow Antiques South and Roadshow Antiques North.
Consisting of over 150 vendors, Roadshow Antiques South in Pickering is home to high-quality merchants showcasing the best retro goods, vintage items, knick knacks, collectibles, Canadian memorabilia and stylish secondhand clothes. Located at The Pickering Markets, vendors are spread out over a floor space of 22,000 square ft.
Roadshow Antiques North in Innisfil hosts over 200 merchants in a 32,000 square ft multi-vendor shopping mall. There you will find high-quality, rare antiques and collectibles. Shop for well-loved vinyl records, 1970's manual scooters, retro kitchenware, mid-century furniture and beautiful artwork from the early 20th century.
Roadshow Antiques is simply unmissable!
Where: Roadshow Antiques North – Industrial Park Road 2207, Ontario, L9S 3V9
Roadshow Antiques South – Squires Beach Road 1400, Ontario, L1W 3S3
When: North – Monday – Sunday: 10:00 – 17:30
South – Monday – Friday: 10:00 – 17:30 Saturday – Sunday: 09:30 – 17:30
More information: Read here our full review of Roadshow Antiques
#6 Flea Markets in Ontario: Freelton Antique Mall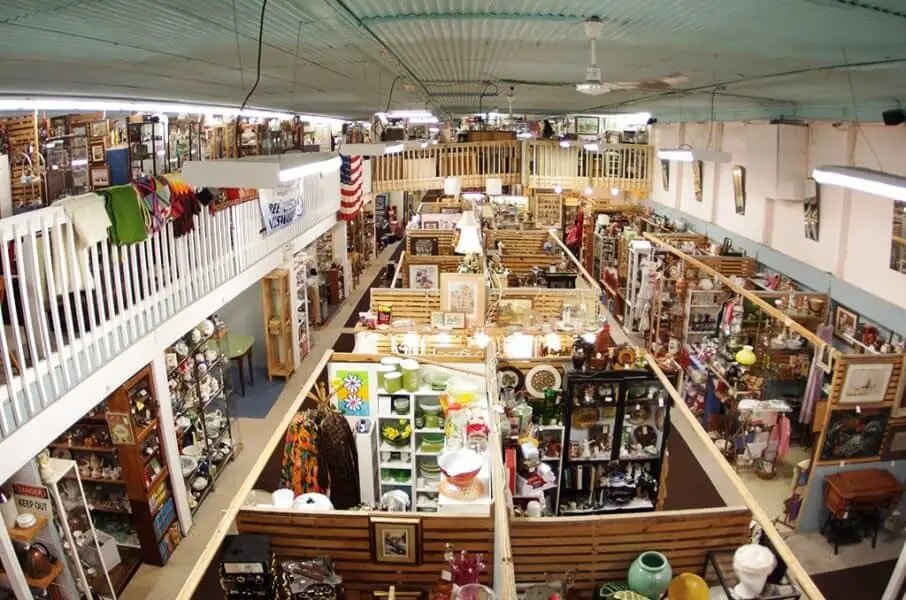 Fred and Char Berrisford bought Freelton Antique Mall in 1997. Back then the market was very small and consisted of a mixture of antiques and handmade crafts. The passion that they had for antiques and eccentric vintage goods meant that they quickly built up a strong reputation with local vendors.
Today, the market welcomes more than 200 merchants and bundles of happy customers! Fred passed away in 2010, and their daughter Penny purchased the market shortly before Char passed in 2011. Penny has kept their dream and passion for antiques alive.
Now open seven days a week except for Christmas Day and New Year's Day. Expect to find a wide selection of vintage goodies such as old-fashioned furniture, mid-century homeware, secondhand clothes and accessories, classic novels, glassware, and silverware.
Where: 248 Freelton Rd, Freelton, Ontario, L0R 1K0
When: Monday – Friday: 11:00 – 17:00 Saturday – Sunday 10:00 – 17:00
More information: Read here our full review of Freelton Antique Mall
#7 Flea Markets in Ontario: One of a Kind Antique Mall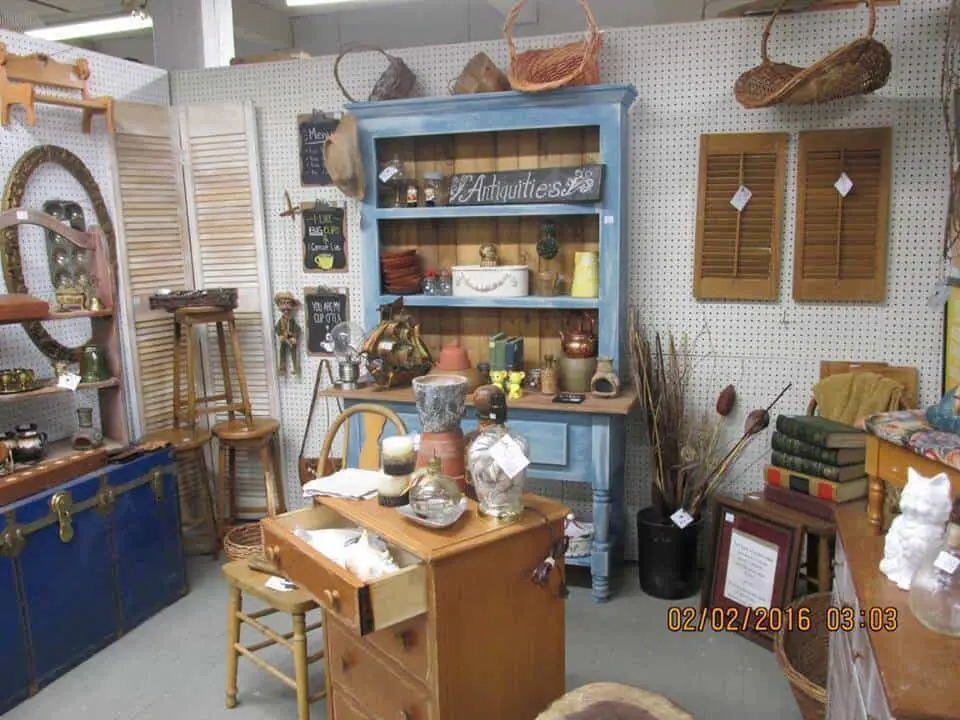 Spread out over 80,000 square feet of shopping space – this repurposed factory is home to a mish mash of vintage delights. Despite receiving hundreds of visitors through the door, One of a Kind Antique Mall never feels overcrowded.
We suggest that you set aside at least half a day to thoroughly inspect all of the treasures and trinkets on offer. A big proportion of the items for sale are from the mid century, especially from the 1960s to the 1980's. You will find everything from Tiffany lampshades to vintage Rummikub and Dominoes sets.
The staff are very attentive and friendly. Once you've picked up an item you want to buy, they will give you a card and take the item to the cash desk for you to save you carrying it around whilst browsing the other vendors. One of a Kind Antique Mall in Ontario is not one to be missed!
Where: 97 Wilson Street, Woodstock, Ontario, N4S 3N8
When: Daily: 10:00 – 17:00
More information: Read here our full review of One of a Kind Antique Mall
#8 Flea Markets in Ontario: Stratford Antique Warehouse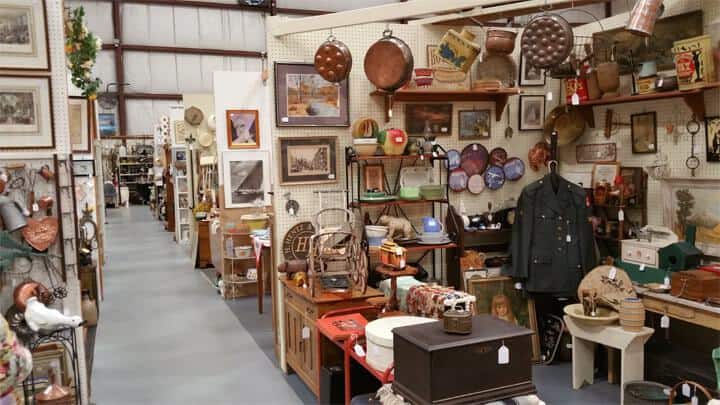 Stratford Antique Warehouse has flourished into a popular vintage shopping destination since it first opened in 2002. It is home to 120 regular vendors selling retro toys, sports memorabilia, old instruments, silverware, ornate furniture, and much more.
If you're searching for something in particular – get in touch with the organisers via email. They will add the item you're looking for to their 'Treasure Hunt' list, which is distributed to all of their 120 vendors monthly. Once they find it, they'll contact you – simple as that!
The warehouse is open seven days a week. There is plenty of space to move around with comfort and all of the stock is neatly laid out in booths. New stock arrives daily from their impressive selection of vendors, so there is always something new (old) to discover!
Where: 2977 Forest Road, Stratford, Ontario, N5S 6S5
When: Daily: 10:00 – 18:00 (Except for Christmas Day, Boxing Day and New Years Day)
More information: Read here our full review of Stratford Antique Warehouse
#9 Flea Markets in Ontario: Prudhommes Antique and Flea Market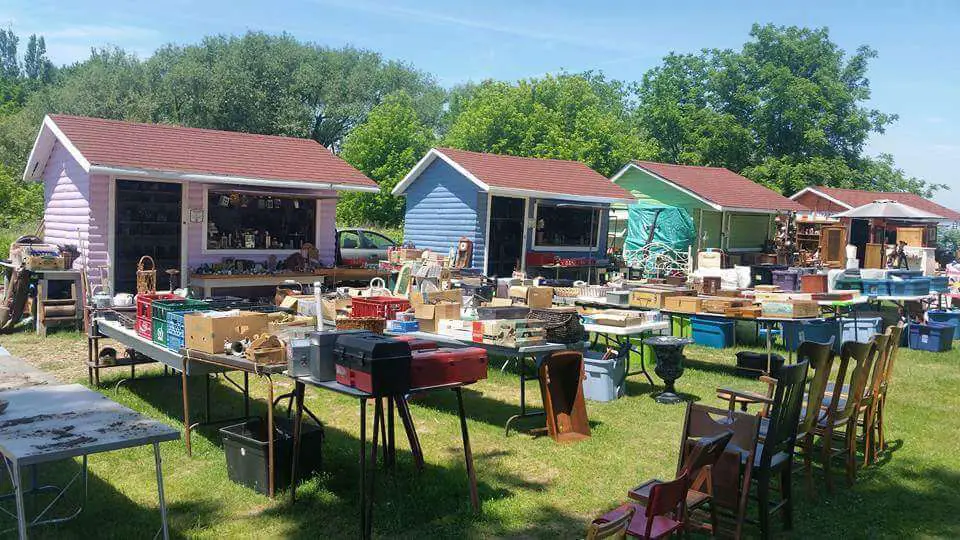 There is a great selection of quirky homeware and decorations, ornate furniture and conversation pieces at Prudhommes Antique Flea Market. You can easily spend hours exploring this market and all of it's hidden treasures.
Located within 3 buildings, 12 cabins and plenty of outside vendors – you will certainly find something to tickle your fancy. The summer months are normally busier, as there is lots of space outside for stalls to be set up. For a bigger selection of vintage products and antique delights, we suggest visiting in the months of July and August.
The antiques and vintage products range from higher end to lower end. Browse costume jewellery, silverware, glassware, fabric, Canadian memorabilia, ceramics, perfume and liquor bottles, vintage postcards, collectibles and furniture. Visitors rarely leave this market empty handed!
Where: 3125 North Service Rd, Vineland, Ontario, L0R 2E0
When: Thursday – Sunday: 10:00 – 16:30
More information: Read here our full review of Prudhommes Antique and Flea Market