New York flea markets and antique markets are among the most exciting places in the world to find vintage treasures and unique curiosities. Whether you are a New Yorker or a tourist – exploring flea markets in NYC is certainly one of the best ways to spend a weekend in the Big Apple. While there are great antique flea markets in Manhattan, vintage shopping also gives you a good reason to discover other boroughs. From Brooklyn Flea to iconic Chelsea Flea Market, we have scoured New York's neighborhoods for the best insider tips.
Here is our all-new list of the 7 best flea markets in New York:
1. New York flea markets: Grand Bazaar NYC – Upper West Side, Manhattan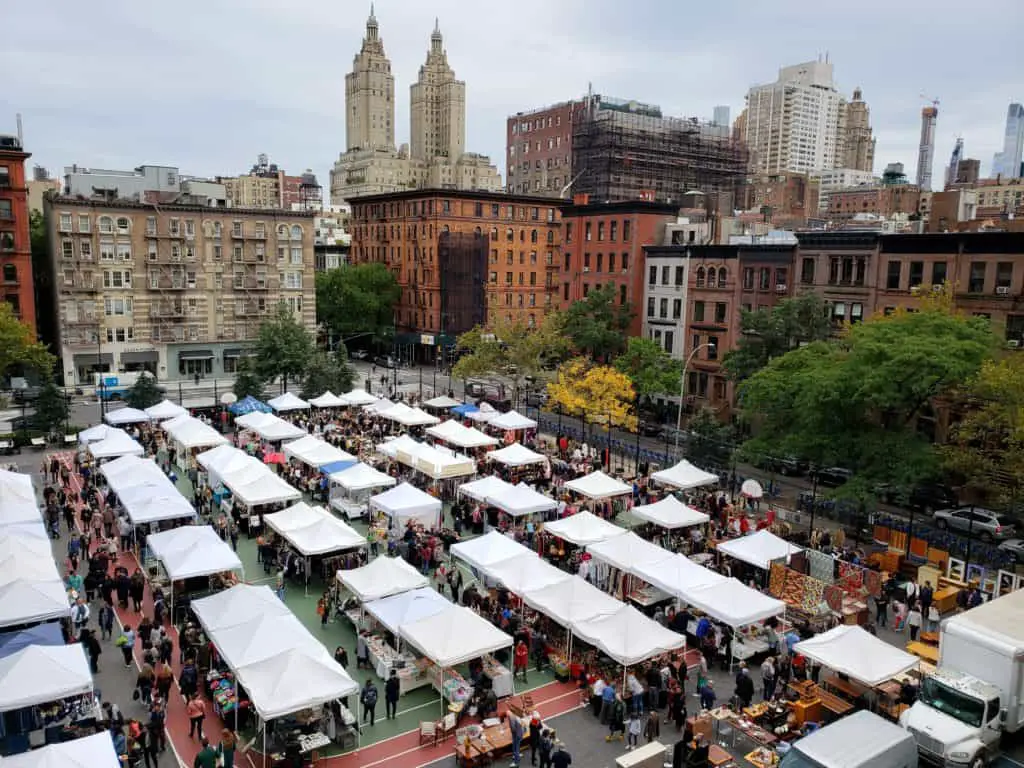 Over a hundred vendors make the Grand Bazaar NYC the biggest flea market in New York City. Every week, antiques and vintage dealers, makers and artisanal food vendors present their wares at this large outdoor and indoor market on the Upper West Side. At this antique market in NYC you may find vintage furniture and architectural salvage, vintage clothing, collectibles, authentic vintage jewelry, antiques, vintage vinyl, old maps and books, handmade art, and much more. The diverse choice and vibrant atmosphere make the Grand Bazaar NYC one of the best flea markets in New York for vintage and antique shopping.
Schedule: every Sunday | Hours: 10am – 5:30pm
Directions: 100 West 77th St., NY (at Columbus Avenue)
Read more: Review of Grand Bazaar NYC on Fleamapket
2. New York flea markets: Brooklyn Flea DUMBO – Brooklyn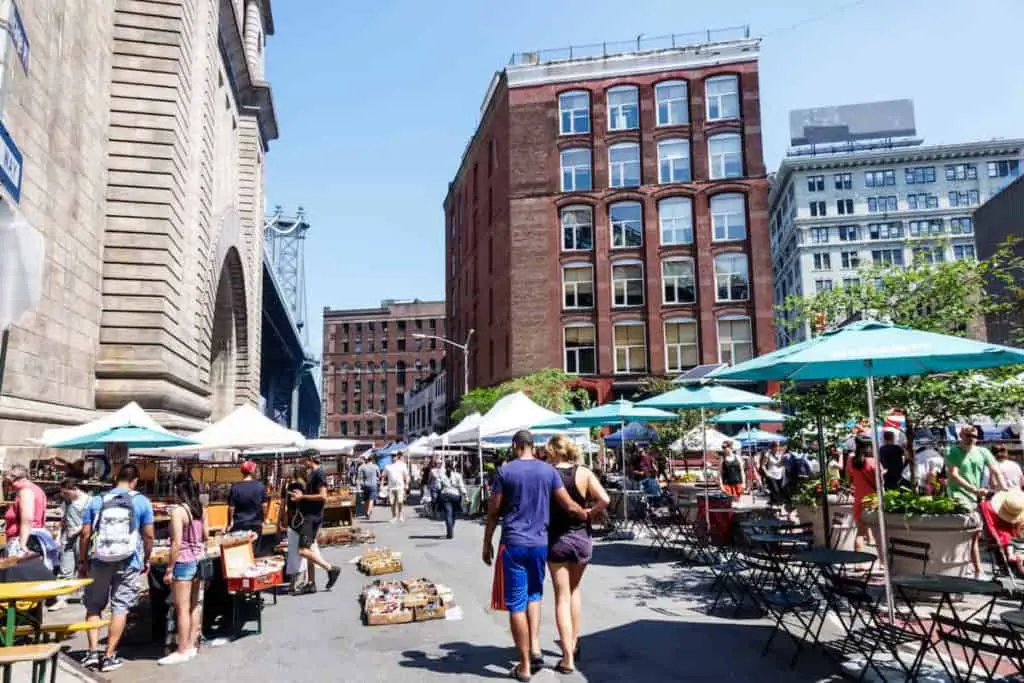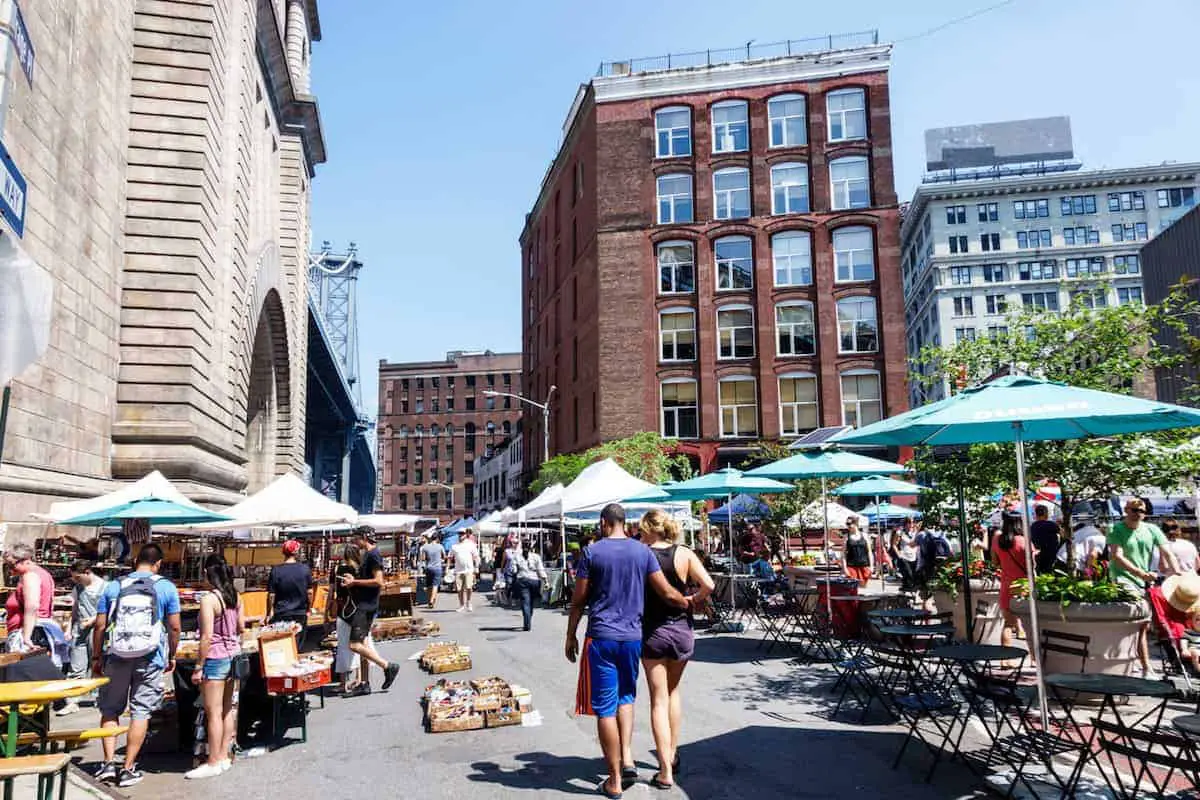 Brooklyn Flea DUMBO arguably is the most popular flea market in New York. For over a decade, this Sunday market has attracted tourists and local Brooklynites alike. About 80 vendors of vintage, antiques and handmade items await at Brooklyn Flea in a historic neighborhood setting right next to Manhattan Bridge. Many visitors also come to try the local food offered at the market. Expect to find rare collectibles, antique jewelry, and home furnishings, vintage clothes, second-hand memorabilia, as well as crafts from local artists at Brooklyn Flea. In winter, Brooklyn Flea moves indoors to become Brooklyn Flea Winter Market and joins forces with Smorgasburg, Brooklyn's famous food festival.
Read more in our article about the best flea markets in Brooklyn!
Schedule: Sundays, April through October | Hours: 10 am – 5 pm
Directions: Manhattan Bridge Archway – 80 Pearl St., Brooklyn, New York
Read more: Review of Brooklyn Flea DUMBO on Fleamapket
3. New York flea markets: Chelsea Flea Market – Chelsea, Manhattan (Discontinued)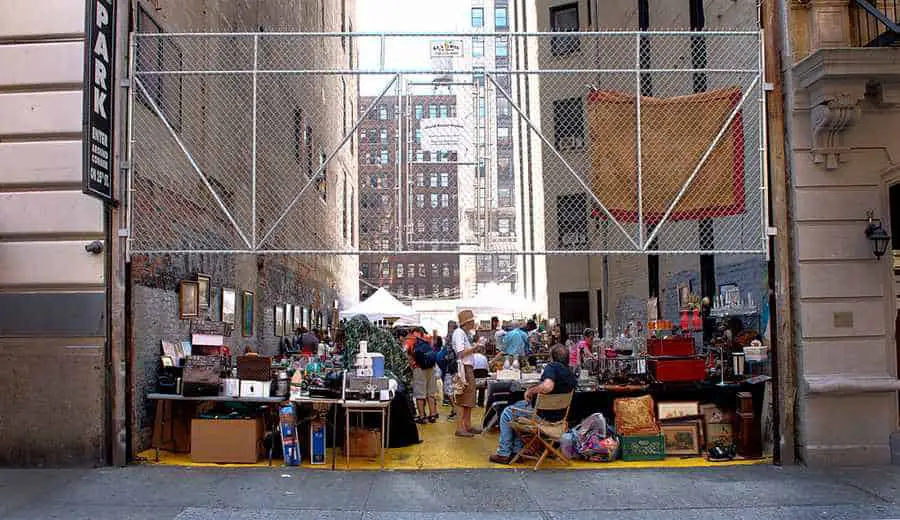 This iconic outdoor market is a must-do flea market in NYC! Chelsea Flea Market is your best address for a unique souvenir or a bargain to decorate your NYC apartment. Wander on the footsteps of Andy Warhol or Michael Jackson while you soak up the unique vibe of the city. What's more, Chelsea Flea Market now also hosts many vendors of the legendary Hell's Kitchen Flea Market which closed in January 2019.
Schedule: every Saturday – Sunday | Hours: 6:30am – 7pm DISCONTINUED
Directions: 29 West 25th Street, between Sixth Avenue & Broadway
Read more: Review of Chelsea Flea Market on Fleamapket
4. Flea markets in New York: Artists & Fleas Williamsburg – Williamsburg, Brooklyn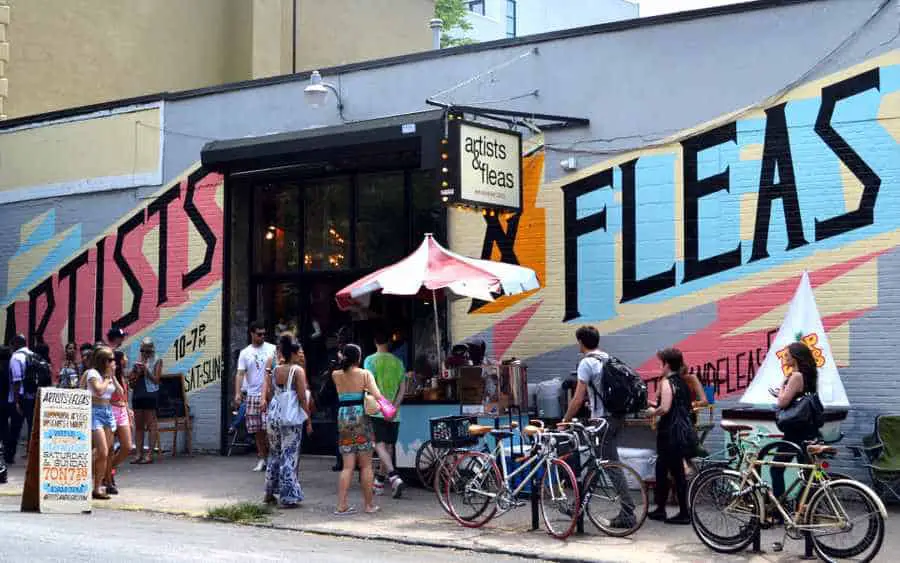 This Williamsburg flea market is part of the successful Artists & Fleas brand which runs several vintage markets and shops around town. Their flea market in Williamsburg started back in 2003 and has become a go-to spot for fashionistas, vintage collectors, and artists. Over 75 vendors sell handmade items, vintage clothing, and other vintage or treasures at this indoor market.

Schedule: Saturday and Sunday: 10:00 – 19:00 | Hours: 10am – 7pm
Directions: 70 North Street, Williamsburg, Brooklyn
Read more: Review of Artists & Fleas Williamsburg on Fleamapket
5. Flea markets in New York: Artists & Fleas Chelsea Market – Meatpacking District, Manhattan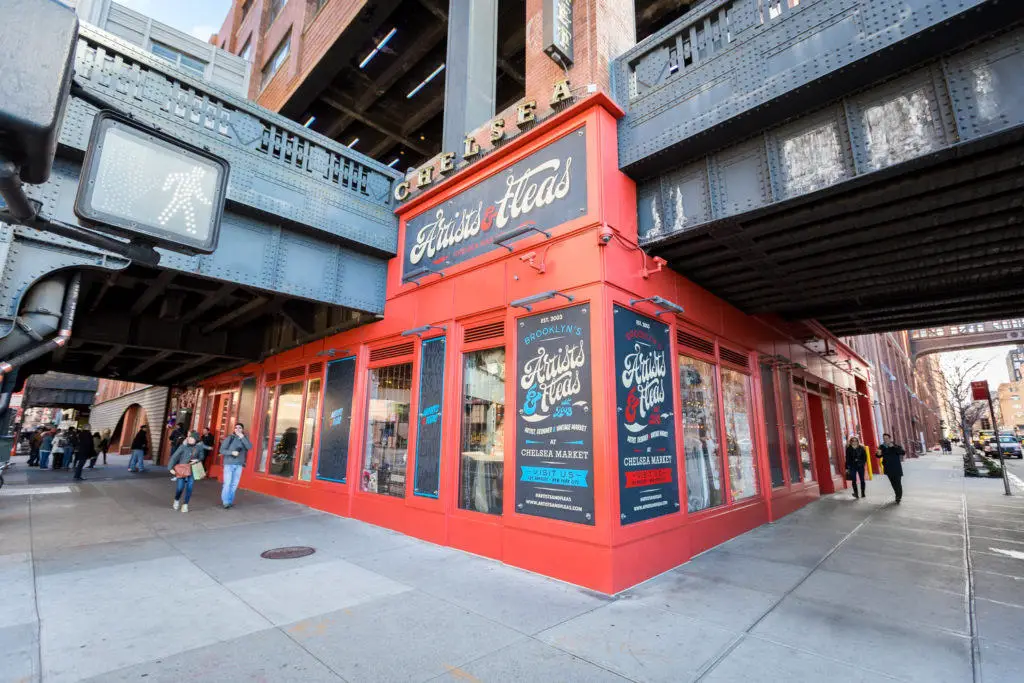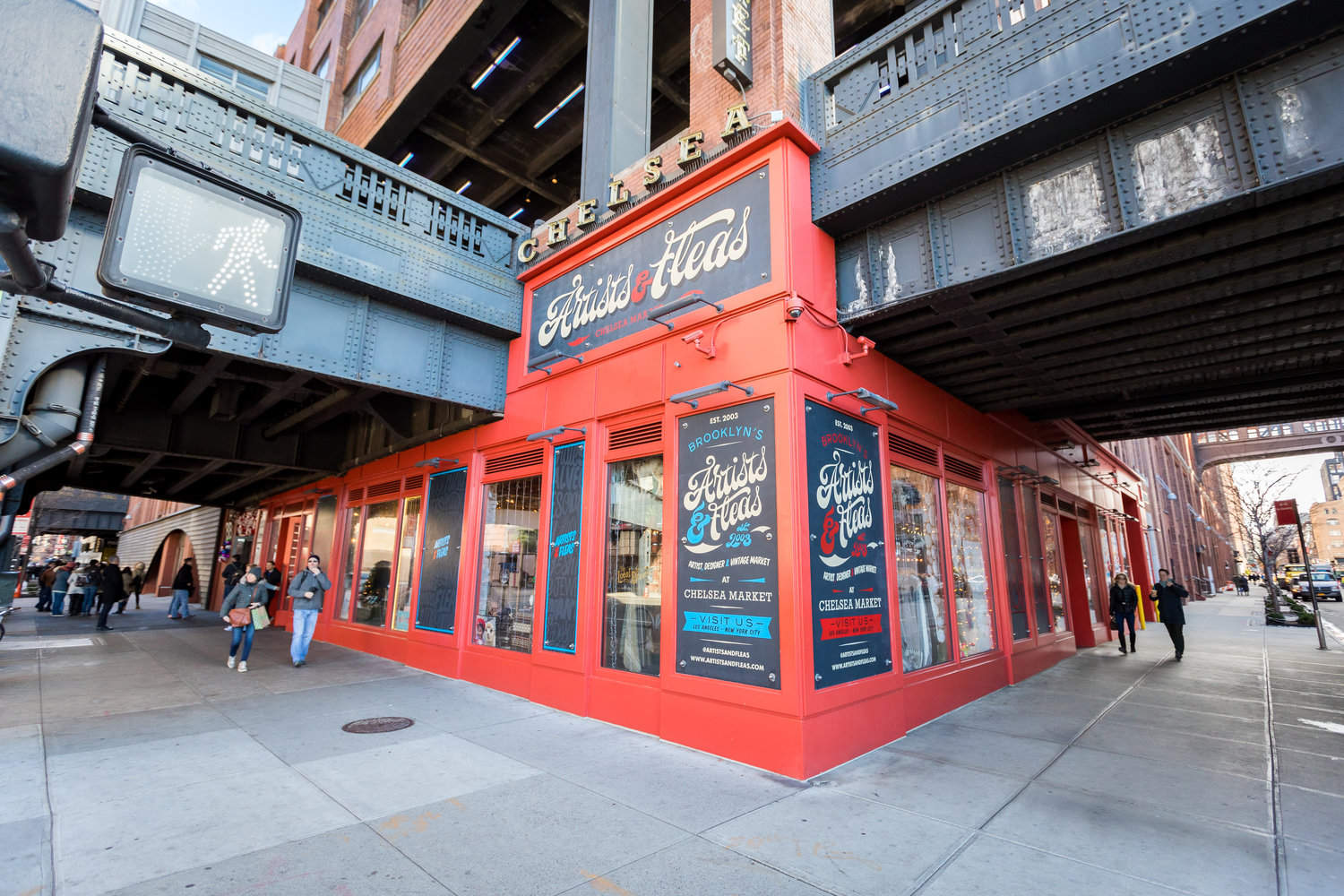 Artists & Fleas Chelsea Market is an indoor vintage market located in Manhattan's Meatpacking District. It is housed in the building of a former biscuit company and should not be confused with the Chelsea Flea Market. Chelsea Market is a huge building complex, but the vintage market is comparatively small. Open daily, its 30 vendors change regularly so there is always something new to discover. The focus of this market is mainly on handmade items, unique designs, artwork, and vintage. A cool New York market to discover, right beneath the High Line.
Schedule: Daily (except Christmas & New Years Eve) | Hours: Mon – Sat: 10am – 9pm and Sun: 10am – 8pm
Directions: 88 10th Ave with W. 15th Street, Manhattan, New York
Read more: Review of Artists & Fleas Chelsea Market on Fleamapket
6. Flea markets in New York: East 67th Street Market – Upper East Side, Manhattan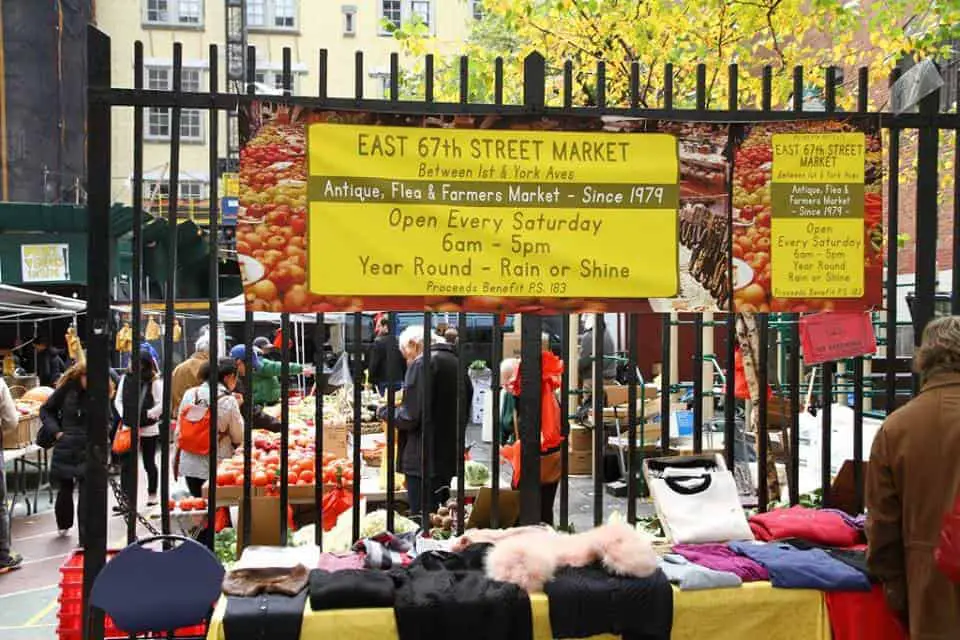 This small flea market in New York is located in Manhattan's posh Upper East Side area and New York's longest-running market (est. 1979). Besides an antique market, there is also a farmer's market selling fresh produce and artisanal food at the same location. The East 67th Street Market is partly indoor market and partly street market that takes place every Saturday, rain or shine. The market is small but holds plenty of treasures. Antiques, jewelry, vintage collectibles, handmade items, memorabilia, vintage clothing, and much more can be found at this authentic New York flea market.

Schedule: Saturday, year-round | Hours: 6 am – 5 pm
Directions: East 67th Street 408, Manhattan, New York
Read more: Review of East 67th Street Market on Fleamapket
7. Flea markets in New York: The Market NYC – SoHo, Manhattan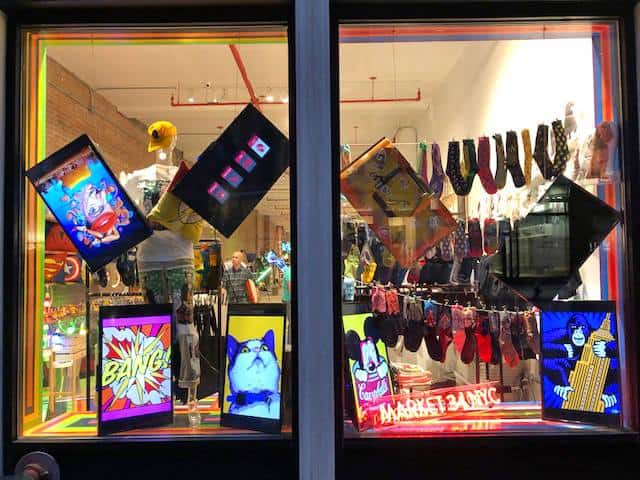 The Market NYC is an indoor market in SoHo, Manhattan, with a cool vibe and plenty to discover. Most vendors sell vintage-inspired handmade treasures such as jewelry, fashion, or home decors such as prints, lamps, and more. There are also artifacts, art books, and collectibles sold at The Market NYC. Expect to see fashionable Etsy-esque treasures, works by up-and-coming designers, and sometimes even artisans at work at this colorful SoHo market. Be aware that this is a design market and not a regular flea market with vintage and antiques, but it is nevertheless a great spot to find a unique souvenir or gift. There are two locations, both in SoHo, and their opening hours are perfect if you are looking for a market in NYC open during the week.
Schedule: Open year-round | Hours: Tue-Sat 11 am – 8 pm and Sun-Mon 11 am – 7 pm
Directions: 427 Broadway, b/t Prince St & Spring St, Manhattan and 449 Broadway b/t Grand and Howard St, Manhattan
Read more: The Market NYC website
---
More vintage shopping in NYC
Once you are done discovering all these great flea markets on our list, why not discover more flea markets in Brooklyn? And, of course, there are also some pretty amazing vintage clothing stores in NYC.
For more information and a map of NYC's best flea markets and antique shops, head to fleamapket.com. If your heart is set on antiques, we also have a few great recommendations for vintage and antique shops in New York there!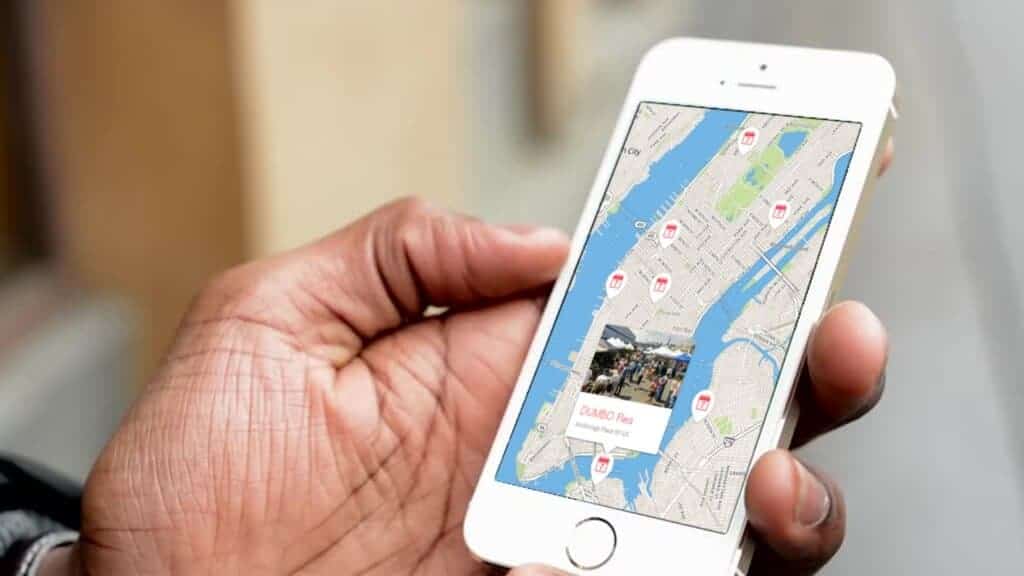 Book your stay in New York City