Flea market hours vary from one flea market to the other. It is therefore highly recommended to check the opening and closing times of a flea market before heading out there. There is nothing quite like the frustration of having to wait hours before the flea market gates open. Or even worse, to show up late at the flea market – we are all too familiar with the saying "the early bird catches the worm"! Showing up late because you haven't properly checked the business hours of a flea market, often means missing a great opportunity to secure a great bargain.
Thankfully, flea market hours can easily be obtained, so you can make the most of your next antiquing trip! Here is how you should proceed in order to get accurate flea market hours online.
How and where to get flea market hours?
Even if a particular flea market or antique shop doesn't have a website, you can still obtain their opening days and hours online. Almost every registered business in the US, in Europe, and in most developed countries can be found on Google Maps. Google Maps is not only great to obtain driving directions to a specific location. It is a fantastic tool to get useful information about a business like its description, its website's address, telephone number, customer reviews, and opening hours. And since most flea markets are registered business, there is a high probability that their business hours will be available on Google Maps.
Social media is also a great tool to obtain the opening hours of a specific flea market. Many flea markets nowadays have a Facebook or Instagram account, on which they share their opening days and hours.
How reliable is this information?
Flea market hours are usually kept up to date by the business owner or organizer himself. Or by a community of people who report and manually update this information as soon as it is outdated. Google Maps has some kind of incentive program that rewards users with points whenever they add a new location or report outdated information.
Nevertheless, it is very important to make sure on your own that the business hours of the flea market you are planning to visit are up to date. Show schedules might be subject to change. And it is highly recommended that you consult the promoter's social media and website before heading out. All the more so as when this might involve travel arrangements. You should never exclusively rely on social media and Google and take flea market hours for granted. Try and contact the show promoter via email, phone, or social media to ask him or her directly about its opening hours. This is particularly important considering the current coronavirus pandemic, and the fact that some flea markets might be closed during specific holidays (that also vary from one country to the other).
Go-to sources to get accurate and up to date information
While most flea markets take it into their own hands to keep their business hours up to date or rely on a community of Google users to do so, there are also companies specialized in curating flea market directories. Companies like fleamapket.com have referenced hundreds of the best flea markets and antique shows in the US and in Europe. Each listing on fleamapket.com has a detailed description of the venue of at least 350 words, a map, images, categories and tags, contact details, and opening hours.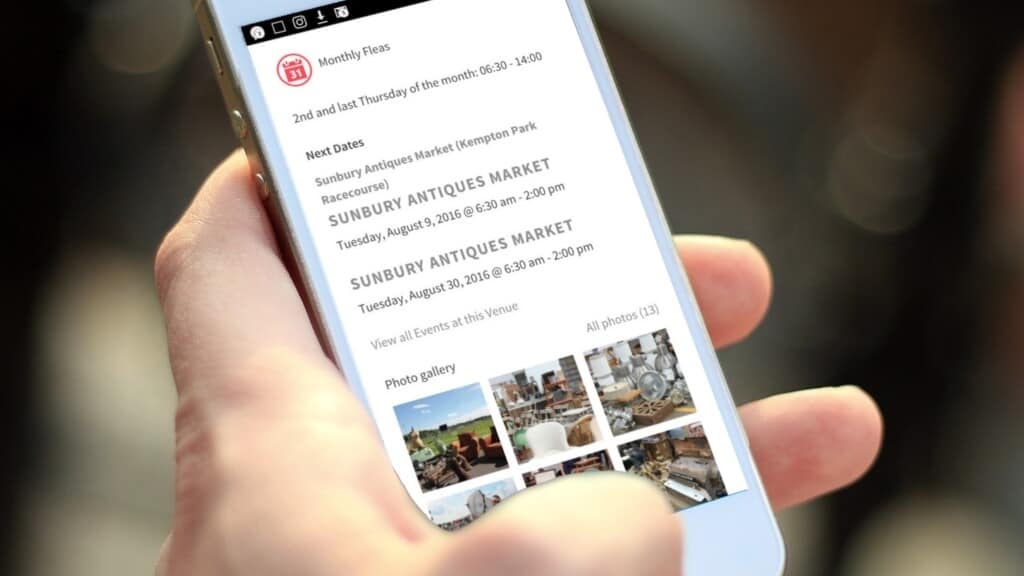 Since these listings are actively curated, the probability of finding outdated information regarding flea market hours is relatively low. Fleamapket.com also provides the possibility for each listing to actively report false or outdated information.
Once again, when it comes to knowing when a flea market is open, it is always advisable to stick to the proverb "if you would be well served, serve yourself". And ultimately get directly in touch with flea market organizers or show promoters.