Not a single design icon can totally escape this trend: thanks to the Internet, copies of iconic pieces of furniture are now everywhere online. Amazon, eBay and even big names in the home design industry are some of the many online platforms that sell copies of iconic pieces. If you're wondering how to join the fight against plagiarism and avoid missteps, while supporting creation, here are a few tips to help you separate the wheat from the chaff.
A "DSW" chair signed Charles and Ray Eames for less than 100 €. A real bargain? Nop, it's more likely a copy!
A few clicks on the Internet, and products by iconic names like Eero Saarinen, Joe Colombo, Arne Jacobsen, or Gino Sarfatti, appear at bargain prices.
How is that possible when the original can cost up to ten times the price? Well, these knockoffs are industrially produced by companies located in the UK where the law is unclear on this kind of copyright.
But not for long.
As a matter of facts, the Enterprise and Regulatory Reform Act 2013 contained provisions to bring UK copyright law into line with most of Europe, where manufactured goods are protected for 70 years after the death of the designer. Existing UK law only protects designs for 25 years. And thanks to the Web, copies continue to spread. Here are a few tips to help you spot the genuine from knockoffs.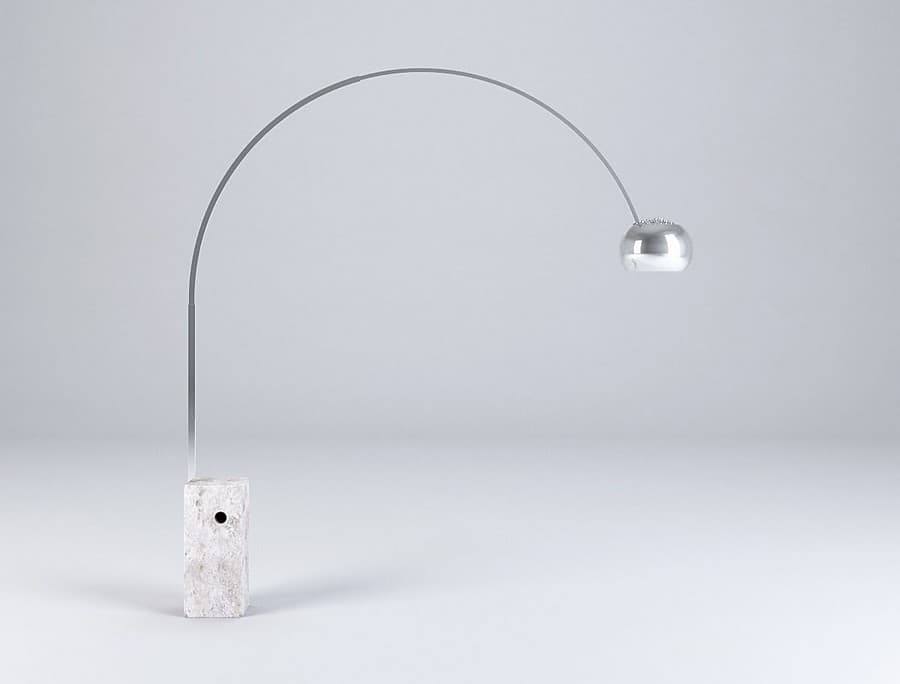 DESIGN ICON: "Arco". / DESIGNERS: Achille and Pier Giacomo Castiglioni. / PUBLISHER: Flos. / INCEPTION DATE: 1962. / With its foot made of Carrara marble and its metal rod that makes it identifiable at first glance, the Arco was an alternative to the rigid floor lamp. Its perfection earned it a place at the MoMA.
#1. A copy is obvious: FALSE
The more accurate a copy is to the original, the higher the doubt. From an intellectual property point of view, the evaluation of a counterfeit is based on similarities and not differences. In short, if the general vision of two parts gives the impression that they are identical, we can talk about counterfeiting. But that assessment is quite subjective in practice.
Therefore, only those who are well educated and informed will be able to identify at first glance a copy from a genuine item. E-commerce websites that sell design furniture online, often confuse their customers by using the name of the original item, and by publishing the biography of the designer who was involved in their creation. They even display photos of original furniture instead of their own's "home-made" products. Counterfeiting is a smoothly conducted deception.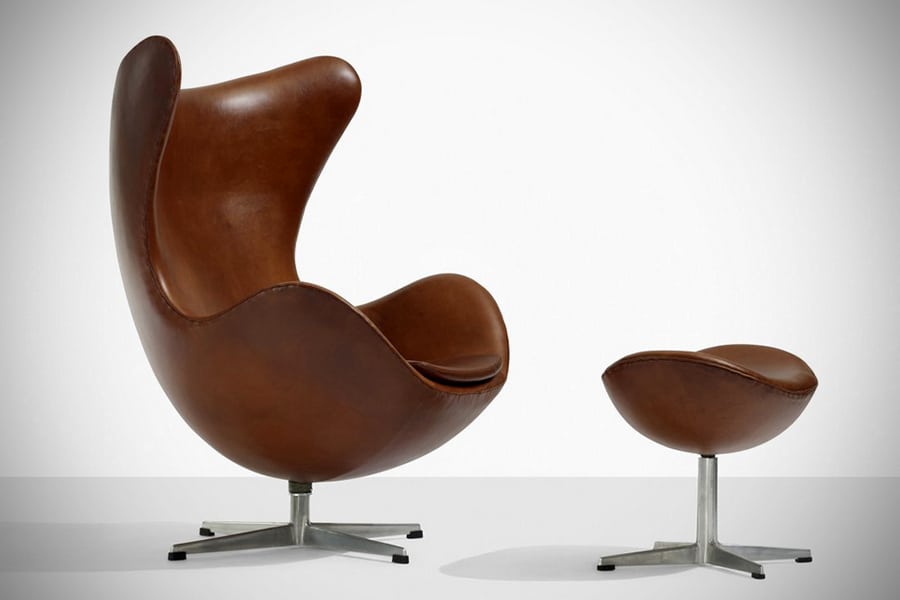 DESIGN ICON: "Egg". / DESIGNER: Arne Jacobsen. / PUBLISHER: Fritz Hansen. / INCEPTION DATE: 1958 / Designed to create bubbles of intimacy in the lobby of the Royal Hotel in Copenhagen, the famous "Egg" chair has often been imitated but never equaled. This is one of Fritz Hansen's most copied piece of furniture.
#2. There are ways to know if a piece is an original: TRUE
Stamps, certificates, serial numbers, engraved signatures and logos are theoretically pledges of authenticity. But these marks are not either immune to counterfeiting! An excessively low price is a good signal for a counterfeit, and should put suspicion into your head!
The best way to know if a piece you spotted at the flea market is the real deal or not, is to refer to the official dealer network of major design editors. For vintage pieces, publishers usually accept to authenticate an original, from pictures. Yes, this takes time and a little bit of sweat, but this might also help you avoid to make a bad investment and a costly mistake.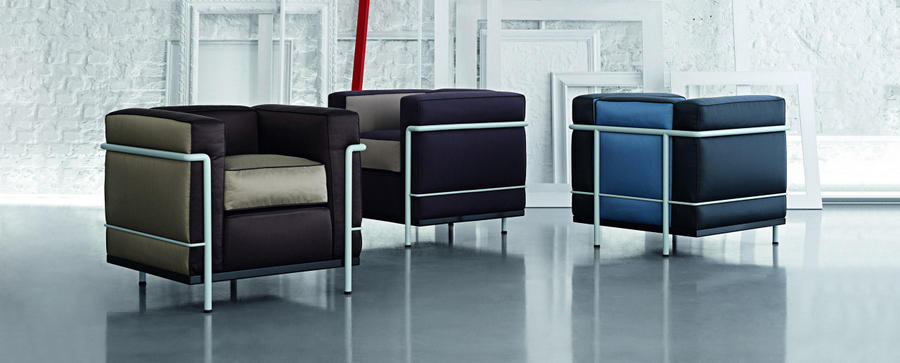 DESIGN ICON "LC2 Villa Church." / DESIGNERS: Le Corbusier, Pierre Jeanneret, Charlotte Perriand. / PUBLISHER: Cassina. / INCEPTION DATE: 1928 / To deceive counterfeiters, Cassina relaunched in 2012 its flagship model in its original colors.
#3. All knockoffs are made equal: FALSE
According to Lionel Pithoud, director of Knoll France, counterfeit copies can be classified into two categories. First, those copies which can be labeled as "cheap", and which clearly wrong buyer by posing for what they are not. These include "replicas", and copies labeled as "inspired by" and "after XX". Then, there are copies considered as "inspiration", which can be found on the consumer market, and whose shape evokes iconic pieces but don't make a clear reference to it.
Labels aside, prices can vary up to ten times. Design icons from the 1950s and 1960s signed by big names of the design industry top the list of the most copied items. Contemporary creations such as Philippe Starck's, also suffer from this trend. "Of course counterfeiting can be seen as a tribute to the creator; but that does not console us so far," says Michel Richard, Director of the Fondation Le Corbusier, and who watches over the work of the architect.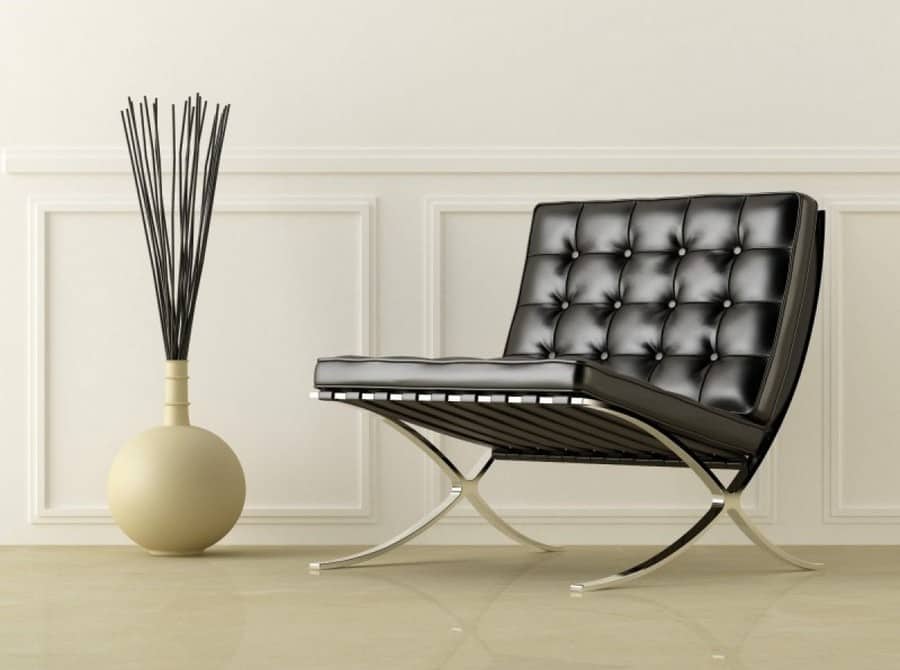 DESIGN ICON: "Barcelona". / Designer: Ludwig Mies van der Rohe. / PUBLISHER: Knoll. / INCEPTION DATE: 1929. / The famous padded chair with its incomparable X frame made of polished chrome steel, is Knoll's pride.
#4. The fight against counterfeit is fierce: TRUE
Constantly alert, design publishers track down copies like fierce hounds. Their means of action? Standing guard, seizing counterfeit items, blocking distribution, destroying stocks and even getting paid damages. Often publishers try to close websites, but as soon as one is removed, another two start growing. Pretty much like the heads of a hydra.
However, editors do not stop there. "To outrun copiers, one must reinvent himself!" says Gianluca Armento, CEO of Cassina. And most of them have the authority to do so. With the help of heirs, copyright holders and foundations, design publishers develop creations, improve details, rethink the colors, and explore innovative materials, while remaining faithful to the original plans of designers.
Another key action, is information. According to Isabelle Ponfilly, CEO of Vitra, it is very important to explain the importance of owning an original piece vs a counterfeit. This is the reason why many editors are undertaking, together or separately, series of educational campaign to raise awareness around the promotion of the concept of original creation.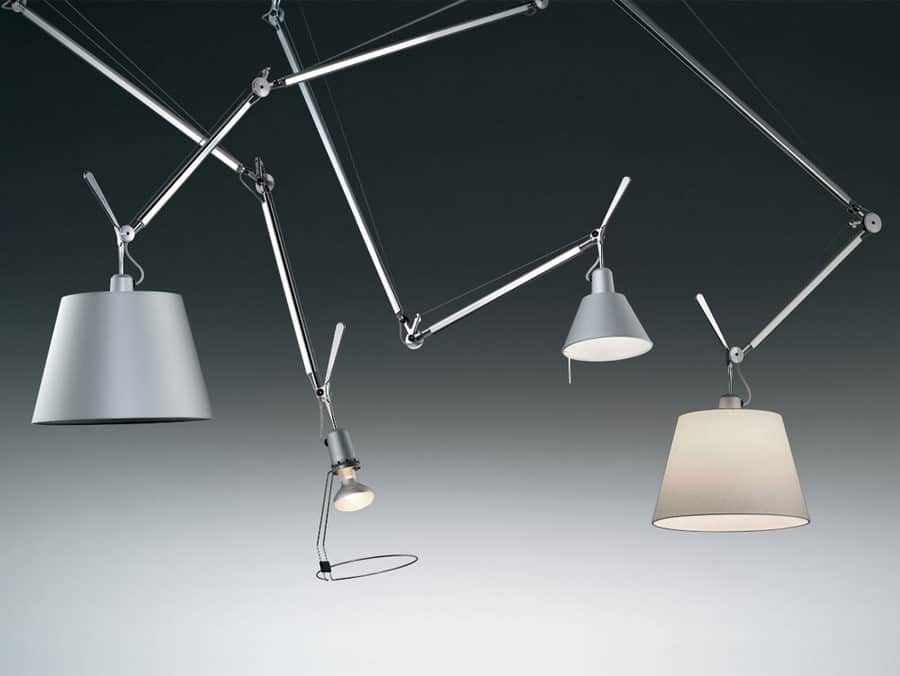 DESIGN ICON "Tolomeo". / DESIGNERS: Michele de Lucchi and Giancarlo Fassina. / PUBLISHER: Artemide. / INCEPTION DATE: 1987. /
#5. There is no risk to buy a knockoff: FALSE
A copy is a counterfeit. So this means it's illegal. Once spotted, the whole production line is in sight. Every buyer can then be accused of "counterfeit concealment." The risk? Up to three years imprisonment, a 300.000 € fine, customs sanctions and more. So beware before you lightly decide to settle for a cheaper counterfeit version of design product.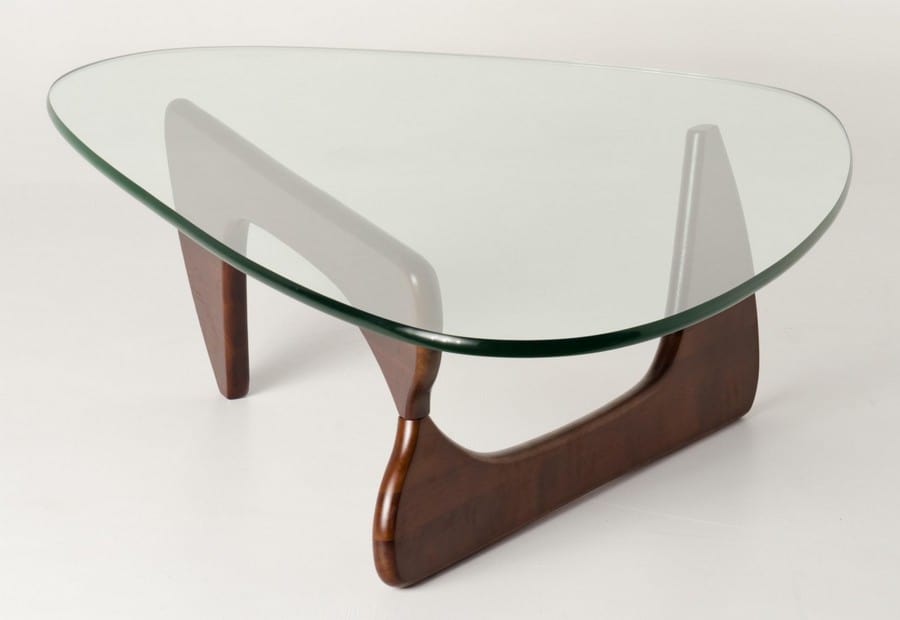 DESIGN ICON "Coffee table". / Designer: Isamu Noguchi. / PUBLISHER: Vitra. / INCEPTION DATE: 1944. / With two identical feet arranged in a right angle, this coffee table evokes the bronze and marble sculptures of its designer.
#6. A knockoff is cheaper: TRUE
Generally speaking, if the price is lower, the quality is too! How would it be possible then to cut costs while maintaining the same quality of materials and know-how?
Also, one must consider a piece of design as an investment. Not less. It's simple as that. As it becomes part of your legacy, an original can be transmitted to the following generations, while retaining some market value. On the contrary, a knockoff is worthless; unless you're planning to use it for the sole purpose of shooting an action movie which ends up in a big ball of fire, owning copies is pretty much like burning banknotes.
"Authentic designs are investments. They may be pricier than their knockoff versions but they're usually crafted with high-quality materials, will last for generations, and will retain value. Knockoffs, by contrast, tend to be short-term objects; they're made with lower-quality foam, fabrics, metal, joinery, glue, and veneers that break down faster."

The Real Cost of Rip-Offs by Jaime Gillin for DWELL
If you're obsessed with a certain design but can't afford it, there are better options than knockoffs. For instance, eBay, Craigslist, and estate sales offer a whole range of authenticated vintage mid-century classics, at affordable prices.
In the end, swinging between an original and a forgery, is like hesitating between a real and a fake Hermes bag. Even if other people think you own an original, you will always know it's a fake. And that surely ain't cool.
More about this topic: The Real Cost of Rip-Offs