Have you ever dreamed of transforming your space into a vintage French country house? If so, you are about to embark on an exciting journey.
A décor choice that embodies both tradition and timelessness, the French Provincial style is the ideal choice for those who want to infuse their home with a semi-formal design genre with the tranquil charm of the French countryside.
With the perfect blend of classic and casual design aesthetics, French Country Stylefurniture is a chic choice for home decor enthusiasts. These pieces are typically painted white, gilded and often feature subtle floral accents. A cross between rococo, rustic and French country styles, French provincial furniture lends a truly European feel to any room.
The Origins of French Provincial
Born in the remote provinces of 18th-century France, particularly Normandy and Provence, French Provincial furniture represents the pinnacle of elegance combined with simplicity. This unique style was created by the provincial nobility who wished to distinguish their homes from the hustle and bustle of Paris, which they found too urban for their tastes.
Known for its subtle curves, intricate carvings and a delicate touch of opulence, French Provincial is characterised by warm tones, smooth lines and sturdy construction, striking a perfect balance between aesthetics and comfort, two cornerstones of superior design.
Start with the Basics of French Provincial Decor
A fundamental aspect of understanding French Country Style furniture is recognising its roots. Often carved from local woods such as oak, walnut and cherry, these pieces are characterised by their sturdy construction. Unlike their more ornate Parisian counterparts, they tend to favour lighter finishes, reflecting the more relaxed and rustic ethos of the provinces.
If you're new to this aesthetic, it's a good idea to start with key pieces of furniture. Such pieces include cabriole-legged tables, ladder-back chairs with rush seats or cabinets rich in intricate carving. The cabriole – a characteristic element of this style – is a unique type of curved leg that curves outwards at the top and tapers inwards at the bottom, ending in a decorative foot.
The trick, however, is to harmonise your interior with these distinctive pieces. This can be achieved through the judicious use of four specific elements: the right textiles and patterns, the right colours, tasteful accessories and appropriate lighting.
Tip no. 1: Fabrics, Patterns, and Upholstery
Often associated with romance, traditional French Provincial fabrics are a feast for the eyes. Chief among them is toile, a monochrome fabric printed with scenes from the French countryside or pastoral settings. This versatile fabric can be used in curtains, cushions or even as a distinctive wallpaper. Other classic patterns include delicate stripes or florals, and for plain colours, bed linen in muted tones is perfect.
Do it, but… don't overdo it
Moderation is the key to a balanced and tasteful interior. Excessive use of embellishments can detract from the elegance of the furniture. For example, if you are designing a French provincial-style bedroom, opt for simple mouldings in neutral colours such as white or eggshell, without adding elaborate cushions. A subtly patterned cotton curtain with hints of lace and ruffles can enhance the overall atmosphere without overpowering the beauty of the furniture.
Give your French provincial furniture a touch of Louis XV inspiration by incorporating modern fabrics with 18th century patterns such as toile de jouy, fleur de lis, bees, crowns or plaids. Remember that these patterns should be in soft and light tones to maintain harmony and avoid overwhelming the room.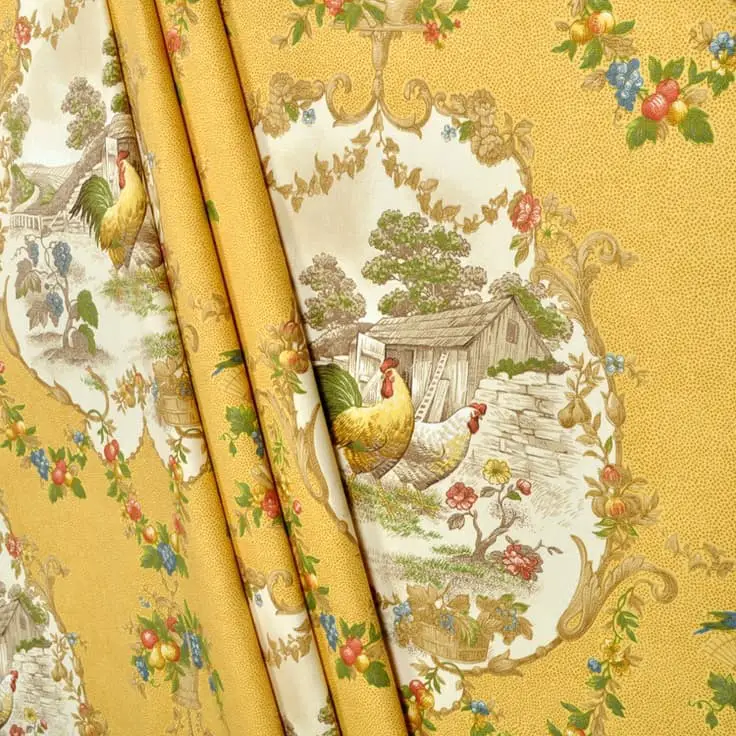 The walls also play an important role in this style. The choice of paintings, frames and wallpaper should be subtle to ensure that the French provincial furniture remains the focal point of the room.
In terms of upholstery, French Country Style furniture often features beautiful, plush fabrics. From velvets to brocades, texture is as important as aesthetics. However, to maintain the desired balance between opulence and comfort, consider using weathered leather or plain linen.
Tip no. 2: Choosing Your Color Palette
The colour palette of the French Provincial style is directly inspired by the French countryside, bringing the outdoors in. Think muted pastels with soft blues and greens that reflect the open sky and sprawling fields, warm golds and creams that evoke the ripe wheat fields, or earthy browns that evoke the fertile soil and trees. The addition of peach, lavender, old rose, lilac or periwinkle can give your home a calm and relaxed feel. Don't hesitate to use these colours liberally on your walls, upholstery and accent pieces.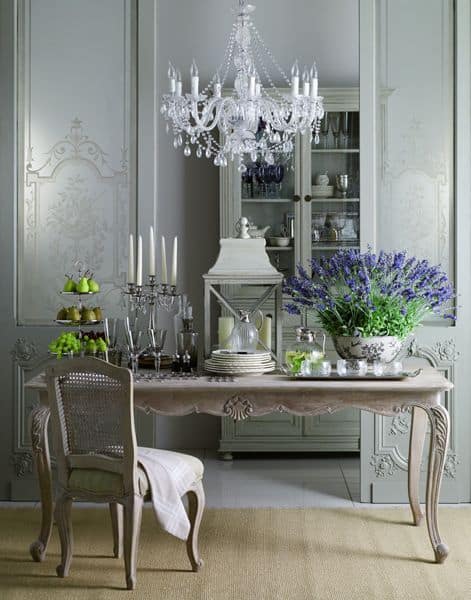 Refinishing old furniture in shades of white, grey, lavender or antique rose can help to harmonise it with the rest of your decor and create a consistent visual flow.
Tip no. 3: Accessories to Complete the Look
Once the main pieces of furniture are in place, it's time to add accessories to enhance the charm. Accessories in a French provincial decor emphasise simplicity and old-world romance. A vintage chandelier, decorative wrought iron, rustic baskets or an ornate mirror can add character to any room. A pitcher and basin set on a long round table covered with a tablecloth can have a striking and poetic effect.
Traditional French Provincial design also makes great use of ceramics, such as earthenware or faience. These elements, whether functional or purely decorative, add to the overall authenticity of the design. Other accessories with elements reminiscent of the Mediterranean style – roosters, grapes, olives, lavender or sunflowers – can add an eclectic touch.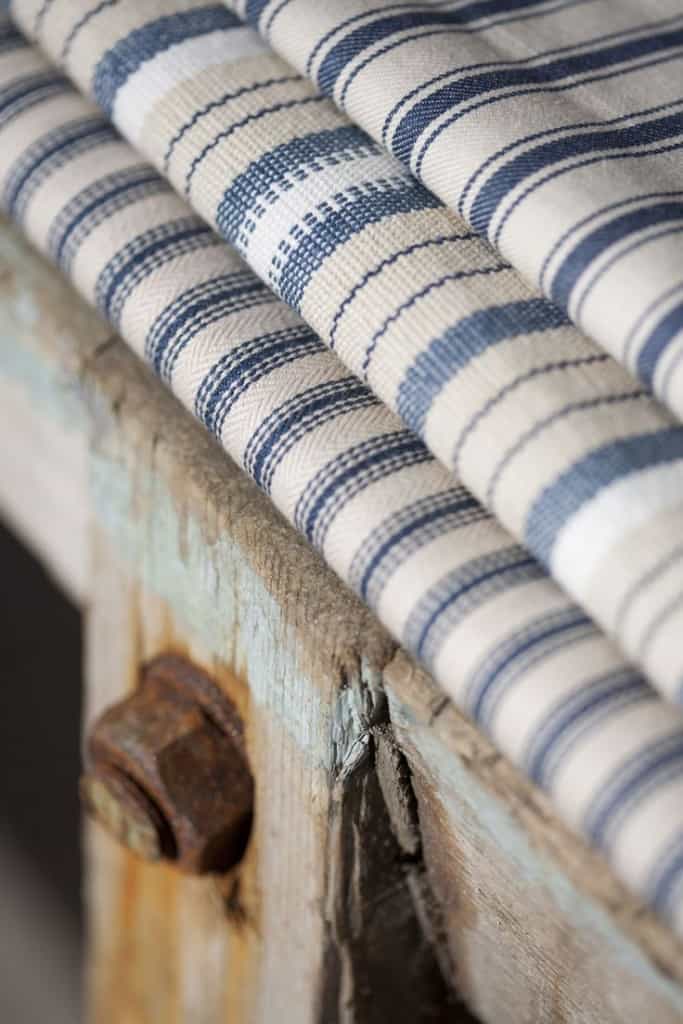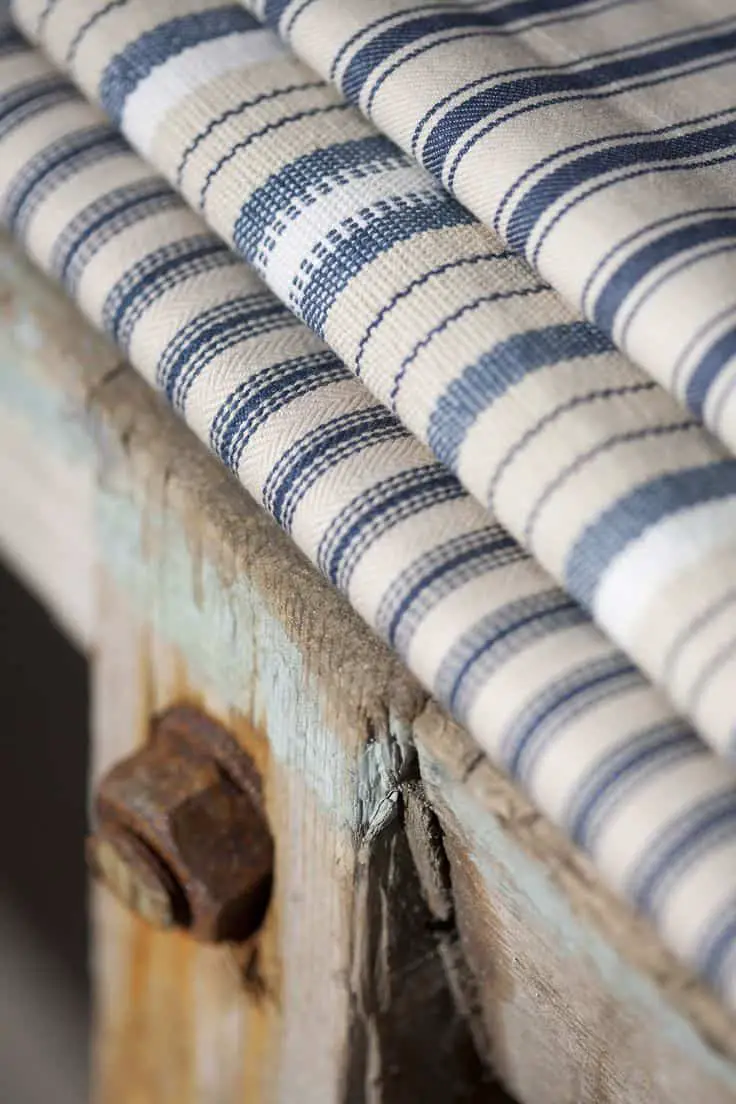 In each room, consider adding a small rug that complements the rest of the decor, whether your floor is wood or ceramic. In the kitchen, display your wooden breadboard, enamelled jugs, cake tin and striped cloths. Add wicker baskets filled with fruit or dried flowers for a finishing touch.
Be careful, however, to avoid contemporary or minimalist elements that may clash with the French provincial style. Conversely, incorporating an antique wardrobe can be a tasteful choice, adding a shabby chic touch and providing a practical storage solution.
Tip no. 4: Lighting in a French provincial style
The right lighting is essential to creating a French provincial ambience. Consider wrought-iron sconces or brass or other brushed metal table and wall sconces with glass or fabric shades.
An antique chandelier hanging over the bed or dining table is a classic choice, and antique lamps and chandeliers are readily available at flea markets or online auction sites. Make sure the lighting you choose works well with the other textiles and furniture in the room.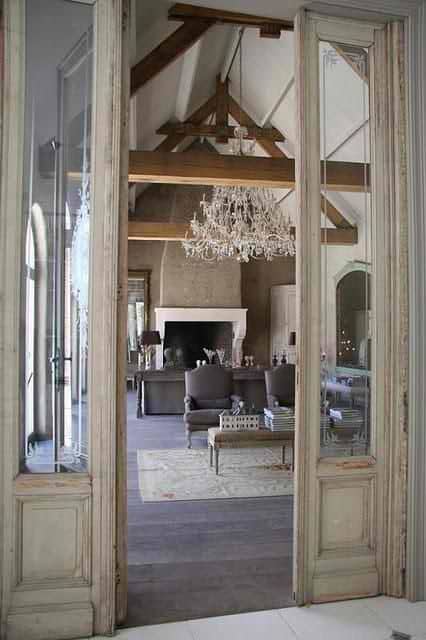 Tip no. 5: Mix the Old with the New
While completely immersing your home in the French Provincial style may sound appealing, it's important to prevent your space from becoming a static exhibit of the past. An excellent strategy is to incorporate contemporary elements into the design to ensure that the room retains a vibrant and modern feel.
Contemporary artworks, sleek lighting fixtures or a minimalist coffee table can create a stunning fusion of old and new. This approach retains the charm of French Country Style while ensuring your home feels fresh and relevant in the 21st century.
Don't Forget the Kitchen
One of the areas where French Provincial design really shines is in the kitchen. It's where you can really express the rustic roots of the design. Opt for a sturdy, vintage-looking table, a ceramic sink and open shelving to display your French earthenware. Consider hanging copper pots and pans for an extra layer of authenticity.
Remember, at its heart, French Country Style design is a style rooted in rustic charm. Imperfections are not only accepted – they're celebrated as part of the overall aesthetic. Distressed finishes, signs of wear and a general 'lived-in' look all add to the appeal.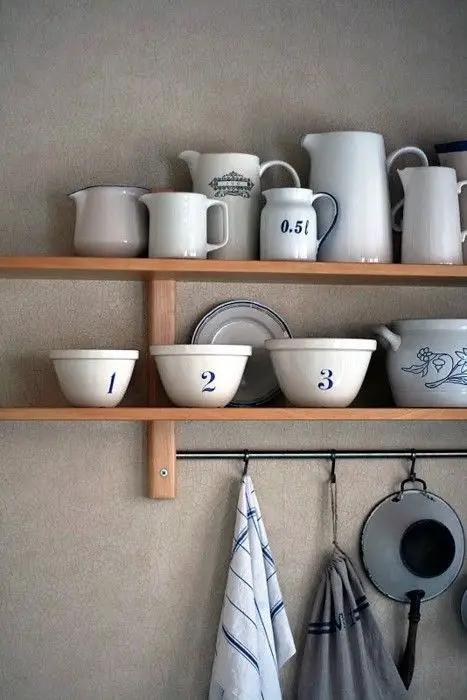 In the kitchen, showcase your wooden breadboard, your enameled jugs, cake mold, and your striped cloths. Complete your decor with wicker baskets, (in their natural color or white), filled with fruits or dry flowers.
Where to find French provincial decor?
There are a number of options for buying French Provincial-style decorative elements.
Flea markets in France are, of course, full of French provincial furniture, lighting, kitchenware and more. A weekend of vintage shopping at the flea markets in Paris, or a tour of the best flea markets in Provence, could be enough to bring home enough finds to redecorate your entire home in French provincial style.
If you are not able to scour France's flea markets for treasures any time soon, there are still plenty of ways to buy French decor online. Etsy, for example, offers a wide range of antiques and vintage items in the French Provincial style. If you live in the United States, check out Ruby Lane, where antique dealers who import their wares directly from Europe sell their authentic French antiques and vintage French products.
Bottom line
French Provincial Furniture offers a timeless, elegant yet surprisingly comfortable way to decorate your home. It's not about creating a perfect replica of an 18th-century French home but taking inspiration from the time and place to create a space that feels uniquely yours. Allow the character of the furniture and the grace of the style to inspire and guide your decorating decisions. With these tips, you'll be well-equipped to create a living space that is not only warm and inviting but also exudes the unmistakable charm and elegance of a French country house. Whether you're hosting a dinner party or enjoying a quiet evening by the fire, you and your guests will appreciate the tranquillity and beauty that French Provincial decor brings to your home.
In fact, French Provincial furniture is more than just furniture. It's a lifestyle choice that reflects a love of simplicity, elegance, and a deep appreciation of the beauty found in everyday life. When you invite this style into your home, you're not just choosing furniture – you're choosing an elegant, comfortable, and peaceful way of living. Each piece tells a story, each carving whispers of a bygone era, and each room decorated in this style offers a soothing embrace after a long day. Welcome to a world of timeless elegance. Welcome to the world of French Provincial Furniture.
---
This article contains affiliate and sponsored links that come at no cost to our readers and help us run Flea Market Insiders. The article fully represents the views of our editorial team.