Intro
Knowing where the best flea markets in France are, is the prerequisite for a successful antiquing trip there. A visit to a Brocante (a French word for flea market) can be the highlight of a trip to France. It is a lively encounter with everyday French culture, and an exciting way to spend a few hours. It is also a chance to pick up a unique souvenir or add to a collection.
Each year, more than 15,000 flea markets and garage sales take place across the country. Such events gather crowds of onlookers in search of a bargain, a rare item, a decorating idea, or a souvenir.
We selected the most promising French flea markets for 2023, with a mind to diversity in location, price range, and quality of wares.
Best Flea Markets in France in 2023
Use the links below to jump to our detailed reviews of the best brocantes and antique markets in every region of France:
Marché aux Puces de Clignancourt (Paris St-Ouen flea market)
Paris' Puces de Vanves Flea Market
Montreuil Flea Market
La Grande Braderie de Lille
Foire aux Puces de Crèvecœur-le-Grand
Brocante de Maroilles
La Réderie d'Amiens
La Braderie du Canal Saint-Martin in Rennes
Brocante de Durtal
Brocante de Chambord flea market
Tours Flea Market (Brocante Boulevard Béranger)
Nantes Flea Market (Brocante Place Viarme)
Toulouse Flea Market (Brocante Saint Aubin – formerly Brocante Saint Sernin)
Pézenas Flea Market (Grande Foire à la Brocante de Pézenas)
Arles Flea Market
Villeneuve-lès-Avignon Flea Market
Isle-sur-la-Sorgue (Foire de l'Isle-sur-la-Sorgue)
Carpentras Flea Market (Brocante de Carpentras)
Nice Flea Market (Brocante Saleya)
Lyon Flea Market (Les Puces du Canal)
Farfouille de Leyment
Annecy Vieux Quartier Flea Market
Belfort Flea Market
And these are just a start! Discover now our flea market listing and brocante directory of the best French flea markets! Enthusiasts may also wish to check out the top 7 largest periodic flea markets & antique fairs in France known as "vide-greniers". These events (basically, "emptying the attics") take place on a less frequent basis in communities across France.
Don't miss the chance to have a look at our ranking of the Top 15 Flea Markets in Europe You MUST Visit. Enjoy the reading!
Bonus: Flea markets of France on a map!
You can now view the best flea markets and antique fairs in France on a map! We have included all the flea markets featured in this article, as well as the most acclaimed antique fairs in France. Just click on the image below to access our map feature for free.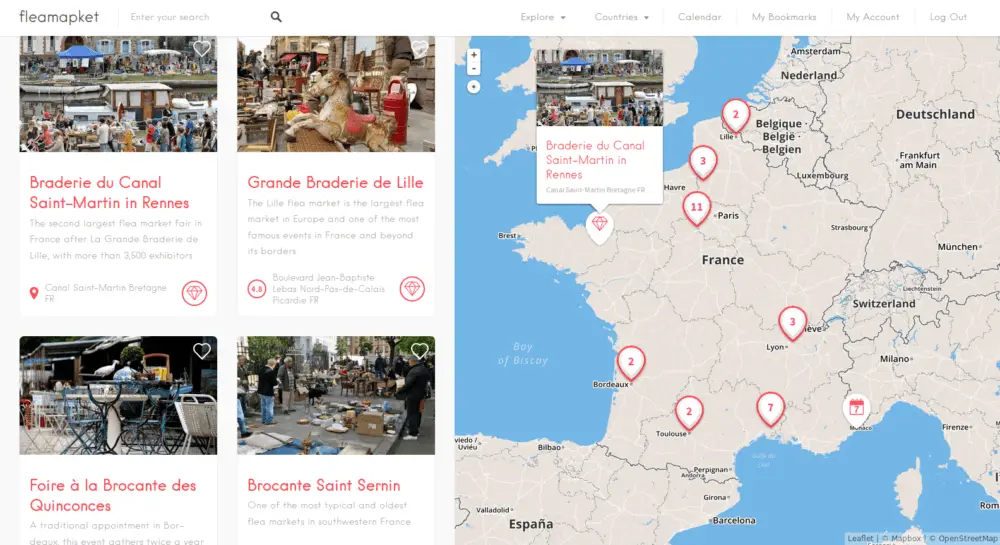 ---
** IMPORTANT **
This review has been divided into 6 pages to make it easier to jump from one page to the other. Clicking any of the links featured in the table of contents below will take you directly to the page of your interest. You can alternatively use the "Continue" link, featured below the sharing buttons, to load the next page.