Best Flea Markets in France: Eastern France
Lyon is well known for its culinary credentials. Legend has it that France's gastronomic capital has more restaurants per square mile than anywhere else in Europe. However, Lyon isn't only about Andouillette, Coq au Vin or marrons glacés. The city's flea market scene is one of the most attractive in the region. The Déballage Marchand de Lyon and the Puces du Canal enjoy international renown.
A true paradise for fans of bric-a-brac and antiques, Les Puces du Canal gathers every week around 400 vendors and exhibitors and is considered France's second-biggest weekly flea market behind the Marché aux Puces de Clignancourt (St-Ouen flea market).
⚠ COVID-19: Amidst the coronavirus pandemic, show schedules might be subject to change. Please consult promoter's social media and website before heading out. COVID-19 live updates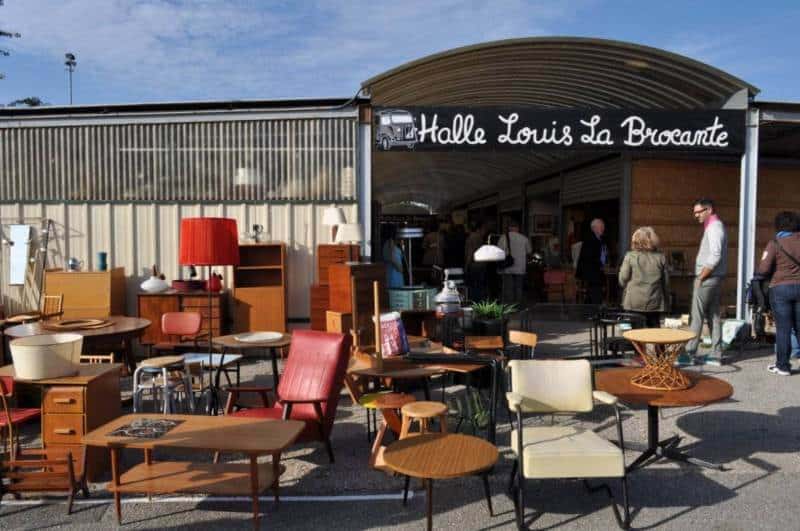 Les Puces du Canal is an unusual experience and well worth a visit for flea market enthusiasts and antique collectors passing through Lyon. At Lyon's Puces du Canal you will find old furniture and vintage decor and, in fact, almost anything related to design, retro and vintage you could think of. Lyon's Les Puces du Canal is a flea market that deserves to be mentioned as not only one of the biggest, but also one of the best in the whole of France.
Luckily, this flea market is open even three days a week (Thursday, Saturday, Sunday). While on Thursdays and Saturdays only professional stallholders are allowed to sell their goods, the general public is welcome to set up booths on Sunday. The result is an eclectic and lively mix that characterizes the Puces du Canal flea market.
Where: 1, rue du Canal, Villeurbanne
When: Thursday: 07:00 – 13:00 | Saturday: 09:00 – 12:00 | Sunday: 07:00 – 15:00
Read: Full review of the Puces du Canal
Located between Lyon and Geneva, the Farfouille de Leyment is the second largest open-air flea market in France after the Grande Braderie de Lille. With more than 1,700 vendors over a 20km area, the Farfouille de Leyment is one of the few outdoor antique fairs of this scale and quality in France. As a result, bargain hunters come as far as Switzerland, Italy, Germany, Belgium, Netherlands, and Austria to attend this event and to try their luck at bringing home something unique.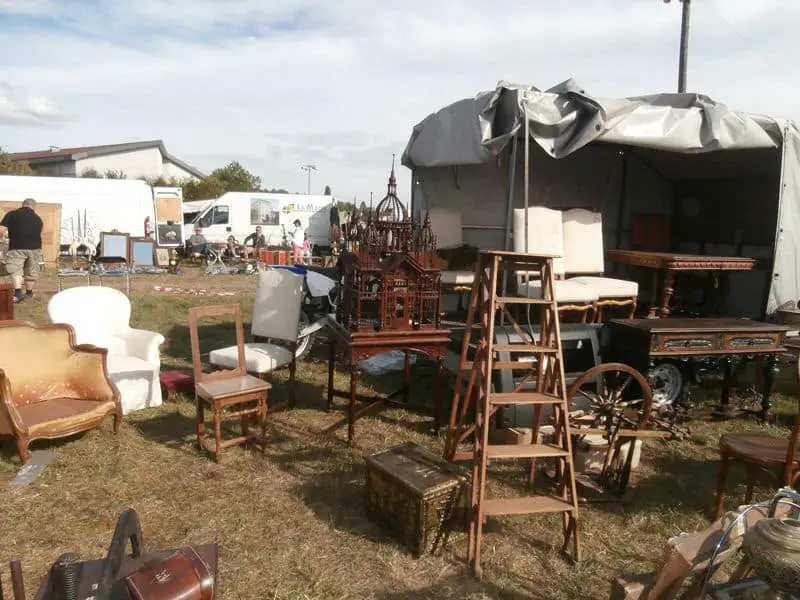 The Farouille de Leyment did not take place since 2016 due to security concerns. Hopefully, we will witness someday in the future, the return of this exceptional event.
Paintings, postcards, trinkets, antique furniture, lighting, old books, vinyl records, decor objects, stamps, pottery, antiques are some of the many items that can be found at this event, which, once a year in August, brings together more than 1,700 merchants and around 70,000 visitors.
Where: Rue de la Guillotière 01150 Leyment
When: Discontinued since 2016
Read: Full review of the Farfouille de Leyment
Annecy Vieux Quartier Flea Market
Gathering between 150 and 200 professional vendors, the monthly flea market in Annecy's beautiful Quartier Viarme can claim bragging rights for the best location among France's brocantes, with one of the most stunning sceneries you will get to see.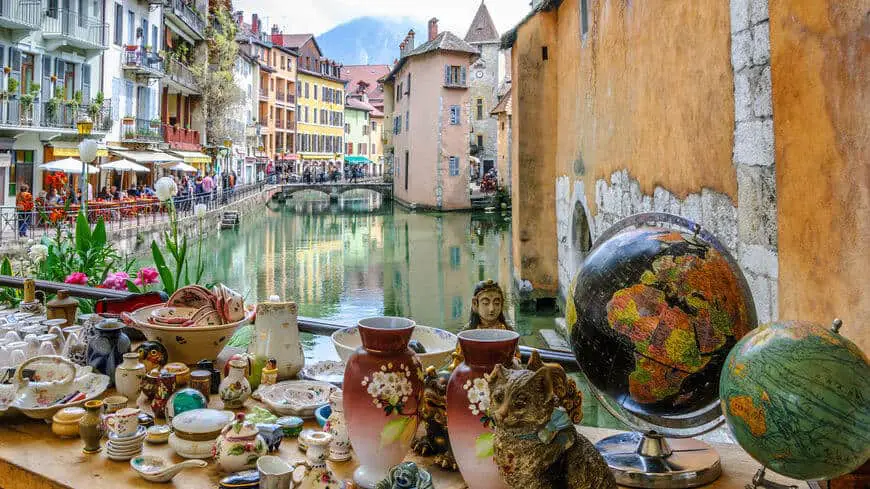 The brocante's location in itself is an invitation to wander through the alleyways of the old town, between booths selling antiques as well as locally manufactured handicrafts. In fact, a lot of the goods on offer reflect the city's status as a gateway to the Alps. Vintage snowshoes and skis, rustic Savoyard cheese-making equipment, and boxes full of cowbells all regularly turn up, alongside more traditional wares like antique paintings, pottery, and furniture.
All in all, the monthly flea market in Annecy provides yet another reason to visit this stunning, alpine town and soak up the local culture.
Where: Vieille ville, 74000 Annecy
When: Last Saturday of the month from 08:00 to 18:00
Belfort Flea Market
Belfort's sprawling open-air flea market is held on the first Sunday of each month, from March to December.
The Brocante de Belfort gathers more than 120 professional antique dealers selling a wide variety of quality merchandises: antique furniture, crockery, paintings, knick-knacks, militaria, books, collectibles, postcards, enamel plaques from Alsace, linens, toys, glassware, copperware, wooden items of all sorts and some furniture. No wonder why antique enthusiasts and seasoned flea market shoppers come as far as Alsace and Switzerland to visit this flea market!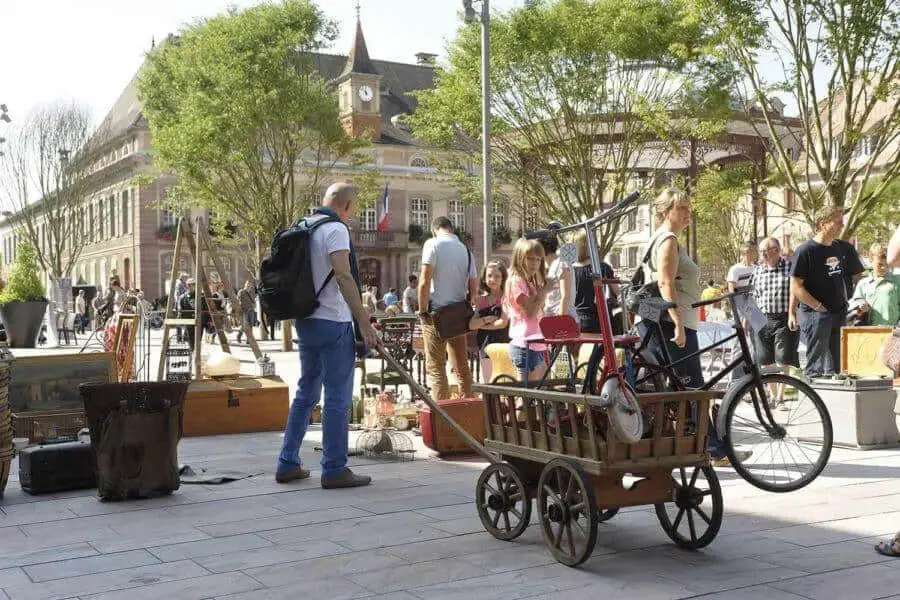 Located in the Franche-Comté region, the Brocante de Belfort is also a great place to find collectibles of all kinds from the northeast of France: Alsatian bowls and milk pitchers with flower motifs, grey stoneware jugs, classic ceramic baking molds, and folkloric dishware from Lorraine.
The presence of an antique expert on the premises of the flea market helps deter crooks from selling fake merchandise or forgeries.

Where: Place d'Armes, place de l'Arsenal, rue de la Grande Fontaine, rue des Bons Enfants, rue du Général Roussel, Grand-Rue
When: First Sunday of each month (except January and February): 08:00 – 12:00