Best Flea Markets in France: Paris
There are flea markets in every pocket of the French capital. And you can get anything you want, from authentic European antiques to fake watches, classical furniture, and the latest sneakers. However, the three main Paris flea markets are the Marché aux Puces de Montreuil flea market in the 20th district to the east, the Marche aux Puces de la Porte de Vanves flea market near Montparnasse to the south, and the massive Puces de Saint-Ouen flea market, just outside Montmartre to the north.
A visit to one of these three flea markets is as much an essential part of a trip to Paris as the Louvre. Once you have mastered the subway, you will be able to see the best of them in one day of all-out shopping. And spend the next day exploring Paris' antique neighborhoods, known for their high density of antique shops. Like for instance the Carré Rive Gauche or the Village Saint-Paul, a quaint little neighborhood full of antique shops in the Marais area of Paris.
Marché aux Puces de Clignancourt (Paris St-Ouen flea market)
Saint-Ouen flea market in Paris has a long history of market trading. Originally, this Paris flea market was the site of rag-and-bone men. They lived outside the city's borders and were otherwise known as "pêcheurs de lune" (moon fishermen). The name originates from their habit of searching other people's trash by night and then selling it in their stalls by day.
In the late 19th century, these traders came together to form the largest and most famous flea market in Paris. The Puces de Clignancourt nowadays attracts between 120,000 to 180,000 visitors every weekend.
Saint-Ouen flea market, or simply Clignancourt flea market, hosts no fewer than twelve different flea markets. Among which many indoor flea markets, with a couple of thousand stalls in total. This Parisian brocante covers seven hectares and is the largest antique market in the world. That means it is pretty much impossible to leave without at least a few goodies when shopping at Porte de Clignancourt.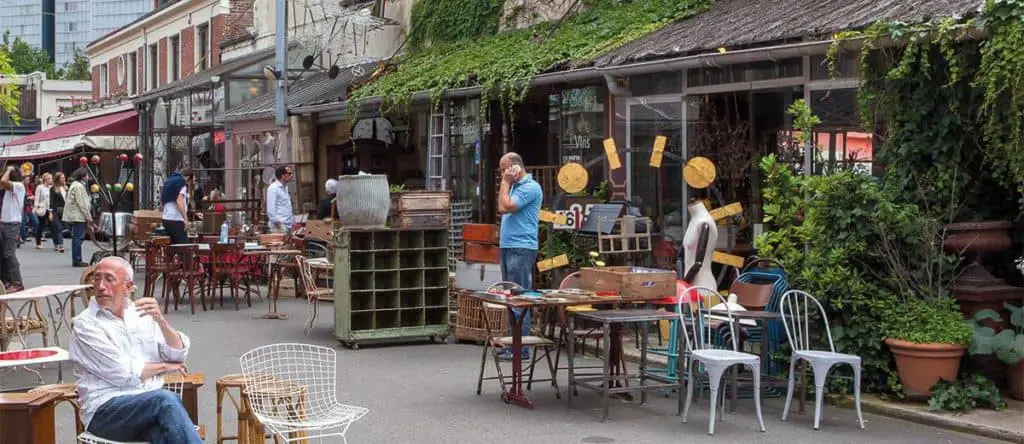 We recommend first heading to the Marché Vernaison flea market on Rue des Rosiers for narrow alleyways full of collectibles and antiques like kitchenware, books, and table lamps. Or, if you are feeling flush, Marché Dauphin flea market on the same street offers some upmarket jewelry and ornate antique furniture.
Read our full review of the Paris Saint Ouen – Porte de Clignancourt Flea Market to come fully prepared, as the sheer size of the market can be overwhelming.
Porte de Clignancourt flea market is on metro line 4.
Where: Marché aux Puces Porte de Clignancourt, 140 Rue des Rosiers 93400 Saint-Ouen, France
When: Saturday 10:00 a.m. to 6:00 p.m. > Sunday 10:00 a.m. to 6:00 p.m. > Monday 11:00 a.m. to 5:00 p.m.
Read: Full review of the Paris Saint Ouen – Porte de Clignancourt Flea Market
This Parisian weekend flea market near the Porte de Vanves metro stop in Paris is one of the very best brocante in France. Both in terms of size and the eclectic nature of its wares. On Saturday and Sunday morning, more than 300 vendors set up at the Puces de Vanves flea market until around 1 pm (though a small number may stay later).
Some display their goods attractively on tables, while others simply pile them on blankets on the ground. You can find just about everything at this brocante, from the many regions of France as well as from faraway places – not surprising given the international character of Paris.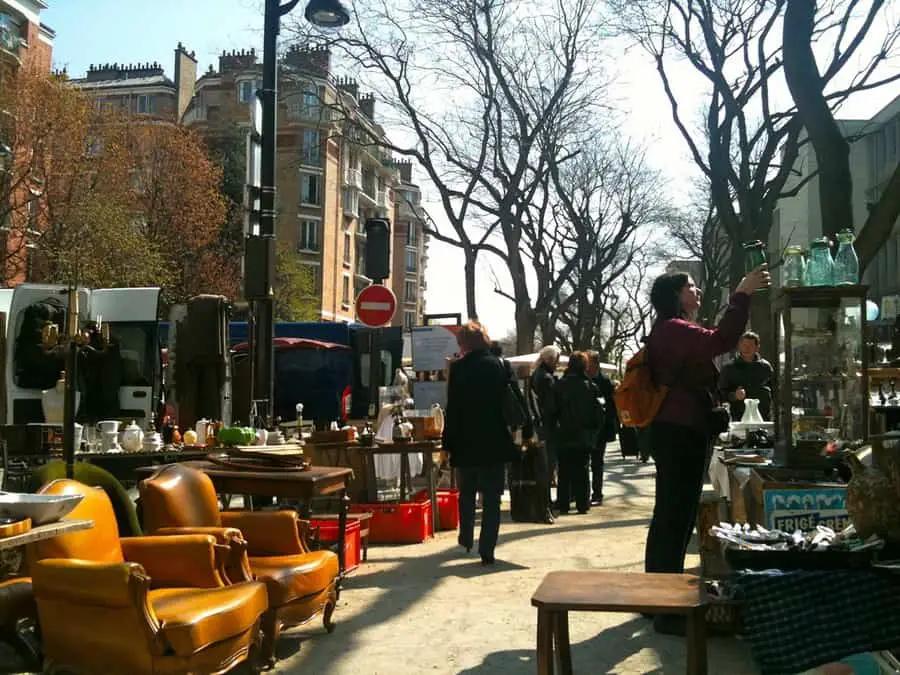 At the Vanves flea market, one can expect to see paintings, ceramics, silver, art deco, the 60s, and 70s items, linens, books, militaria, kitchenware, and vintage clothing – among many other collectibles – at prices that run the gamut. Puces de Vanves might not be the most scenic flea market in Paris, but the tree-lined street has its charm. Puces de Porte de Vanves is a flea market for people keen to buy rather than just sight-see.
Where: Ave Marc Sangnier & Ave Georges Lafenstre, 14th Paris (Metro Porte de Vanves)
When: Open Saturday & Sunday 7:00 a.m. to 1:00 p.m.
Read: Full review of the Vanves Flea Market
Montreuil Flea Market
Established in the 19th century, the Montreuil flea market is one of the oldest flea markets in Paris and it still has the air of a traditional brocante. There are about 500 stalls at this Parisian flea market and it is known as the best place to pick up some distinctly Parisian pre-loved clothing.
Picking your way through vintage fashion, vintage products, vintage images, vintage style dresses, garbled French, aged crockery, faded but fantastic jewelry, rumpled yet grand furniture Gallic, unique vintage, hip-hop, and exotic food, it's hard not to get drawn in.
The Montreuil flea market is a good place to find vintage and second-hand items, however, if you are looking for high-end antiques, then there are better places to go than Montreuil.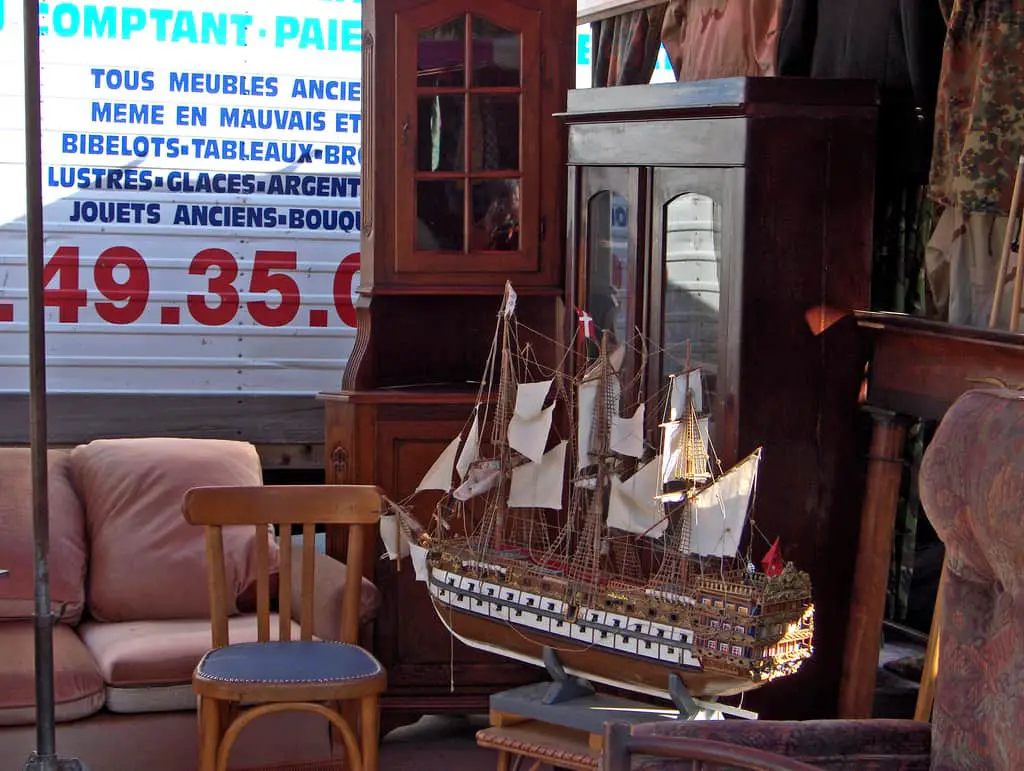 Where: Avenue du Professeur André Lemierre / Place de la Porte de Montreuil, 75020 Paris, France (Subway: M° Porte de Montreuil, line 9 )
When: Saturday and Sunday 07:00 a.m. to 7:30 p.m.
---
Antique shopping in Paris is arguably one of the best ways to get to know the French capital, as it leads you to the big markets on the outskirts of town as well as into quaint little shops in the center of Paris. Have a look at our 3-day itinerary for antique shopping in Paris. We've compiled the best addresses for you on a map!