The Grande Braderie de Lille is an event that thousands of antique lovers and vintage enthusiasts eagerly await every year. On the first weekend of September, the city of Lille becomes the worldwide capital of flea markets and bargain-hunting. This event also offers the opportunity to discover this colorful Flemish city with its exuberant architecture. In keeping with its long tradition, the Grande Braderie de Lille 2023 will take place on Saturday, September 2, 2023, and Sunday, September 3, 2023.
The Lille flea market is the largest flea market in Europe and one of the most famous events in France. It is the place to find that hidden gem, and harvest nice vintage & retro items in large quantities. But above all to immerse yourself in an atmosphere that reflects the city itself: warm, friendly, and festive. Especially if you enjoy the traditional "Moules Frites" (mussels with french fries).
In 2023, the city of Lille expects no less than two million visitors, who will walk the city center's streets.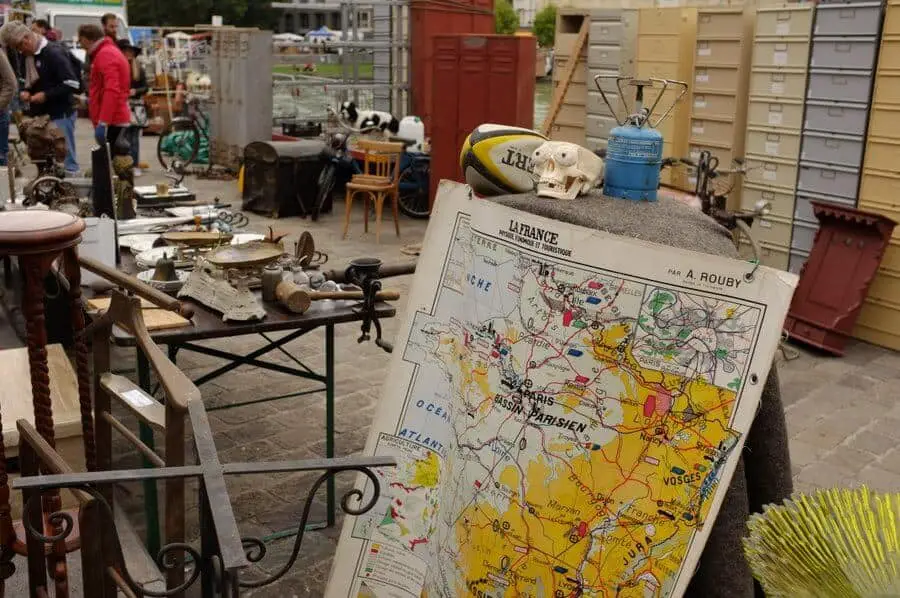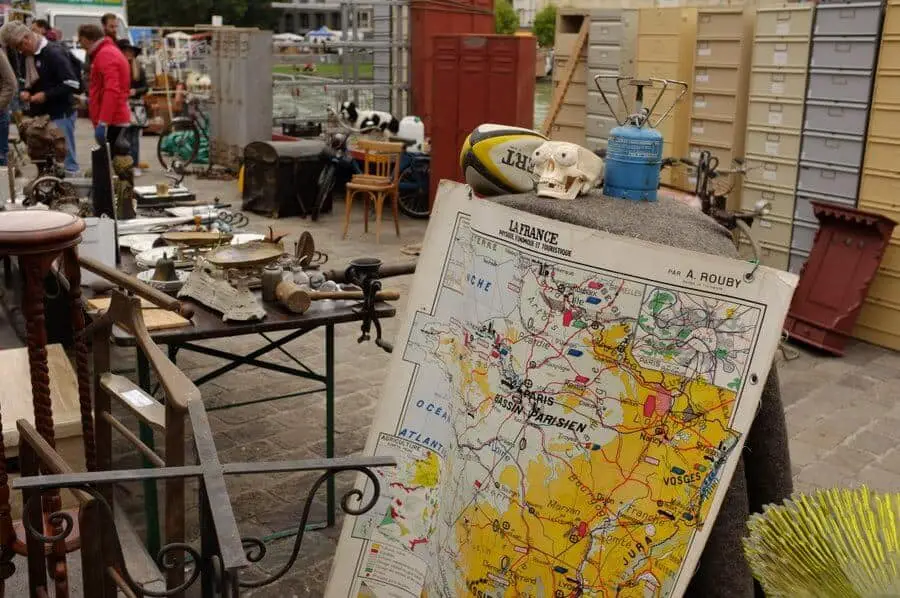 What's new for the Grande Braderie de Lille 2023?
After the Braderie was canceled in 2020 and 2021 (Covid-19 pandemic), and in 2016 (fear of terrorist attacks), it was decided to bring some organizational improvements. For the Braderie de Lille 2023, most of these changes have been maintained. The core area dedicated to the event includes the neighborhood of Wazemmes, and in particular the Rue Léon Gambetta. Further changes to improve the visitor flow at security checkpoints have been made as well.
In 2023, antique dealers will be very widely represented. They will spread throughout the boulevard Louis XIV and the boulevard de la Liberté ("Antiques & vintage shopping itinerary"). A large gathering of professional vendors specializing in British antiques is also expected (Porte de Roubaix and rue de l'Opera).
The map of the Grande Braderie de Lille 2023 is also available at https://www.braderie-de-lille.fr and will be identical to the 2019-2022 editions. You can click on the link above to display the interactive map on your laptop or iOS/Android device.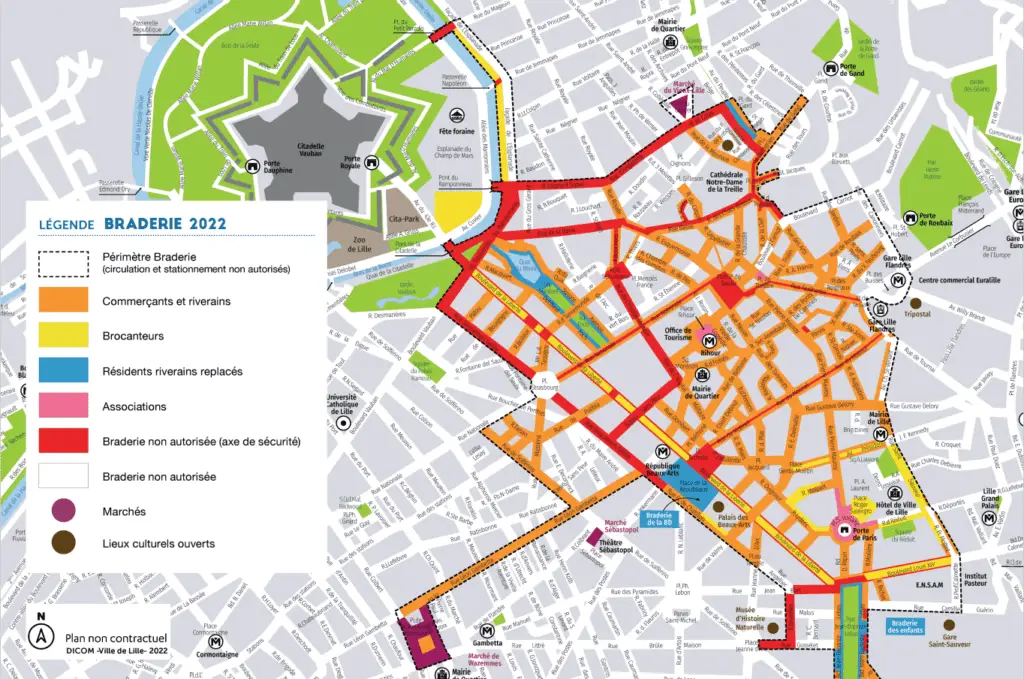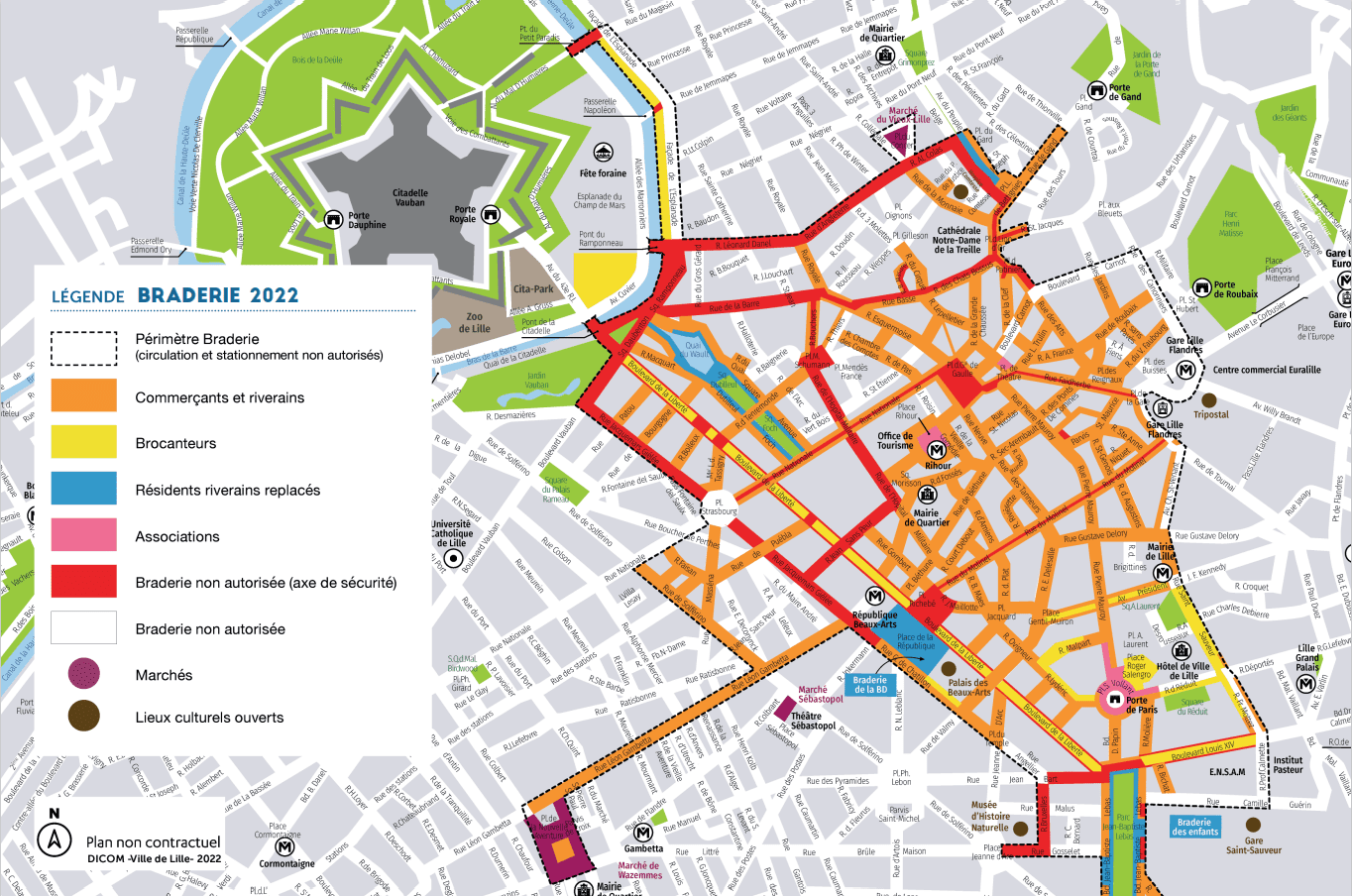 Improved quality
The main complaint of people attending the braderie was that it had become a commercial event used by retail stores to sell their old stocks at a discount. But in 2017 the Braderie was revamped in order to give more space to flea market vendors and antique dealers. In a statement, the city's council said it wanted to "bring back the original spirit of the event, by offering a larger mix of a yard sale, flea market, and antique fair". Unfortunately, some seasoned visitors reported that the 2017 Braderie was slightly disappointing. It was smaller and had less choice to offer than in previous years, as some professional dealers decided to stay away. For 2023, the Braderie will pursue its path to returning to its old glory. The city has proven that the balancing act between security imperatives and pulling off a high-quality flea market event is possible.
More events & celebrations
New sub-events were set up, inspired by the "Lille reste en fête" celebration which replaced the Braderie in 2016. A special Braderie for comic books was organized again at the Palais des Beaux-Arts. While a special Braderie for kids was held at the Gare Saint-Sauveur. As mentioned earlier in this article, a special "Antiques & vintage shopping itinerary" will be set up. Located along the boulevards Louis XIV and the Boulevard de la Liberté, it will regroup all professional antique dealers.
Increased security
Security has always been paramount to local authorities. This is the reason why the Braderie was canceled in 2016 following the terror attack in Nice. In 2017, 2018, and 2019, security was reinforced with 29 access points placed under strict police surveillance and concrete roadblocks. The same security standards should also apply in 2023.
Official Map of the Grande Braderie de Lille 2023
The official map of the Braderie de Lille is published by the town administration a few weeks before the event. This map provides a useful overview of the zone that is part of this year's Braderie. Click here to download: Official Map – Grande Braderie de Lille 2019.
In 2023 the layout of the Braderie de Lille will again feature areas dedicated to professional antique dealers. Collectors who flock to this event to buy antiques and vintage should therefore begin with the areas indicated in yellow on the map below. The brocante area mainly includes the Boulevard de la Liberté, Boulevard Louis XIV, the Esplanade, Rue Saint Sauveur, and the Place Roger Salengro.
The organizers tried to preserve 90% of the area that used to be part of the Braderie before the re-organization in 2017. The Grande Braderie 2023 will also very probably includes the Center and Old-Lille neighborhoods. It should also open designated spaces outside the core event area, to residents who wish to take part in the Braderie.
Click to display the interactive map of the Braderie de Lille 2023.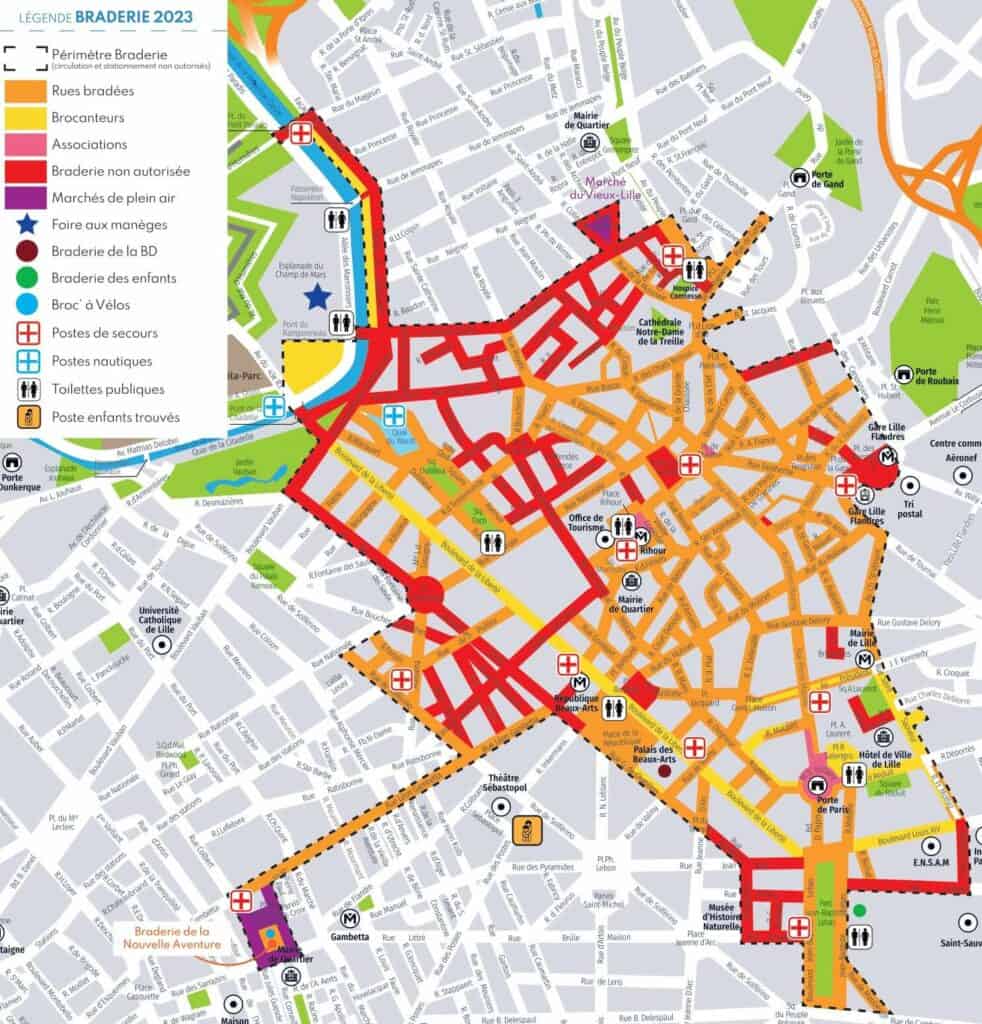 Quick Facts & Travel Information about Lille
Even when the Grande Braderie is not taking over Lille, the city is an excellent destination for a day trip. Lille is indeed just a couple of hours away by train from London. And, although it may be French, is also the old capital of Flanders. Indeed, the city's turbulent history has seen Lille as Flemish, Burgundian, Spanish, Dutch, French, German, French, German, and French again. Yet, Lille retains an intrinsic Flemish flavor. Both in the city's cuisine, architecture, and even in the Ch'ti accent of the locals.
Accommodation in Lille
As two million visitors flock to Lille, it is essential to plan your stay as much in advance as possible. Else you might have difficulties finding a hotel near the center of Lille. From classy hotels, apartments to canal side boats, Lille offers a diverse choice of hotels. Make a reservation today and take advantage of free cancellation on most rooms with booking.com. The city fills up fast and it is better to be safe than sorry.
Do & See
Lille's old town is quite simply gorgeous. Walk its streets, take time to look at its architecture, and walk along its cobbled streets. Start at Grand' Place – the main market square, and take it from there taking it as many of the sights we have suggested here.
Dining
Flemish culture plays a strong role in the cuisine available in Lille. Take a look at the menus and any items with tongue-twisting names will be of Flemish origin. There are brasseries and gastronomic restaurants as well as tea rooms. But be sure not to leave Lille without having tried an estaminet.
Shopping
Lille is a university town and as such the 200,000 population is mostly under the age of 30. The shopping here reflects that. There are several funky shops that sell gifts ideally suited for weddings and housewarming parties As well as gorgeous boutiques selling beautiful and sometimes quirky homewares. Artisans sell their wares and an eclectic mix of fashion outlets range from designer names to tiny boutiques. When it comes to shopping, Lille does it with style.
Bars & Nightlife
Be sure to stay up late as Lille is a young city. As a result, there is ample nocturnal entertainment to suit everyone. Funky bars galore, nightclubs, saucy shows, and cabarets all jostle for your attention.
If you want to know more about sightseeing in Lille, have a look at lille-guide.co.uk or www.lille.fr/Braderie-de-Lille (official website; content in French only).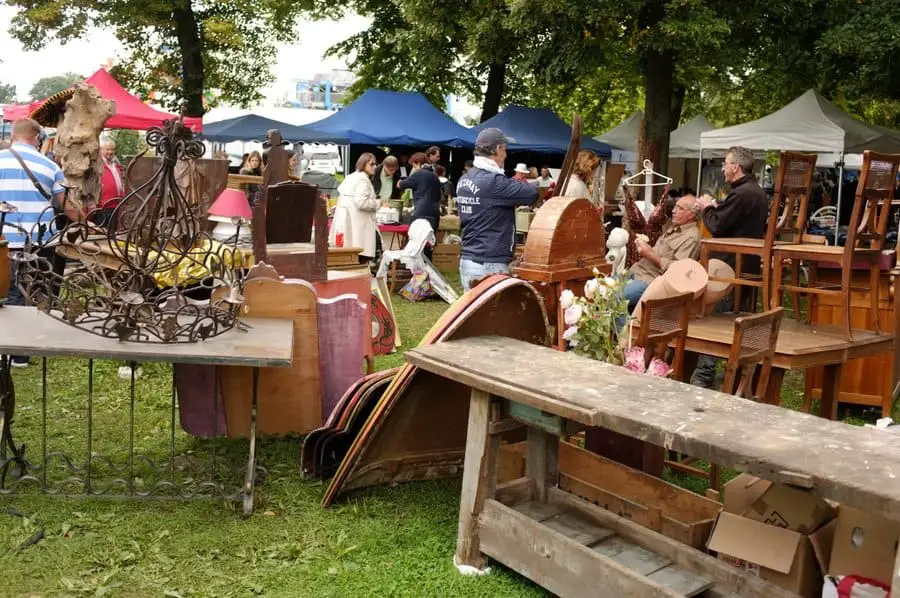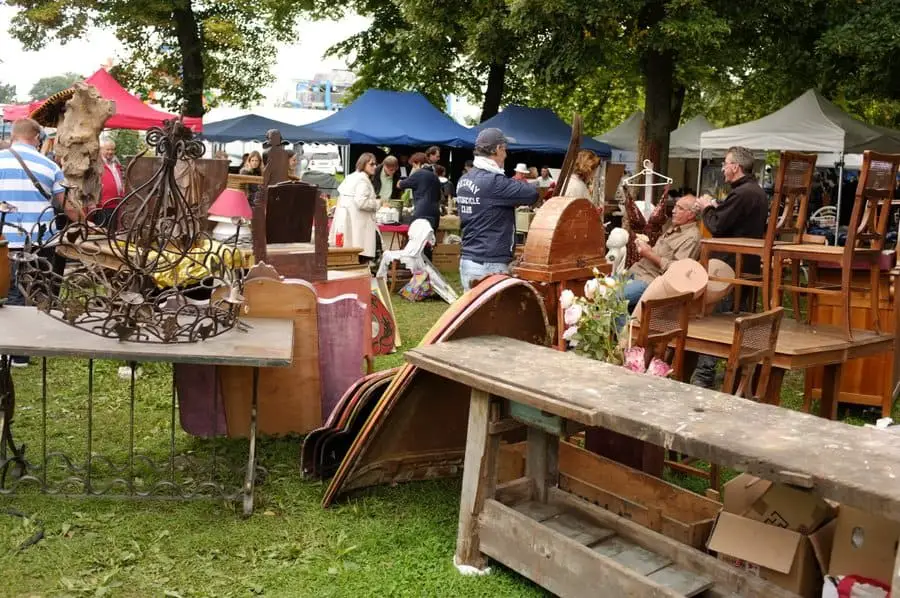 Parking and Transport at the Grande Braderie de Lille
When planning a trip to the Braderie de Lille, many visitors are facing a dilemma. Is it better to go by car in order to carry your shopping easily? Or should you come by bus or train, to avoid getting stuck in traffic? We can tell you this: No cars are allowed into the zone dedicated to the Braderie. This area will be accessible only on foot, via one of 29 access points. Public transport connections will be reinforced during the event, to make sure you will still be able to get around Lille safely and easily.
If you decide to go by car to Lille, it is recommended to park at one of the park & ride facilities around the city. Ilévia provides its customers with 12 Park-and-Ride facilities throughout the Lille metropolitan area. Located in the immediate vicinity of a metro station, a bus hub, or a TER station and with direct access from the motorways, they facilitate access to the city center of Lille and to all destinations in the metropolis. These car parks are free of charge. However, they are only available to clients who buy a local train (TER) or metro ticket (Transpole network) to the city. Keep in mind that you will need to show your ticket when you leave the P+R facility. Also, make sure to be back there before midnight, as they close afterward (some remain open until 1 am). Also note that these facilities are not accessible to larger vehicles, such as camping cars or vans.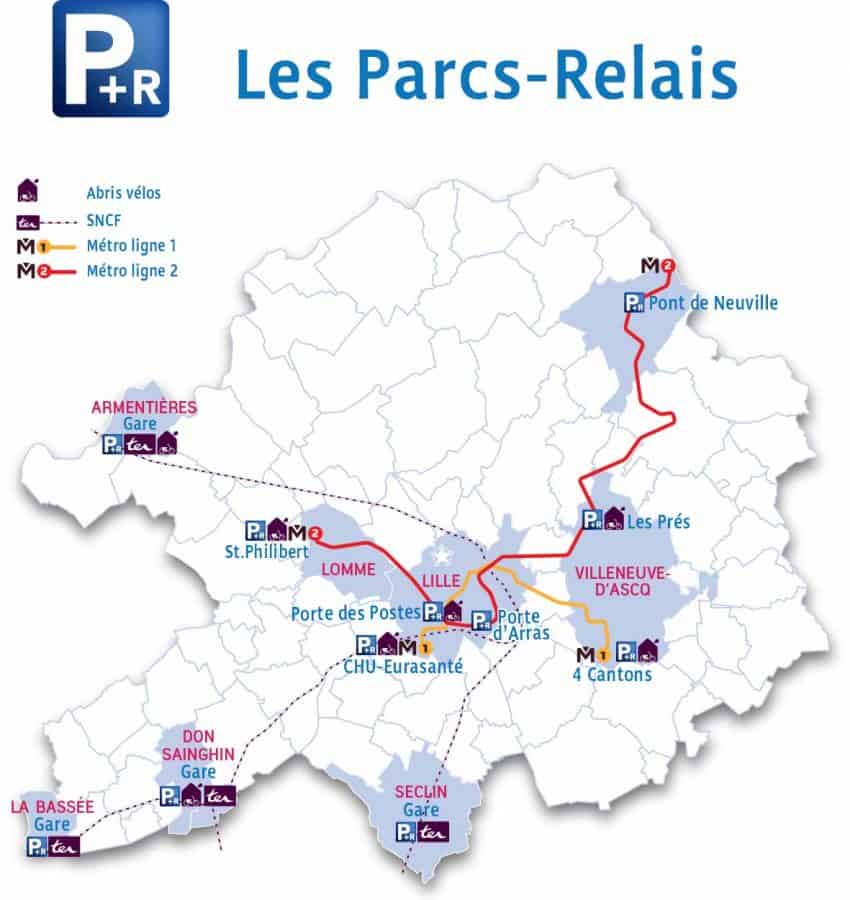 In addition, there are garage operators that rent parking facilities in and around Lille that may be reserved in advance.
The Grande Braderie de Lille in Numbers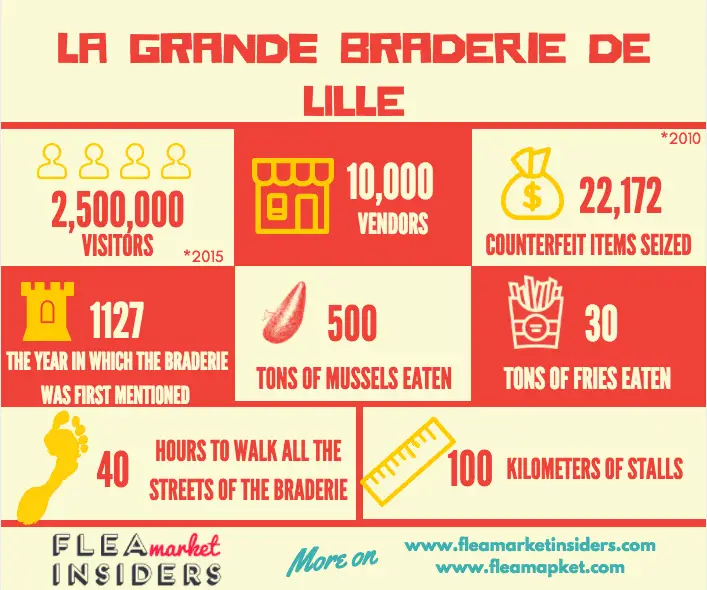 2
the number of days during which the Grande Braderie runs (in 2023: Saturday 2nd September – Sunday 3rd September | in 2024: Saturday 14th September – Sunday 15th September (the 2024 edition is postponed by two weeks because of the Olympic Games in Paris) | in 2025: Saturday 6th September – Sunday 7th September)
40
the number of hours it would take to walk down all the streets of Lille where the Grande Braderie takes place.
100
the number of kilometers of stands spread all over Lille during the Grande Braderie.
500
the number of tons of mussels consumed during the 2015 edition of the Grande Braderie (together with 30 tons of french fries!). "Moules frites" are a traditional dish in Northern France. Every year, restaurants in the city embark on a challenge during the whole event: to stack the biggest pile of empty mussel shells outside of the restaurant!
1127
the year the Grande Braderie de Lille was first mentioned in a written record! What a lasting tradition.
10 000
the average number of vendors selling at the Braderie.
22 172
the number of counterfeit items seized by customs in 2010 during the event.
2 500 000
the number of visitors who attended the event in 2015. In comparison, the Braderie de Rennes, the second-largest fair of France welcomes about 400,000 visitors each year (last Wednesday of June).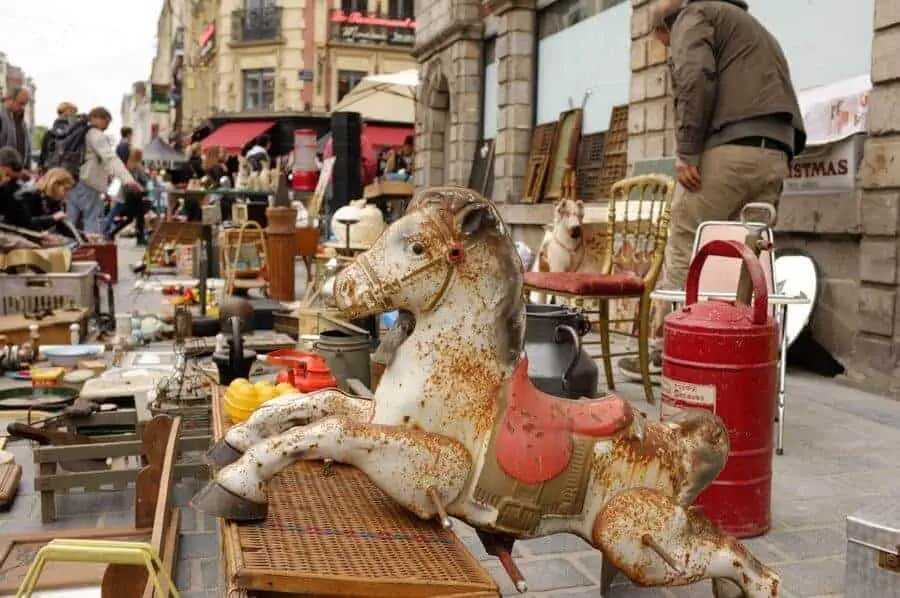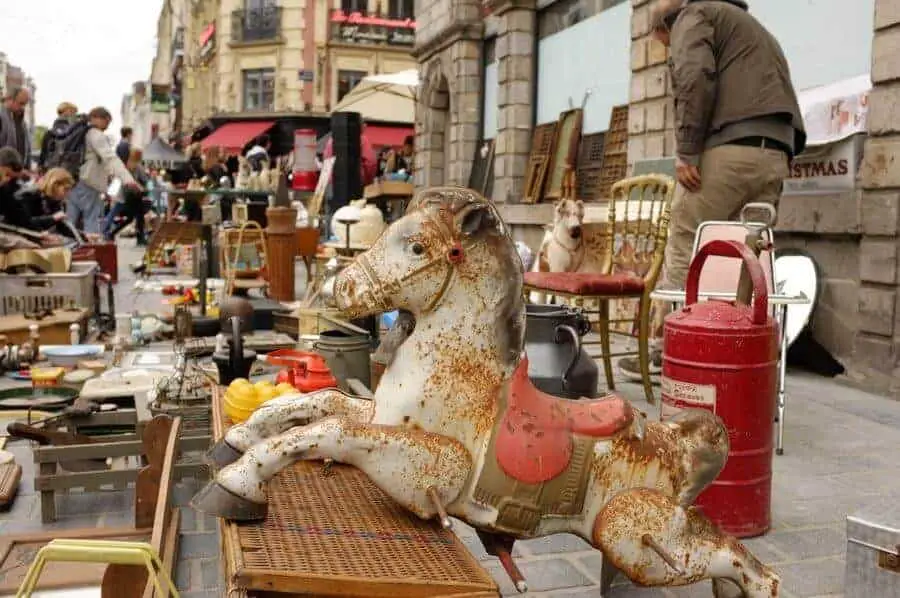 10 Useful French Phrases to Bargain
"C'est combien?" – How much is that?
"Quel est votre meilleur prix?" – What is your best price?
"Désolé, c'est trop cher pour moi" – Sorry, it's too expensive for me
"Pouvez-vous baisser encore le prix?" – Can you go a little lower?
"Vous me faites un prix si j'en prends plusieurs / si je prends tout?" – Is there a discount if I buy more than one / all of them?
"Coupons la poire en deux" – Let's meet each other in the middle / strike a bargain
"Je n'ai que 20 euros. Est-ce que ça va?" – I only have 20 euros. Is that enough?
"Je peux payer en liquide?" – May I pay in cash?
"Je le prends" – I take it
"Marché conclu!" – Deal!
How to make the most of the Braderie de Lille 2023
This article should serve you as a guide to plan your trip to Lille and help you spend an unforgettable weekend at Lille's Braderie. To conclude, we have summed up our top advice:
Plan your accommodation well ahead! Even if you are not yet 100% sure to attend, book a hotel with free cancellation – you have nothing to lose! Lille is booked out well in advance of the event.
Leave your car at home and bring good walking shoes and stamina – the flea market zone is huge!
Don't forget your umbrella! Lille is in the North, where it rains quite a bit, and the weather changes quickly.
Bring cash if you plan to buy a lot. But be aware of pickpockets that take advantage of the bustling crowds.
If you plan to buy large items, consider using shipping services to get your flea market finds home. For example, you could already contact a carrier via Shiply, indicating the future day of collection of the goods and the estimated quantity of objects to be transported. It is also possible to order a carrier within a short period of time. Alternatively, you could also arrange to leave your goods with a dealer or at your accommodation in Lille, and organize the collection remotely (I personally organized via Shiply a remote removal of antique furniture 900 miles from home, thanks to the help of a local person I paid £80 to supervise the removal)
If accommodations in Lille are booked out, book your accommodation in another town in the area. Or even in Paris or Brussels, which are well connected by train. But don't forget to book your train ticket for at least a few days in advance!
If you are still wondering whether it is worth attending the Braderie in 2023: just do it! Otherwise, you'll never know. At the very least, afterward, you'll be able to say that you have been to Europe's biggest flea market event.
Book you stay in Lille