Best Flea Markets in France: Southern and South-Western France
If you like taking a walk in the morning inside in a giant bric-a-brac, to dig out old rare books, vintage cotton bed linen, old crockery, paintings, and other knick-knacks, then the Brocante Saint Aubin (formerly Brocante Saint Sernin) is the place to be. This flea market is one of the most typical and oldest flea markets in southwestern France, and one of the must-visit Saturday morning markets in "La Ville Rose".
It pays off to get up early, as the flea market is held every Saturday morning from 8 am to 1:30 pm, when as many as 70 professional vendors gather under the trees of Boulevard Michelet around Basilica Saint Aubin, since the market's original location, around the walls of the Basilica Saint Sernin, is undergoing renovation.
At Brocante Saint-Aubin, vendors sell a bit of everything, but mostly beautiful vintage items from the 1930s to 1980s, and intriguing antiques dating back to the last century. Vintage pieces of furniture, paintings, old books, posters from the 1950s, ornaments, old linen, wrought iron, trinkets, and other rarities, are some of the treasures to pore over at the Brocante Saint Aubin (Saint Sernin) or take back home.
Brocante Saint Sernin © Flea Market Insiders
The city of Toulouse is a wonderful, sometimes underrated, place to explore, too, with pastel pink medieval buildings in the old town and La Cité de L'espace, a sprawling theme park dedicated to space exploration, on the outskirts of town.
Where: Marché à la Brocante Saint-Aubin – Place Saint Aubin , Boulevard Michelet, 31000 Toulouse, France
When: Saturday 06:00 to 13:00
Read: Full review of Brocante Saint Aubin / Brocante Saint Sernin 
Nestled between the Mediterranean sea and the beautiful region of Haut Languedoc, Pézenas is a town rich with the sort of ambiance that the South of France is famous for unspoiled landscapes of undulating vines punctuated by rocky outcrops and rocket pines, traditional wine-making villages, and a slower, Mediterranean pace of life.
Beyond its stunning landscape and its architectural appeal, Pézenas is best known for the many craftsmen and antique dealers who reside there all year round. More modest than the Isle sur la Sorgue and its 150 antique shops, Pézenas nonetheless remains a Mecca for antique shoppers in Languedoc. The city hosts nearly 50 antique dealers, spreading over an area the equivalent of more than 8,000 square meters, and operating all year long, which makes it the perfect spot for those looking to take advantage of the area's mild climate in the cold seasons.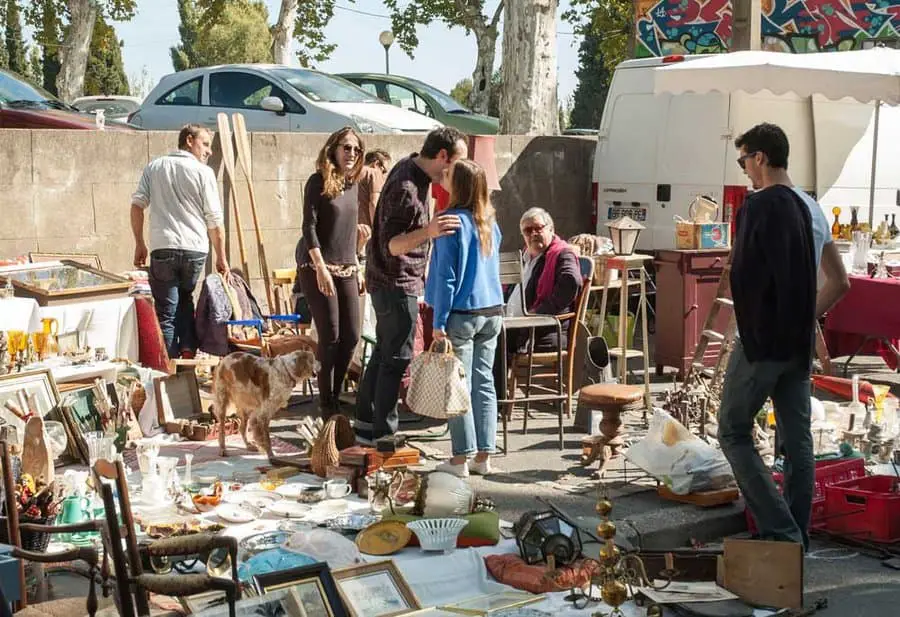 Once a year, at the "Grand Déballage" ("Grand unpacking"), Pézenas becomes for a day the center of attention of the whole southern part of the country. More than 150 merchants gather over nearly two kilometers along the National 113, to sell antique furniture, antique linens, jewelry, dishes, silverware, antique weapons, ancient musical instruments, paintings, curios, African art, watches, books, posters…  the antique fair of Pézenas is as much a cavern of Ali Baba for flea market enthusiasts, as a potential goldmine for seasoned bargain hunters.
Where: Route des antiquaires – R.N. 113, Pézenas, France
When: Twice a year, on the 1st Sunday of May and the 2nd Sunday of October, from 08:00 to 18:00. Next dates: Sunday, May 7, 2023, and Sunday, October 8, 2023
Read: Full review of the Pézenas Grand Déballage
Taking place once a month on the first Wednesday of the month, the delightful brocante d'Arles (Arles flea market) stretches along the tree-lined Boulevard des Lices, at the south end of town, below the Jardin d'Été. A paradise for bargain-hunters, the Arles flea market gathers between 80 and 100 professional flea market dealers on a monthly basis.
Most antique merchants who flock to Arles, come from all over the region. Some of them almost spend their whole life on the road, buying and selling in nearby cities like L'Isle-sur-la-Sorgue, Villeneuve-lès-Avignon, Pézenas, Aix en Provence or Nîmes, all famous for their flea markets.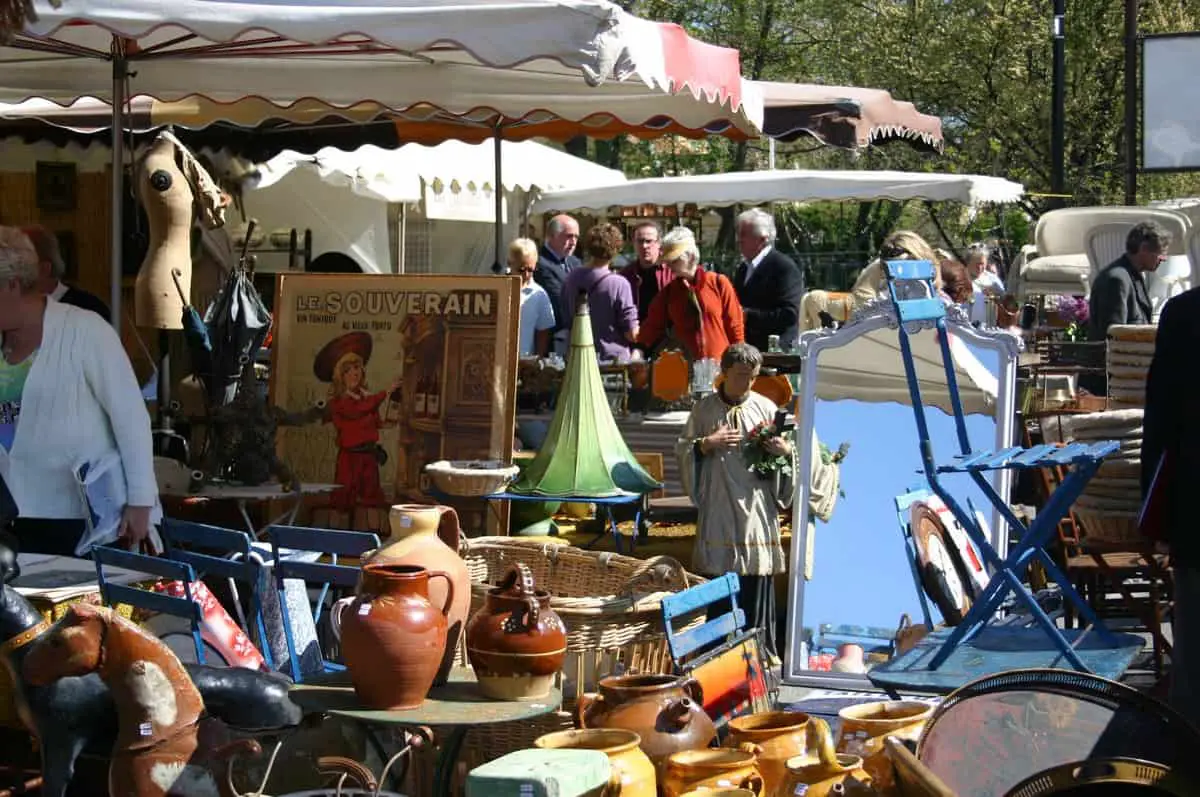 While best buys remain vintage richly hued Provencal fabrics (also known as indiennes), antique local pottery, and santons (the traditional Provencal figures made from clay), Arles' flea market vendors have a little more in stock than the regular merchandises one can find in the region: old pieces of furniture, paintings, old books, postcards, ornaments, jewelry, old linen, faïence, wrought iron, trinkets, and other rarities, are some of the treasures to pore over or take back home.
Where: Arles town center
When: First Wednesday of the month, 08:00 – 16:00
Read: Full review of the Arles flea market
Located against the backdrop of a stunning 700 years old medieval city, the brocante de Villeneuve-lès-Avignon is probably one of the best-known flea markets in Southern France. This flea market is characterized by the quality of the exhibited goods, its spirit of conviviality, and the relatively fair prices charged by its merchants.
Every Saturday morning of the year, between 80 and 100 professional exhibitors gather along the walls of the Fort St André, to sell a wide range of items, many with a focus on the Provence and typical provencal handicraft – antique pottery, ceramics, crystal, and glassware, to wine and barrel-making tools, small and large pieces of furniture, silver, toys, kitchenware and other collectibles.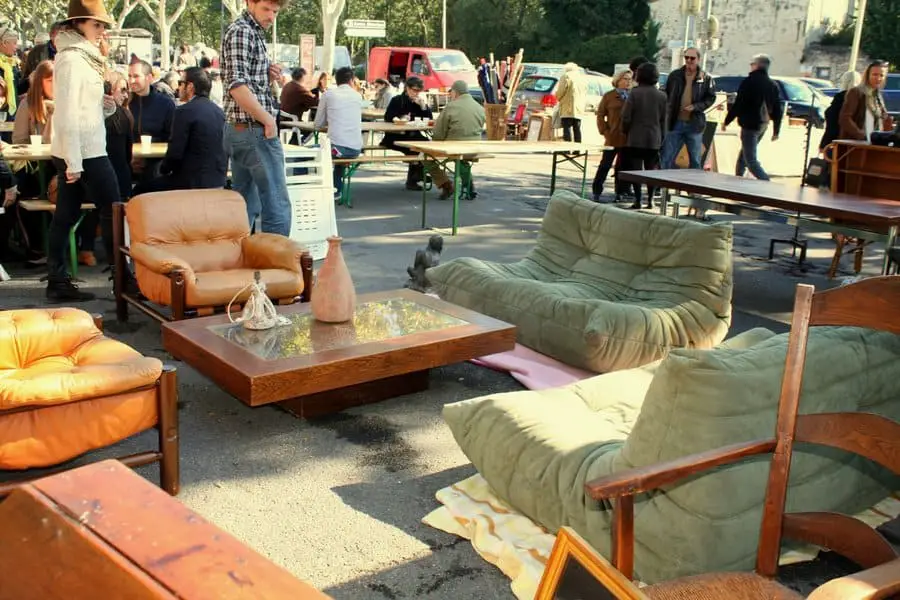 The brocante of Villeneuve-lès-Avignon operates throughout the year, from Spring to Winter. And even if some November mornings can be chilly when the Mistral blows, the Villeneuve-lès-Avignon flea market continues to attract the most serious antique dealers in Provence and abroad, who flock at the market well before dawn, to snap up the best merchandises.
Where: Villeneuve-lès-Avignon
When: Saturday 06:00 – 15:00
Read: Full review of the Brocante de Villeneuve-lès-Avignon
Located 25 km east of Avignon, between Carpentras and Cavaillon, Isle-sur-la-Sorgue is one of those typical places in Provence that one has to see: a square surrounded by cafés and shops that radiate mouth-watering smells and window displays, little bridges to cross, narrow ancient streets where plane trees and green foliage abound. There are even several lovely, old waterwheels still to be seen.
Over the past fifty years, Isle-sur-la-Sorgue has become the capital city of antiques, thanks to the settlement of nearly 300 permanent antique dealers and second-hand shops in town.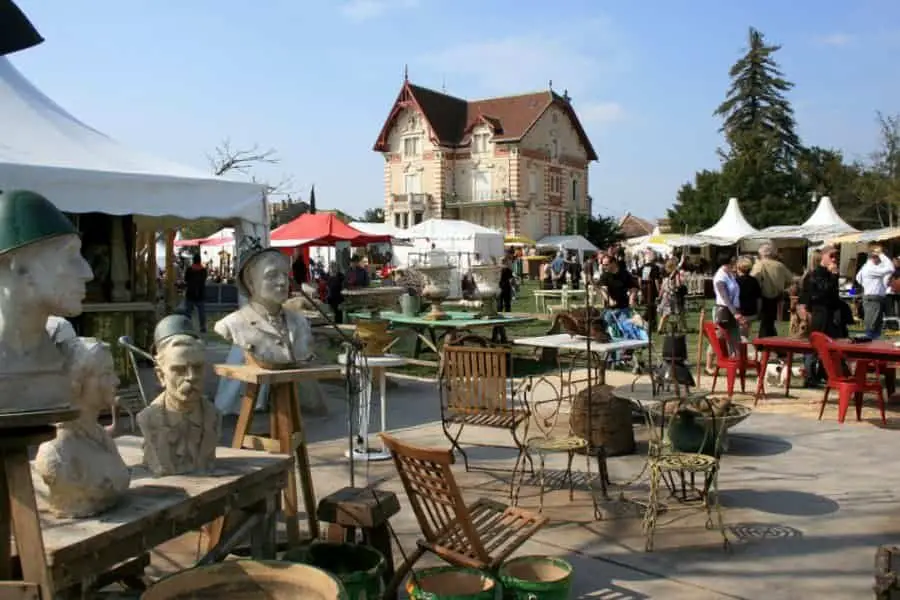 Isle-sur-la-Sorgue is however famous for its bi-annual antique fair that takes place over the Easter weekend and on the 15th of August. The fair that got started in 1966, nowadays welcomes over 450 exhibitors and is one of the biggest antiques and second-hand fairs in Europe.
If you manage to fight your way among the 120,000 visitors that flock to the fair twice a year, you should be able to manage to find some antique furniture, old crockery, pretty Provençal boutis, beautiful ceramics with patina, rare finds, and other collectibles from the south of France.
Where: Isle-sur-la-Sorgue – 84800, France
When: Twice a year on the Easter Weekend and All Saints weekend: 09:00 – 19:00. Next dates: Friday, April 7, 2023 – Monday, April 11, 2023 | Friday, November 3, 2023 – Monday, November 6, 2023 (Forthcoming dates)
Read: Full review of the Isle-sur-la-Sorgue flea market and antique fair
Brocante de Carpentras
Every Sunday, the town of Carpentras, located north of Avignon, hosts a large sprawling flea market on the outskirts of the city, in a lovely tree-lined parking lot. The Brocante de Carpentras is a favored haunt of the more intrepid collectors, willing to forage through boxes and crates in search of a gem.
Unlike Isle-sur-la-Sorgue and its 300 permanent antique dealers, the Carpentras flea market is more low-key. It is less focused on high-end antiques and more like a flea market where you will find a little bit of everything. Brocante de Carpentras is somewhere in between a brocante (full-blown antique market) and a vide-grenier (garage sale). Many of the 130 to 150 vendors here are regular people selling their own belongings, which often fall more into the category of "second-hand" than "collectible". The prices are much lower than in other markets in Provence and there are still many quality items to be found.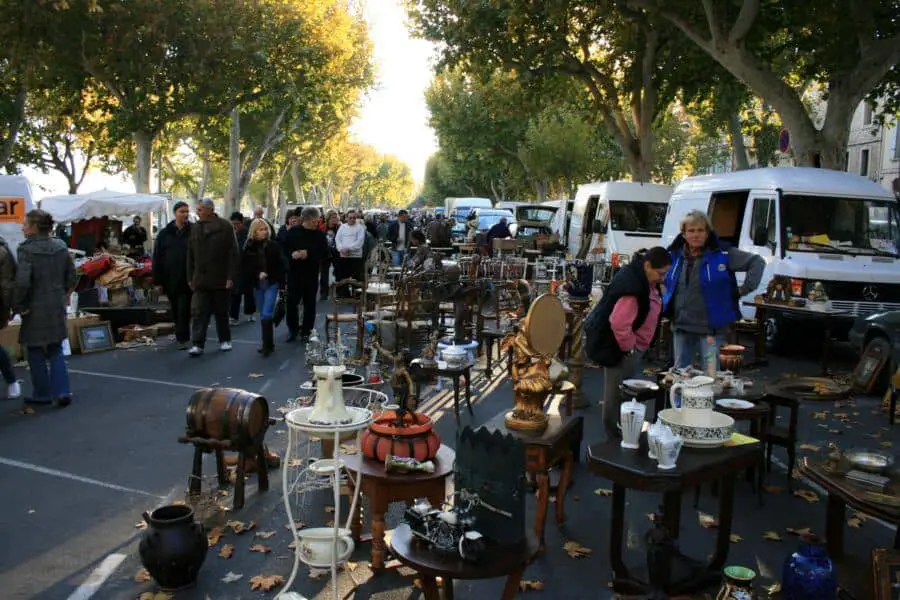 The variety in terms of wares and prices is huge, with an emphasis on the rustic and everyday, rather than fine decorative objects. If you are looking for something really unusual and surprising, the Carpentras flea market is one of the best flea markets to find, though you will have to invest some time and energy in the process.
Where: Parking des Platanes (Av. Jean-Jaurès)
When: Every Sunday (all year round) 09:00 – 18:00
On Monday, from morning to mid-afternoon, Nice's colorful, sun-drenched Cours Saleya flea market (just behind the Promenade des Anglais) is filled with around 200 flea market vendors selling a variety of fairly high-quality antiques, collectibles, and fascinating French bric-a-brac.
The Brocante Saleya is a rather high-end flea market; however, bargain hunters can also score a good find, particularly in the adjacent place Pierre Gauthier, where odds and ends are piled on the ground. A huge variety of collectibles is on offer at this flea market:  antique furniture, vintage clothing, posters, antique bottles, silverware, nautical and travel items, ceramics, paintings, memorabilia, old black & white pictures and postcards, vintage toys, rustic wooden items, jewelry, and trinkets.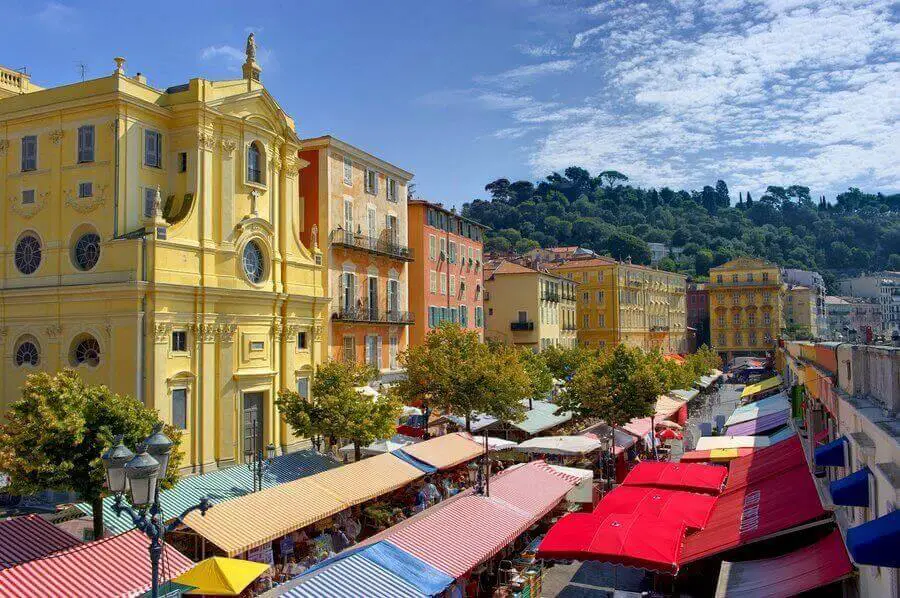 The Brocante Saleya is a great flea market for visitors who are as interested in sun and people-watching as they are in purchasing collectibles. You will hear many languages being spoken and some vendors speak English, as well as Italian.
Where: Cours Saleya, 06300 Nice, France
When: Monday 07:00 – 18:00
Read: Full review of the Brocante Saleya