Vintage Christmas decorations are a family heirloom often passed from one generation to the other. There has been a lot of speculation over when the tradition of decorating Christmas trees first originated. While no one can be entirely sure, it seems that the festive adornment of Christmas trees stems right back to the 16th century in Germany. Trees were brought indoors and covered with fruits, nuts, and lighted candles for church services.
Glass baubles were first manufactured in the town of Lauscha in Germany and were known back then as "Kugel" ("bauble" or "ball" in German). Hans Greiner produced glass decorations made in the shape of fruits and nuts. Over time these delicate decorations gained popularity with locals. Other local artisans were inspired and would create a range of beautiful vintage Christmas decorations and glass figures using clay molds.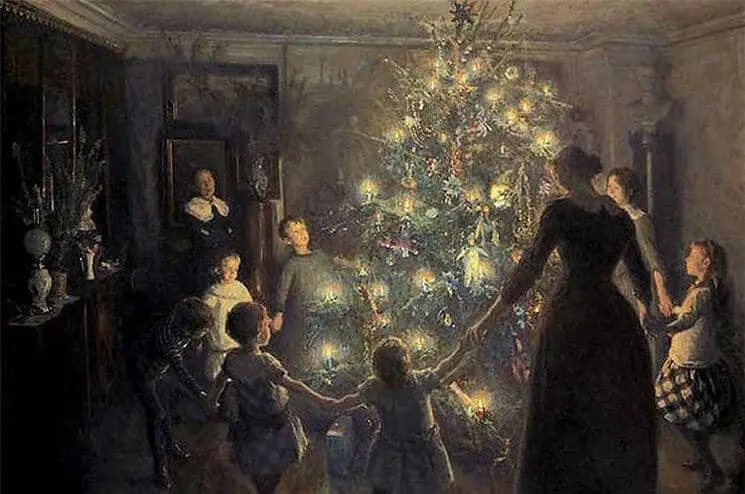 Craft workers would make these by heating a glass tube over a flame, inserting the tube into a clay mold, and blowing the heated glass so that it expanded into the shape of the mold. Silver nitrate was then swirled into the glass after it cooled – this was a silvering technique that was developed by Justin von Liebig in the 1850s. Then, after the nitrate solution dried, the Christmas decoration was carefully hand-painted and topped with a metal cap and hook so that it could be hung from a tree.
The convention of decorating homes during the festive period has traveled through Europe and around the world. Over time this Christmas tradition has slowly adapted and taken shape. Nowadays, Christmas baubles are made of plastic, as glass is too delicate and prone to damage. It's all too easy for baubles to fall off the tree and smash into smithereens on the floor when there are children and pets snooping around.
Fast forward to the 20th century, specifically the 1930s, when the mass production of Christmas decorations took place. This was due to the industry crashing in Germany. During the Second World War, the method of silvering decorations ceased, and clear glass Christmas decorations were painted and covered with paper caps instead of metal ones.
It's custom to pass vintage Christmas decorations down to younger generations, therefore over time we acquire an eclectic collection of classic decorations and knick-knacks. However, if you're on the hunt for vintage Christmas decorations, take some inspiration from our list of the best places to source them, both online and offline. Add a vintage touch to your home this Christmas!
How much are Vintage Christmas Decorations worth today?
Like all other things, vintage Christmas decorations vary in price based on their rarity and condition. In general, most antiques Christmas ornaments should be in excellent condition to bring a high value but sometimes rarity overrules condition. In other words, when an item is rare enough, collectors will pay a high price to own it even if it's not in pristine, or mint, condition.
One of the most sought after Christmas ornaments is probably what is known among collectors as the "Kugel", which is basically the very first iteration (as early as 1830) of the glass ball as we know it today. Based on their shape and material, "Kugel" can be worth in excess of 1,000 apiece.
Other sought after vintage Christmas decorations are figural ornaments shaped like personalities of yesteryear. Some of these character often included personalities like Eddie Cantor (up to $500), John Bull ($300), or President William Howard Taft ($150).
Lastly, other vintage Christmas decorations shaped like Indian chiefs, birds, and airplanes with metal wheels can sell for $100-250 each.
The Spruce compiled a very informative Christmas Collectibles Price Guide, showcasing some early Christmas collectibles.
Where to find vintage Christmas Decorations
Flea markets
You're guaranteed to come across some quirky festive Christmas ornaments at flea markets. The beauty of flea markets is that (if you're charming enough), you can haggle the price down considerably and bag yourself a great bargain. A lot of flea markets and vintage fairs often put on special Christmas shows. Expect to find kitsch glass bells, clay snowman candle holders, and angel tree toppers in sparkly sheer dresses.
There are thousands of vendors on Etsy selling beautiful vintage decorations. We especially love the adorable reindeer ornaments, retro nativity figurines, and 1980s cute bear tree decorations available from VintageByJade. It's also worth looking on eBay for authentic vintage Christmas goodies – you can bid for unique vintage decorations from the comfort of your own home. If you keep an eye out you can snap up some rare gems!
Christmas markets/fairs
Most cities and towns will host a Christmas fair in the months of November and December. They are the perfect place to find handmade crafts, as well as some lovely vintage decorations. Shop for pinecone shaped vintage christmas decorations, intricate glass baubles from the early 20th century, and beautiful vintage serving plates.
Vintage boutiques/charity shops
Vintage stores are thriving with festive treasures. You can normally find Christmas decorations all year round – they are usually lurking in the same cabinets where you'll find sterling silver jewelry with gorgeous gemstones, such as opal and rainbow moonstone. Snap up some quirky decorations at your local second-hand shop and have yourself a sustainable Christmas.
Family/friends
Ask your grandparents or other family members – chances are that they will have a load of vintage Christmas decorations that they are happy to give away or swap. Friends will also have stacks of decorations for you to sieve through. By swapping with friends and family, you both get to discover a selection of ornaments that are unlike anything you'd be able to find in the shops. You can also save a lot of money!
Don't forget to be creative. Search your (or your parents/grandparents) basement and dig out old postcards or vintage jewelry. An item doesn't have to be specifically created as a decoration in order to be used as one. Why not collect old candles and paint the wax with festive words or illustrations?
If you have any other imaginative and resourceful ideas, please share your thoughts in the comments section below. We always love to hear from you!