Because of its ease and durability, rattan is often associated with mundane outdoor furniture or clichéd island-theme interiors. However, for the past few years, rattan and wicker furniture have been having its revival – sneaking into a variety of the most popular styles one by one. Almost passing everyone by as it made its way into every decor.
An eye-catching furniture with a cool conservatory vibe, rattan now seems to be everywhere: Instagram feed are chock full of bohemian pads that feature wicker and rattan items and accessories, and if you wander into an IKEA, Urban Outfitters, West Elm, or Anthropologie store chances are you will notice reproductions of vintage pieces copied directly from those of the late 60's and 70's.
Like their European design forebears, nowadays' designers and stylists are integrating rattan furniture and accessories into modern spaces.
But what makes rattan and wicker so popular today?
Rattan and wicker: the origins
While Rattan has been around for a few centuries, wicker has been documented as far back as ancient Egypt! The popularity of wicker passed from ancient Egypt and Persia to ancient Rome, and received a boost in the 15th century, when international sea traders returned from southeast Asia with a species of palm stronger than traditional European wicker materials: rattan.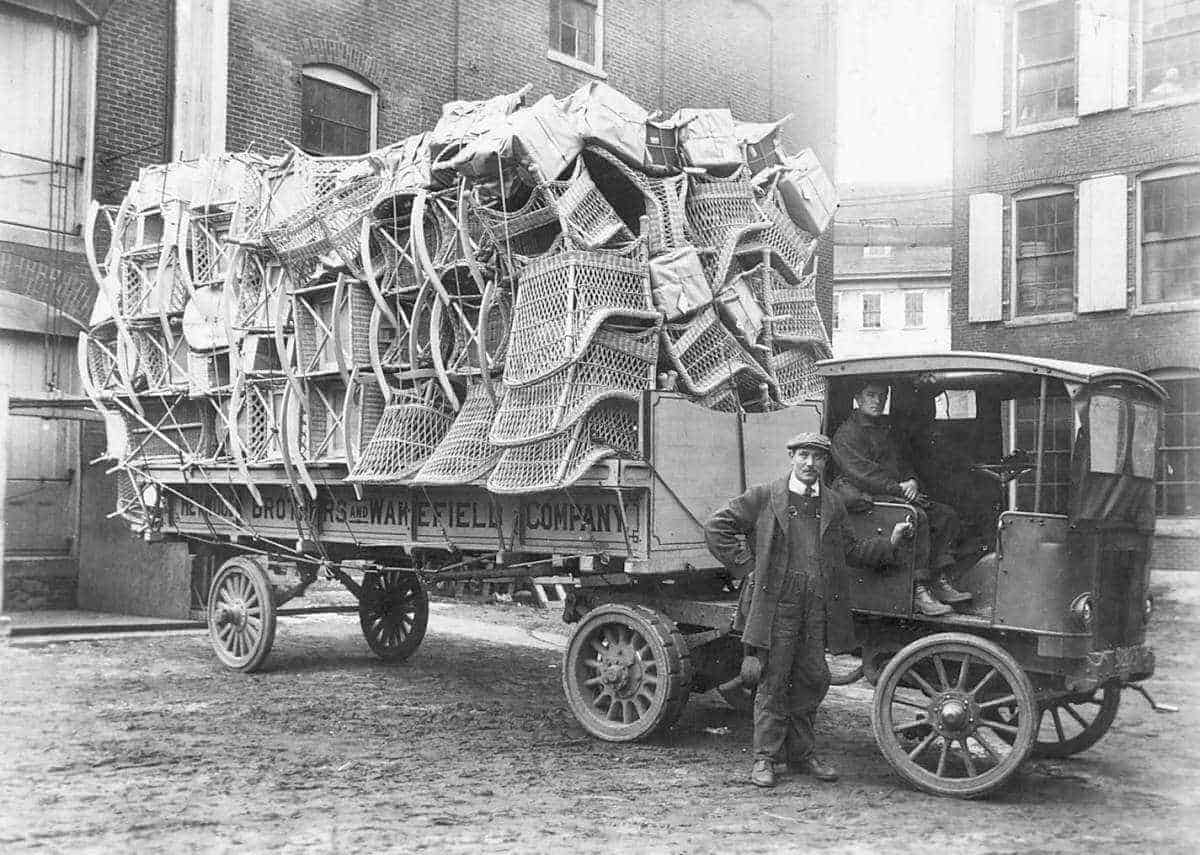 But it is truly in the 19th century, during the Victorian Era, that rattan and wicker gained immense popularity in Europe, England, and North America, because of their versatility and durability. According to Hamna Amjad, blogger at alrug.com, "Not only were rattan and wicker easily available and economical but being lightweight and sturdy, they could be used to design stylish, sophisticated and low-maintenance furniture pieces that could resist harsh weather."
How to recognize rattan from bamboo and wicker?
Both rattan and bamboo are extremely strong woods. Some types are harder than mahogany. However, unlike bamboo which has a hollow stem and prominent nodes, rattan is made up of a set of fibers forming a solid cylinder with a regular diameter. Wicker, on the other hand, denotes a furniture making method (aka weaving), not the actual material. Rattan, cane and bamboo are the most common natural materials used for wickerwork. Lastly, cane is commonly used to tie the elements together and in the finishing details.
The rise, fall, and resurrection of rattan and wicker furniture
Rattan and wicker, which were originally popular in the Victorian Era in the late 1800s, had a renaissance in the late 60's and early 70's when they were associated with the bohemian lifestyle. Notable designers like Rohé Noordwolde, Arne Jacobsen, Charlotte Perriand, Franco Albini, and Heywood-Wakefield created famous rattan furniture.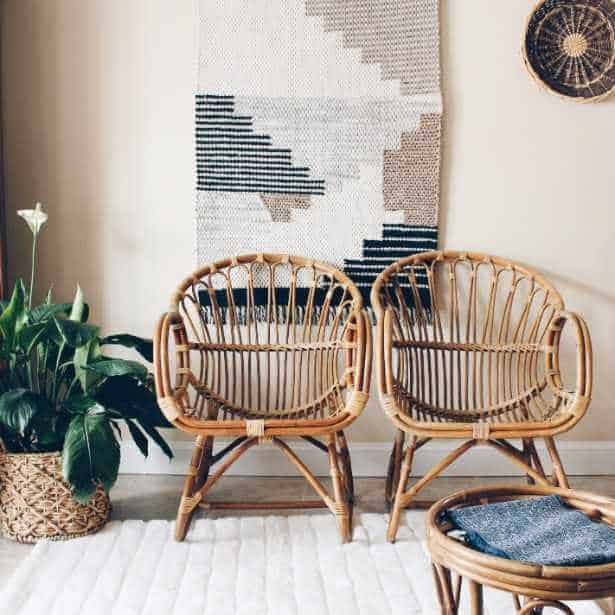 "Back in the 70's rattan was inescapable", says Nicola Croughan, Lead Interior Designer at Roman Blinds Direct. "No porch was complete without a rattan chair or hanging basket. It dominated the interior design landscape for the decade but fell out of favor as the 80s moved away from the natural look towards more high-tech options. A lot of these wonderful, extremely durable pieces of rattan furniture were then left out in the cold – often literally." But they've stuck around, staying relatively quiet, waiting to be rediscovered.
And that's what seems to have happened recently: thrifty shoppers, ecologically aware designers, and a booming 70's revival trend have all worked in rattan's favor which is now making a monumental comeback.
"""The major difference in this incarnation of rattan furniture is that it is now being used as focal points inside of the home, like mirrors, lights, wardrobes, and accent tables", explains Kevin Godfrey of Henry Laurent Estate Sales, "whereas it was originally intended for outdoor or porch use due to its durable nature."""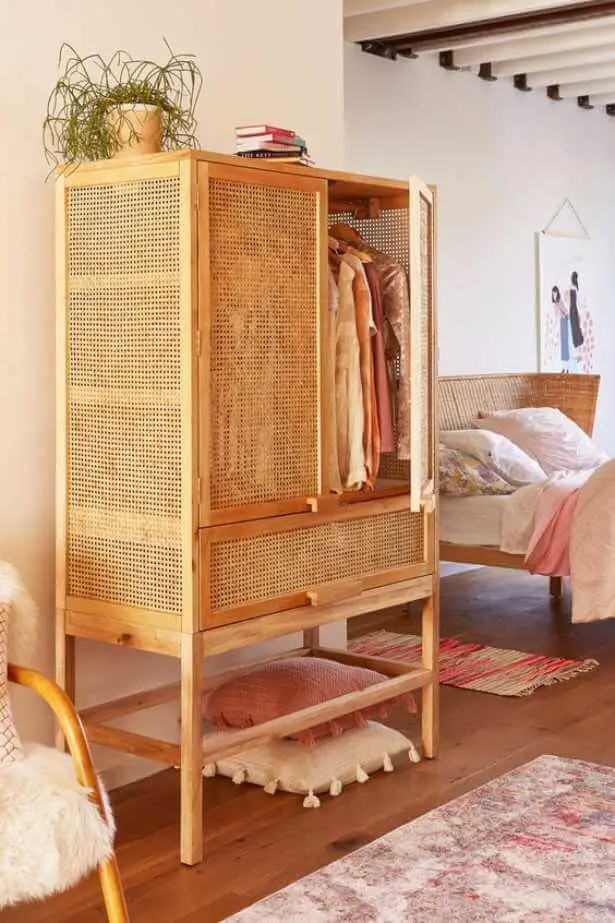 Another reason that could explain the resurgence of rattan and wicker furniture in home decor, is that consumers are getting more eco-conscious, looking towards home decor items that are made of sustainable materials and have a natural feel to them. "People care about the production, the history, and the story of their furniture more than they ever have", explains Nicola Croughan. "That's partially why up-cycling and thrift purchases have seen a great deal of success – and these two things have been a major driver of rattan's comeback."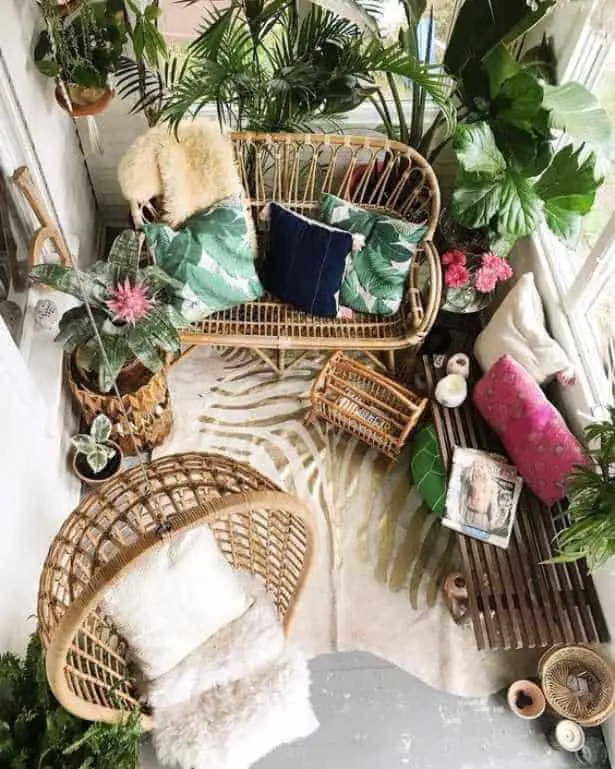 Will the "rattan trend" last?
This isn't the first time in design history that rattan furniture has been recognized as a particularly good fit for modern interiors. There's even a whole new crop of modern pieces with Seventies-inspired silhouettes by Habitat, DOMO, and IKEA incorporating rattan, which turns out to be perfect for the particular textured, clean, and lightweight design moment we're in.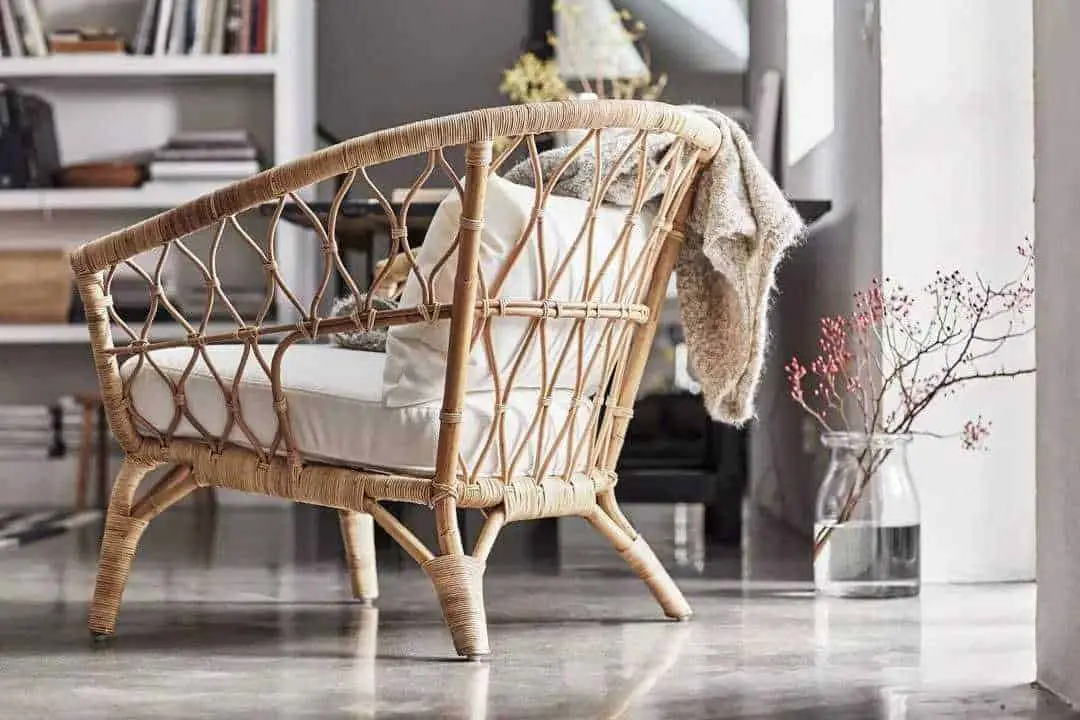 But will this trend last?
According to Heidi Ferguson, Owner of Stitches and Rust Vintage, "like any other trend this one will ride the wave and then die down. Right now the trend is "Jungalow" style which is a term coined for this particular mix of rattan, wicker, plants, bohemian throw pillows, casual window treatments, and colorful rugs to give the natural rattan an added dose of color."
How to identify vintage wicker furniture
In order to determine if a piece of rattan furniture is antique, it is best to take a step back and try to appreciate the object as a whole. I like to start with the general examination of the object before rushing to the furniture to look for a possible label. Why? Because then I am not influenced by clues that can be misleading (yes, a label can be falsified).
The overall design and craftsmanship of the furniture should be obvious. And that can't be cheated. Do its proportions make sense? Does its design echo the aesthetic of traditional designs used for rattan furniture during the late 1800s and the early 1900s? Does this vintage rattan furniture have a nice patina? If what you have in front of you checks all the boxes, it is very likely that you are looking at an authentic vintage wicker furniture.
In order to correlate this first examination, it is then appropriate to move on to a closer inspection. Start by looking for any labels with the name of a known artisan or company. Examples include Heywood-Wakefield Company, Whitney and Reed Company, Paul Frankl, Milo Baughman, Franco Albini, Ritts Furniture Company, Lloyd Loom, and The Dryad Company. Next, weigh the furniture to appreciate its quality of construction. Antique rattan and vintage wicker furniture should feel heavy and substantial. You should also feel that the texture is always smooth, because the reed or rattan used in antique wicker furniture is of superior quality.
Where to find rattan and wicker furniture
What's more exciting with older trends coming back around again, is hunting for these vintage pieces. Estate sales, thrift stores, rummage sales, flea markets, your parent's basement, and even curbside trash piles are all great places to start. In fact, it is not uncommon to get wicker and rattan super cheap at estate sales and flea markets, providing a huge opportunity to get ahead of the design curve.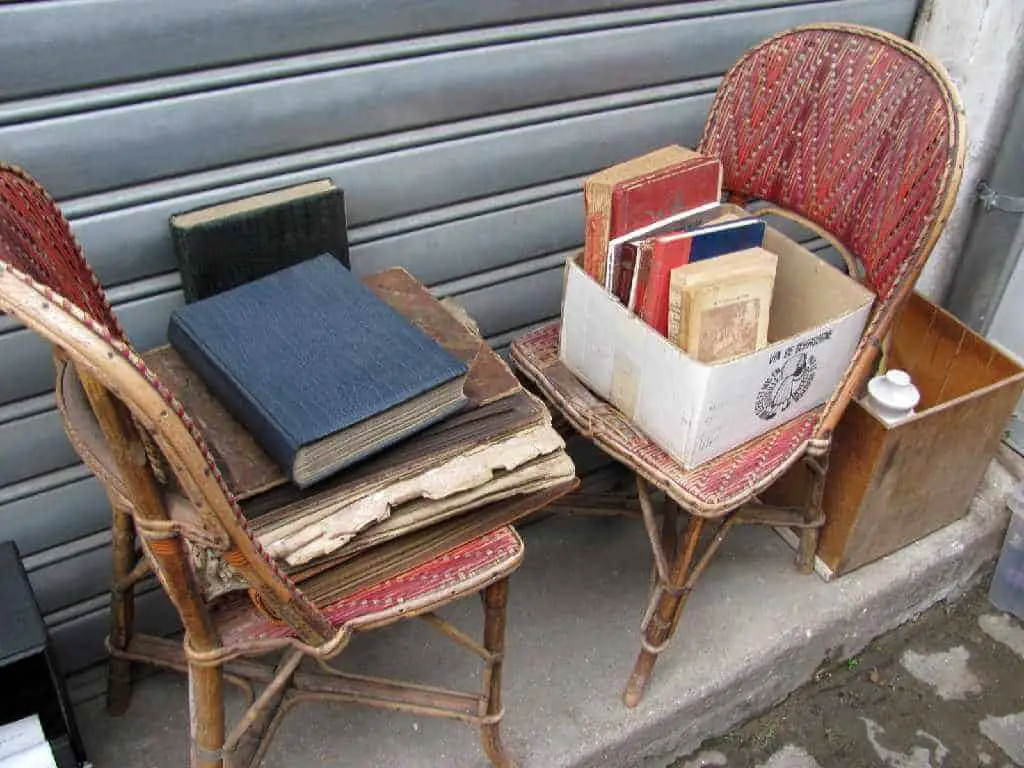 And if you don't own an heirloom from the period or if you can't afford an original one (In 1855, Wakefield Rattan Co. offered rocking chairs for $2 to $17, which now sell $350 to $1,600), fret not: there's a plethora of new-era rattan available for your pad, which can be incorporated in countless different ways throughout your home. You can even give them a contemporary twist by accessorizing with textured cushions, natural sheepskin, and throws in pale hues.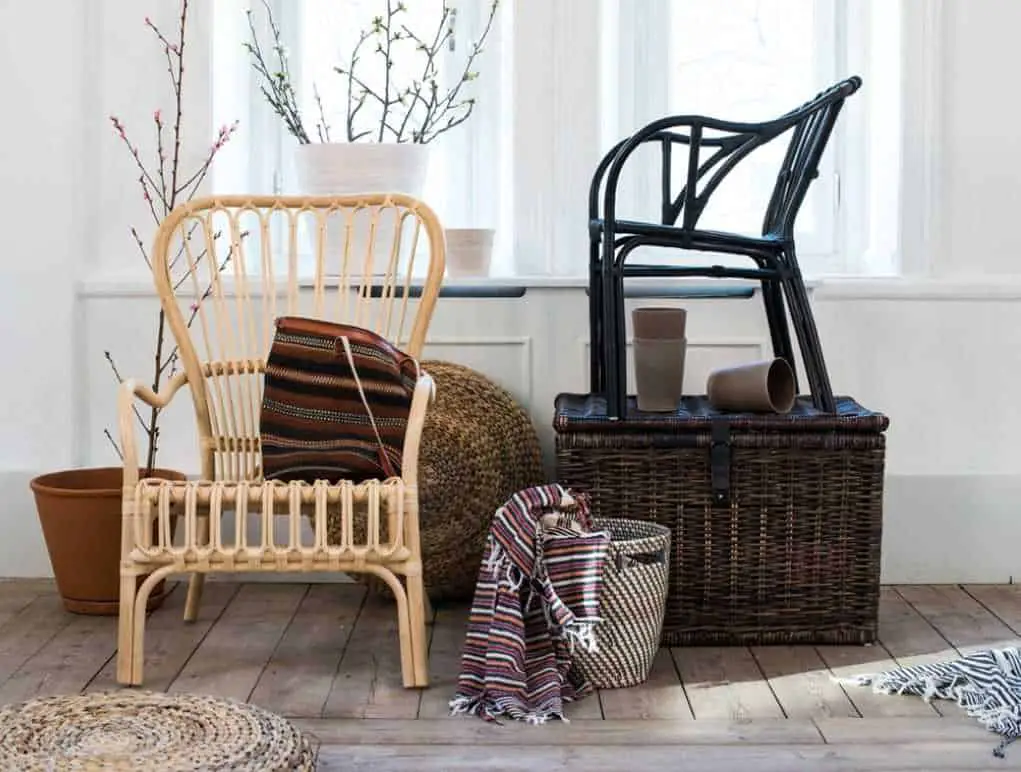 In the end, no matter the area, budget, or style, rattan fits.
10 must-have rattan furniture & decor items
Some of the most popular and sought-after rattan items include mirrors, side tables (curly rattan is the most popular), peacock chairs, hanging rattan chairs, baskets used as wall hangings, and rattan ottomans – which are rather hard to come by. Here is a more extensive list of must-have rattan furniture & decor items (the links below redirect to etsy.com):