Who doesn't love a Christmas party? Christmas is the optimum time to catch up with old friends and relatives, let loose and enjoy some of life's greatest pleasures.
And since no festive celebration is complete without sumptuous appetizers and flowing drinks, how about surprising your guests with some old-fashioned Christmas drinks and snacks from another era?
There's a reason why traditional dishes stay popular after centuries: it's simply because they are and always will be, delicious! Serve up these 5 retro Christmas food and drinks, all guaranteed to go down a treat with your guests, and offer them a memorable journey in time.
Deviled Eggs (England, 1786)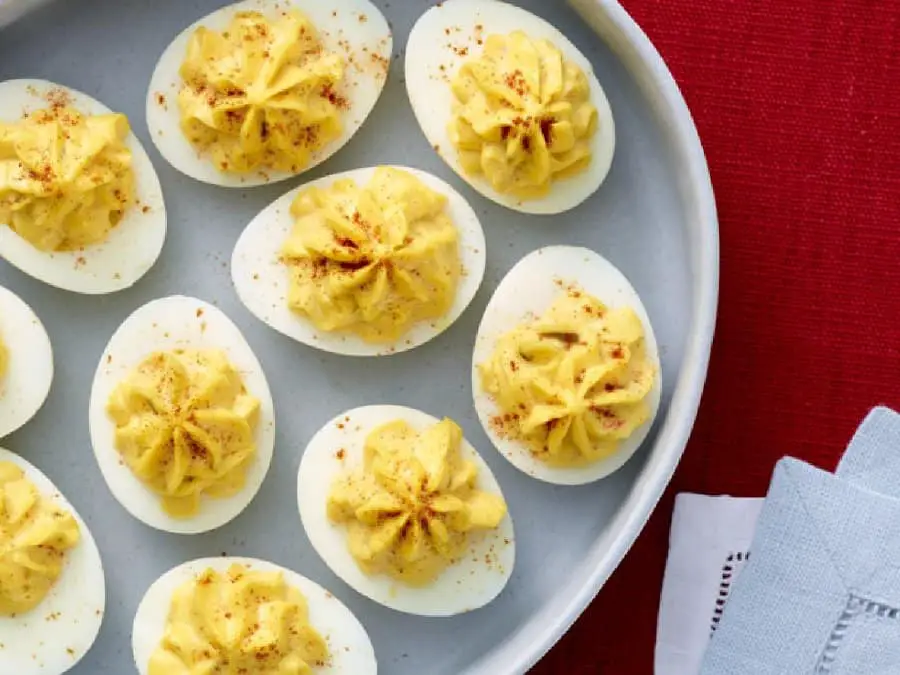 This delicious appetizer has been in existence since the late 18th century, with the first known print reference to the term "deviled", appearing in 1786. Devil is a culinary term which first appeared as a noun in the 18th century, and then in the early 19th century as a verb meaning to cook something with fiery hot spices or condiments. The term was presumably adopted because of the connection between the devil and the excessive heat in Hell.
Deviled eggs, therefore, came to be used most often with spicy or zesty food, including eggs prepared with mustard, pepper or other ingredients stuffed in the yolk cavity.
Other well-known names for this party dish are, 'angel eggs', 'stuffed eggs' and 'Russian eggs'. They are very easy to make and extremely delicious. Deviled eggs are eaten all around the world, each served with slight variations.
In many European countries, especially France and Germany, they are served with vegetable macédoine, then garnished with mayonnaise and parsley. In Sweden, the deviled egg is mixed with caviar and sour cream. If you bring a plate of deviled eggs to a party, chances are they won't be around for long. Click here to discover how to prepare Deviled Eggs.
Eggnog (Thirteen Colonies, 1775)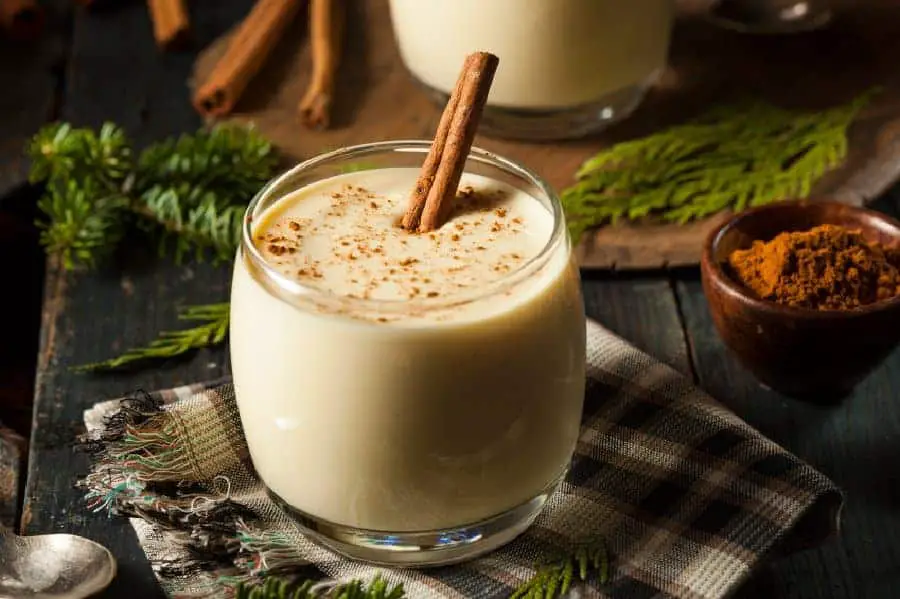 Eggnog is a chilled, creamy drink that is highly popular in the United States and Canada. If it contains alcohol, it is usually given the name 'egg milk punch'. This rich beverage consists of whipped eggs, cream, milk and sugar. Whilst it is a well-known homemade festive drink, around the time of Thanksgiving and Christmas, you can find eggnog ready prepared in nearly every grocery store.
The first mention of the term "eggnog" dates back to 1775 when Maryland clergyman and philologist Jonathan Boucher wrote a poem about the drink: "Fog-drams i' th' morn, or (better still) egg-nogg, / At night hot-suppings, and at mid-day, grogg, / My palate can regale…". However, Eggnog could actually be more than 230 years old, as this beverage developed from Posset, a medieval European beverage made with hot milk that was curdled with wine or ale and flavored with spices. Posset was used as a cold and flu remedy in the Middle Ages, until the 19th century. Eggs were then added to some Posset recipes, giving birth to the Eggnog as we know it nowadays.
Tip: Add spices such as cinnamon or nutmeg, or for a much-needed kick, you could add spirits, brandy or rum works well. Click here to discover how to prepare Eggnogs.
Plum Pudding (England, 1714)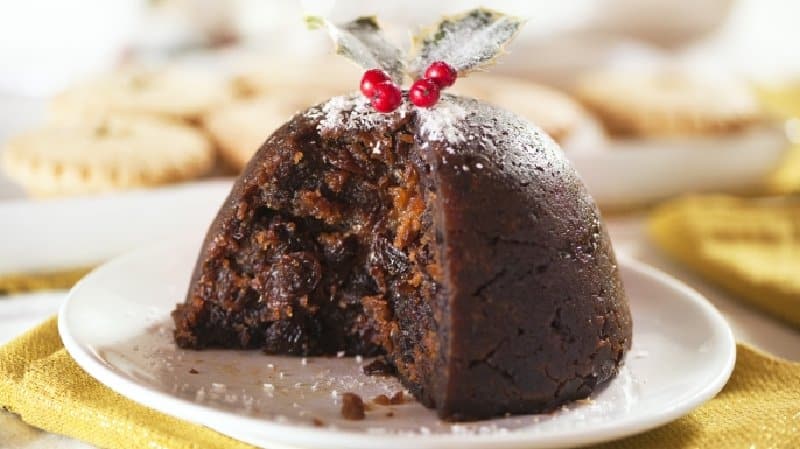 Also known as Christmas pudding, this sweet dessert is made with dried fruits. Despite it's name it isn't actually made with plums – as in pre-Victorian times 'plum' was actually the word used for raisins. Plum pudding is traditionally served in Britain and Ireland as dessert on Christmas Day.
There is a popular myth that plum pudding's association with Christmas goes back to a custom in medieval England that the "pudding should be made on the 25th Sunday after Trinity, that it be prepared with 13 ingredients to represent Christ and the 12 apostles, and that every family member stirs it in turn from east to west to honor the Magi and their journey in that direction"". However, recipes for plum puddings appear mainly, if not entirely, in the 17th century and later (one of the earliest plum pudding recipes is given by Mary Kettilby in her 1714 book A Collection of above Three Hundred Receipts in Cookery, Physick and Surgery).
Before serving, it is covered in brandy and then set alight, the blue flames last just under a minute, then the dessert is sliced up and ready to eat. We recommend serving it with extra thick brandy cream. Click here to discover how to prepare Plum Pudding.
Gingerbread Men (England, 16th Century)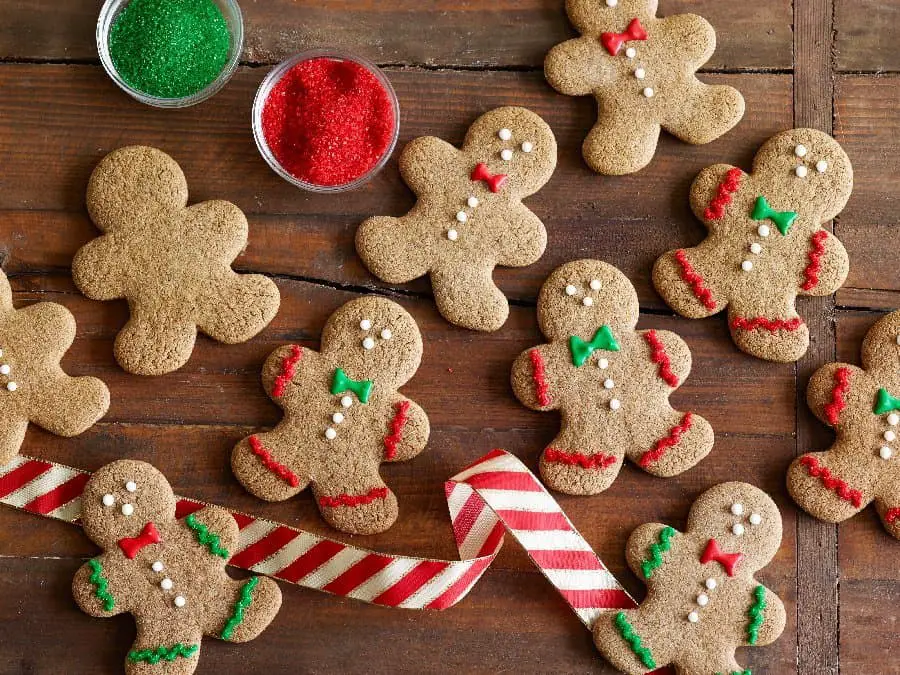 The Gingerbread Man biscuit was first coined in the 15th century, in Medieval Europe, and figural biscuit-making was practiced in the 16th century. The first-ever documented instance of a human-shaped gingerbread biscuit was at the court of Queen Elizabeth the 1st of England (1558-1603). She ordered for the gingerbread biscuits to be baked and presented to mirror some of her most esteemed guests.
Over the years, gingerbread men and houses have been featured in popular fiction, such as 'The Nutcracker', 'The Muppet Show' and the fairytale, 'Hansel and Gretel". This sugary snack is widely associated with the Christmas season. Click here to discover how to prepare Gingerbread Men.
Mulled Wine (Rome, 2nd Century)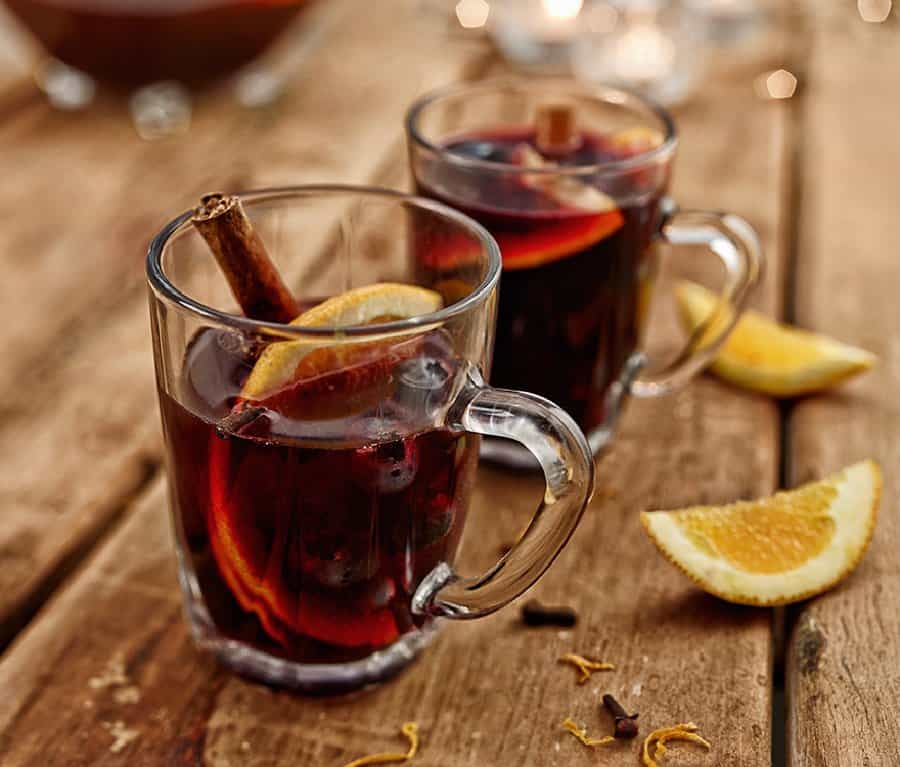 This hot, alcoholic drink has been around for centuries and is typically consumed in winter. The wine was first recorded as warmed and spiced in Rome during the 2nd century. The Roman legions brought wine with them up to the Rhine and Danube rivers. Germans and Austrians refer to it as 'Glühwein', Nordics call it 'Glögg' and in France, it is called 'Vin Chaud', literally translated as 'hot wine'.
There are many variations on how this beverage is prepared, and recipes have evolved over time. It is typically made by heating red or white wine, adding cinnamon cloves, oranges, and spices. The wine is left to simmer as it soaks up all the new flavors. Mulled cider has also become increasingly popular. Click here to discover how to prepare Mulled Wine