Flea Markets in Brooklyn are the place to go if you are on the prowl for genuine vintage finds at a fair price. From oversized Levi's denim jackets to an early 1940s engraved silver harmonica and rare vintage vinyl – you can pick up pretty much anything in Brooklyn. With the mammoth selection on offer in Brooklyn alone, you may have to rummage through some junk. But trust us, it is worth it!
We have whittled down the list to six of the best flea markets in Brooklyn:
1. Brooklyn Flea DUMBO – DUMBO, Brooklyn (NYC)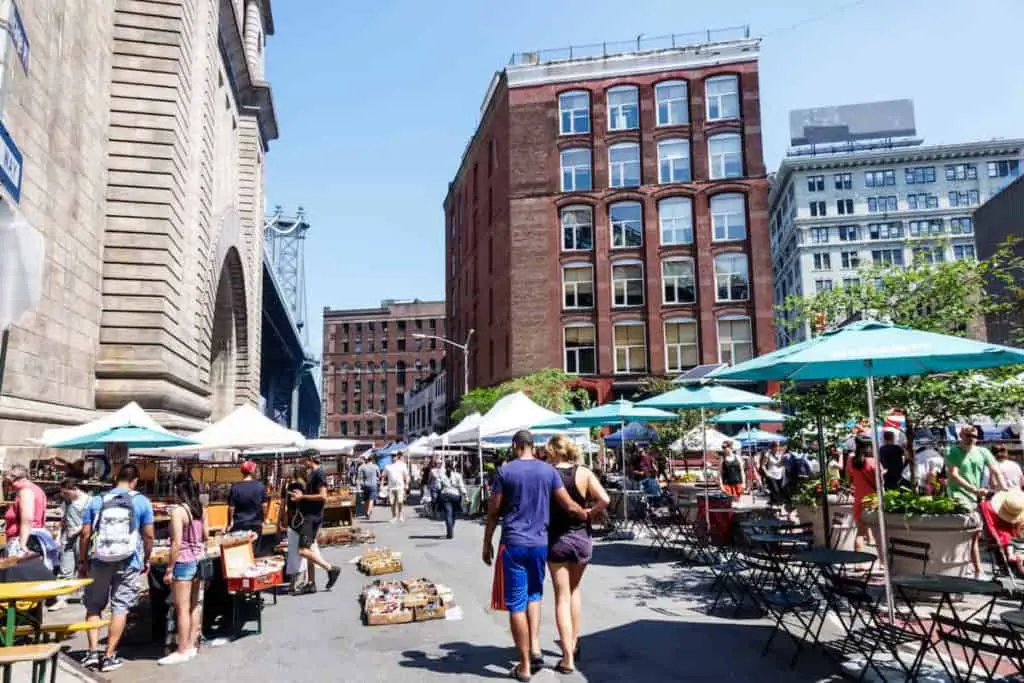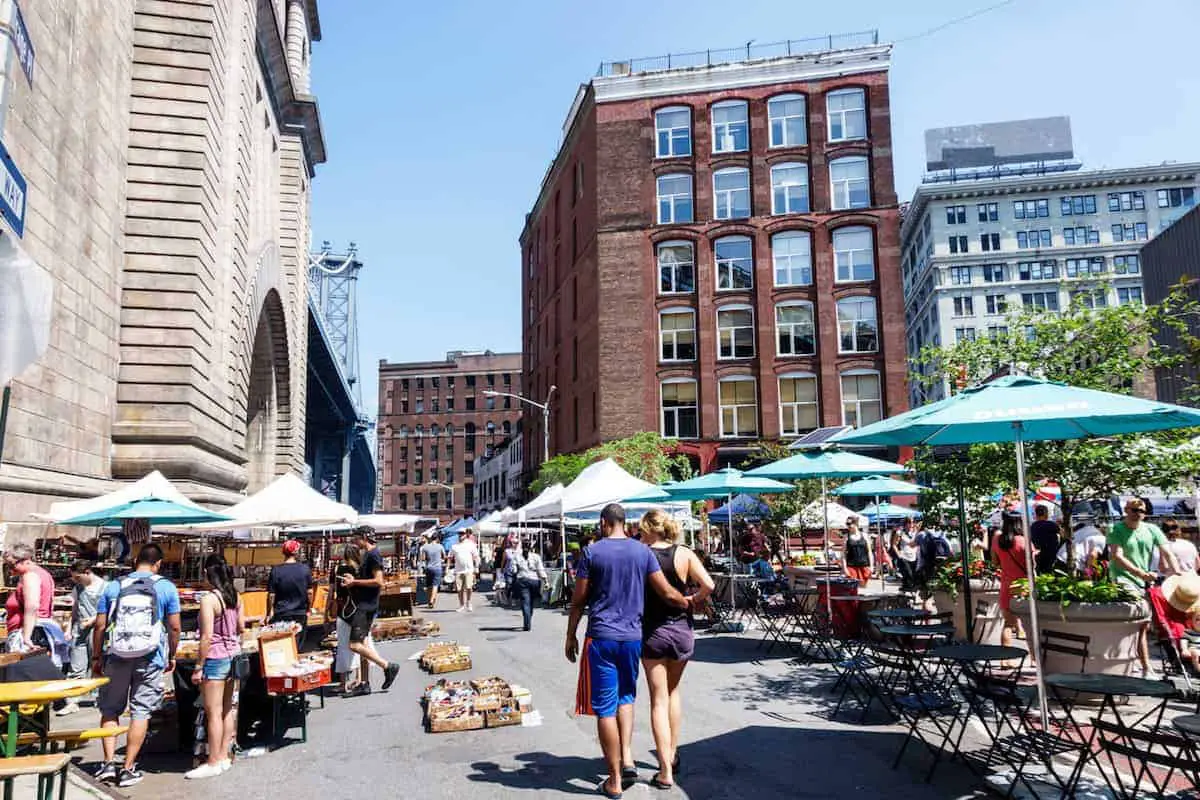 In less than ten years, Brooklyn Flea has become the most popular flea market in Brooklyn and possibly in all of New York City. Nowadays Brooklyn Flea operates an outdoor market in DUMBO with about 80 vendors. Located right beneath the Manhattan Bridge in DUMBO, Brooklyn Flea is not only a great excuse to discover a typical Brooklyn neighborhood, but also a great address for authentic vintage finds. Vendors sell all kinds of merchandise, including vintage clothing and jewelry, collectibles, furniture, and antiques. Brooklyn Flea would not be complete without handcrafted items by local designers and tasty food.
Brooklyn Flea
When: Sundays, April through October | Hours: 10 am – 5 pm
Where: Manhattan Bridge Archway – 80 Pearl St., Brooklyn, New York
Read more: Review of Brooklyn Flea DUMBO on Fleamapket
2. Brooklyn Flea Winter & Holiday Market – Fort Greene, Brooklyn (NYC)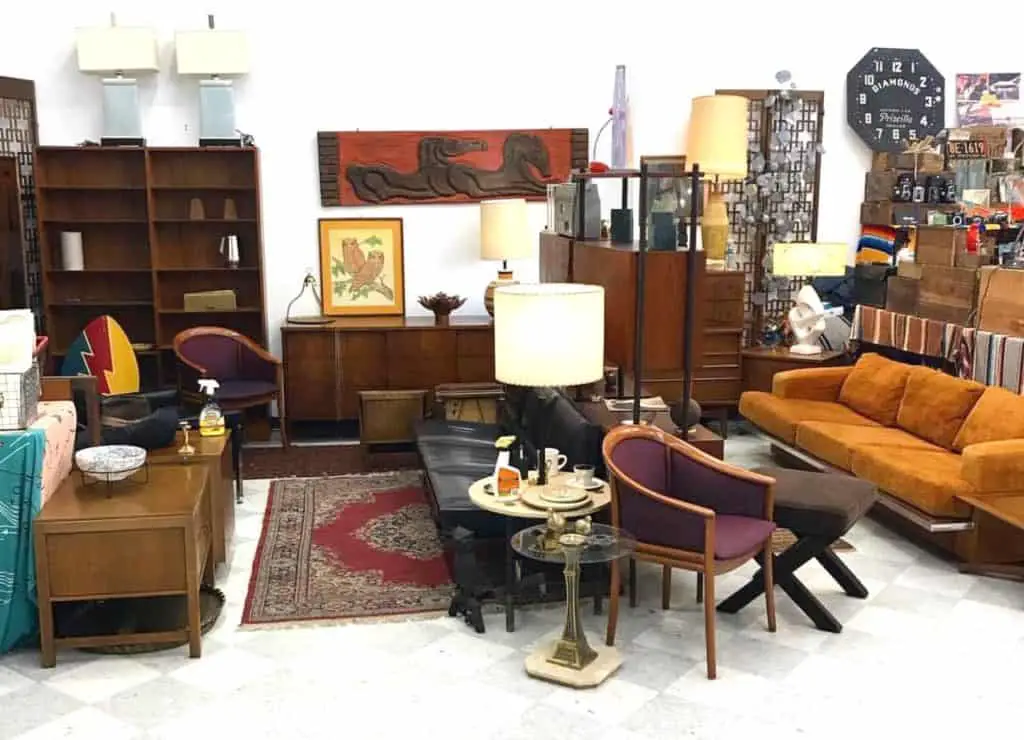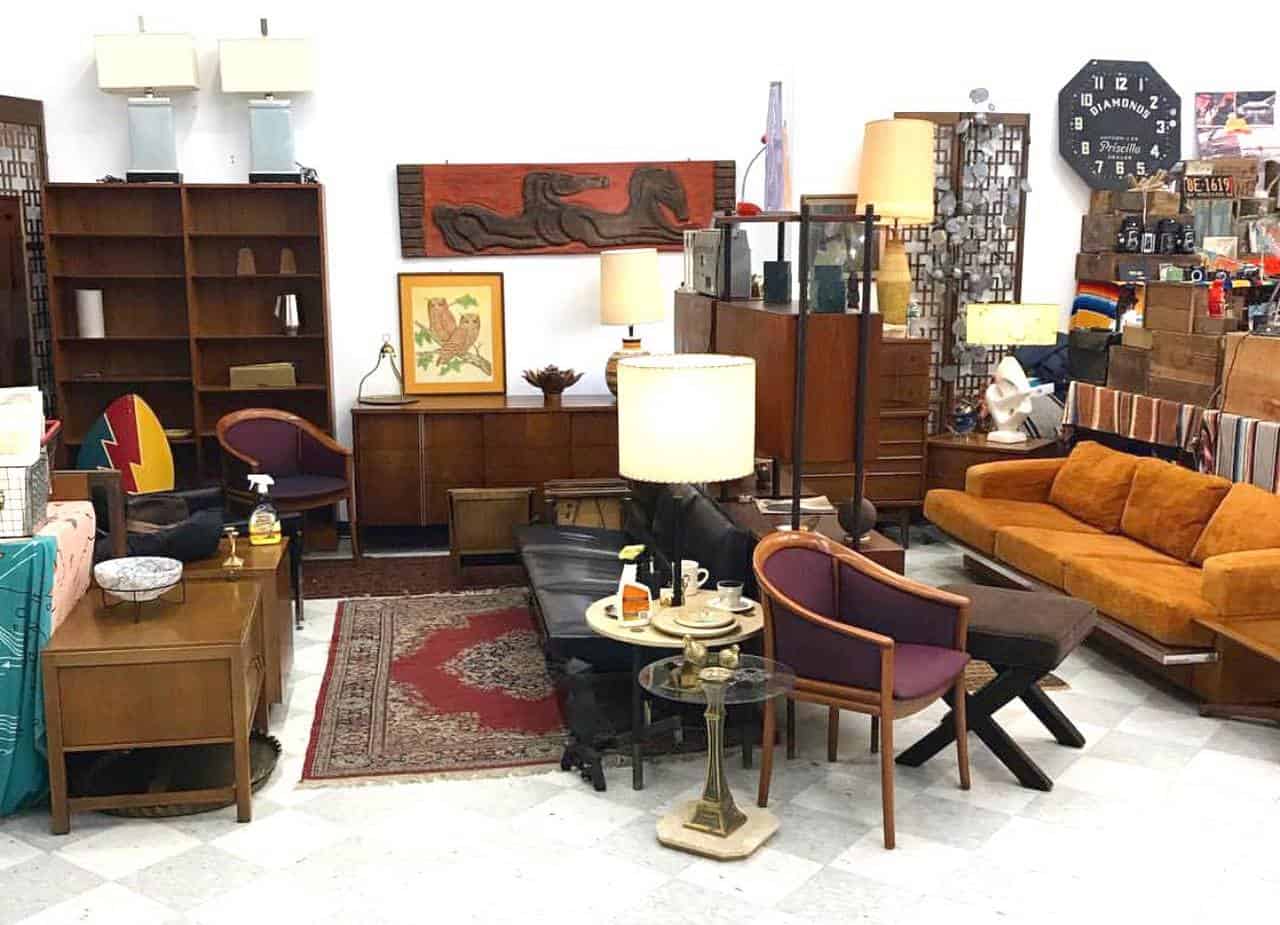 From November to March, Brooklyn Flea moves indoors and transforms into the Brooklyn Flea Winter Market. Inside the Atlantic Center in Fort Greene the flea market merges with Smorgasburg, the trendiest food festival in the US. This makes the holiday market a great spot to find unique gifts and enjoy delicious food at the same time. Note that at its current location, there are actually more food vendors than vintage and antique dealers. The flea market section currently consists of about 20 vendors selling high-quality mid-century modern furniture, vintage fashion, handmade designs and more.
Brooklyn Flea Winter & Holiday Market
When: Saturdays & Sundays, November through March | Hours: 11am – 6pm (5pm on Sun)
Where: Atlantic Center at 625 Atlantic Ave., Brooklyn, New York
Read more: Review of Brooklyn Flea Winter Market on Fleamapket
3. Brooklyn Flea Record Fair – Williamsburg, Brooklyn (NYC)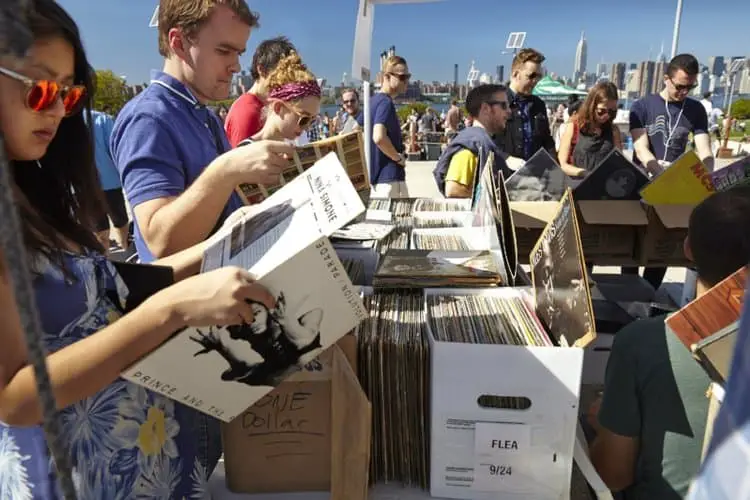 This event makes the hearts of vintage record collectors beat faster. About three times a year, Brooklyn Flea organizes the Brooklyn Flea Record Fair. At this occasion, more than 50 vendors of vintage vinyl records, CDs and even cassettes set up their stands next to Smorgasburg at East River State Park. In winter, a much smaller edition of the Brooklyn Flea record fair takes place. It is held alongside the Brooklyn Flea Winter Market and features about 14 specialized vendors.
Brooklyn Flea Record Fair
When: 3 times a year, Saturdays & Sundays | Hours: 11am – 8pm (5pm on Sun)
Where: East River State Park (summer) or Atlantic Center (winter), Brooklyn, New York
Read more: Brooklyn Flea Record Fair website
3. Artists & Fleas Williamsburg – Williamsburg, Brooklyn (NYC)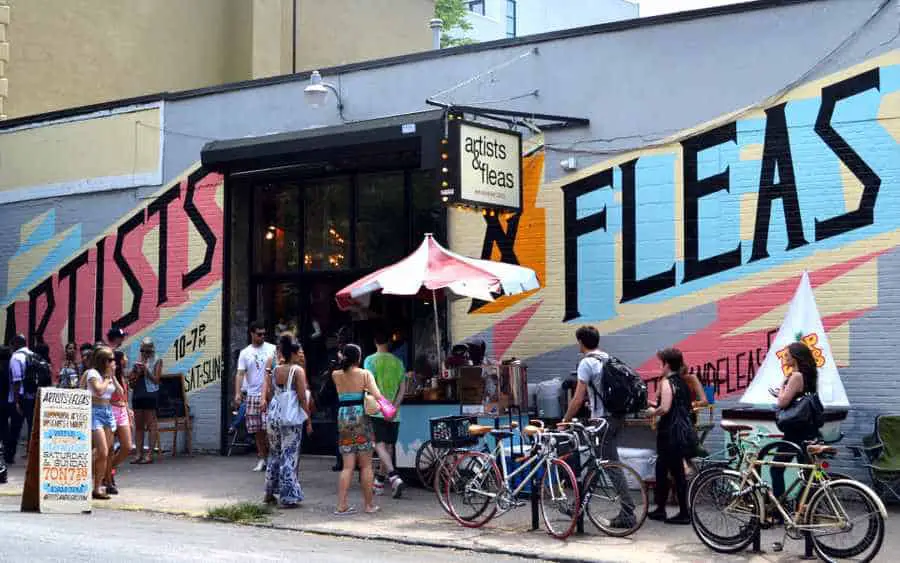 Williamsburg Flea Market, founded by Artists & Fleas, was one of the first of its kind in Brooklyn. This indoor market in Williamsburg is a place where shoppers can discover works by emerging local artists and craftsmen in a friendly and fun environment. Besides artwork and design, Williamsburg Flea Market is also a place to shop for clothes and accessories, vintage home furnishings, vinyl records, books and antiques. Over time, Artists & Fleas weekend flea markets in Brooklyn have proven so popular that there are now two daily flea market in Manhattan (Artists & Fleas Chelsea Market and another one in SoHo), and even one in Los Angeles.
Artists & Fleas Williamsburg
When: Saturday and Sunday: 10:00 – 19:00 | Hours: 10am – 7pm
Where: 70 North Street, Williamsburg, Brooklyn
Read more: Review of Artists & Fleas Williamsburg on Fleamapket
4. Oddities Flea Market – Greenpoint, Brooklyn (NYC)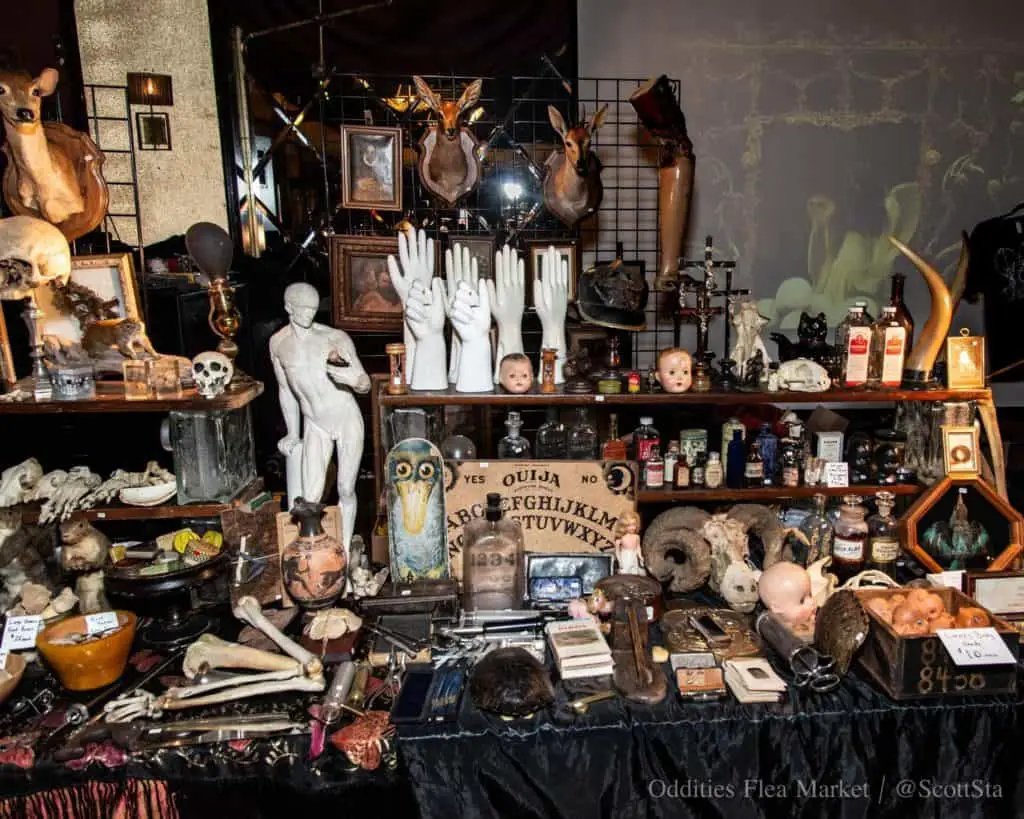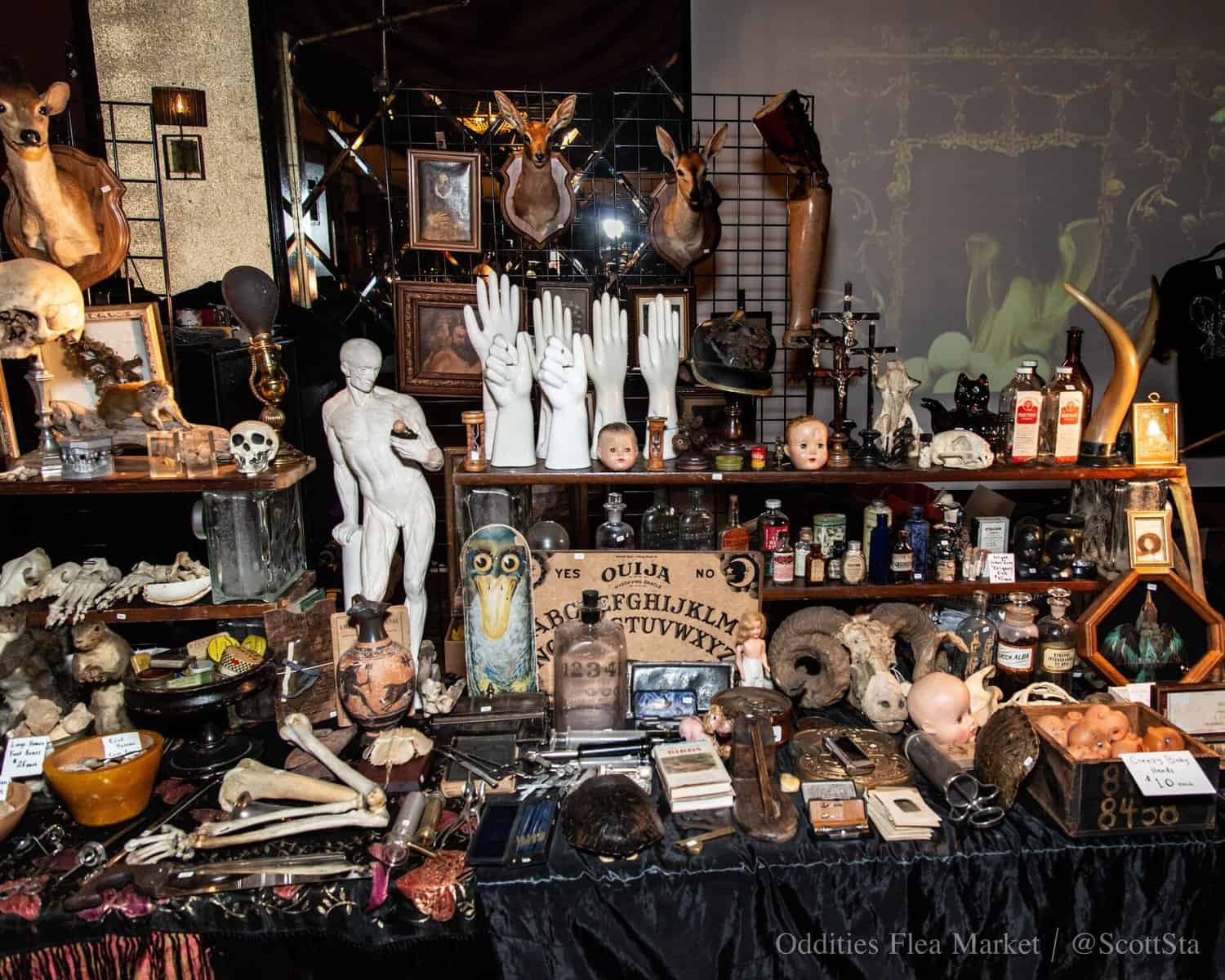 If you are looking for something truly weird and wonderful, then get yourself to this wacky flea market in Greenpoint, pronto. Oddities Flea Market focuses on anatomical curiosities, natural and medical history items, taxidermy and one of a kind art. Fortune telling teacups, taxidermy, skulls, handmade jewelry – it's all here at Oddities Flea Market in Brooklyn. Vendors from all over the United States sell at Oddities Flea Market, which makes for a dazzling and intriguing selection of merchandise. The flea market takes place on three floors at the Brooklyn Bazaar at least once a year.
Oddities Flea Market
When: seasonally
Where: Brooklyn Bazaar, 150 Greenpoint Ave, Brooklyn, NYC
Read more: Check their Facebook page for upcoming markets

5. Metroflea NYC – Park Slope, Brooklyn (NYC)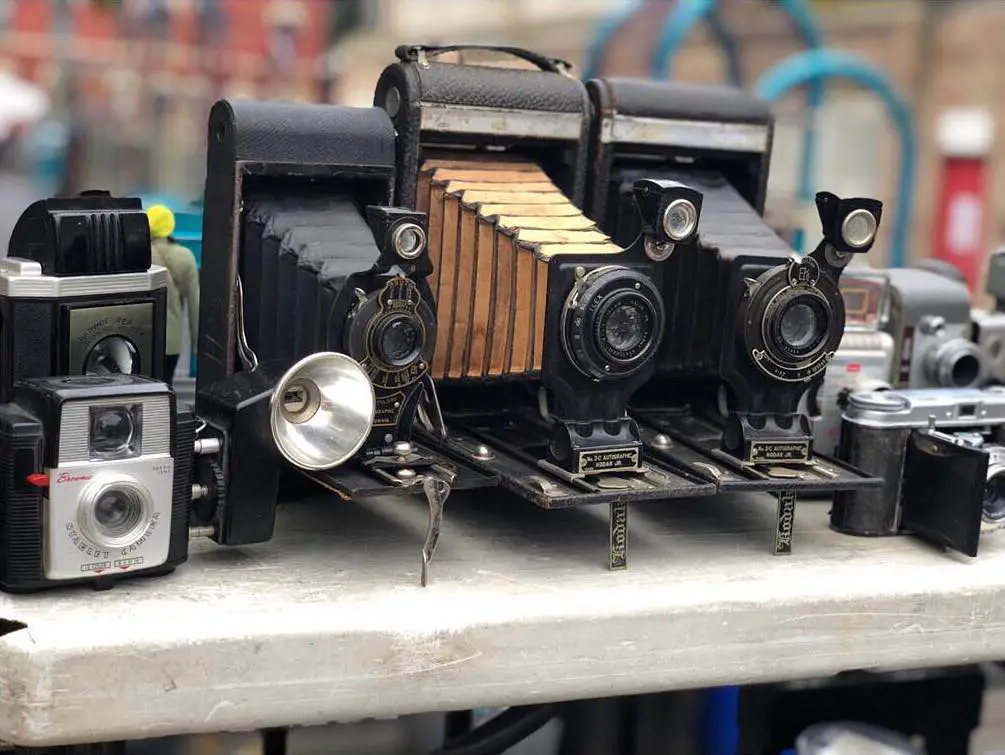 Metroflea NYC in Brooklyn's Park Slope is the perfect destination to discover one of Brooklyn's hippest neighborhoods. For over three decades this market has been an institution in Park Slope. Visitors will find an eclectic mix of vintage with handmade artisanry including rugs, baskets and jewelry. Vintage treasures sold at this NYC market include vintage vinyl records, old cameras, bicycles, kitchenware, furniture, and more. A short walk from the Metroflea NYC 7th Avenue you can discover the Metroflea NYC 5th Avenue, which is a more recent addition to the weekend programme in Park Slope.

Metroflea NYC 7th Avenue
Schedule: Saturday and Sunday, weather permitting| Hours: 9am – 6pm
Directions: 180 7th Avenue (between 1st and 2nd Street) Brooklyn, NY 11215 and 350 5th Ave, Brooklyn, NY 11215
Read more: Metroflea NYC organizers
6. Brooklyn Stoop Sales – Garage Sales in Brooklyn (NYC)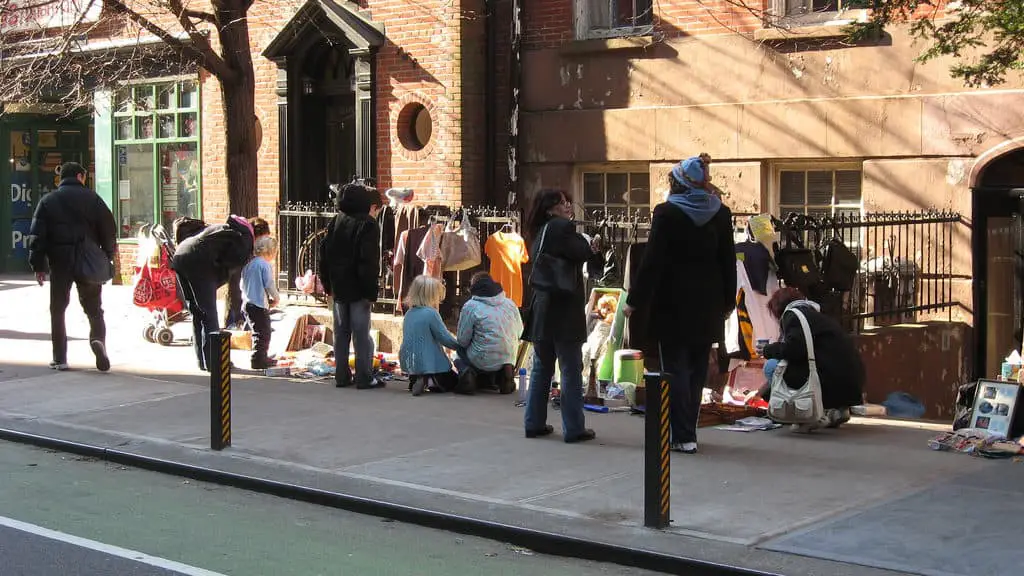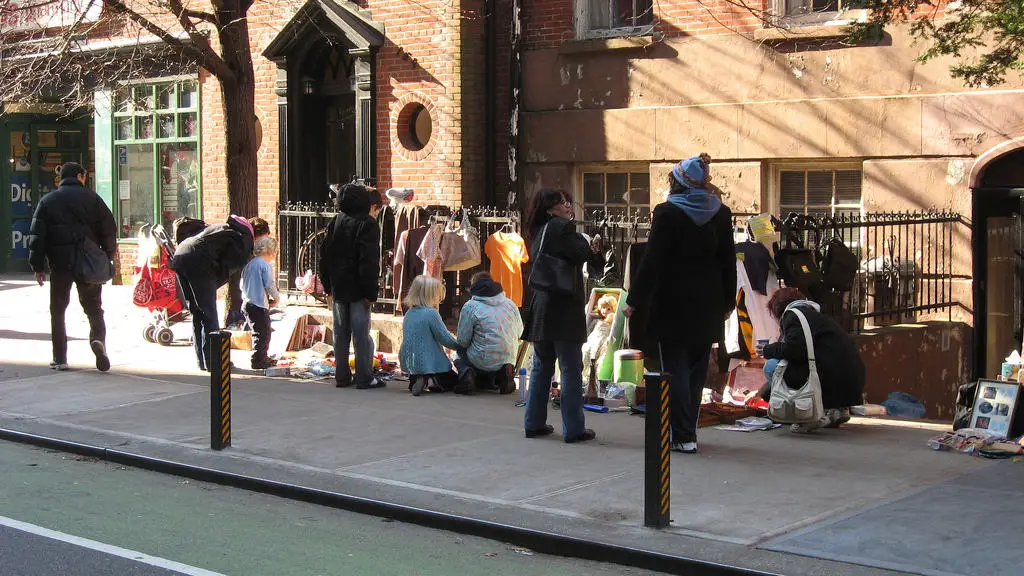 While strolling through Park Slope, you might also come across an authentic Brooklyn stoop sale. What is generally known as a garage sale elsewhere is called a stoop sale in Brooklyn. If you prefer not to take chances, have a look at Craigslist first for announcements or look out for posters announcing the sale in the neighborhood. For these one-off garage sales Brooklynites clean out their closets and sell their unwanted stuff on the sidewalk in front of their houses. You will have to get your hands dirty and rummage through dusty boxes to uncover real treasures, but prices at these flea markets are unbeatable!
Stoop Sales in Brooklyn
When: ad hoc | Check announcements on Craigslist
Where: all over Brooklyn
---
Flea markets in Brooklyn are among the best flea markets in New York – and beyond! If you cannot get enough of shopping vintage treasures, you should also check out some of the great vintage clothing stores in New York, many of which are actually in Brooklyn!
Book your stay in Brooklyn