A picturesque Southwest state, Arizona is abundant with natural beauty. People flock from all over the world to take in the views of the Saguaro cactus at the Sonoran Desert, and to witness the majesty of the Grand Canyon. Arizona is a vacationer's paradise with outdoor recreation in spades. Whether you're a resident or a visitor to Arizona, you can appreciate it in all its splendor by visiting some of the famous cities such as Tempe, Phoenix, and Scottsdale. Throughout these and other areas are some of the best flea markets in Arizona, ideal for collectors, vintage lovers, and antiques in need of that new special buy.
Some of the coolest and oldest sections of old Route 66 run straight through Arizona, and the route is dotted with antique stores. The small towns along Route 66 will delight visitors with some of the best Americana finds from vintage roadside attractions, including roadsigns, automobile artifacts, oil and gas collectibles, postcards, landscape paintings, and Native American and cowboy ephemera.  

1. Thieves Market – Tempe, Arizona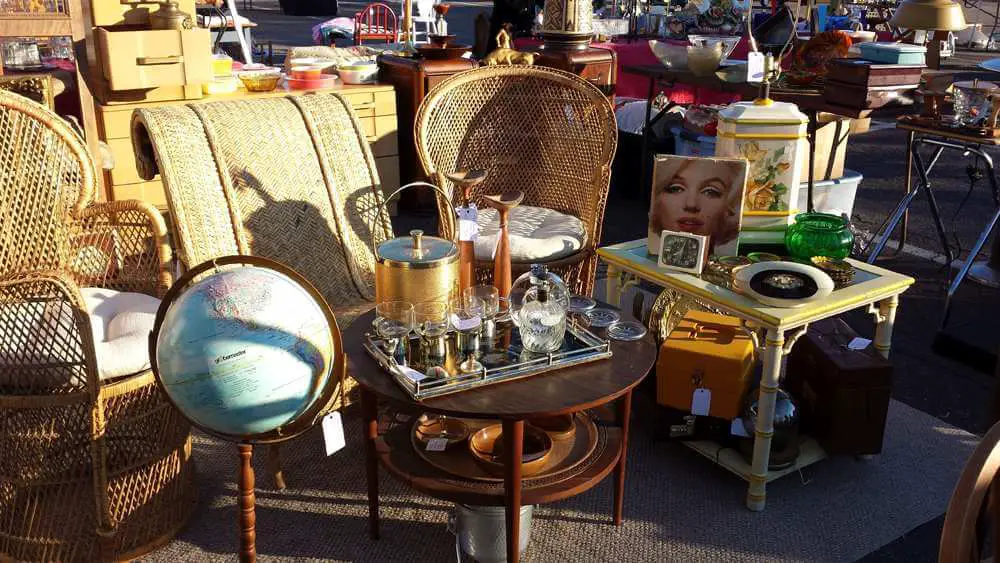 Want a market with an edge? Head to the one that describes itself as "if your weird great aunt's attic threw up in a parking lot." Held in the parking lot of the Big Surf Water Park in Tempe, Arizona during the park's off-season, Thieves Market is a kitschy and funky flea market. Thieves is held one weekend a month October through May.
This is one of the best flea markets in Arizona, and the owners have strict vending regulations. Only items from the 1980's or older, handmade items, or exotic imports may be sold and vendors keep inventory fresh, updating with each new show. Toys from your childhood? Vintage soda company signs? Brightly-colored retro clothing? You'll probably find plenty of these things and more. The Meulenbeek Family, the owners of Thieves, also rotate out food trucks on each show date. Admission is $5.
Thieves Market

Where: 1500 N McClintock Dr, Tempe, AZ 85281
When: Seasonally | October  – April | Saturday: 8:00 am – 3:00 pm – check the website for exact dates
Web: http://thievesmarketvintageflea.com
2. Gather: A Vintage Market – Tucson, Arizona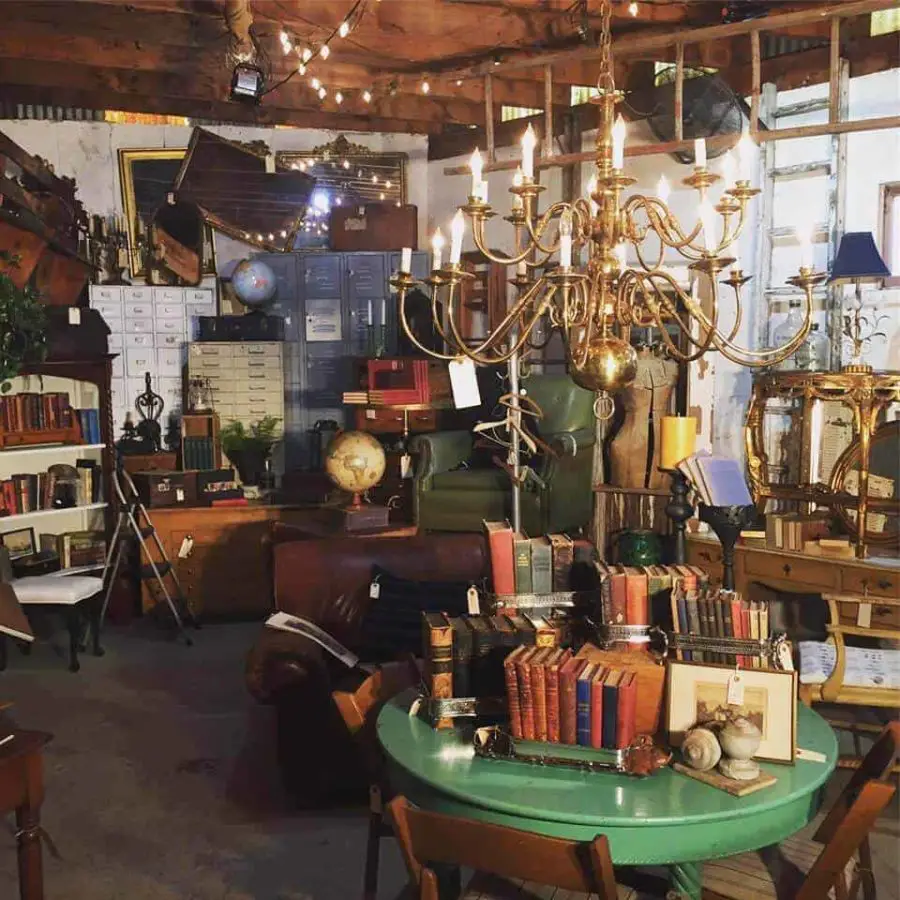 Gather: A Vintage Market is a chic-styled market that began as a dream in 2012 by founders Simone and Tray Gers. The vintage lovers wanted to establish a 4-day vintage market and created Gather in 2013 after finding the perfect home: the Old Arizona Sash and Door Warehouse lumberyard.
The space with its tin walls, exposed rafters, and weathered wood floor is the perfect location for a vintage-inspired market. Each market session is composed of a series of vignettes with curated items gathered together around the monthly theme. Gather sessions are held throughout the year, and have around 16 merchants, but this small market has quickly found its place as one of the best flea markets in Arizona. Farm equipment, French Country, vintage kitchenware, glass, textiles, and more can be found here.
Gather: A Vintage Market
Where: 657 W St Mary's Rd, Tucson, AZ 85701
When: Monthly | Thursday – Saturday: 10:00 am – 6:00 pm | Sunday: 10:00 am – 3:00 pm |  – check the website for exact dates
Web: http://gatheravintagemarket.com
3. Sweet Salvage – Phoenix, Arizona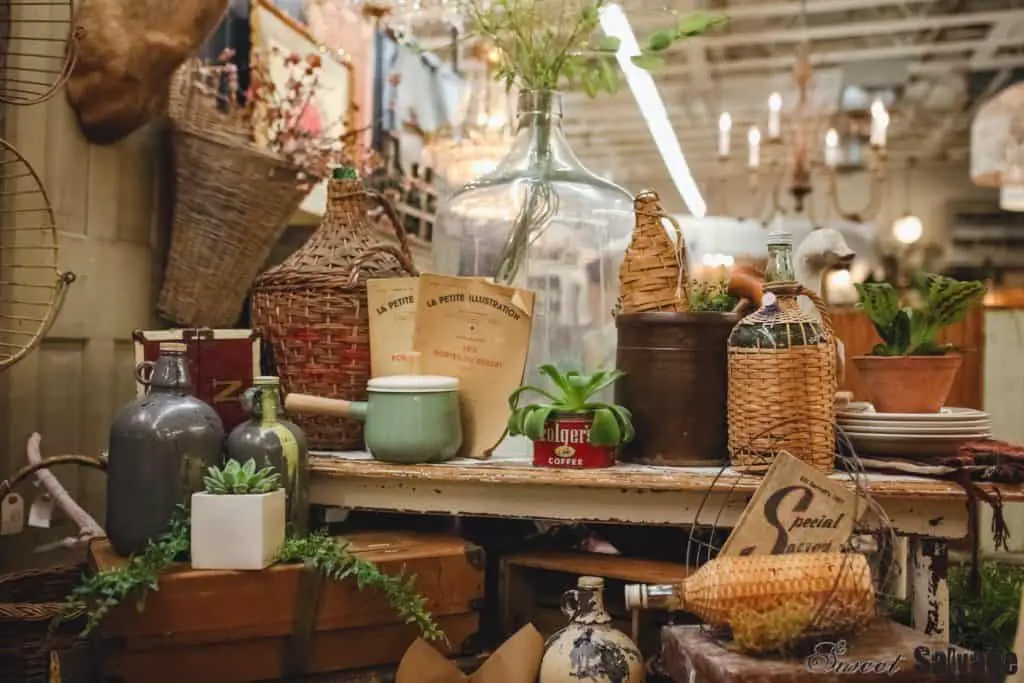 Named one of the Best of Phoenix by Phoenix New Times, Sweet Salvage is a must-see vintage and antique shopping event held for 4 days each month. Dealers come from throughout the area to vend at this well-attended show. Not only are vintage items and antiques of all types available at the show, but you'll also find home decor, repurposed pieces, and handmade gifts among the treasures.
Each session of Sweet Salvage features a theme and merchants create lovely displays with the current show's theme. You'll definitely label this one a pick for best flea market in Arizona. Previous themes include Rustic Luxe, Backroads and Blooms, and Color Stories, with the latter featuring vibrant displays of multiple objects of a certain color. You'll want to attend Sweet Salvage again and again after visiting just once.
Sweet Salvage

Where: 4648 7th Ave, Phoenix, AZ 85013
When:  Monthly | Thursday: 10:00 am – 9:00 pm | Friday –  Sunday: 10:00 am – 6:00 pm – check website for exact dates
Web: http://sweetsalvage.net
4. Junk In the Trunk Vintage Market
– Scottsdale, Arizona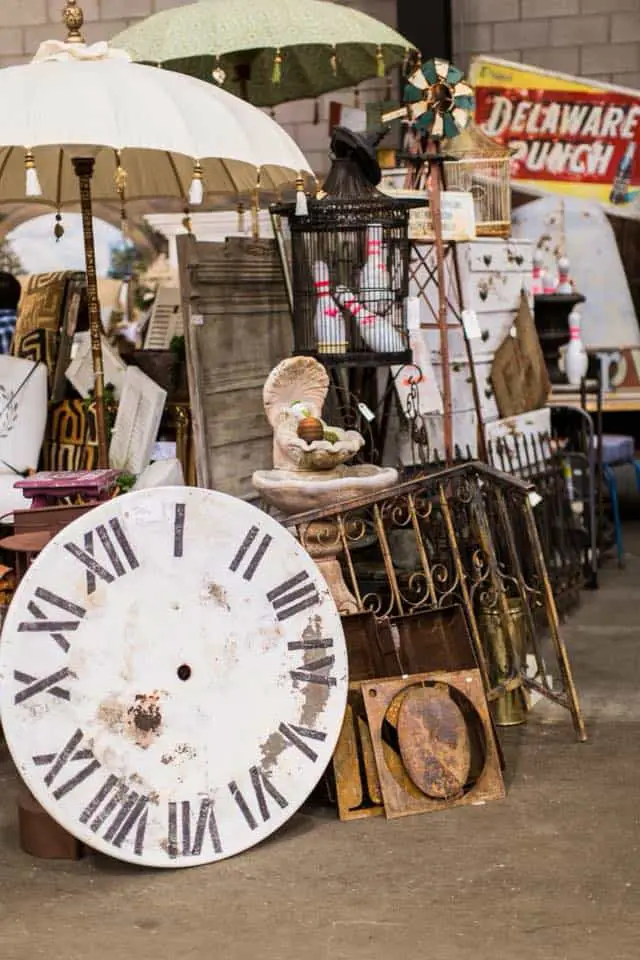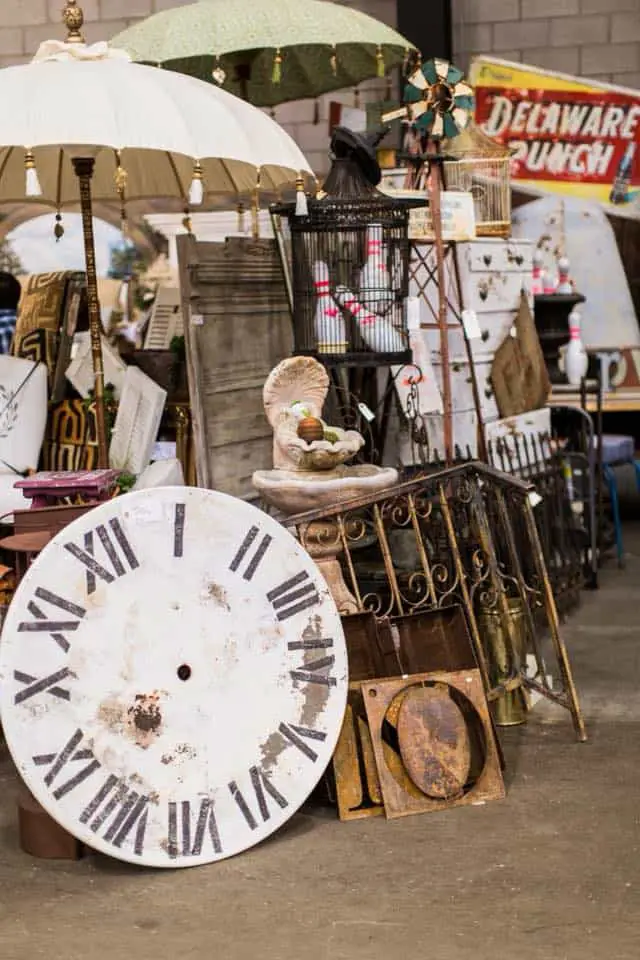 Since 2011, over 100,000 visitors have flocked to Junk in the Trunk Vintage Market for all "things chippy, rusty, vintage and handmade." The 3-day vintage and antique shopping event is held several times a year. Founders Coley Arnold and Lindsey Holt wanted to create a better venue for vintage shopping in Phoenix and established a backyard market which attracted over 600 guests.
Word quickly spread about the show and today Junk in the Trunk is held at WestWorld of Scottsdale, a 13,000 square foot venue that holds over 100 merchants. Vendors come from the surrounding area and the around the country with farm antiques, country chic, repurposed items, antique home furnishings, and more. Admission options include VIP Shopping ($50) and Early Entry ($20), while General Admission is $8.
Junk in the Trunk

Where: 16601 N Pima Rd, Scottsdale, AZ 8526
When: Seasonally| Friday: 5:00 pm – 9:00 pm | Saturday – Sunday: 9:00 am – 4:00 pm – check the website for exact dates
Web: http://junkinthetrunkvintagemarket.com
5. Brass Armadillo – Goodyear, Arizona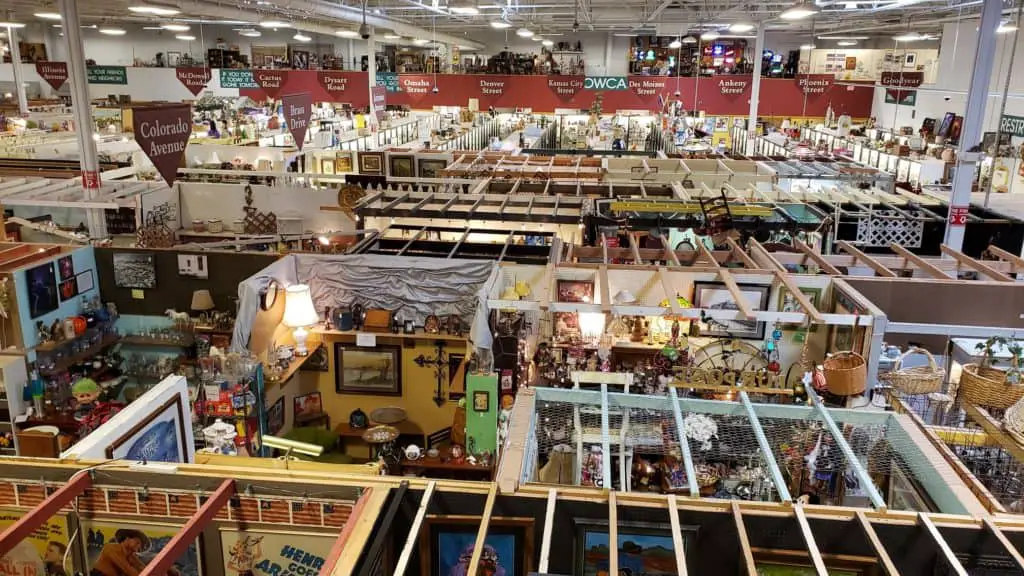 Brass Armadillo offers antiquing and vintage galore throughout several states, and one of the best locations is found in Goodyear. Open daily, the antique mall spans 55,000 square feet and has over 500 dealers all under one roof. Every type of antique and collectible item under Phoenix sun can be found here, but the store has a good deal of military memorabilia including World War II collectibles.
Other sections feature sports collectibles, architectural salvage, audio equipment, vinyl, glass, pottery, toys, decorative pieces, and more. The layout consists of booths, stalls, and glass cases packed with items big and small. Even the most discerning collector can easily find something at this pick for one of the best flea markets in Arizona, and you'll likely spend more than an hour here.
Brass Armadillo
Where: 13277 W McDowell Rd, Goodyear, AZ 85395
When: Daily | Monday –  Sunday: 9:00 am – 9:00 pm
Web: http://brassarmadillo.com/phoenixwest
6. Antique Plaza – Mesa, Arizona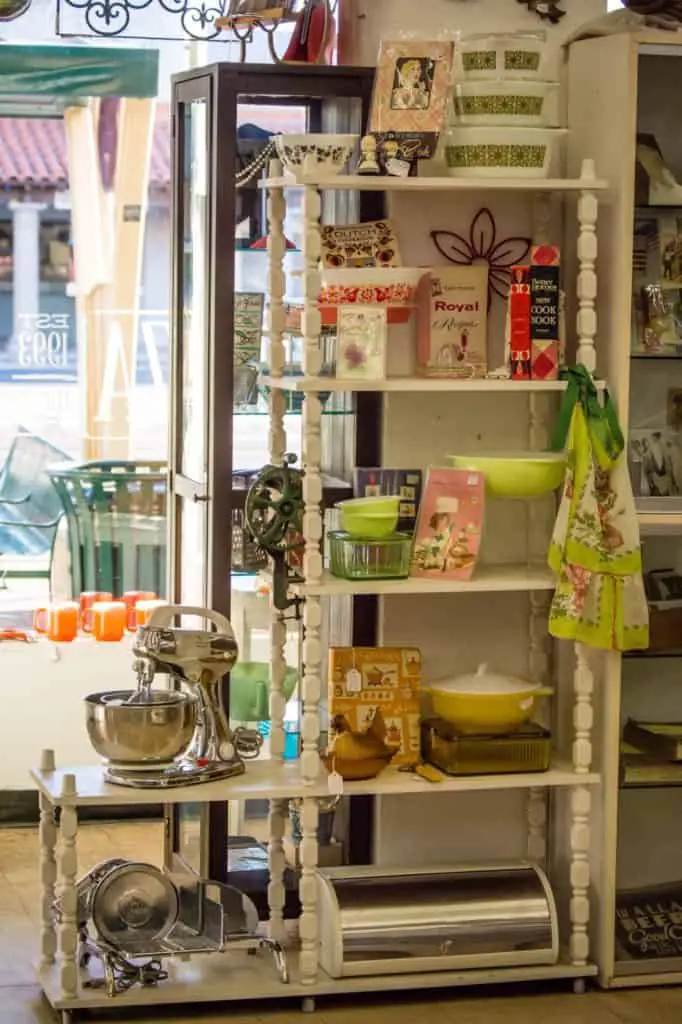 It's a blast from the past 364 days a year at the Antique Plaza. Established in 1993 and located in downtown Mesa, the store has been praised as by the Phoenix New Times and the East Valley Tribune. More than 150 dealers have an assortment of antiques and vintage pieces with jewelry, gold, Danish Modern, art, furnishings, clothing, dishes, paper goods, and anything antique and unique.
The sellers have been carefully gathered by mall owner Greg Farr, a mid-century specialist, and it's only the best of the best here. Antique Plaza also has an annex, Past Vintage Shop, located two doors down and packed with all things mid-century modern. Combine a trip to the Antique Plaza and Past Vintage Shop, then stroll in the downtown district for a lovely afternoon.
Antique Plaza
Where: 114 W Main St, Mesa, AZ 85201
When: Daily | Monday –  Saturday: 10:00 am – 5:30 pm | Sunday: 12:00 am – 5:00 pm
Web: http://antiqueplazamesa.com
7. Prescott Antique Show and Vintage Market – Prescott, Arizona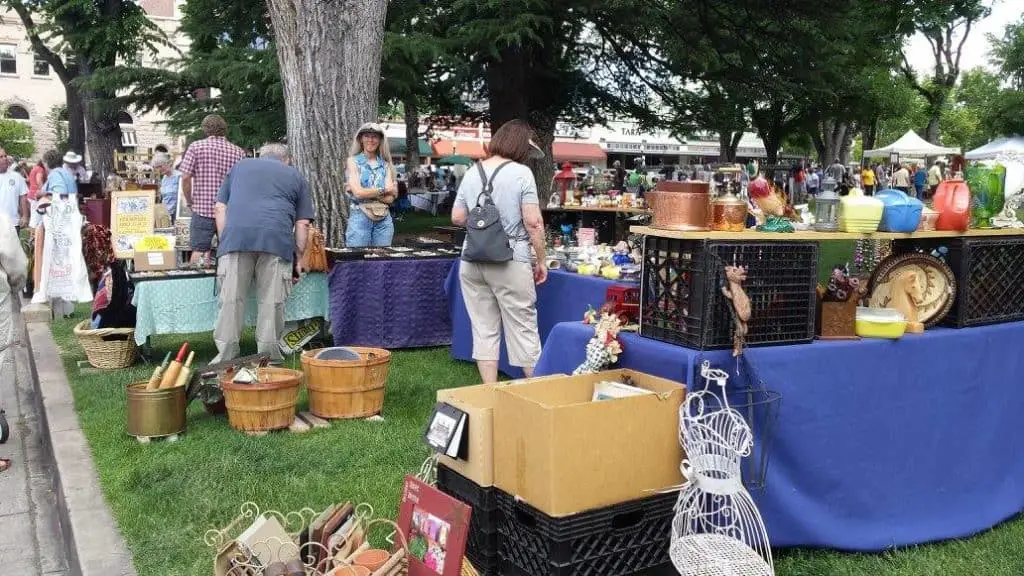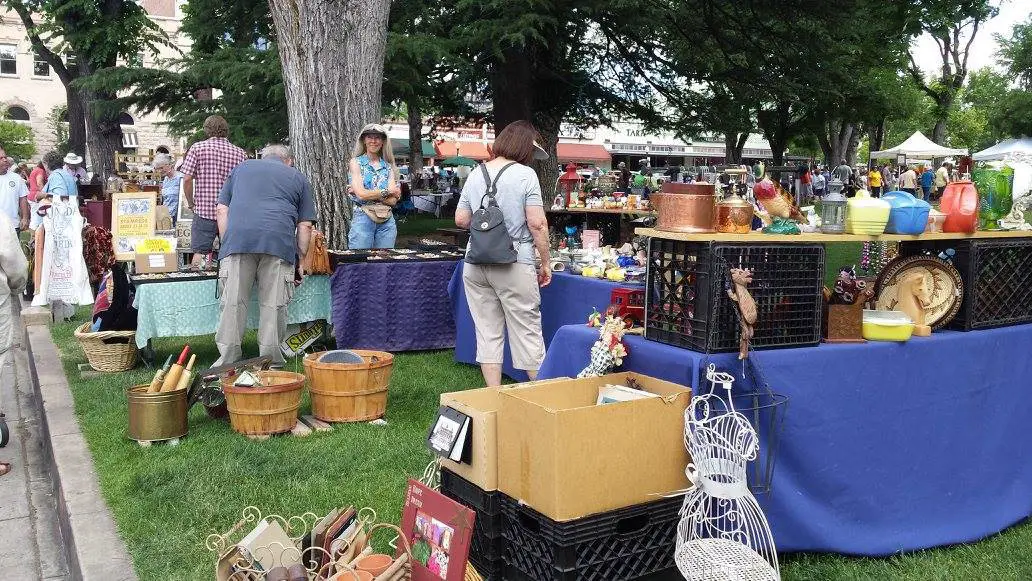 In the 1980s, a Prescott, Arizona antique store owner established an annual antique show in the city's historic Courthouse Square. In 2018, the show moved to the Prescott Rodeo Grounds, and now each June, the show features indoor and outdoor merchants with thousands of items for sale. Prescott Antique Show and Vintage Market has become one of the best flea markets in Arizona, and this new location enabled the show to expand even more.
Merchandise ranges from the 1950's and 1960's items to rustic barn goods, advertising memorabilia, cowboy chic, Western wear, glassware, kitchen goods, furniture, jewelry, and anything else vintage or antique. By shopping at the show you help preserve history: Proceeds from the show go toward the preservation of local historic buildings, such as the circa-1909 Cornville Post Office.
Where: 840 Rodeo Dr, Prescott, AZ 86305
When: Annually | Sunday, June 2, 2019: 8:00 am – 3:00 pm
Web: http://prescottantiqueshow.com
8. Antique Trove – Scottsdale, Arizona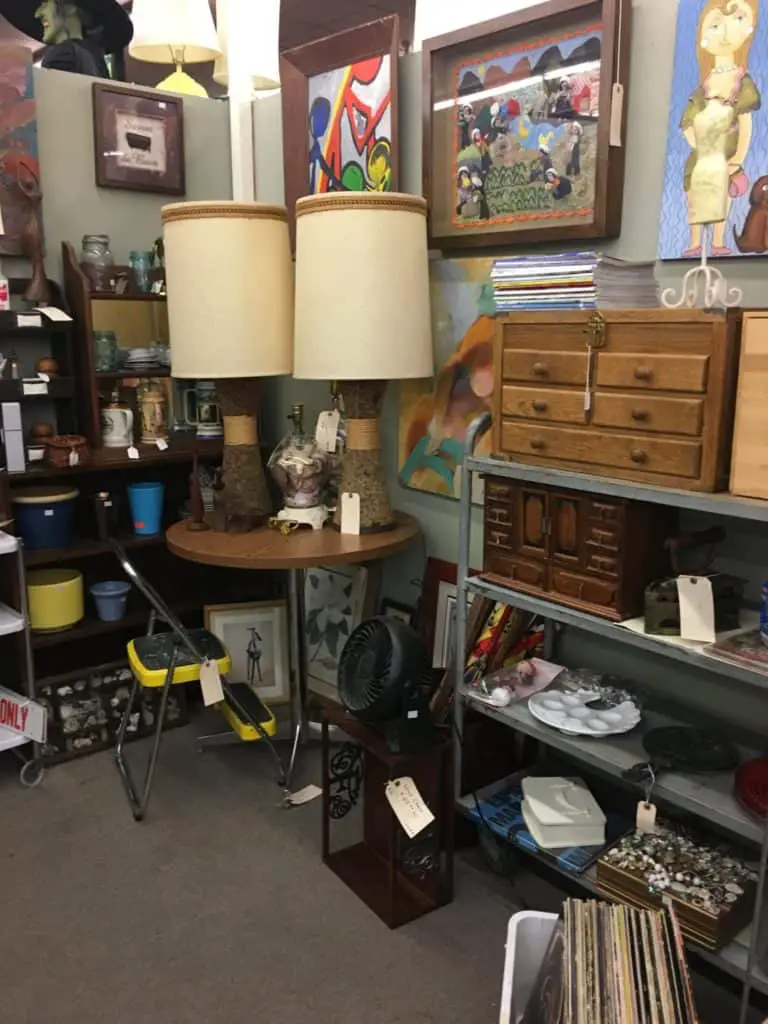 Scottsdale, Arizona is the home of one of the best flea markets in Arizona in the form of the Antique Trove. Treasure trove might be an appropriate nickname, as the 23,000 square feet building contains wonders from the Victorian ages to the mid-century modern era and everything else in between.
Stamps, clothing, jewelry, coins, Western collectibles, vinyl, art, and more are for sale from more than 140 dealers, and each seller has their own specialties. Whether you love the funky chic of the 1960s or the sleek stylized lines of an Eames chair, you'll be happy with the merchandise for sale. Open seven days a week, Antique Trove will surely become one of your favorite Scottsdale antiquing stops.
Antique Trove
Where: 2020 N Scottsdale Rd, Scottsdale, AZ 85257
When: Daily | Monday –  Sunday: 10:00 am – 6:00 pm
Web: http://antiquetrove.com

9. 22nd Street Antique Mall – Tucson, Arizona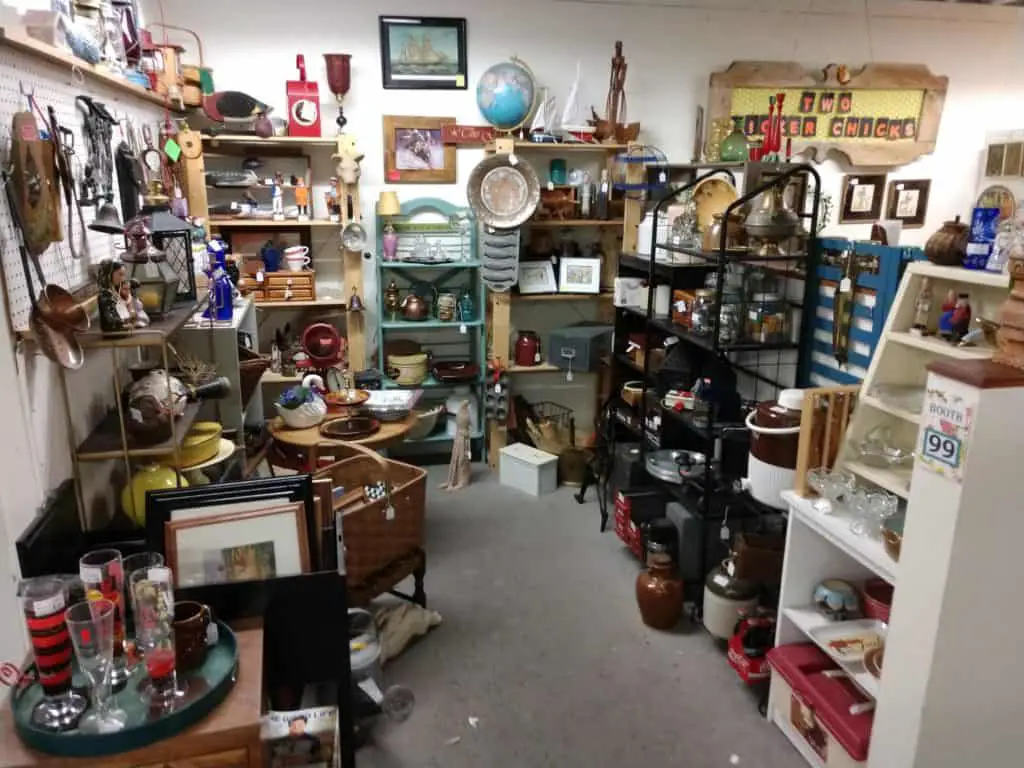 Where can you see thousands of antique and vintage items, plus encounter a few ghosts along the way? The 22nd Street Antique Mall has its share of great merchandise but comes with something extra: ghosts. The antique mall is reportedly haunted. Visitors have claimed they heard repeated typing sounds coming from a typewriter, but there was no one in the office.
The second floor of the building was also another haunted spot as employees began finding furniture mysteriously rearranged overnight. As you make your way through the best flea markets in Arizona, add 2nd Street Antique Mall to your list, if only to say you visited a haunted antique mall. You might not see a ghost, but you'll see plenty of vintage home decor, games, toys, collectibles, postcards, jewelry, military memorabilia, Art Deco pieces, and more.
22nd Street Antique Mall
Where: 5302 E 22nd St, Tucson, AZ 85711
When: Daily | Monday –  Sunday: 10:00 am – 5:00 pm
Facebook: http://antiquetrove.com
10. Sweet Pea Vintage – Camp Verde, Arizona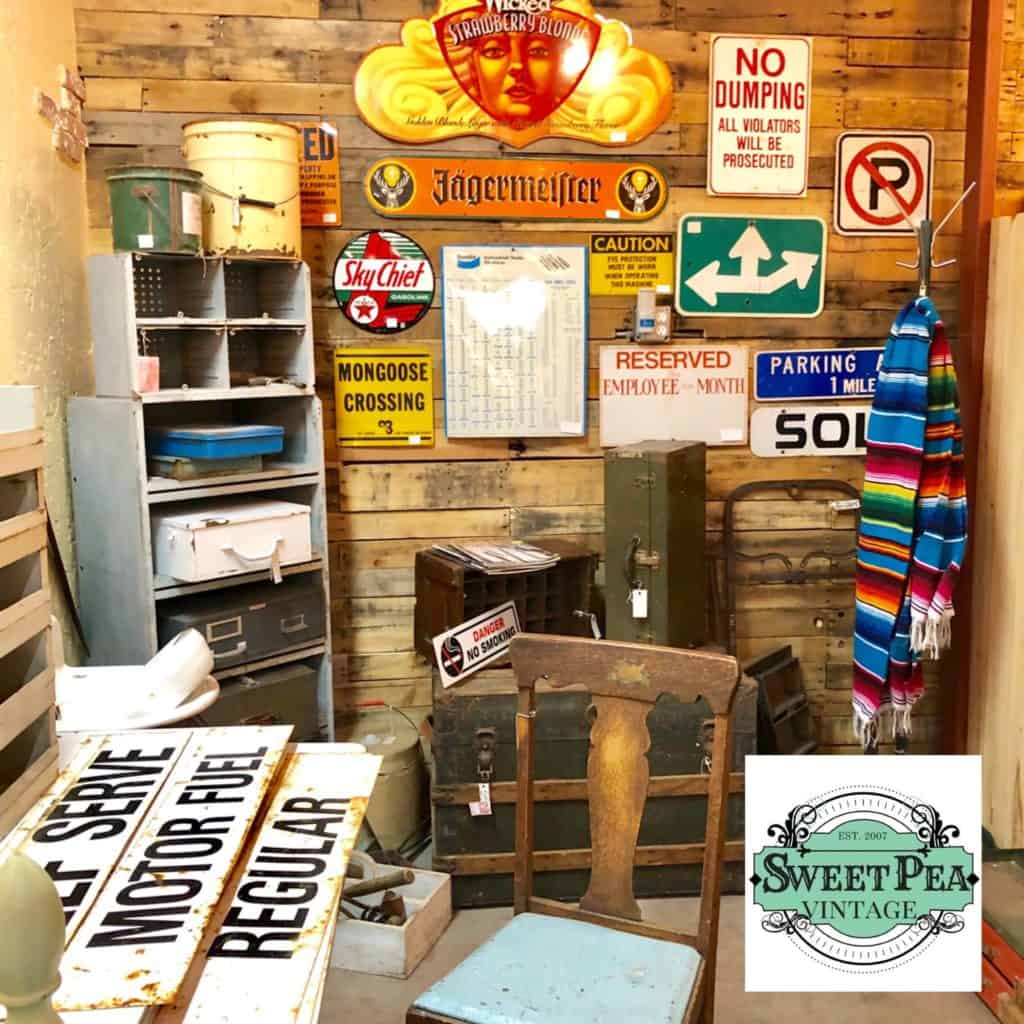 Kitschy, old, antique, and vintage. That's what you'll find inside the 10,000-square-foot Sweet Pea Vintage. Located in Camp Verde and open every day, the shop offers more than 40 vendors with all sorts of vintage and antique finery.
The wares range from the tiny to the grand, with trinkets, jewelry, paper collectibles, linens, gifts, kitchen items, and plenty of weathered, chippy items. Vendors make new displays weekly, and offerings turn over quickly, so if you find something you love, grab it! Sweet Pea also holds a fall and holiday vintage market to showcase fall decor, Halloween items, and unique gifts.
Sweet Pea Vintage
Where: 437 AZ-260, Camp Verde, AZ 86322
When: Daily | Monday –  Sunday: 10:00 am – 5:00 pm
Web: http://sweetpeaantiquesaz.com
11. Larry's Antiques and Things – Cottonwood, Arizona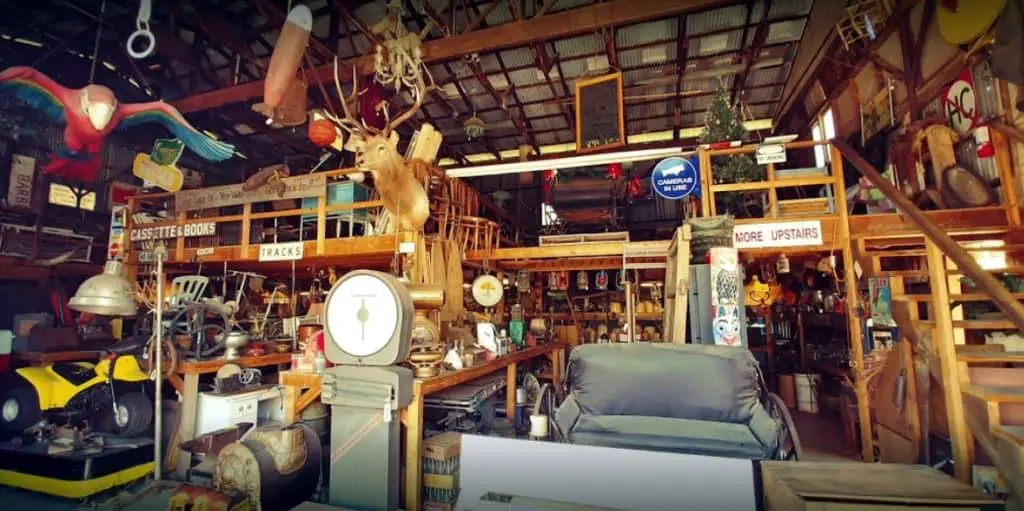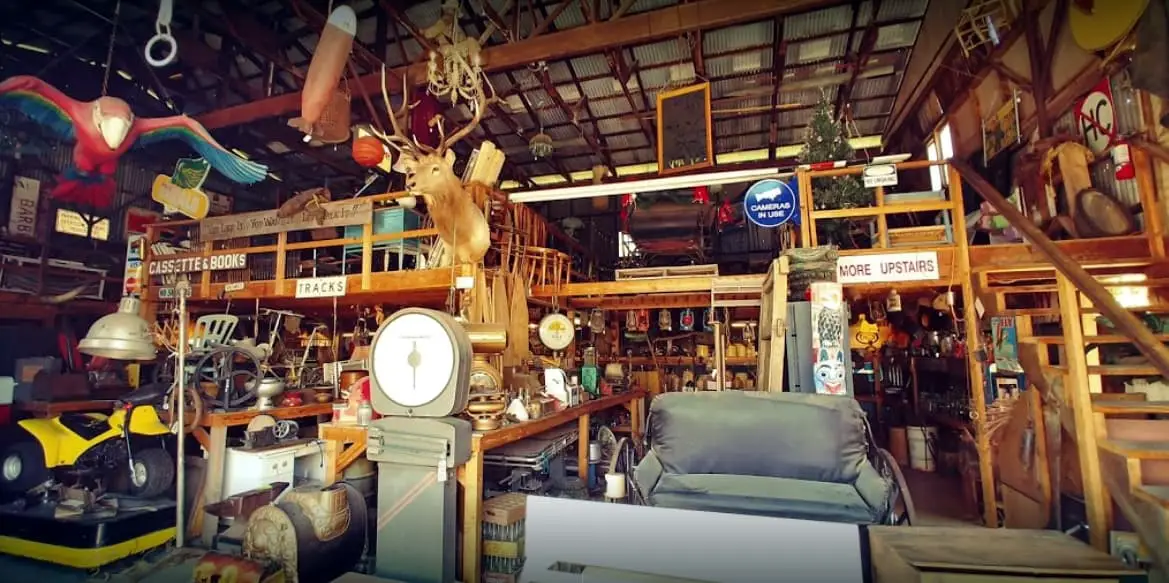 Larry's Antiques and Things is a treasure trove for antique & vintage lovers both local and out of town. Located in Historic Old Town Cottonwood since 2008 (Larry's Antiques started back in 1991 in Glendale Arizona), this store features two acres and four buildings filled to the brim with odd, unique and hard to find items.
The store's exterior is fabulous and eye-popping, with countless vintage signs and other nostalgic, Americana remnants from the 20th century displayed on the building's walls, front porch, and the acreage behind the main store. The store's interior is even more tantalizing, and anyone could easily spend hours browsing about. The selection if items sold there include antique farming equipment, vintage furniture, mining cars, gas pumps, wagons, metal signs, tools, car parts, lighting fixtures, collectibles, housewares and much more.
Larry's Antiques and Things

Where: 796 N Main St, Cottonwood, AZ 86326, USA
When: Monday – Saturday: 10:00 am – 5:00 pm | Sunday: 10:00 am – 4:00 pm
Web: https://www.larrysantiques.com/
View the best US Flea Markets on a map
You can now discover the best flea markets and antique fairs in the US, on a map! Not only have we included some of the best flea markets in Arizona featured in this list, but we've added the country's most acclaimed antique fairs to the mix.