London is a mecca for vintage enthusiasts in search of unique vintage collectibles. It is famous for its vintage shops and flea markets, and most of all the famous Brick Lane market in East London.
London's Brick Lane is not just a regular flea market and it is more than just one street. It is a network of covered markets and streets, that make up the bustling and vibrant atmosphere of Brick Lane. Visiting Brick Lane Market means delving deep into East London's lifestyle. From Jewish bagel shops and Bangladeshi curry houses to Indian sari silks, and Cockneys crying out their wares. That is why Brick Lane keeps attracting young Londoners and tourists alike.
Brick Lane Market: halfway between jewel and junk heap
Brick Lane's visitors come in search of second-hand furniture, unusual clothes (always worth a look for the retro-lovers), unique vintage, bric-a-brac, magazines, vintage clothing, toiletries, sweets, electrical equipment, vintage products, and bits of this-and-that which can typically be found at the flea market. It is halfway between jewel and junk heap. And the joy of Brick Lane flea market is that you never know what you'll find there as the flea market spills across a relatively large area and several streets.
The Brick Lane Flea Market is now becoming known as a great place to pick up home accessories. From kitchen equipment to Art Deco furniture, you'll find anything there with a lot of old junk in between. It can easily take several hours to browse the various stalls out on the street or in the different covered markets. But no need to bring your packed lunch along, with that many great street food stalls around!
If you are really into your bargain hunting and haggling then why not make a proper day of it? Take in all the local markets one Sunday including the Columbia Road flower market, Old Spitalfields Market, and Petticoat Lane flea market which are all within easy reach of Brick Lane flea market itself.
But let's not get ahead of ourselves. Are you ready to dive into one of London's most famous flea markets? Click on the chapters below to learn everything you need to know about London's Brick Lane flea market or click on the map to see Brick Lane's location and read our review in a nutshell on Fleamapket: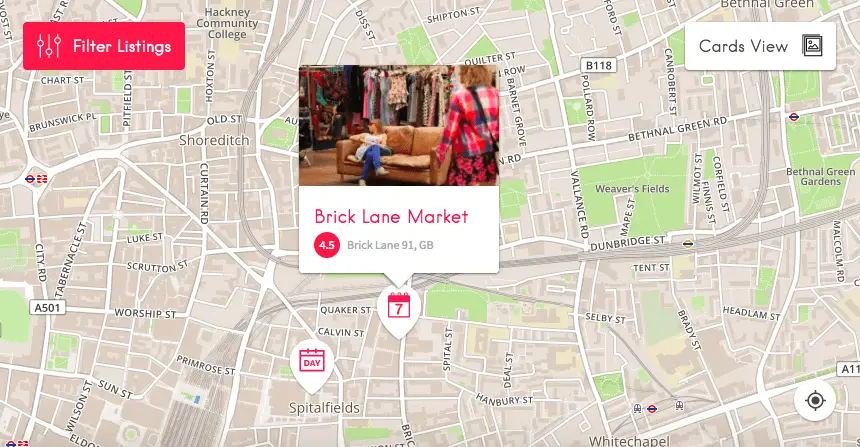 Brick Lane Market: Markets within the Market
The Brick Lane flea market is not simply a street filled with market booths and loud merchants. It is a complex, intricate network of five markets all connected together and known as The Truman Markets. These markets are located within the confines of the historic 11-acre Old Truman Brewery, at the northern end of Brick Lane. They're known as The Sunday UpMarket, the Vintage Market, the Backyard Market, the Tea Rooms and the Boiler House Food Hall.
Among these markets, the Tea Rooms and the Vintage Markets are probably the most interesting markets we have seen in Brick Lane. They indeed offer an eclectic collection of antiques, curios, collectibles, vintage clothing & accessories.
The Tea Rooms
The Tea Rooms, founded in 2009, is a market named for its large selection of tea and coffee and traditional baked goods. However, you will also find other types of antiques there, such as silk cushions, furniture, collectibles, and handmade goods. It is open Saturdays from 11:00 p.m. to 6:00 p.m. and Sundays from 10:00 p.m. to 5:00 p.m. Its main shop, The Vintage Emporium, is located downstairs, underneath the main cafe. It is a vintage clothing and accessories store that specializes in antiques and homeware. All its stock dates back to anywhere between the Victoria Era and the 1950s.
The Vintage Market
The Vintage Market is composed of stalls owned by British and European vintage experts and offering old clothes ranging from the early 1920s to the 1990s. Also offered are accessories, vintage records, and a random collection of unique old trinkets. The Vintage Market is open on Sundays from 10 a.m. to 5 p.m., and on Fridays and Saturdays from 11 a.m. to 6 p.m.
Brick Lane Market: A paradise for food lovers
The food market in the boiler house hall offers ready-made street food from around the world. Including everything from freshly cooked pasta to Japanese octopus fritters and Ethiopian bayenetu.
In the summertime, the outdoor Sunday UpMarket caters to hundreds of visitors who come for the world food and the sunshine. The Rootmaster, a restaurant housed within a double-decker bus, serves vegan food, and the Black Cab Coffee Co is merely a London cab turned into a Coffee trolley!
If that doesn't appeal, there are dozens of curry houses to choose from. And alternatively, the Big Chill Bar and 93 Feet East provide refreshments and music.
Petticoat Lane
Since you're already there, why not pay a visit to the Petticoat Lane Flea Market? This famous Sunday flea market is located only a few blocks away from Brick Lane. Stallholders in Petticoat Lane sell mainly clothes for men, women, and children, from street-cred clubwear to over-orders of designer goods and last year's must-haves. One of this market's specialties is leather wear at the Aldgate East end and there's bric-a-brac, household goods. In fact, there is everything you could possibly imagine and more.
The flea market is held in and around Middlesex Street on Sundays from 9 am to 3 pm. A smaller flea market takes place on Wentworth Street from Monday to Friday. With more than 1,000 stalls lining the streets on a Sunday bargain hunters come in their droves. It is a great scene worth the trip – even if you're not on the hunt for vintage items. You can still just take in the atmosphere.
In case you are wondering about the name: it has nothing to do with skirts! Petticoat Lane stems from the saying that in Wentworth Street, they would steal your petticoat at one end of the market and sell it back to you at the other. So, be careful and do not be afraid to haggle! Petticoat Lane Flea Market may be London's biggest street jumble sale but for bargain hunting, with a bit of haggling thrown in, it's worth stopping by.
Nearby areas of interest include Brushfield Street – where Old Spitalfields Flea Market is held and which offers more in the way of quality.
Petticoat Lane Flea Market
Between Middlesex and Goulston Streets, Spitalfields, London E1 7HT
OPENING TIMES Monday – Friday: 10:00 a.m. – 4:00 p.m., Sunday: 9:00 p.m.- 3:00 p.m.
30 seconds read: Pros and Cons of the Brick Lane Market
By now you should have a pretty clear idea of what Brick Lane's market has in stock. But in case you only have 30 seconds ahead of you to get the big picture, we've wrapped up our review for you in 8 Pros & Cons:
Pros Of Brick Lane Flea Market
A vibrant and authentic atmosphere, perfect for a Sunday morning stroll!
A huge range of quirky clothes and accessories, and delicious, inexpensive global street food
A very different alternative scene to the one you find at the Camden flea market
Easy to get there by bus or underground (Aldgate East or Overground to Shoreditch High Street)
Cons Of Brick Lane Flea Market
Do not expect to find the most exclusive design & vintage items (except for clothes) at Brick Lane
Brick Lane is still a flea market, but it is most famous for its street food from around the world
The place is really quiet on midweek
Not as good as Old Spitalfields flea market but far better than Petticoat Lane flea market

And if you have always wondered where to find the best Ossie Clark dresses, G Plan sideboards, or pineapple ice buckets, don't forget to have a look at the best 10 venues in London for vintage shopping! Also available as an interactive map!
Brick Lane Flea Market
Brick Lane, Spitalfields, London E1 6RL (East End / East London)
Open from early Sunday morning to around 3:00 p.m.