When it comes to flea market shopping, Gran Canaria might not be the first travel destination in Europe to come to mind. Paris, London, Berlin, Brussels, Amsterdam or Copenhagen are world-famous for their flea markets and antique districts and attract crowds of antique enthusiasts and professional dealers looking for hidden gems and unusual finds.
But although Gran Canaria can hardly match Europe's capital cities from a flea market shopping perspective, there something the Spanish island has that can't be found elsewhere on the continent.
Often described as a "continent in miniature", Gran Canaria is one of the Canary Islands and home to sandy beaches, a mild climate all year long, and a staggering diversity of landscapes with a broad range of ecosystems, ranging from red-earthed pine forests to dusty deserts. In fact, Gran Canaria is great for winter and summer sun, with Maspalomas, Playa del Ingles, and Puerto Rico being the most popular resorts.
Because it is located on a nautical crossroads between Europe, Africa, and the Americas, Gran Canaria has been for many centuries, an important trading post which has long welcomed foreign influence. And remnants of this influence can nowadays be found in everything from local cuisines, to its rich selection of antiques sold in the island's most promising vintage shops.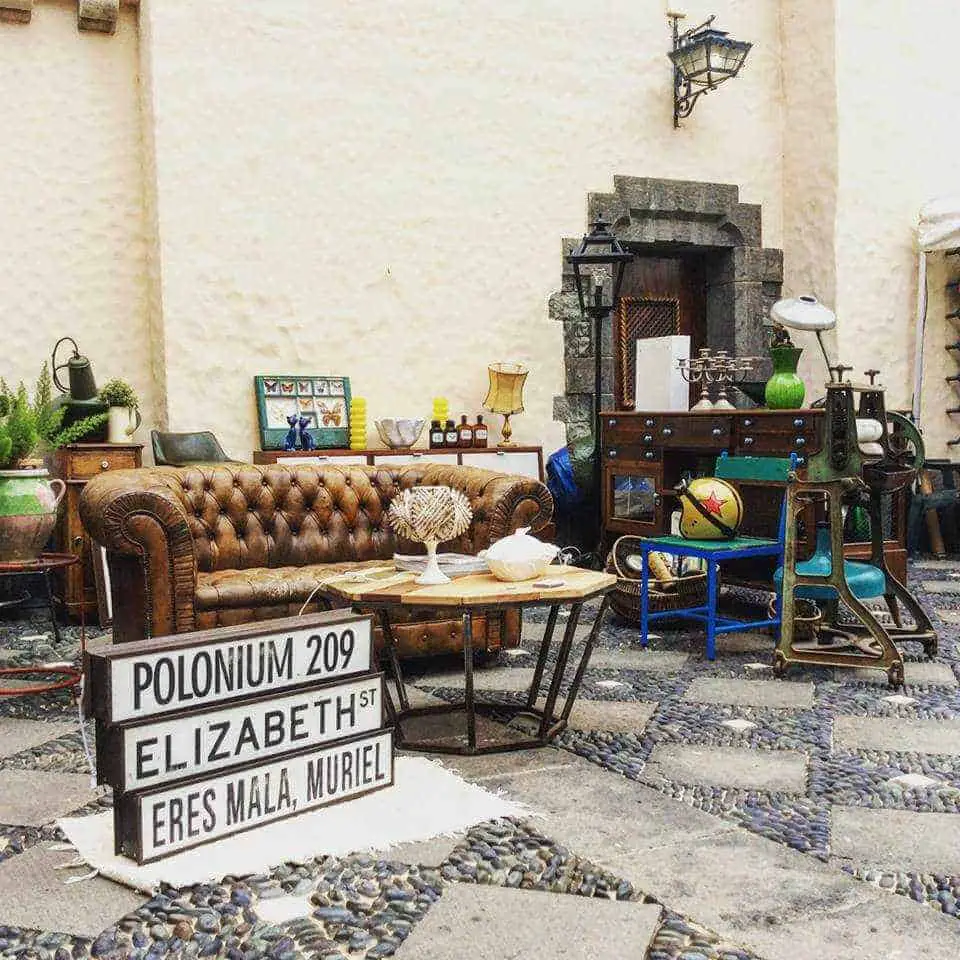 3 Must-See Vintage Shops in Gran Canaria
From vintage clothing to retro furniture and good old-fashioned antiques, there are some things you just can't find on Las Palma's high-street. While there are a number of average second-hand shops around the city of Las Palmas, one of the most popular places to purchase antique treasure is along the Avenida de Canarias. Here are our three favorite antique shops in Gran Canaria which are definitely worth the detour.
MASAP Anticuario y Colleccionista
Located less than 50 meters away from the coastal avenida de Canarias, MASAP Anticuario Y Coleccionista is the haunt of antique collectors. Stepping into this antique shops feels like entering a time machine: the shop sells the most curious antiques and unusual collection items, ranging from 19th century maps, bronze, paintings, and antique books, to old medals, war memorabilia, antique furniture, vintage radios, crockery, antique cameras, silverware, glassware, and a lot of antique coins and stamps.
And judging by the amount of new treasures popping up every week in their shop, it is easy to see that the owners of this place truly turned their passion into a job by putting a lot of effort into making this place a reference on the island. No wonder why locals and tourists alike on the lookout for a unique gift, can often be found rummaging at MASAP Anticuario Y Coleccionista.
Where: Alcalde Francisco Hernandez 6 bajo, corner of Juan e Doreste, 35001 Las Palmas de Gran Canaria, Las Palmas, Spain
When:Monday – Friday: 10:00-14:00 and 17:00-20:00 | Saturday : 10:00-14:00
Web: http://www.anticuarioycoleccionista.com/
Facebook: https://www.facebook.com/pg/MASAPanticuarioycoleccionista/photos/
La Opalina Compra Venta y Restauración De Antigüedades
A few blocks away from the Playa de las Alcaravaneras, in the calle Alemania, the antique gallery La Opalina is one of Gran Canaria's best-guarded secrets. Born from its owners' passion for objects with a history, this little antique shop showcases emotional and soulful decoration from various eras. Although new trends and sub-styles have appeared in the world of decoration, La Opalina is one of these "trends" that has returned to stay.
Most of their products are newly restored, many of which are over 50 years old. From vintage lamps loaded with details and originality to genuine antique chairs, tables, painting, glassware, crockery, porcelain, old radios, telephones, and unique decorative pieces, La Opalina is a haven for flea market enthusiasts and antique shoppers.
Where: Calle Alemania, 61, 35006 Las Palmas de Gran Canaria, Las Palmas, Spain
When: Monday – Friday: 10:30–14:00, 17:00–20:30 | Saturday : 10:30–14:00
Web: http://laopalina.com
Facebook: https://www.facebook.com/laopalina/
Polonium 209
Born in the middle of the year 2014 with the purpose of salvaging furniture and vintage objects found around the Canary Islands, Polonium 209 sells furniture, both pre-owned and upcycled, that have been manufactured between 1940 and 1980. Their product catalog ranges from mid-century modern furniture to luminaries, workspaces, glassware, prints, industrial furniture, Scandinavian design, heavy machinery, and much more.
Back in the summer of 2015, and almost at the request of some of their customers, Polonium 209 took its concept a step further and embarked on the design of premises located in Gran Canaria with their specific vintage-industrial touch, to develop integral works of interiors and to collaborate with interior designers and architects of the islands.
The brand nowadays also manufactures its own line of industrial furniture, based mainly on the use of recovered materials.
Where: Carretera del rincón, 103, 35011 Las Palmas de Gran Canaria, Las Palmas, Spain
When: Monday – Friday: 09:00-20:00 | Sat: 09:00-17:00
Web: https://polonium209.com
Facebook: https://www.facebook.com/polonium209/
---
Whether you come to party, hike through the hills, soak up in the sun, stroll its markets or rummage through the dusty shelves of its antique shops, it is hard not to fall under the spell of Gran Canaria.
Gran Canaria Holidays are readily available and are most popular in the summer, at the height of the good weather, or in the winter since Gran Canaria is a fantastic winter sun destination. In fact, the weather here is hot and sunny all year round so there's not a bad time to book yourself into a Gran Canaria hotel.
The island might be a mainstream destination, but its capacity to surprise lies at the heart of its appeal.
When to visit
Peak travel season occurs during summer (Jul–Aug) and winter (Dec–Jan). Days are warm in Gran Canaria year-round. Nights are cool Dec–Apr. The climate is dry, but the northeast is generally a bit cooler and wetter than the southwest. The Carnival of Las Palmas (Feb), when locals dress up in costumes and dance in the streets, is one of the most famous carnivals in Spain.
Flight duration
Non-stop flights to Las Palmas, depart from Europe's major hubs. With an average flight duration of 4h 40m, Gran Canaria is a fantastic option to spend holidays in the sun, without going broke. Examples of flight duration (direct flights):
London > Las Palmas: 4h 35m
Berlin/Vienna > Las Palmas: 5h
Paris > Las Palmas: 4h
Stockholm/Copenhagen/Oslo > Las Palmas: 5h 40m
Madrid > Las Palmas: 3h
---
This article was kindly sponsored by Dealchecker.co.uk.
Cover photo: courtesy of Polonium 209