Flea markets thrive during Spring and Summer, and Denmark is surely not exception to this phenomenon! In fact, there are several spots in Copenhagen where open air flea markets tempt flea market enthusiasts and bargain lovers with cheap second hand goods, bric-a-brac, and even overlooked unique antiques.
Loppemarkedet, Remisen, Nørrebrogade, and Ravnsborggade are known to be slightly cheaper than the otherwise very popular Thorvaldsen Antique Market in the city center. While the Antiques Shops in in the cozy and vibrant streets of Ravnsborggade are another option if you're not traveling on a budget.
But all in all, if you are looking for a good bargain, you should pay a visit to any of those flea markets in Copenhagen that operate every weekend, or at least once a month. These venues are full of old jewelry, vintage Danish furniture, Mid Century Modern decor items, crockery, vintage Copenhagen porcelain sculptures, vinyl records, unique antiques and cheap clothes.
As always with flea markets, it is generally advised to arrive early if you want to be sure to make a good deal, as flea markets in Copenhagen are popular and often crowded!
Enjoy our listing of Copenhagen's Best Flea Markets and Antiques Markets!
Flea market Copenhagen #1: Thorvaldsen Flea Market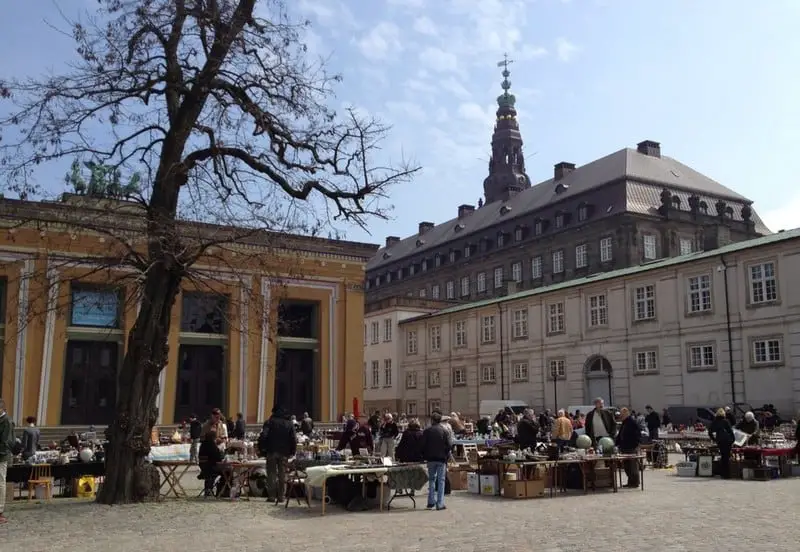 For over 20 years, the Thorvaldsens Plads Antique Market (previously known as the "Gammel Strand Antique Market") has been Copenhagen's favorite treasure hunt venue for antiques and collectibles. Even though it is not a big flea market, the Thorvaldsens Plads Antique Market attracts hundreds of visitors, partly because its beautiful surroundings. The market is located right in the heart of the old Copenhagen Quarter next to the Thorvaldsens museum  and the Café Diamanten.
The Thorvaldsens Plads Antique Market operates every Friday and Saturday of the year from April 28th of April to October. This antique market features a wide selection of unique antiques, ranging from paintings, porcelain, silver and antiques curiosities, to modern danish design, toys, jewellery, vintage fashion and vintage industrial. It is a true eldorado for professionals as well as private collectors.
Where: Thorvaldsen Plads 2, 1213 Copenhagen, Denmark
When: Every Friday and Saturday: 08:00 – 17:00 (begins on the 28th of April and ends in October)
Website: antikmarked.com

Flea market Copenhagen #2: Ravnsborggade Flea Market
If the regular markets don't sound exciting enough for you, it's worth keeping your eyes peeled for the Ravnsborggade market in Norrebro. Although this Copenhagen flea market is not held as frequently as the Nørrebrogade Fleamarket, the Remisen Market or the Loppemarkedet, the Ravnsborggade flea market nonetheless offers spectacular finds for those ready to put effort into some proper rummaging.
The Ravnsborggade Flea Market is held four times a year on the 2nd Sunday of March and June, on the 4th Sunday of September, and on the 3rd Sunday of November.
More importantly, however, the open air market, located on the streets of Ravnsborggade and Sankt Hans Gade, is much more than a simple flea market. Both streets host an exciting variety of antique shops, designer boutiques and galleries. In fact, Ravnsborggade offers a wonderful blend of antique shops and is one of the best shopping streets in Copenhagen.
With the trading in full swing, all these venues bring their business to the streets and transform the market into a real community event. The atmosphere at Ravnsborggade flea market is unique, well worthy of being high on your list of Copenhagen flea markets to visit.
Where: Ravnsborggade, Norrebro, Denmark
When: SPRING MARKET 2018: Sunday, March 11, 2018 (open 10 am – 4 pm) / SUMMER MARKET 2018: Sunday, June 10, 2018 (open 10 am – 4 pm) / AUTUMN MARKET 2018: Sunday, September 23, 2018 (open 10 am – 4 pm) / CHRISTMAS MARKET 2018: Sunday, November 18, 2018 (open 10 am – 4 pm)
Website: ravnsborggade.dk

Flea market Copenhagen #3: Frederiksberg Loppetorv
Open every Saturday from beginning of April to mid October in the nearby parking space next to the Frederiksberg City Hall, Frederiksberg Loppetorv is one of the largest and busiest flea markets in Copenhagen.
Frederiksberg flea market features over 90 stalls which offer almost everything you can wish for, particularly when the citizens of Copenhagen and Frederiksberg choose to tidy up in their attic and get rid of their affluence.
Among other things, visitors usually go to Frederiksberg Loppetorv to shop for Danish fashion and second-hand clothes, antique furniture, antique crockery, Danish design decor items, design lamps, books, ceramics, glassware, silverware, vintage toys and music instruments. Those who wish to take a shortcut straight to Danish antiques and vintage merchandises, should visit loppehylder (literally "flea shelves" in english), a flea market-like shop located next to Frederiksberg flea market, which operates every day from 10 am to 6 pm (Saturday & Sunday from 10 am to 4 pm).
Due to the upscale nature of the neighborhood, items sold at Frederiksberg Loppetorv flea market tend to be of high quality, making it a good bet to find great and useful stuff at reasonable prices. Food stalls and beer tents regularly set up at Frederiksberg flea market, so flea market enthusiasts can enjoy a Danish hotdog and a pint of "Gammel Dansk" bitters while they take a stroll.
Where: Frederiksberg Bredegade 13, 2000 Frederiksberg, Denmark
When: Every Saturday 09:00 – 15:00 (from 7th April to 20th October – closed on 18th August)
Website: loppehylder.dk

Flea market Copenhagen #4: Remisen flea market
Many of Copenhagen's flea markets are held outdoors, which is unfortunate when one is dependent on the weather. But if the weather fails you, don't despair: the Remisen flea market is regularly held in the Østerbro neighborhood in Copenhagen.
The Remisen flea market takes place on most weekends and the entrance fee is as low as 10 DK (US$ 1.50), and gives you access to myriad of stalls selling clothes, shoes, toys, retro stuff, books and other knick-knacks.
The Remisen flea market is regularly organized by different people, which often leads to a varied selection of stalls or themes. For example, from times to times the market is entirely devoted to clothes and accessories and on other days to electronics and spare parts.
Those interested can find the dates for the upcoming Remisen flea market on their website.
Where: Remisen Market, 132 Blegdamsvej, Copenhagen, Denmark
When: Saturdays and Sundays (10:00 to 16:00) in January, February, March, April. Once a month in May, June, October, and November. Closed in July, August, and September (check the exact dates here and here)
Website: kulturoesterbro.kk.dk

Flea market Copenhagen #5: Nørrebrogade Flea Market
The Nørrebro Flea Market is known as Denmark's longest and narrowest flea market. It stretches for 333 meters on one half of the sidewalk by the wall of the Assistens Kierkegaard Cemetry on Nørrebrogade. This flea market takes place every Saturday (7 am – 3 pm) from April 1st to October 28th.
Although narrow, the Nørrebrogade flea market offers nonetheless exceptional finds for those willing to put effort into rummaging and searching for that perfect deal. Vintage furniture, art, antiques, jewelry, old watches, vintage pictures, this peculiar flea market has pretty much anything for everyone.
The icing on the cake: the backdrop of the yellow cemetery walls gives the Nørrebrogade flea market quite a unique feel unrivaled in the region.
Where: Nørrebrogade 90, 2200 København, Danemark
When: Every Saturday 07:00 – 15:00 (Once a week from 1st April to 28th October)
Website: bricksite.com

Flea market Copenhagen #6: Gentofte Loppemarked
Ideally located just off Charlottenlund Station in the affluent Gentofte suburb of Copenhagen, Gentofte Loppemarked is famous for its cool second-hand designer clothes and vintage treasures sold with large discounts. This flea market is therefore hugely popular among the suburbs' families of Copenhagen who do not hesitate to catch an early train from Copenhagen to be among the first visitors to stroll the flea market premises.
Gentofte flea market hosts around 70 private vendors, and attracts as much as 3,000 visitors every weekend. In terms of quality of goods, Gentofte Loppemarked can be compared to Frederiksberg Loppetorv, with more affordable prices. Some of the most interesting items to see and find at Gentofte Loppemarked include antique ceramic, crystal glassware, Royal Copenhagen porcelain, vintage Danish design furniture, crockery, and a lot of fashion accessories and second hand clothes.
Where: Bregnegårdsvej 2, 2920 Charlottenlund, Denmark
When: Every Sunday: 08:00 – 14:00 (from mid April to early October)
Website: gentofteloppemarked.dk
Carlsberg Loppemarkedet (Discontinued)
Held once a month at Tap 1 in the Carlsberg brewery district, Carlsberg Loppemarkedet is an awe inspiringly huge indoor flea market. The event is one of the newest additions to the Copenhagen flea market scene and thus has a certain energetic vibe that separates it from the crowd.
With more than 400 stalls and separate areas for clothes and furniture, Carlsberg Loppemarkedet is one market that bargain hunters would be silly to miss. Being such a big event, the markets are held throughout the year, about two or three months apart. You will find everything from furniture, lamps, books and all sorts of trinkets and paraphernalia.
Those interested can find the dates for the upcoming second hand extravaganza on Carlsberg Loppemarkedet Facebook's page. Early birds can already access the flea market premises on Friday at 3 pm and Saturday at 8 am (early bird ticket costs 125 DKK / US$ 18). Regular visitors can access the Loppemarkedet flea market on Saturday and Sunday from 10 am to 5 pm (regular ticket costs 35 DKK / US$ 7).
Where: Carlsberg Loppemarkedet, TAP1, 91 Ny Carlsberg Vej, Copenhagen, Denmark
When: Once a month (Friday, Saturday and Sunday from 8 am to 5 pm) – UPDATE: Flea market discontinued until further notice
Contact: [email protected]
Antiques Shops in Ravnsborggade
Close to Copenhagen's Lakes at the end of Nørrebrogade, you will find the cozy and vibrant street of Ravnsborggade. From being a street exclusively known for its antiques, it has become today a wonderful blend of all kinds of shops and one of the best shopping streets in Copenhagen.
Antiques are of course still dominant in the streets and at the flea market, but the Ravnsborggade district has developed into a trendy mix of small designers shops, cafes and restaurants making it an attractive shopping destination.
The antique stores are still dominating the street and are full of interesting finds, to be explored and experienced. Visitors can find furniture from the last couple of centuries, paintings, Royal Danish Porcelain, silverware and glass as well as more modern design and interior decorating.
Visitors can also discover trendy fashion store, hidden like tiny gems between the antique stores, offering everything from high priced international brands to Scandinavian brands as well as custom made clothes.
Further down in Ryesgade, passerby will be able to spot the local brewery along side jewelry shops. Additional shopping can be made in the two small side streets of Ravnsborg Tværgade and Sankt Hans Gade.
Where: Ravnsborggade, Norrebro, Denmark
When: Check this list of antiques shops to know their operating hours and addresses.
Den Blå Hal Antiques Market
A little bit offset from Copenhagen's city center, in the Amager neighborhood, the Den Blå Hal Antiques Market is like a mall for antiques.
The Den Blå Hal Antiques Market is open every Saturday and Sunday (10 am – 4 pm) year round, and with new goods coming in every week, it is an absolute must do if you're visiting Copenhagen and if you're looking for some nice vintage souvenirs to bring back home. Den Blå Hal Antiques Market is filled with antique Scandinavian homeware spreading out across 2000 square meters of exhibition space.
This indoor market place showcases a broad variety of used and vintage items like second hand furniture classics, art, toys, vintage and second hand clothing, crockery, Copenhagen porcelain and more. The Den Blå Hal Antiques Market even has its own cafe!
Entry fee: 10 DKK (US$ 1.50)
Where: Den Blå Hal Ved Amagerbanen 9 2300 København S, Denmark
When: Every Saturday and Sunday (10 am – 4 pm) year round
Website: denblaahal.dk

---
All the above flea markets are described in more details, with additional pictures, on Fleamapket, a VIP list of the world's best 400 flea markets. Just click on the map below to visualize Copenhagen's flea markets and antiques markets.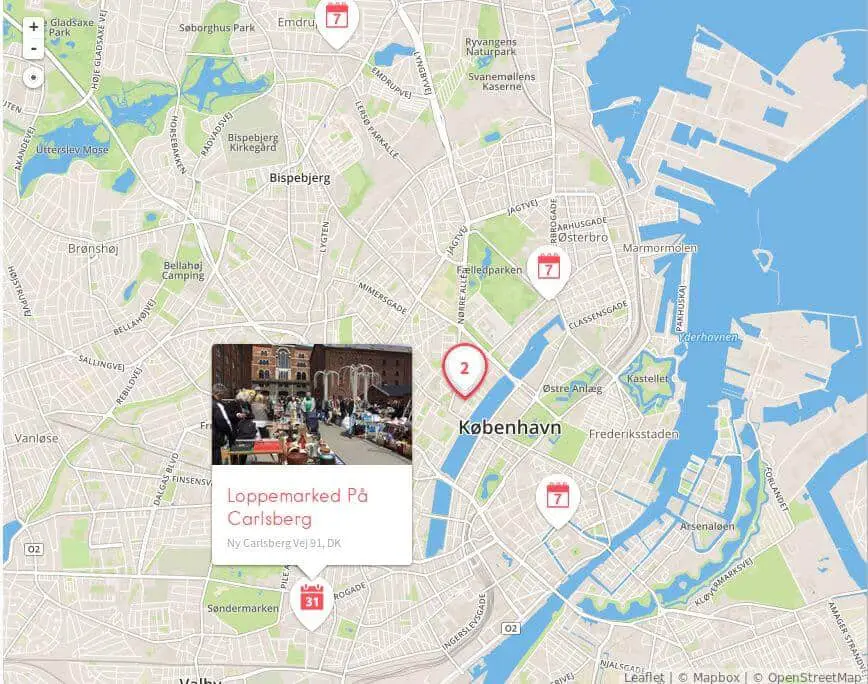 ---
Want to read more articles like this? Let's stay in touch!
Get our bi-weekly newsletter with fresh flea market recommendations, vintage shopping tips and exclusive discounts! Join over 5,000 subscribers now:
Get our free newsletter
Enregistrer