Finding the perfect antique store can often be like searching for a hidden treasure – exciting, but sometimes challenging. Whether you're an avid collector, an interior designer, or just someone with an affinity for the past, finding antique stores near you that match your taste and offer authentic, quality antiques is crucial. This comprehensive guide is designed to streamline your search for the best antique shops, malls, and dealers in your area, whether you're at home or traveling abroad.
In the age of the Internet and powerful mobile devices, researching antique stores near you has become much easier. Websites like fleamapket.com have revolutionized the way we find antique stores. These directories are designed to help you find the best vintage stores, antique shows, malls and flea markets worldwide.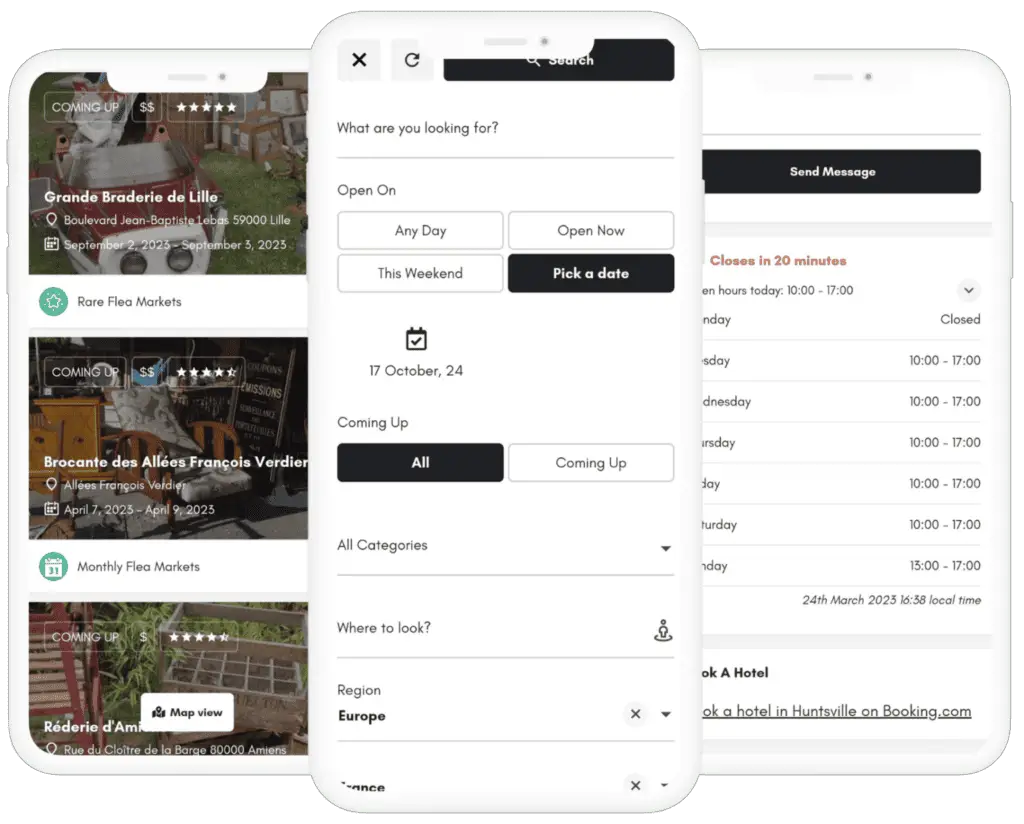 Fleamarketinsiders.com is another resource that prides itself on researching, handpicking, reviewing and featuring only the best antique stores. They have reviewed 288 antique stores, 109 antique malls, and 71 antique districts in Europe and the USA, making your search for nearby antique stores effortless.
Finding a great antique store that's worth the trip is central to our mission at fleamapket.com. Nearly two-thirds of our readers are professionals in the field, including antique dealers and interior designers, who regularly use our interactive map to plan their antique trips. Our geolocation feature allows you to easily find the closest antique dealers to your current location.
One of the great features of fleamapket.com is that you can easily find a great antique store near you. Here's a step-by-step guide to finding antique stores near you using Fleamapket.com:
#1. Find Antique Stores Near Me with Fleamapket.com
Let's start with the simplest part of the process. Open a new tab in your web browser and go to www.fleamapket.com/listing-category/antique-shops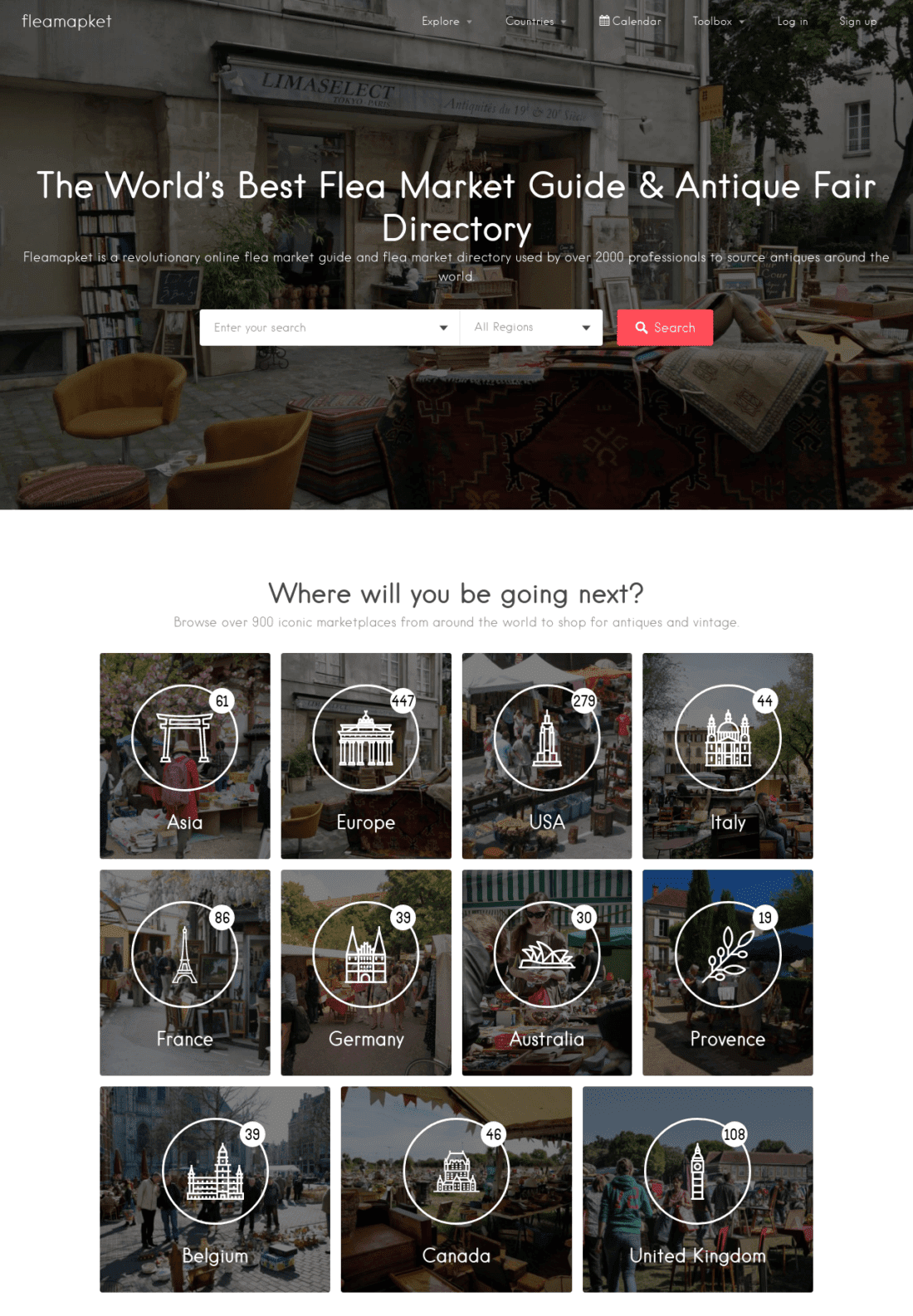 #2. View Antique Stores on a Map
Click on the section dedicated to antique stores and malls. You can also access our selection of the best antique stores from the site menu: Explore > Antique Shops > Antique Stores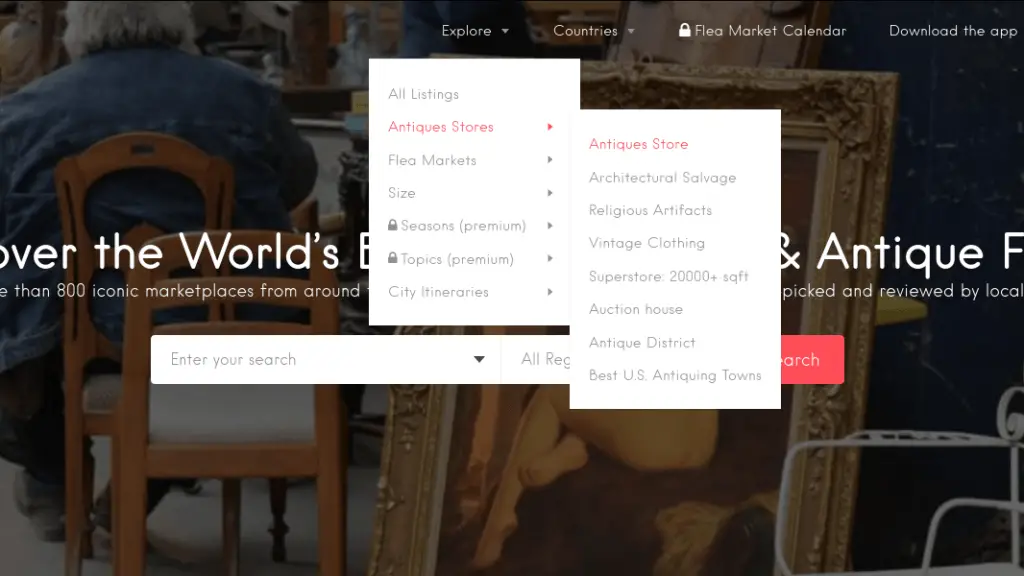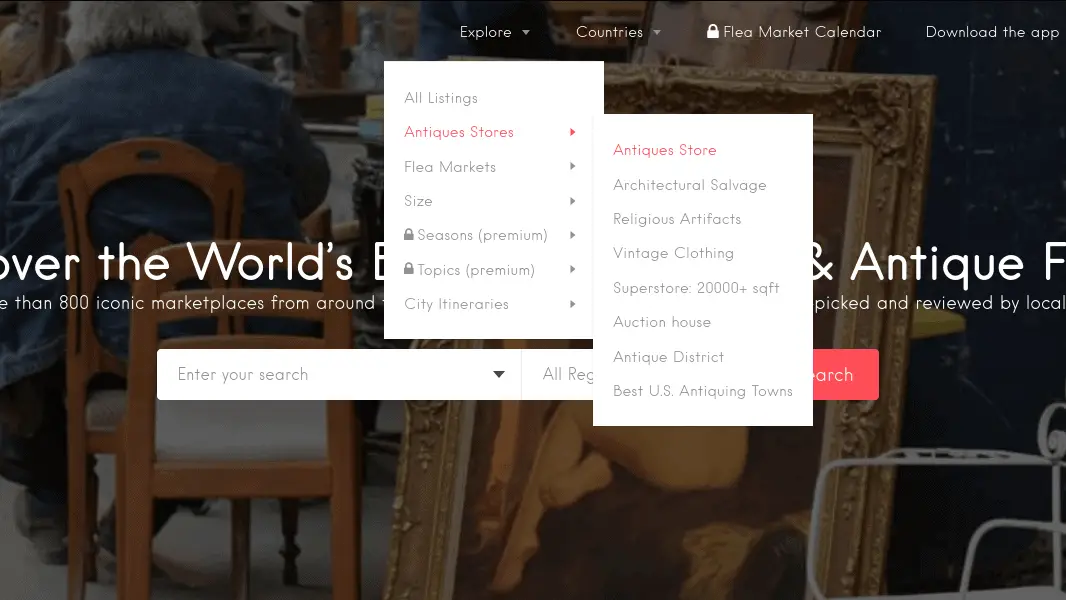 You will see a map with clustered markers indicating the number of stores in each region. Each marker on the map has a number that represents the exact number of antique stores available in that area. When you click on a marker, the map will zoom in to reveal each antique store. You may need to scroll down the age and click the "Load more listings" button. This will display more markers on the map.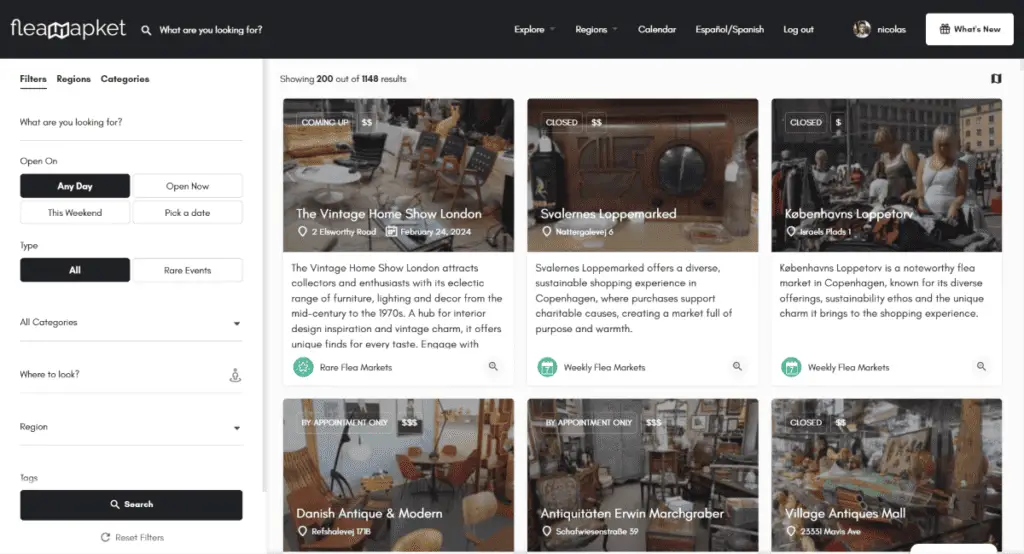 However, what we are interested in here is finding the closest antique dealers to your current location. This is possible thanks to fleamapket.com's built-in geolocation feature.
#3. Enable Geolocation
In order for fleamapket.com to show you the list of antique stores near you, you must enable the geolocation feature on the map. Simply click on the "Where to Look" icon located on the left side of the screen in the Filters tab.
Once you've clicked on the geolocation icon, your web browser (Firefox, Chrome, or IE) may ask for permission to share your location with fleamapket.com. Just click on the "Share Location" button for a one-time sharing. Then click on the "All Categories" drop-down menu located above "Where to Look" and select "Antique Stores" to refine your search for antique stores near you.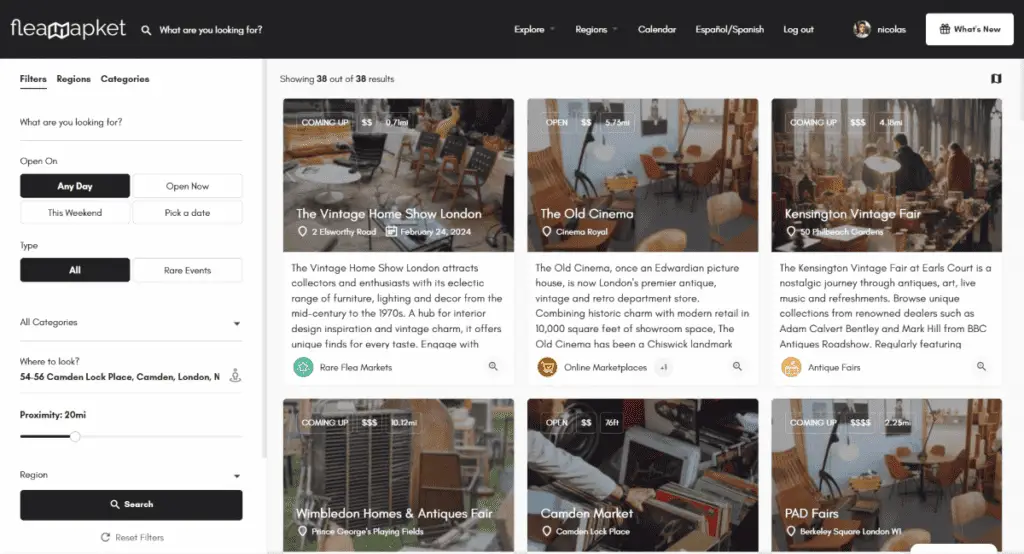 #4. Browse Local Listings
After you share your location with fleamapket.com, the map will zoom in on your current location. Your current position on the map appears as a pulsating blue dot. You can zoom in on the map using the + and – buttons located in the upper-right-hand corner of the screen. If you are using a smartphone or tablet, you can pinch the screen to zoom or scroll. You can also download our app from the App Store or Google Play.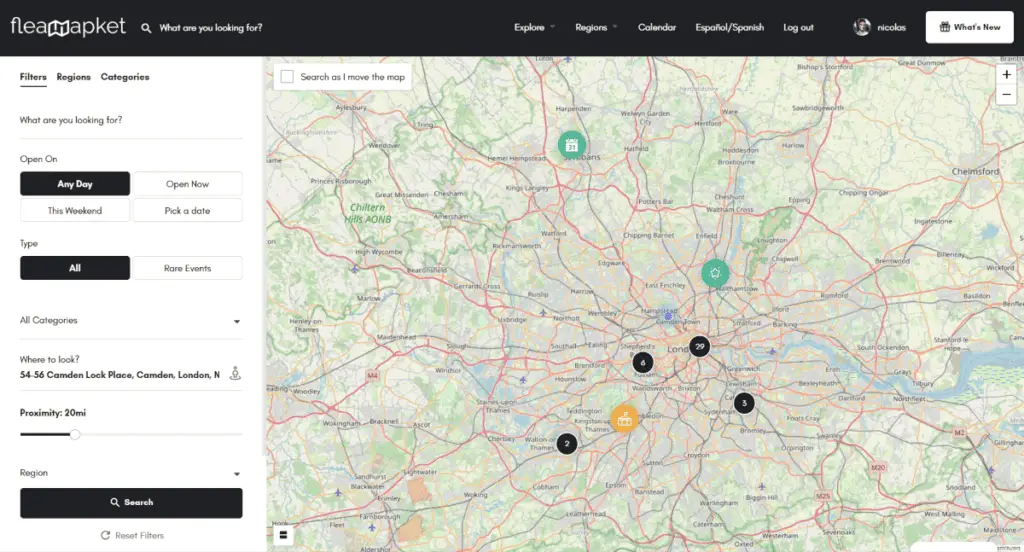 You're all set, and you don't need Google anymore to find the nearest antique stores. The list of antique stores on fleamapket.com is actively curated with dozens of new locations added every week.
#5. Use Filters for Specific Searches
We continue to make regular improvements to our online antique search tool on fleamapket.com. For example, we are adding new filters that allow you to search for specific antiques in your area. Apply filters to your search if you're looking for specific types of antiques, such as Mid-Century Modern furniture or Vintage Comic Books:
18th, 19th and 20th century antiques,
Americana,
Antiquarian,
Antique mirrors,
Architectural salvage,
Art,
Art Deco,
Asian Artifacts,
Classic Cars,
Collectibles,
Dinnerware,
Garden architectural,
Glass & Ceramic,
Industrial design,
Jewelry & watches,
Lighting fixtures,
Mid-century modern,
Militaria,
Religious artifacts,
Scandinavian design,
Taxidermy,
Vintage comic books,
Vintage fashion,
Vintage rugs,
Vinyl records.
#6. Access Worldwide Listings
Fleamapket also allows you to broaden your search to include other countries or regions. To easily find antiques near you, simply go to any page on fleamapket.com and search for antiques of interest using the main menu or filters. The results will be filtered on the page according to what you are looking for. And of course, it is possible to see all the results in the whole world or to limit your search to a country (ex: France) or a region (ex: Europe). Fleamapket.com is an invaluable tool used by over 2000 antiques professionals and thousands of enthusiasts worldwide. The site is continually updated with new locations and features to ensure you have the most up-to-date information at your fingertips.
Bottom Line
Remember, antique shopping isn't just about buying items; it's about the experience of discovering a piece of history. Every antique store offers a unique window into the past, where every item has a story waiting to be discovered. Whether it's a flea market, a trade show or an antique shop, the thrill of the hunt is what makes the journey exciting.
Our goal is to make your antique search as convenient and enjoyable as possible. We hope our tools and resources help you find those hidden gems, whether they're at flea markets, shows or antique shops. We welcome your feedback and suggestions as we continue to improve our search tool.
In conclusion, finding antique stores near you has never been easier. With resources like Fleamapket.com and Fleamarketinsiders.com at your fingertips, a world of antiques is just a few clicks away. Embark on your next antique adventure with confidence, knowing that the perfect store is just waiting to be discovered.