The holiday season brings out the big kid in all of us. There's nothing quite like eating copious amounts of food, playing with presents, and spending time with family and friends. Discover the best online shops to find and buy retro toys with this helpful list.
Whether you're searching for the perfect gift, or just want to treat yourself by playing with treasured childhood toys once again, we've got you sorted.
Hawkins Bazaar
Hawkins Bazaar is stacked full of classics that will send you right back to your younger years. They stock every kind of vintage toys from Drumming Monkeys and Tin Music Boxes, to Etch-A-Sketch's and ABC Wooden Blocks.
This novelty gift shop has branches spread across the UK, they also deliver to any country within the EU. If you're looking for colorful, exciting retro toys, then Hawkins Bazaar is right up your street.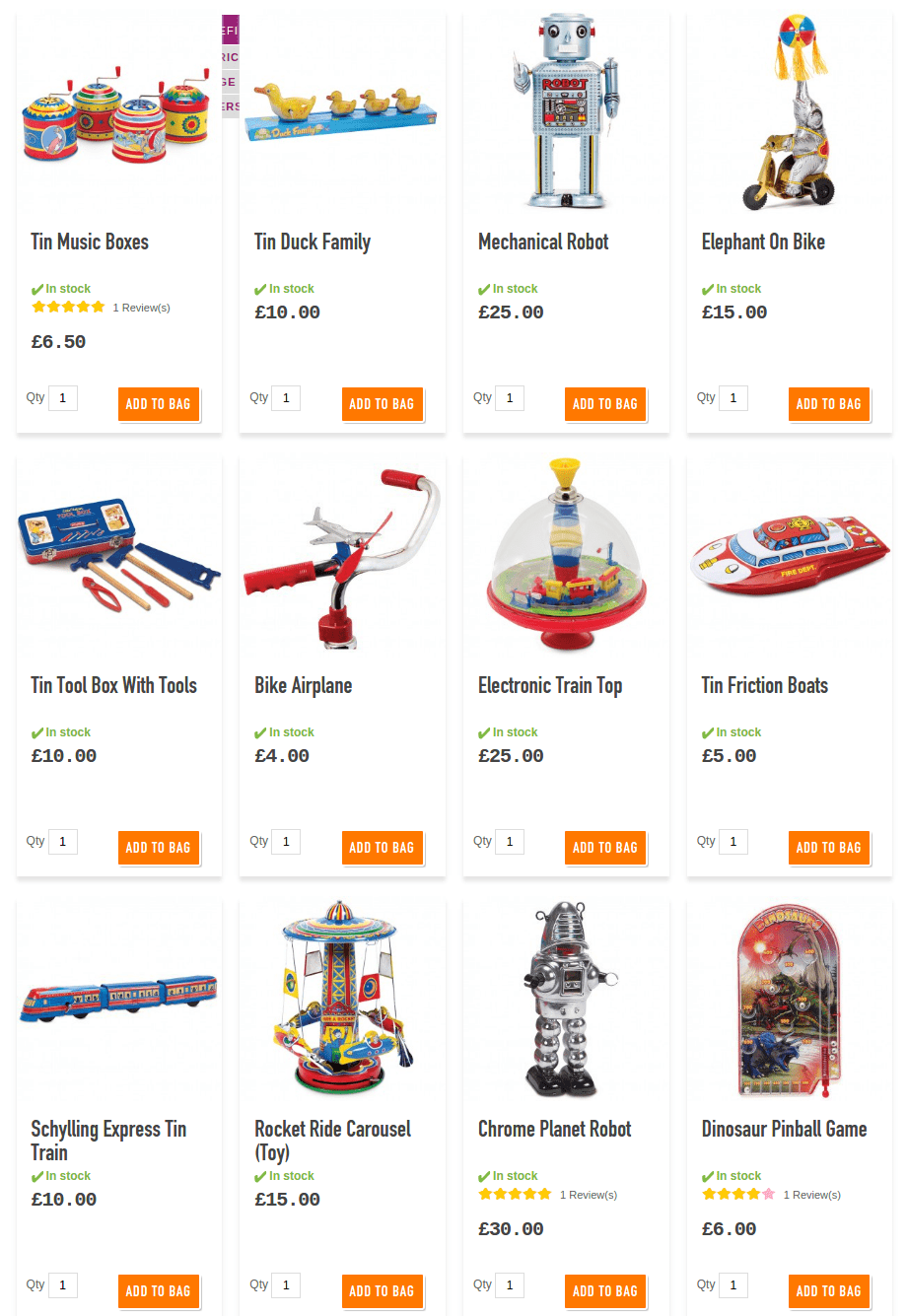 These products are a breath of fresh air on vintage toys; they may not be the exact same model as you had forty-odd years ago, but they are a fantastic modernized replica. Feel like a carefree child again as you bop up and down on their Retro Space Hopper, made in the style of the iconic 1970s favorite.
Hawkins Bazaar's selection of retro toys: http://www.hawkin.com
Oxfam
The magic of Oxfam is that you can walk into a shop and stumble upon a completely unique item that you might not find in any other Oxfam store. Their stock of retro toys relies on donations, which means that they have a lot of genuine vintage products, and available at an unbeatable value.
You can search on their website for toys that are used or brand new. They have a wide selection of vintage toys, second-hand puzzles, tinker toys, fisher price toys, car toys, and games for you to sieve through. Oxfam has over 650 shops throughout the UK, second-hand items can be shipped overseas, but there will be a small charge. This is the ideal place to look if you particularly enjoy collecting things, such as old car toys, stamps, and wooden planes.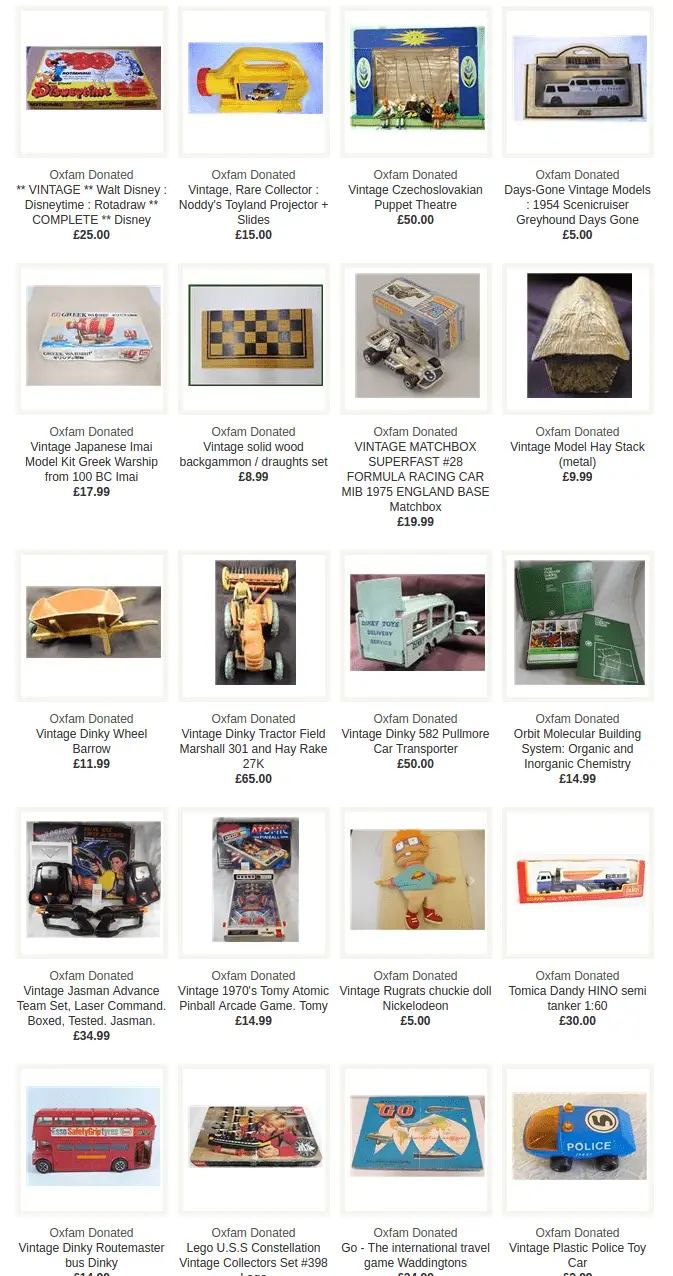 If you want to learn more about this incredible charity and the positive work they do, then check out their website – www.oxfam.org
Oxfam's selection of retro toys: http://www.oxfam.org.uk
Tin Toy Arcade
This online vintage toy boutique is full to the brim with rare games and puzzles that you can't get hold of anywhere else. They specialize in retro tin toys such as Robots, Tin Vehicles, and Toy People. Their stock also includes classics such as a Secret Agent Cap Gun from the 1950s and a Bozo Big Bop Bag from the 1960s.
All of Tin Toy Arcade's products are available exclusively online and can be shipped to anywhere in the world with zero hassle. What makes this vintage boutique a one of a kind is that they offer a 'only at TinToyArcade.com' range; you aren't going to find retro toys like this from any other seller. This range offers a Walking Tin Polly the Pig, Space Patrol Commander from the 1950s, and a Gene the Tin Tap Dance King from the 1920s, to name just a few.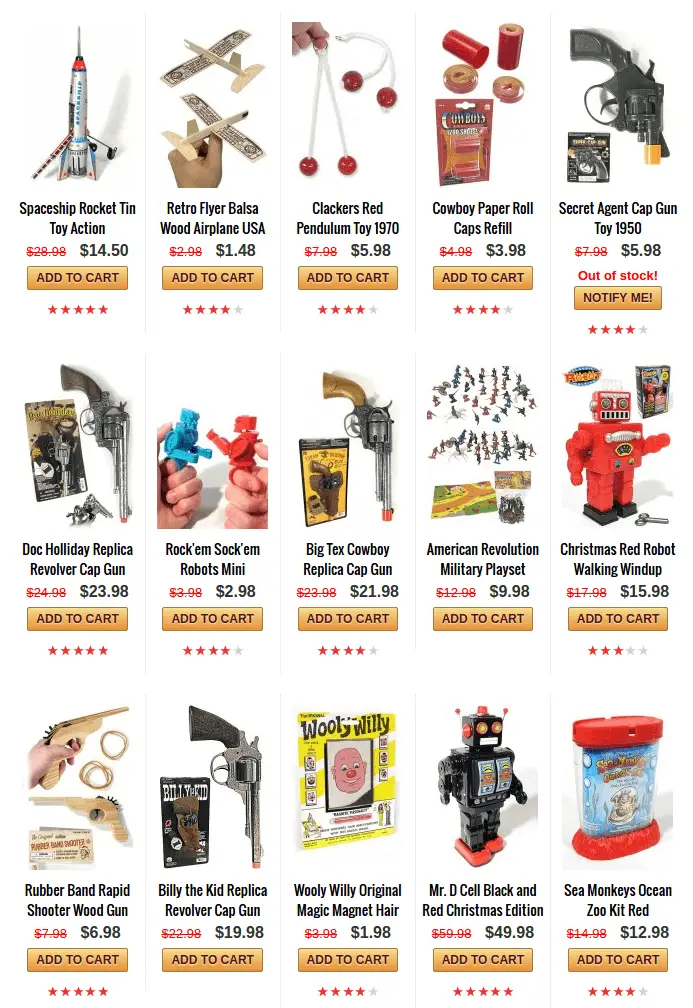 Tiny Toy Arcade's selection of retro toys: www.tintoyarcade.com
Retro Planet
Another great distributor of old-fashioned toys and gifts. Retro Planet sells original and entertaining products at an incredible value. Not only do they sell vintage toys, they also stock clothes, posters, and homeware.
You will find products on their website that you never in your wildest dreams thought even existed. For example, they have a Cat Buddha Dashboard Bobble Doll and Pin-Up Girl Playing Cards! They also have an extensive selection of classic vintage replicas, including Tiddlywinks, Jumbo Jacks, Marbles and Slinkys.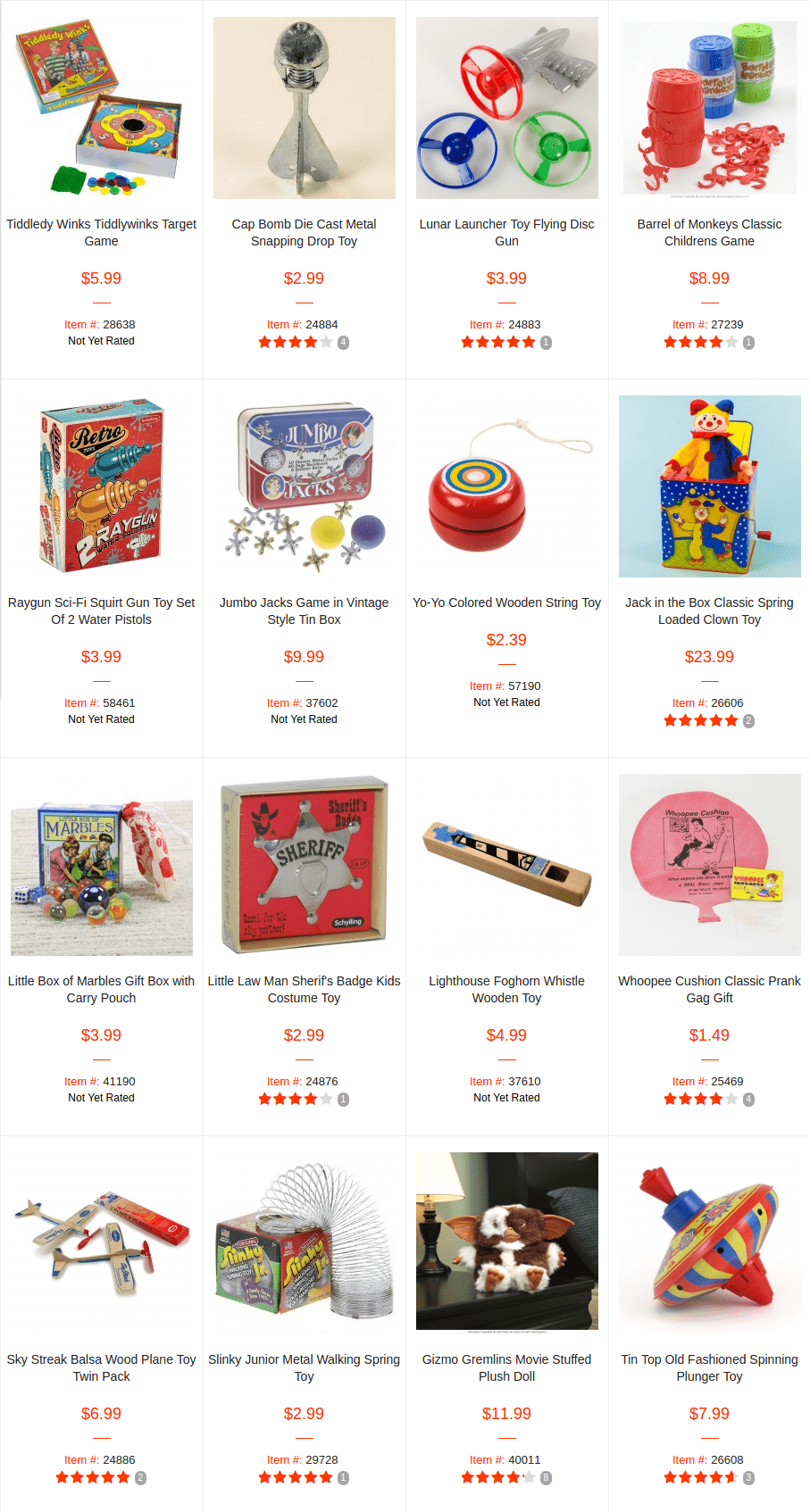 The majority of their orders made before 1 pm are shipped that same day, which means you won't have to wait long for your retro goodies!
Retro Planet's selection of retro toys: www.retroplanet.com
The Old Toy Shop
If you are passionate about vintage toy memorabilia and have the money put aside to spend on genuine artifacts, then The Old Toy Shop is perfect for you.
Make sure you are quick to click on checkout if you see something that takes your fancy. Products on this website go quickly, and as they are genuine vintage toys they often only have one in stock. Most items are sold in their original box, and in mint condition. They sell a wide selection of vintage toys, including genuine toy trains, jigsaws and model vehicles, and Scalextric. The Old Toy Shop proves to be a real haven for die-hard vintage toy fanatics.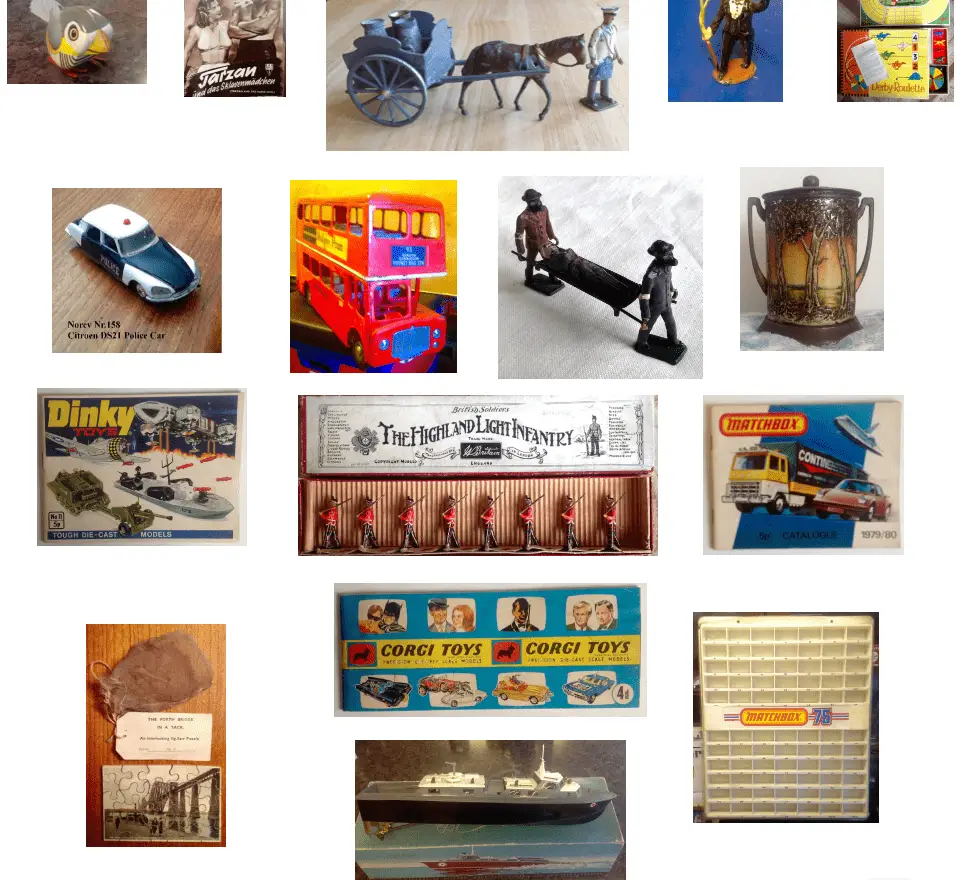 The Old Toy Shop's selection of retro toys: www.theoldtoyshop.com