Some people believe that everything has already been done in the flea market business. Other, such as Melanie Bees, believe that there is still much to be done.
This story by Philippa Kennedy of the online newspaper The National (Abu Dhabi) proves them right.
Melanie Beese had absolutely no idea if the concept of flea markets would catch on in this part of the world. In fact, all the evidence was to the contrary in a city such as Dubai, where the mall culture is so firmly entrenched, where designer labels are revered and where the concept of rooting through somebody else's second-hand belongings was completely alien.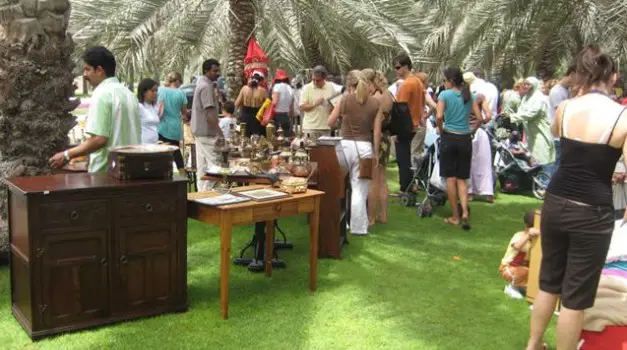 Yet the 32-year-old expatriate knew how much she missed those leisurely Saturday afternoons exploring the flea markets of her native Stuttgart, where she might come across some antique treasure or simply while away a few pleasant hours chatting to stall holders and picking up a book or a vase for a few dirhams.
"Everybody I approached had never heard of flea markets"
"It's a very European thing and anyone who has travelled around Europe will know how much fun it is. It's part of the culture and tradition of countries like England and Germany but not over here, where people want everything new, or at least they used to," she says.
Beese, who arrived in Dubai in November 2005 armed with a business degree from Nürtingen University and boundless enthusiasm, decided to see if she could recreate the atmosphere of an open-air market in one of the city's parks as a hobby and find out if people here would take to it.
"I was working as an events organizer, first for a German company and then for Dubai Holdings and I thought I would give the market thing a try because I missed it so much and because there wasn't anything like that here at the time," she says.
"When you came to Dubai you usually head for the malls at the weekend and at first I loved them, but I got tired of doing nothing but wandering around malls shopping and longed for that particular atmosphere that you get in the open-air markets of Europe.
"Since I was a child my family were always involved with them and sold antiques and all the treasures that are available there. I love parks and being outside in the open air so I thought that the parks department of the municipality would be a good place to start to apply for a licence."
Her first problem was finding the right person to speak to, not easy when everybody that she approached had absolutely no idea what she was talking about and had never heard of "flea markets".
"It took me ages to find someone who understood the concept. I submitted my paper to the authorities in Deira but after three months I hadn't heard from them. Finally they sent me an e-mail in February 2008 asking me to come in and see them and I made a presentation to the municipality. To begin with it was hard to convince them, but eventually I got to speak to people who had travelled in Europe and knew what flea markets are all about," she remembers.
The following month she had her official permission to hold the first open-air flea market in Safa Park and chose the first Saturday in the month for her debut. "After all the waiting about I suddenly had four weeks to kick-start the whole thing," she says.
A frantic few weeks followed and she enlisted a host of friends to help. First she had to get a website up and running, helped by a friend who designs them. Then she needed trestle tables, a lorry to transport them and warehouse space in which to store them. She spent all her spare time organising the new venture as well as holding down her job organising exhibitions.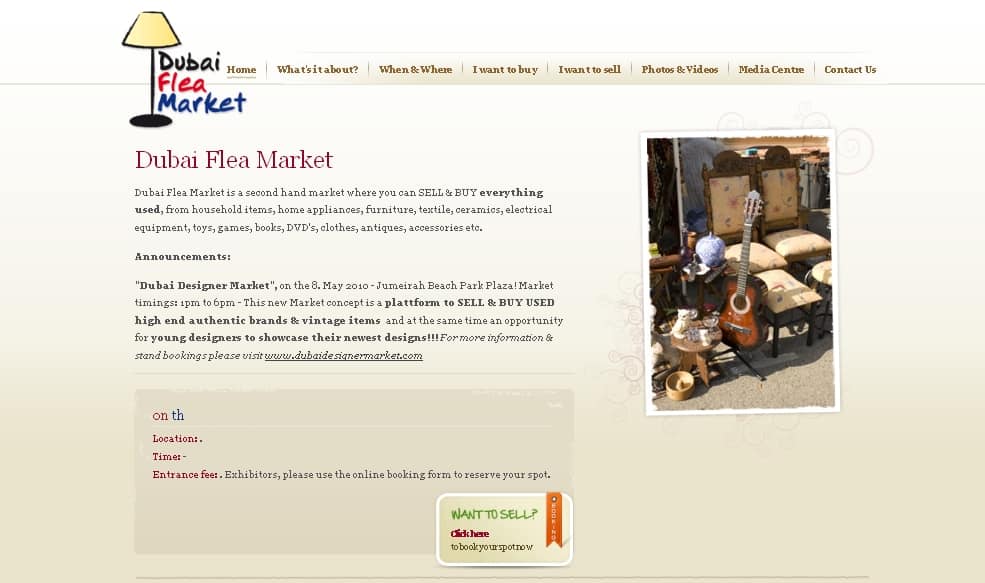 "I put flyers all around the area in Spinneys and Choithram directing people to the website so that exhibitors could book online. Frankly none of us knew what was going to happen because it was the first event. It was planned for the first Saturday in April in Safa Park, Dubai.
"I chose a place near Gate 5 in a quiet area shaded by trees with plenty of parking nearby. I bought 150 trestle tables from Germany and have rented more here. I hired a lorry to transport the tables to Safa Park on the morning of the first market and my friends all came to lend a hand.
"Even so, when the exhibitors started to arrive not one single table was up. But they were very patient and helped us put them up. People were a little shocked at first that we weren't better organised but everyone helped and it created a great community spirit. Most of the first exhibitors were European and like myself loved the concept of flea markets, which made them feel at home," she says.
Despite Beese's lack of experience, the first Dubai Flea Market was a huge success with 70 exhibitors selling clothes, shoes, books, DVDs, crockery, pictures and other assorted bric-a-brac. About 2,500 people flooded through the gates scooping up bargains, having picnics in the park and it was soon clear that a very European concept was proving a popular Saturday afternoon diversion.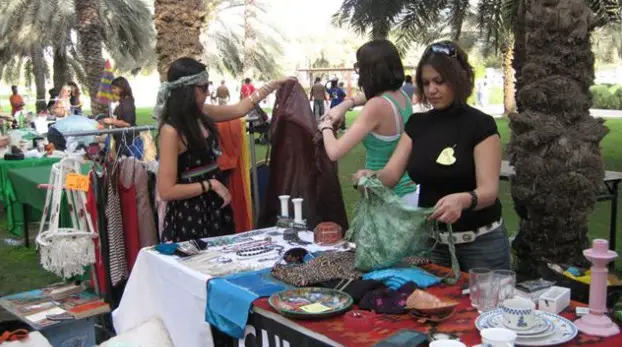 Exhibitors pay Dh230 for a table and can sell just about anything as long as it is cheap. No food is allowed, however, as Beese does not have a food and beverage licence and because the risk of food poisoning by permitting people to sell home-made dishes is too great.
"But it was always more than buying and selling cheap unwanted items. There is a real social aspect too. People enjoy the atmosphere. I have made some good friends through the venture.
"There are regular exhibitors who all know each other. When you go to a shopping mall you don't talk to anyone. At the flea market you socialize. Everyone talks to everyone else and it has created a real social platform." When the recession hit the UAE last year, Beese was made redundant from her job as an events organiser and received a generous settlement that enabled her to turn her hobby into a full-time business.
"Most of the first exhibitors were European and like myself loved the concept of flea markets, which made them feel at home"
"Organizing flea markets started as a hobby but then the crash came and I was one of the lucky ones and got enough money to start my own company to run markets," she says. She now has an office in Deira and three freelance helpers.
The Dubai Flea Market has more than 200 regular exhibitors. More than 6,000 people flocked through the gates of Safa Park for the most recent market. The final one of the season, which lasts from October to May, took place yesterday, although Beese is already scouring the city for a suitable indoor venue later in the summer to satisfy demands.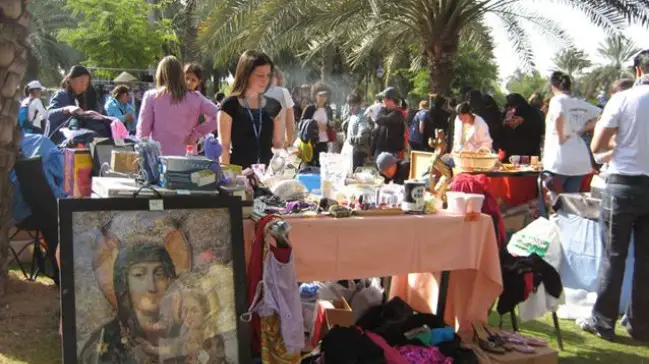 "I tend to stay up all night before a market. Then I go home, have a shower, print out the exhibitors list and get back to Safa Park. These days we set the tables up the night before so that we are ready for the arrival of exhibitors at 6am. They are always there long before that queuing patiently. If I told them to arrive at 4am they would arrive at 3am. By 5.30am they are queuing around the block. Last time it was a bit scary because there really were too many people. It is so crowded that it's difficult to walk through the throng early in the morning. By about 11am about 50 per cent of exhibitors have sold out and gone home."
The crowds are mainly made up of Europeans, Filipinos, Indians and other expatriates but more recently Emiratis have been coming along, curious to experience the flea market phenomenon. Says Beese: "At the beginning the Emirati people didn't really get it which is why we started by targeting Europeans who grew up with the concept. But when the Arab people saw what it was all about they started liking it. Last month I had an Abu Dhabi family who took two tables but we had to show it to them first. There's a culture here that they are used to shopping malls and they are used to new things but young people love it and people who travel a lot understand it."
Since the first one took place in Safa Park, Beese has run more than 20 markets. She no longer needs to seek publicity. "We don't bother with posters or banners anymore It just happens by word of mouth and the bookings come in online.
Beese has set up similar markets in Sharjah and Abu Dhabi although the concept for the capital is different. "I wanted to do a flea market in Abu Dhabi because some vendors came from there and they kept on asking me to do it. In March last year I went to the Municipality trying to find out who the correct person was for permissions.
"It took me almost a year to find the right person. I told him about the flea market but we were not sure if it would really work in Abu Dhabi. He loved the idea, having spent much time in England, so we had a brainstorming session and it gradually developed into a funfair with rides for children and a permanent community market. But there were a lot of problems with regulations."
The Abu Dhabi Community Market, which ran daily in March and April in Khalifa Park, incorporated a flea market along with an arts and crafts and international market as well as a funfair with rides for children.
Another offshoot came with the launch of the Dubai Designer Market, a more upmarket affair held on the second Saturday of the month at the Beach Park Plaza in Jumeirah. The next one is on Saturday.
"You can only sell very cheap things at the flea market because people don't want to spend a lot of money, but many of my exhibitors and regular customers kept asking me why I didn't hold a market for more expensive items. There are a lot of people in this city who buy beautiful designer handbags, for example, and like to change them every so often so now we get some superb stuff.
"The designer market has to be held indoors as the items are more valuable and it appeals to a different audience. Not only do we have some wonderful Chanel and Prada handbags for a fraction of their original cost, but we allow young designers to exhibit their own jewelry and cashmere which is very popular. Only brand names are sold. People think it's easy but it's not and there are always some new regulations to worry about. I have some fresh ideas for October, although I don't want to say what just yet in case anybody steals my ideas."
"People here have really embraced the idea of flea markets and designer markets. It's a wonderful way of clearing out your cupboards and some people have so much in the way of designer brands that they might as well get some money for them so they can go out and buy something new.
"Some people will never come themselves to sell their things and will give them to someone else to get rid of. But others really enjoy the atmosphere and once they get over the idea of selling their unwanted clothes, the experience is really great fun.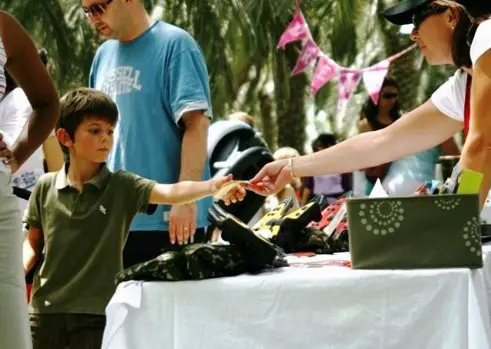 "I know there are websites where you can get rid of stuff but it's not the same as being able to see the items and touch them. The recession has changed people's attitudes about second-hand goods.
"Also, the nature of Dubai means that people are coming and going all the time, so this gives them an outlet to get rid of the things they don't want to take home with them.
"I had no idea that my little hobby would become my work. This has taken over my life."
---
For more information visit www.dubai-fleamarket.com