Georgia is home to many things; lively cities, golden coastlines, rocky mountains, and the World of Coca-Cola (yes, that's right – the sugary beverage was invented in Georgia back in January 1892).
Located in the south-east of the United States, this culturally rich state has a vibrant history. We have selected six of the very best flea markets in Georgia that sell only the finest in antiques, collectibles and memorabilia.
Whether you're looking for Coca-Cola memorabilia, Georgia Stone Mountain retro keychains, or USS Savannah fabric patches – you will find all of it and more in the many flea markets and antique malls scattered around Georgia.
Best flea markets Georgia: #1 Lakewood Antiques Market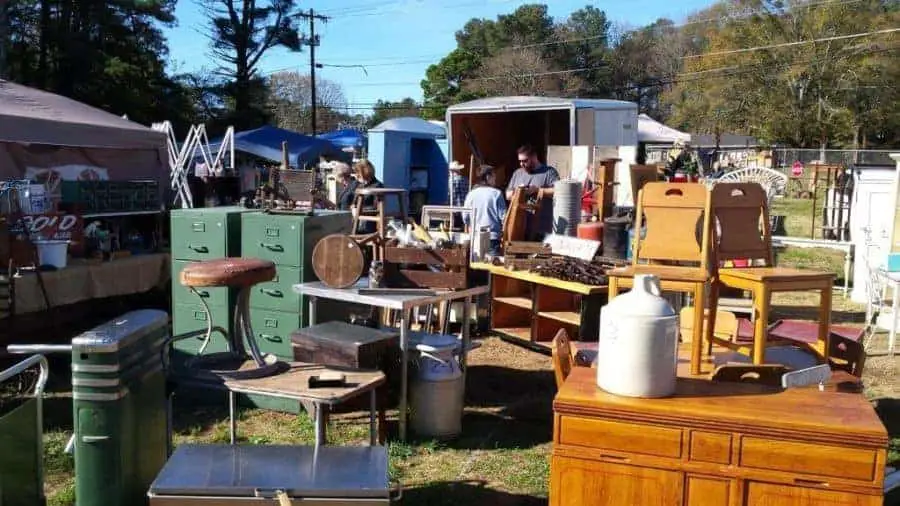 Discover unique and beautiful vintage delights at the Lakewood Antiques Market in Georgia. With over 500 dealers, this mammoth monthly flea market is attended by shoppers all over Georgia. Located in an impressive 75,000 square foot air-conditioned facility, Lakewood Antiques flea market brings dealers from all over America.
Traders sell a plethora of vintage goodies, such as decorative arts, antiques, collectibles, sports memorabilia, and more. Many of the vendors specialize in nautical items, from handmade lamps created from vintage gear to ships wheels and one-of-a-kind objects perfect for decorating lake homes.
Co-owner Barbara Spivia says that Lakewood Antiques flea market is so much more than just a simple antique market in Georgia. Vendors travel the show circuit and bring new items every month. Customers always return because they are confident that the items are authentic and of high quality. What's more, this flea market was named one of the "best in America" by both the Huffington Post and USA Today!
Where: Atlanta Highway 1321, GA US
When: Third weekend of the month
More information: Read here our full review of Lakewood Antiques Market
Best flea markets Georgia: #2 Scott Antique Market Atlanta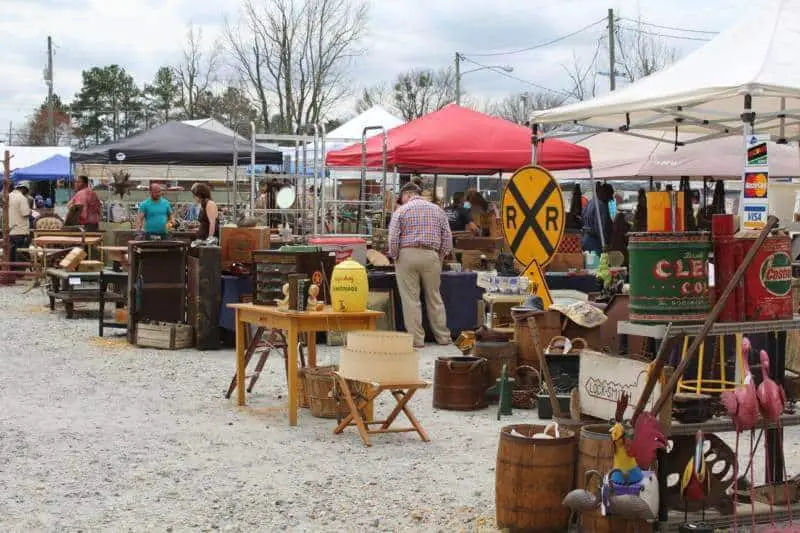 Shop 'til you drop at Scott Antique Market in Atlanta, GA. This monthly three-day flea market boasts over 3,300 booths filled with the best antiques and collectibles in the area! Situated within two large warehouses, it's no wonder why the organizers proclaim that their flea markets are one of the country's largest indoor antique shows.
In the South building, you can expect to find merchants selling "affordable" items such as vintage knick-knacks, postcards, and other collectibles. The North building is where all the luxurious items reside, such as rugs, antique furniture, silverware, and bronze.
The sort of products you will find at Scott Antique Market is similar to the stuff you'd be likely to source in an antique shop. Find early American oak furniture, heirloom-quality oil paintings, French décor, jukeboxes, antique watches, and photographs. In fact, the quality of the stock is so high, that Thursdays were originally reserved just for design professionals, before finally opening to the general public.
Where: Jonesboro Road Southeast 3650, GA US
When: 2nd weekend of every month: Thursday: 10:45 – 18:00 Friday and Saturday: 09:00 – 18:00 Sunday: 10:00 – 16:00
More information: Read here our full review of Scott Antique Market Atlanta
Best flea markets Georgia: #3 Keller's Flea Market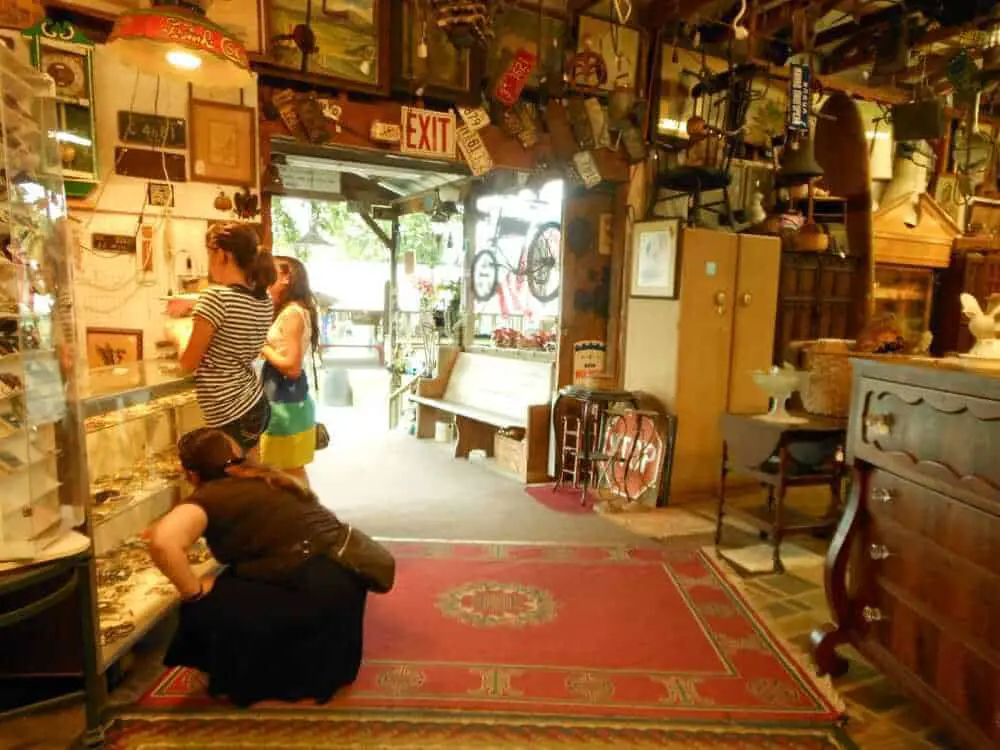 After opening nearly 30 years ago with just 60 vendors, Keller's Flea Market in Georgia has since blossomed into a vintage wonderland boasting over 400 vendors. It all began in 1985; Hubert Keller transformed a former mobile home lot and farming field into a market full of vintage treasures for locals and tourists to dig through.
Keller constructed the first buildings from "culled" boards and tin, and plain old Georgia dirt was used for the flooring. Slowly but surely, the flea market built a strong reputation and a loyal following of vendors and customers. Today, Keller's Flea Market is a popular vintage and antique shopping area in Georgia.
Find genuine vintage clothes, accessories, jewelry, homeware, antiques, collectibles and so much more at Keller's Flea Market. Not only are there hundreds of vendors, but there is a wide selection of delicious food stands, ATM machines, air conditioning, and even a barbers!
Where: 5901 Ogeechee Rd, Savannah, GA 31419
When: Saturday and Sunday: 08:00 – 18:00
More information: Read here our full review of Keller's Flea Market
Best flea markets Georgia: #4 Ian Henderson's Antique Mall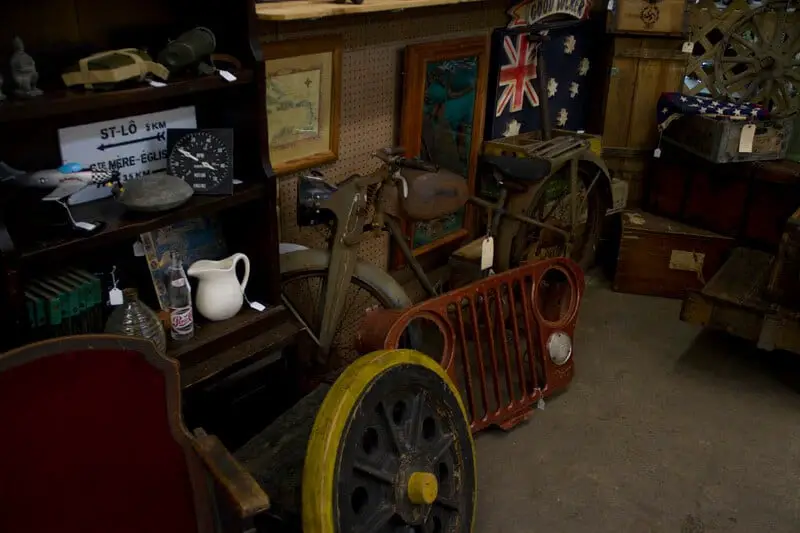 Situated in the historic Walton Cotton Mill, over 500 vendors congregate in a space of over 100,000 square feet. Discover the finest antiques, collectibles and estate liquidation items at Ian Henderson's Antique Mall in the US State of Georgia.
Open daily (except for Christmas Day), this vintage dreamland caters to the needs of all retro enthusiasts. Stumble upon silver estate jewelry, fine antiques, retro toys, classic books, stylish second-hand clothes, well-loved old instruments, sports memorabilia, décor and mid-century modern furnishings.
This family-run antique mall is renowned as the South's leading resource for unique, eclectic and difficult to find vintage treasures. Vendors travel as far as from Indiana, Ohio and Missouri just to showcase their collection of antiques at Ian Henderson's Antique Mall. As for the customers, they travel from all over America!
Where: 600 South Broad Street, Monroe, Georgia 30655
When: Monday – Saturday 10:00 – 18:00, Sunday 12:30 – 18:00
More information: Read here our full review of Ian Henderson's Antique Mall
Best flea markets Georgia: #5 Cobb Antique Mall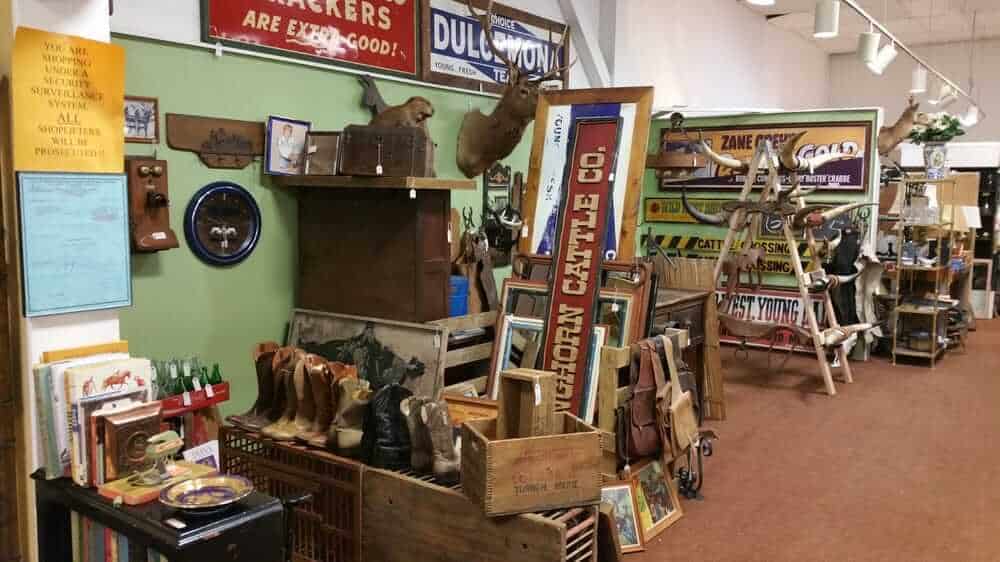 We suggest that you set aside at least a few hours to turn this well-loved antique and vintage market inside out. Cobb Antique Mall has been in existence for over a decade and takes place in a 37,000 square foot facility.
Dig out intricate jewelry, second-hand clothes, retro typewriters, classic toys, collectibles, one-of-a-kind kitsch souvenirs and stylish mid-century furnishings at Cobb Antique Mall. Clients adore the layout of the mall; it's one large room with adjoining sections and small connecting rooms, and extremely easy to navigate.
Some of the rooms are even set up to look like living rooms from the mid 20th century! Imagine yourself in vintage (and much more fashionable) IKEA showroom. The booths are tidy and well organized, also the stock is replenished with new items every single day!
Where: Cobb Parkway North 119, GA US
When: Monday – Saturday: 10:00 – 19:00, Sunday: 12:00 – 18:00
More information: Read here our full review of Cobb Antique Mall
Best flea markets Georgia: #6 High Cotton Antiques & Uniques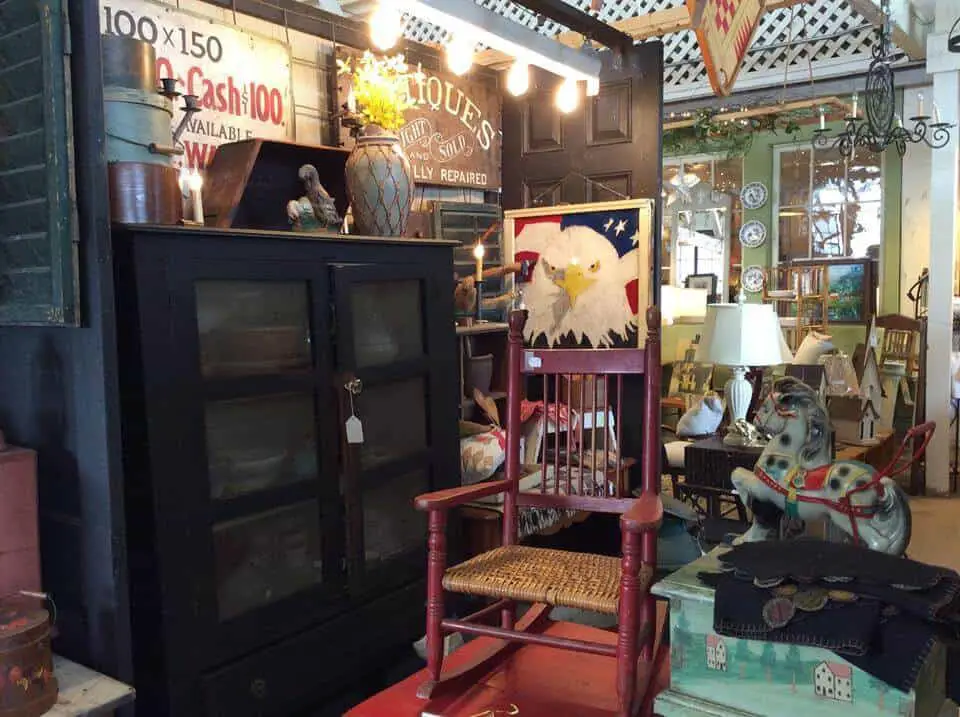 For cute, kitsch and unique furnishings, accessories, and gifts – we urge you to visit High Cotton Antiques & Uniques in Woodbury, Georgia. This beloved vintage shopping spot has been voted the best antique mall in West Central Georgia for the fifth year in a row.
Their specialty is beautiful shabby-chic restored vintage furniture and home-ware. So, if you have a new room to decorate or renovate, then we suggest visiting this shopping haven. For grand dressing tables, dressers and shelving units, High Cotton Antiques & Uniques is the place to go!
The staff are friendly and accommodating and customers come back to this antique mall time and time again for consistent quality products and great service. It's also worth mentioning that stock doesn't last long here, so if you see something you want then you should make an offer as soon as you can.
Where: Main Street 18178, GA US
When: Monday – Saturday: 10:00 – 18:00, Sunday: 13:00 – 17:00
More information: Read here our full review of High Cotton Antiques and Uniques
Bonus: US flea markets on a map!
You can now visualize the best flea markets and antique fairs in the US, on a map! Not only have we included all the Georgia flea markets listed above, but we've added to the mix some of the country's most acclaimed antique fairs. Just click on the image below to access our map feature for free.
---
A trip at the flea market is a journey in its own, a fantastic opportunity to meet new people and enthusiasts who share the same passion for rummaging and haggling. We hope this review inspired you to discover more flea markets in Georgia, and that you'll share the love around you. As always, if you think that a flea market is unrighteously missing from this list, just drop us a line in the comments section below.