If there is one thing worth noting about flea markets in Ohio, is that they are in no way done half-heartedly. They are show-stopping and supersize – much like their portion sizes!
Many of the best flea markets in Ohio host well over 1,000 high-quality vendors. So, if you're traveling to this Midwestern state for some serious vintage shopping, be sure to take an empty suitcase. It will be necessary for carrying all of your newfound antique treasures back home with you.
As usual with our flea market reviews, we carefully handpicked the best local flea markets which only showcase the finest antique and vintage products, and skipped all the swap meets, farmers markets and likes to focus only on the real good stuff. Therefore, we have narrowed down the selection of flea markets in Ohio to just six worthy candidates. They all showcase the very best in retro memorabilia and fine antiques.
And remember: When you ask Ohioans where somewhere or something is, they won't tell you where it is. They'll tell you something like, "It's 30 minutes outside of Cleveland."
#1 Flea Markets in Ohio: Springfield Antique Market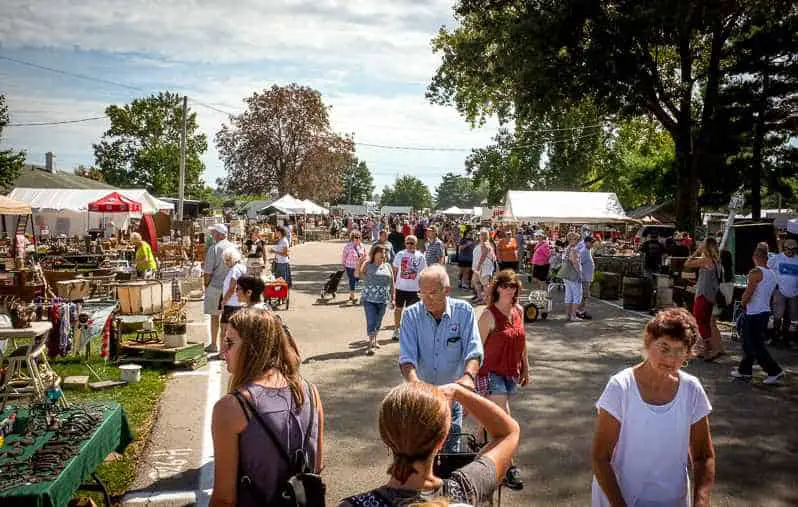 The Springfield Antique Show and Flea Market takes place one weekend each month – apart from February and July. This well-loved market has been frequented by collectors and dealers for over twenty-five years.
Held on a county fairground, this popular flea market has gained a reputation as the go-to source for all things quirky, folky and primitive, such as old metal pails, cross-stitched samplers, and calico quilts.
Three times a year, Springfield Antique Market hosts a special event which sees the number of vendors grow to over 2,500. Top tip: you are more likely to snap up a bargain in September, as this is when dealers are trying to liquidate their stock for the winter.
Where: South Charleston Pike 4401, OH US
When: 3rd Saturday & Sunday of the month (except February & July): 08:00 – 17:00
More information: Read here out full review of Springfield Antique Market
#2 Flea Markets in Ohio: Hartville Flea Market & Marketplace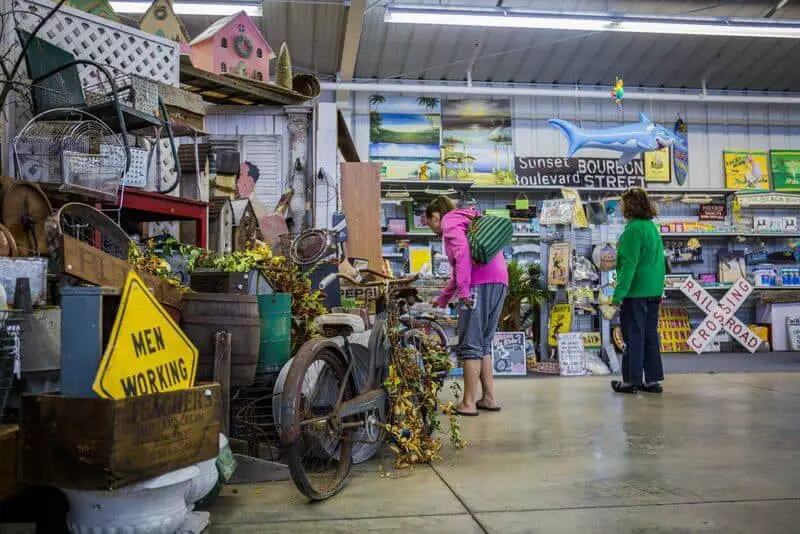 Located in the small town of Hartville, at the heart of the Amish country, the Hartville Flea Market & Marketplace is a memorable shopping experience for the whole family.
With more than 800 seasonal merchants spread over 12 acres, the selection of antiques and vintage items on offer at the Hartville Flea Market is spectacularly stunning. Flea market enthusiasts and seasoned shoppers can find everything they could possibly need for next to nothing.
After a successful morning of shopping you can visit the Hartville Marketplace – which is home to more than 110 individually owned shops that open throughout the year. The marketplace is best known for their variety of food products, such as meats, cheeses and local delicious produce.
Where: Edison Street Northwest 1289, OH US
When: Monday, Thursday, Friday, Saturday: 09:00 – 17:00
More information: Read here our full review of Hartville Flea Market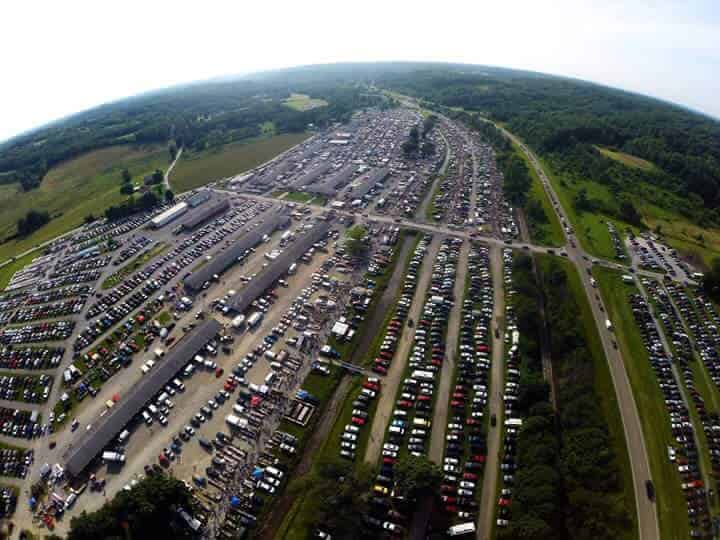 Established in 1955 by Lucille and Emmet Baer, the Rogers flea market has grown from a small barn sale into the 250 acres market that it is today. Over 1,600 vendors showcase eclectic goodies, such as old colourful tobacco tins, shabby-chic furniture, vintage cameras, postcards and wooden puzzles.
Besides the flea market, there's also a monthly Tuesday auction. The Rogers flea market's Facebook page posts a list of the items that are up for auction the day before, so make sure you check it out and turn up prepared (and with a budget!).
What's more, admission is free and there are plenty of spots to park. Access to the market is also doable with public transport!
Where: Old State Route 154 45625, OH US
When: Friday: 07:00 – 19:00
More information: Read here our full review of Rogers Flea Market
#4 Flea Markets in Ohio: Scott Antique Market Washington Court House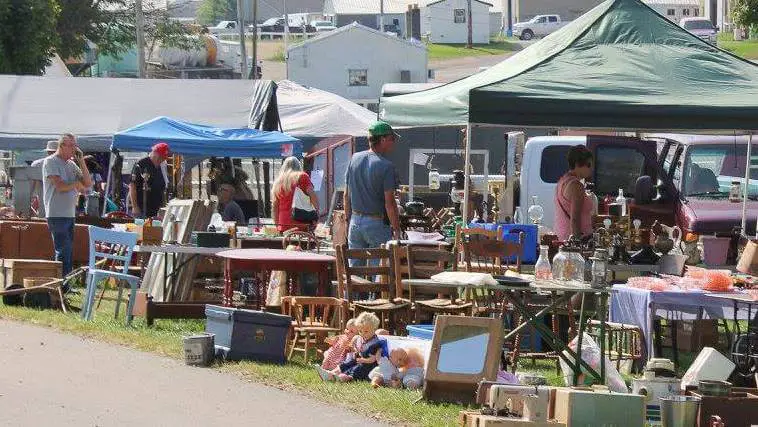 From April to October, Scott Antique Market holds a bi-monthly antique show in Washington Court House, Ohio. More than 600 booths of vintage delights, collectibles and enticing antiques fill up the expo centers at the Fayette County Fairgrounds.
Discover American oak furniture, jewelry, silverware, heirloom-quality oil paintings, upholstered furniture, French home décor, jukeboxes, antique tool and phonographs.
Scott Antique Market Washington Court House is organized over eight indoor and outdoor locations: the Mahan Building, the Concrete Pad, the 4-H Building, the Sales Arena, and Buildings A, B, C, and D.
Where: Fairview Avenue 213, OH US
When: 4 times a year (April to October) Friday and Saturday: 09:00 – 17:00 Sunday: 10:00 – 16:00
More information: Read here our full review of Scott Antique Market Washington Court House
#5 Flea Markets in Ohio: Scott Antique Market Columbus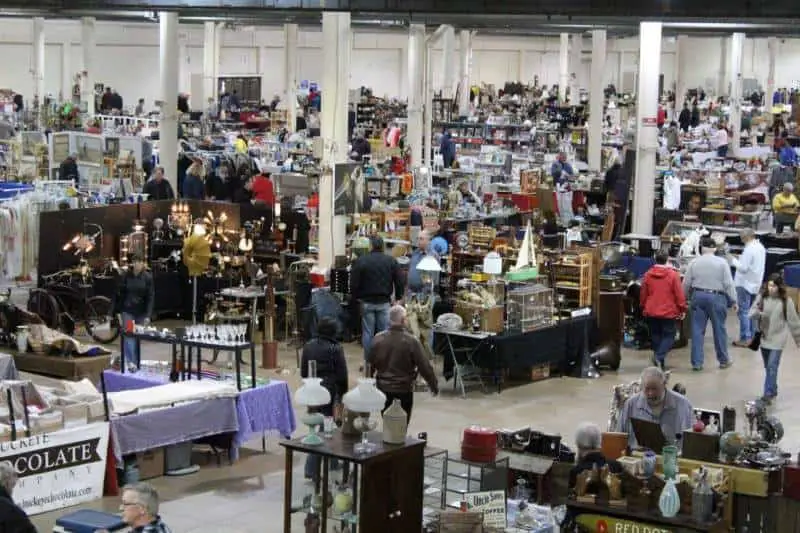 For nearly 20 years, Don Scott, founder of Scott Antique Market, made a living buying and selling antiques. He traveled the country finding antiques and selling them at various antique shows. Thirty years later, Scott Antique Market has blossomed into one of the country's largest monthly indoor antique shows, featuring three active locations: Atlanta (Georgia), Columbus (Ohio) and Washington Court House (Ohio).
Scott Antique Market Columbus takes place within two indoor locations: the Celeste Building and the Bricker Building. Monthly antique markets are held here between November and March. Over 800 booths of antique finds fill the expo centers at the Ohio State Fairgrounds.
Spend your day browsing antique watches, vintage toys, fine bone china, engraved silverware, classic novels and stylish second-hand clothing. Customers love this antique fair for its buzzing atmosphere and friendly vendors.
Where: East 17th Avenue 717, OH US
When: Once a month (November to March) Saturday: 09:00 – 18:00 Sunday: 10:00 – 16:00
More information: Read here our full review of Scott Antique Market Columbus
Bonus: US flea markets on a map!
You can now visualize the best flea markets and antique fairs in the US, on a map! Not only have we included all the above flea markets, but we've added to the mix some of the country's most acclaimed antique fairs. Just click on the image below to access our map feature for free.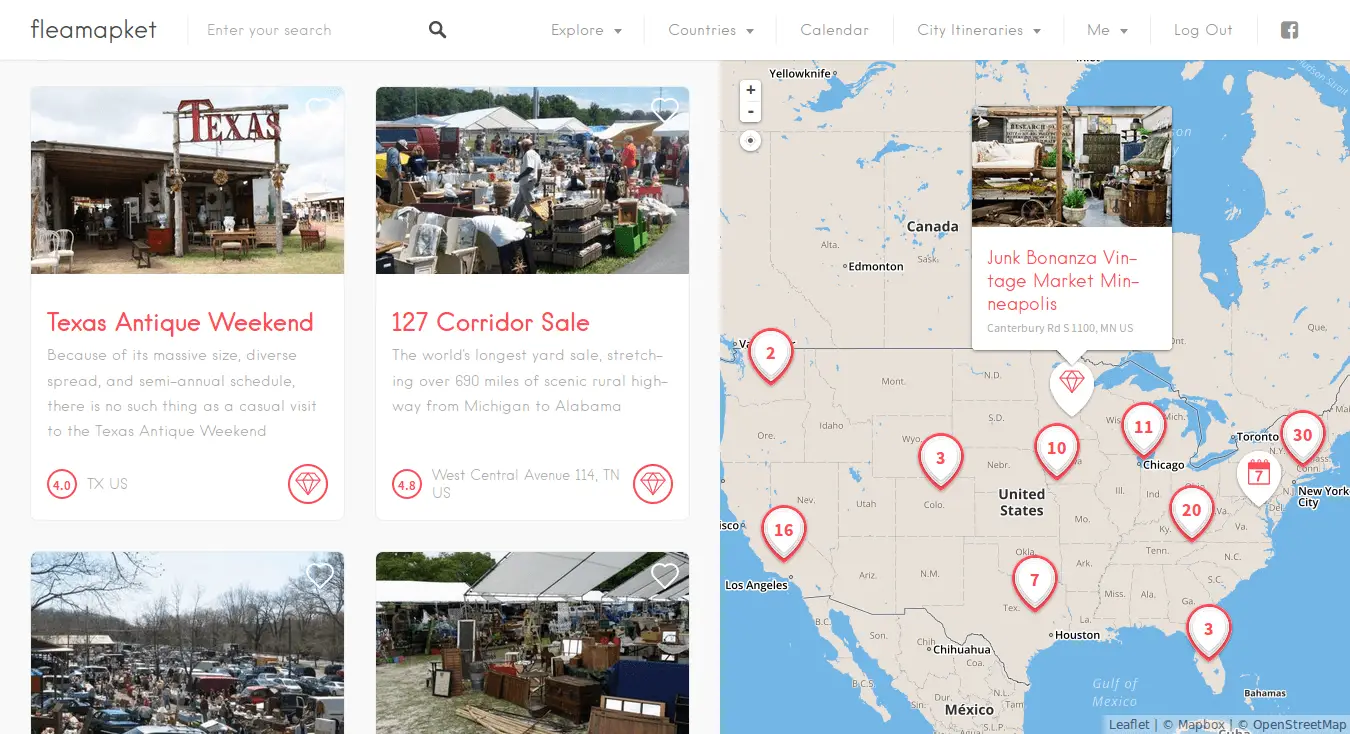 ---
A trip at the flea market is a journey in its own, a fantastic opportunity to meet new people and enthusiasts who share the same passion for rummaging and haggling. We hope this review inspired you to discover one (or all!) of these flea markets in Ohio, and that you'll share the love around you. As always, if you think that a flea market is unrighteously missing from this list, just drop us a line in the comments section below.