"If you can't find it here, it may not be found". This is how a regular visitor would describe the Rogers flea market in Ohio, USA. Although many flea markets would boast over this kind of description to attract visitors, the size of the space and the variety of objects traded at the Rogers flea market may actually do justice to this witty advertisement.
Rogers flea market: a top preference in Ohio and an award winning market
The Rogers flea market was started in 1955 by Lucille and Emmet Baer, an established auctioneer. Back then, the Rogers Community Auction was a small barn sale selling produce, eggs, and miscellaneous items every Friday. Within less than 50 years it developed into the nowadays 250 acres market with over 1,600 vendor spaces and 50,000 visitors every week.
⚠ COVID-19: Amidst the coronavirus pandemic, show schedules might be subject to change. Please consult promoter's social media and website before heading out. COVID-19 live updates
Also known as Rogers Community Auction, the Rogers flea market takes place every Friday. It is located in a small town about an hour and a half away from Pittsburgh, Cleveland, and Wheeling. It is considered the largest open-air market in the tri-state area.
The Rogers flea market keeps featuring as one of the best flea markets in Ohio. It is also an an award-winning market that attracts people from neighboring states as well. After all, Rogers Flea Market is also considered one of the top 20 flea markets in the United States!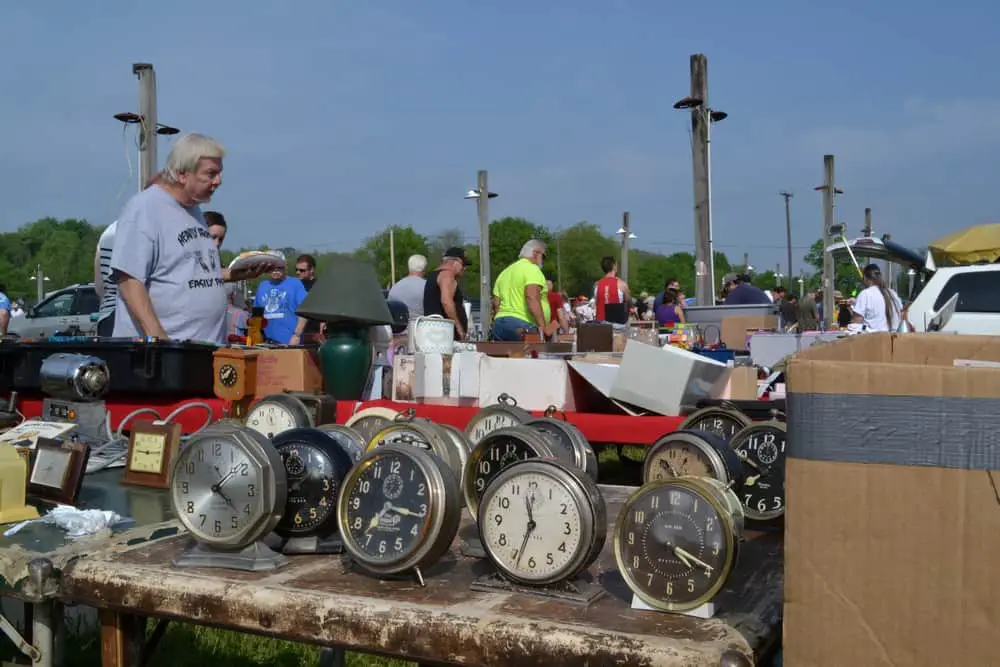 The Rogers flea market has one of the most cherished fresh produce and meat markets around the area. But lovely antiques are ready to be found and given a home by vintage enthusiasts.
Vintage, antiques & auctions
Besides the Flea Market, there's also a monthly Tuesday auction. And the Rogers flea market's Facebook page posts a list of the auctioned items the day before. So make sure you take a look at that and go there prepared. Overall, the Rogers Flea Market has a very well-documented website with maps and event dates. It also provides a detailed overview of which kind of objects you can find in each building or pavilion.
Among the many items that can be found at the Rogers flea market, visitors can buy a variety of vintage kitchen tools, silverware, old colorful tins perfect for decoration or storage, shabby-chic kitchen furniture, vintage cameras and postcards, wooden puzzles, nostalgic metal signs with quirky messages, antique garden tools, coins, and many other gems. Vintage automobiles or pick-up trucks are a rare find. But if you are a regular visitor to the Rogers flea market, you may be lucky sooner or later.
The Rogers flea market is open all year round. But Friday mornings in the summer are generally the best time to visit the Rogers flea market. Although you might enjoy the visit on a rainy day and find interesting objects at the indoor vendors.
There's no admission fee, you can easily find free parking and buses are also welcome. For those looking to combine the market visit with other local attractions, the Beaver Creek State Park may be a perfect choice for a day in nature.
Live music and local delicacies
Mary's Donuts, an Amish-run bakery, is a culinary must while at the Rogers Flea Market. The sweet, glazed goods praised by many of the market's visitors will give you some energy for the tireless walking and scavenging. You will find the place easily because there's always a long queue outside the bakery. Live music acts often spice up the market atmosphere, with artists such as Dave Morgan or the Ben Flint Band.
Overall, the Rogers Flea Market is a bustling place filled with treasures, made for very comfortable shoes, sunny mornings, and curious seekers who are ready to spend at least three to five hours in there.
Where: 45625 Old State Rte 154, Rogers, OH 44455, United States
When: Every Friday from 7.30 am to 4 pm, all year round. Select Saturday Markets: 8 am – 4 pm on the first Saturdays of the months from April to October
Web: http://rogersohio.com/
Photo by Arindam Ghosh via Flickr