Thrift shopping at consignment shops and vintage clothing stores is not only a fantastic way to score a deal. It can also get you things you might have never found anywhere else – think a genuine vintage dress made from hand block-printed silk or a pair of leather boots that's been perfectly beat-up over the years.
Unfortunately, rummaging through thrift racks at the flea market or at second-hand shops in search of vintage clothing and accessories does take a lot of time and effort. Which means you really have to enjoy the process as much as the final product. However, one great alternative to brick-and-mortar thrifting (and if you want to cut down on your work), is online thrifting.
The most obvious resource for buying vintage clothing online, are Etsy and eBay. While both websites let you search for hundreds of thousands of vintage garments and accessories at any given time, the first is built on a direct sales system, while the second relies on both direct sales and auctions. It is generally advised to first search for vintage clothing you affectionate, and then use the list of results to narrow your search and find vendors who might be of interest (as a rule of thumbs, if someone is selling something nice, they might as well have other nice items in stock).
As you're probably aware, there are lots of websites outside of Etsy and eBay, that specializes in selling vintage clothing online. However, with most online portals full of excessive options and information, it can be exhausting to find specifics when it comes to vintage clothes. And what about price comparisons? Quality vs. quantity?
Well, fret no more because we've done the research for you. From big emporiums to more "curated" selections, we have made a selection of useful websites and links to help you fill your wardrobe with stunning vintage pieces, directly from the comfort of your home. Here are some of our favorites online shops to buy vintage clothing.
Thrifting From Home: 5 Websites to Buy Vintage Clothing Online
#1. Rokit London: the regular haunt for style savvy vintage enthusiasts
For many vintage clothing enthusiasts, Rokit is the number one choice for vintage clothing and retro treasures. Rokit burst onto the vintage clothing scene as a market stall in Camden back in 1986, specializing in vintage denim thrifted from American cowboys. The demand was so fierce that within a few weeks the stall was replaced by a store on the high street.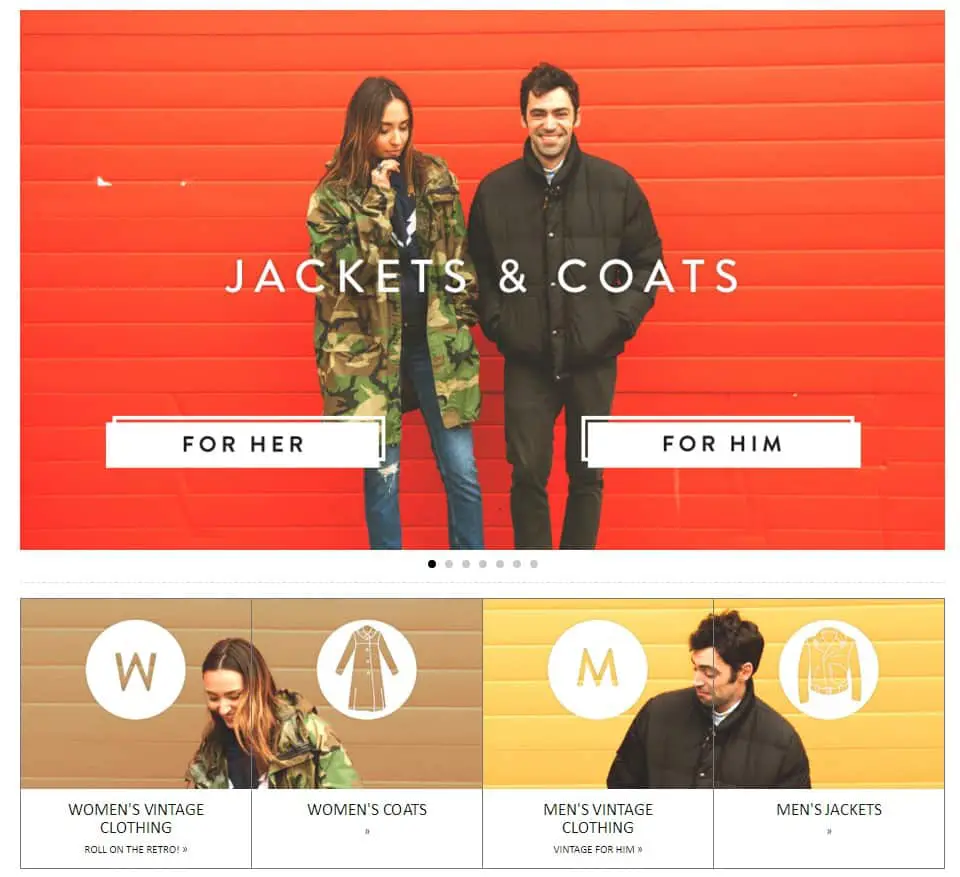 Rokit has since grown to open four stores in various locations across London including Brick Lane and Covent Garden, each of them bringing Rokit's diverse and unique product range to a loyal band of regular customers, celebrities, and tourists alike.
Behind the scenes, Rokit's team of vintage experts are all gathered under one roof in one of the UK's biggest vintage warehouse. Every day, hundreds of unique items are handpicked and sent to Rokit's all four London stores and added to the website.
Rokit's product range includes pieces dating back to the 30s up to the 1990s, and taking in every trend from every decade and discernable street styles in between. Last but not least, each and every garment is freshly laundered, pressed, and carefully mended if needed. Unusable items are upcycled by the Rokit Recycled crew, who create and customize pieces in the upstairs workshop into seasonal trend-focused designs alongside handcrafting collections from found fabrics.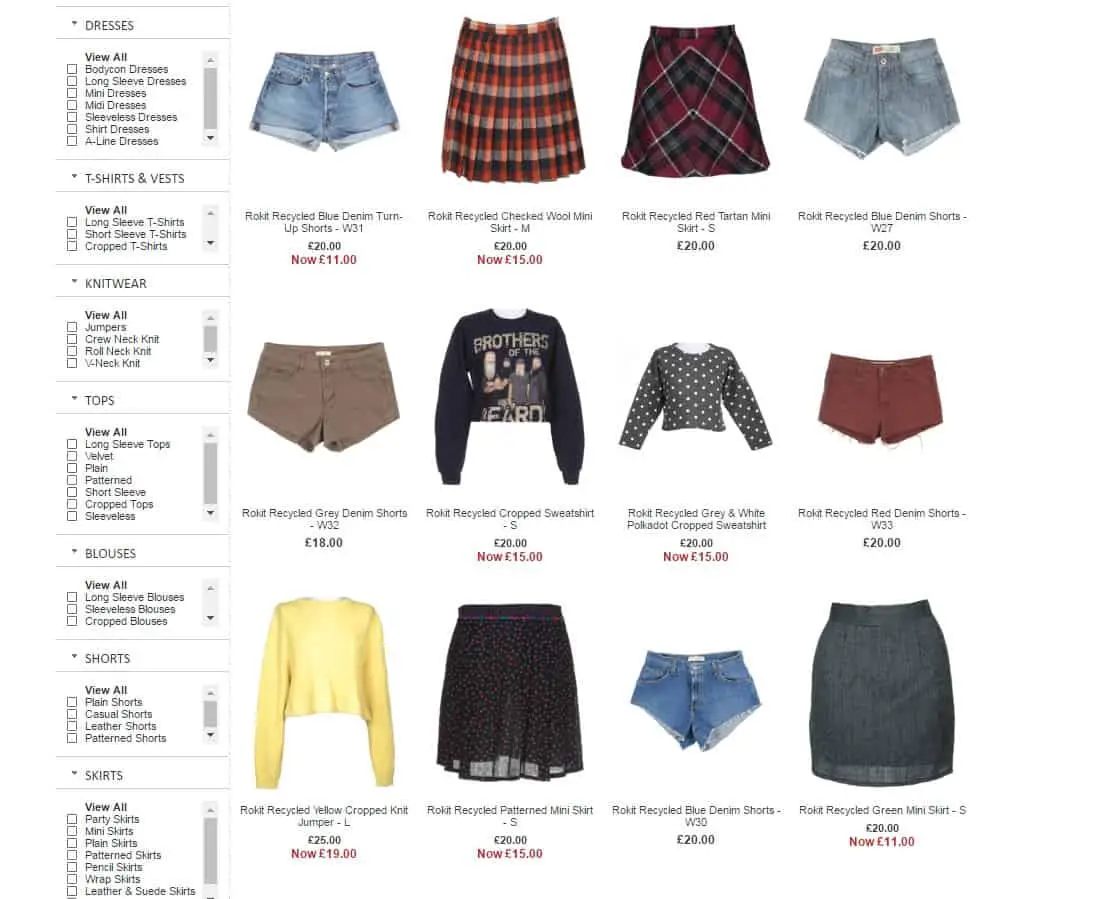 Over the past three decades, Rokit has recycled over a million tonnes of discarded clothing and accessories to become the highly regarded regular haunt for style-savvy Londoners with a worldwide online audience.
What we like: the impressive selection of vintage clothing and the Rokit Recycled upcycling crew!
Website: http://www.rokit.co.uk/
#2. Rusty Zipper Vintage: building the web's largest single collection of vintage fashion
Launched in November 1995, RustyZipper.com claims their rightful spot as the world's first online vintage clothing store, having operated as a small but committed family business since. Over the years, Rusty Zipper has outgrown the spare closet and now spreads over 9,000 sq feet of warehouse space filled with amazing vintage clothing.
As a matter of fact, Rusty Zipper has more than thirty-two thousand one-of-a-kind vintage clothing items, ranging from the '40s through the '80s. Each garment is available to view and order online since the warehouse is not open to the public (it is located just outside of the rural farm town of Scotts Mills, 1-hour drive from Portland, OR).
From Hawaiian shirts to gabardine jackets, polyester disco shirts, rayon neckties, bellbottoms, and leisure suits, Rusty Zipper has something for everyone. Each year, Rusty Zipper processes over 40,000 pounds of previously worn, vintage clothing – which means that the clothes customers are buying, help reduce the need for new manufacturing.
What we like: Most items are close to flawless and very reasonably priced, and Rusty Zipper is committed to green!
Website: http://www.rustyzipper.com/
#3. Beyond Retro
Beyond Retro began in 2002 as a single warehouse-turned-retail store in East London, filled with an eclectic range of vintage clothing sourced from around the globe. Within thirteen years, the team behind Beyond Retro managed to carve a unique identity as the leading vintage retailer across the UK and Sweden and to remain a seminal reference point for people looking for a fresh, fun and one-of-a-kind selection of affordable fashion articles.
Today, Beyond Retro boasts 10 brick-and-mortar stores as well as an e-commerce website, led by an all-star team of vintage experts, who work every day to deliver a unique shopping experience to their vintage-savvy customers. Fanatical about vintage yet extremely precise with what they carry, the designing and buying team of Beyond Retro follows a strict process to determine what they will pick from yesterday's closets (only 1 in 1,000 secondhand items found by Beyond Retro's team of trained pickers, make the cut), in order to make sure that they're always up to date with the fashion zeitgeist.
And the crew of Beyond Retro is not just composed of vintage nerds; they're also data nerds. The strength of Beyond Retro lays in the brand's ability to track the crucial fashion stats of each unique item that arrives at their East London HQ (trend, decade, size, style, and source, among others), to deliver its customers awesome vintage pieces that are truly relevant today.
What we like: Each item is crafted from reclaimed materials, so each piece is 100% unique.
Website: http://www.beyondretro.com/
#4. ASOS Marketplace
ASOS is already considered one of the top online retailers, but fewer people know of its counterpart, ASOS Marketplace, that is home to some of the hottest new brands and vintage boutiques from around the world. Vintage clothing enthusiasts will find on ASOS Vintage Marketplace, some of the best independent designs alongside quality sourced vintage from hundreds of sellers.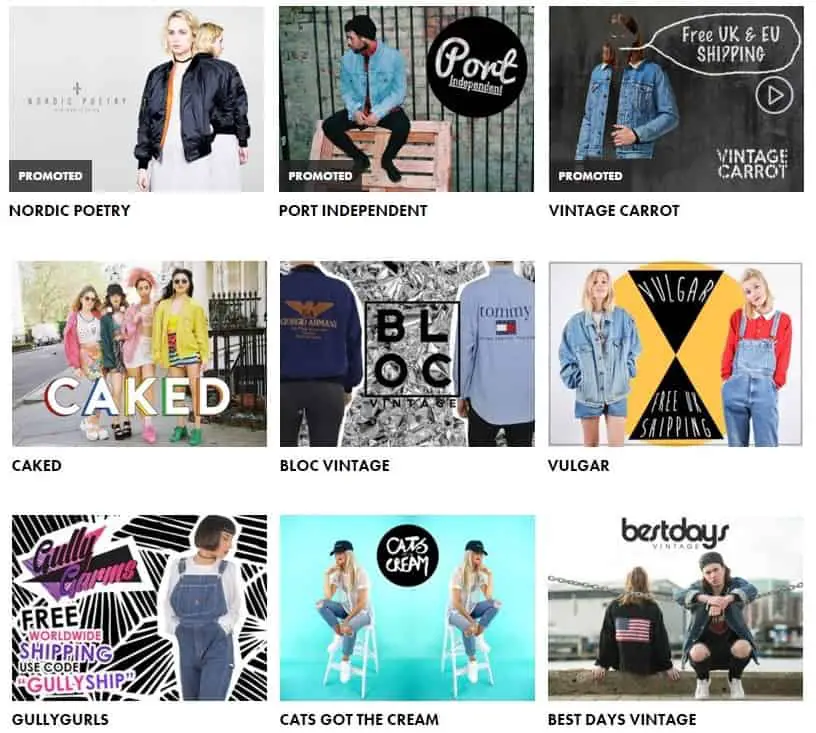 As a matter of fact, some of our favorite vendors on ASOS Marketplace include Peekaboo Vintage, Kiriko the Gang, Caked, and Bloc Vintage.
Peekaboo Vintage is a top-selling online store specialized in the 80s and 90s vintage clothing. Customers can snatch up everything from graphic tees to cowboy boots and coats too. What we like: All pieces are modeled on real people so that buyers can get a proper feel of how things fit before they check out. Website: https://marketplace.asos.com/boutique/peekaboo-vintage
Kiriko the Gang is a vintage lifestyle brand based in London via Bangkok, Berlin, and Los Angeles, therefore providing a global style perspective when looking for vintage clothing online. It is reminiscent of old Hollywood as well as British bombshell couture, with prices starting at 30 Euros. What we like: Tailored pieces including velvet blazers, party blouses, and hippie maxi dresses inspired from the 70s. Website: https://marketplace.asos.com/boutique/kiriko-the-gang
For quirky and offbeat pieces, Caked is a delicious London based shopping haven for vintage clothing online. Their abstract, geometric, and artistic attire are perfect for hipsters looking to stand out from the crowd. Bomber jackets are in stock for around 30 Euros, as well as less expensive checked shirts with vintage logos and conceptualized visuals. What we like: The limited-edition items from brands such as ELLESSE ELLESSE and Ralph Lauren casual wear starting at 40 Pounds. Website: https://marketplace.asos.com/boutique/caked
Men looking for second-hand clothe with zeitgeist will find in Bloc Vintage the perfect place to go for vintage clothing online. Their sporty, simple, and fuss freestyle makes for a satisfied and groomed player. With designer brands at wholesale prices, you can find old school Puma and Nike hoodies, sweaters, flannel shirts, and trackies within the 20 to 40 Euros price range. What we like: Vintage men's' sportswear for discount prices. Website: https://marketplace.asos.com/boutique/bloc-vintage
#5. Adored Vintage
Adored Vintage, the brainchild of Rodellee Bas, is an online vintage clothing shop specialized in vintage-inspired clothing and found wares. Based in Portland, Oregon, the store prides itself in connecting today's women with the women of yesteryear, through thoughtfully selected vintage clothing that fits in their feminine, classic, romantic, and folk aesthetic.
The first thing visitors notice when browsing adoredvintage.com is the dreamy and almost whimsical vibe surrounding every aspect of the website, from the homepage to the look book. One of the great features of adoredvintage.com is that it allows customers to shop by era (you will find real gems dating back to the '20, '30, '50), making the website easy to navigate if you have a look in mind. From a 1950s blue and white polka dot party dress to a vintage 1960s bright and cheerful yellow mod swing coat, there are pieces for every vintage queen! Shoppers can search for modern pieces too, as well as vintage shoes, hats, bridal dresses, and accessories.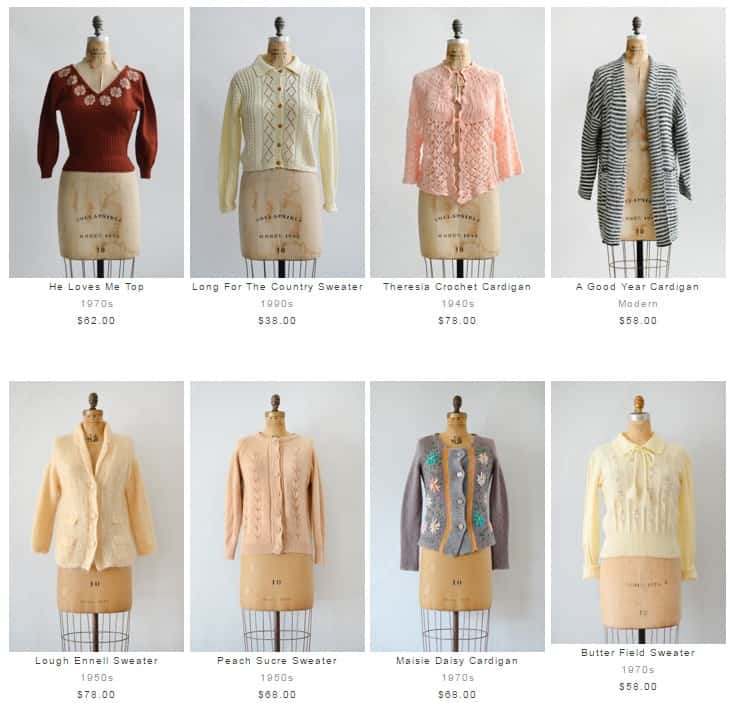 Adored Vintage also has a beautiful collection of vintage bridal dresses. Just imagine yourself wearing this lovely antique 1910s Edwardian gown in pale ecru with faint floral patterned stripes ($328), or this Vintage 1950s white chiffon ruched bodice party dress ($218). Last but not least, Adored Vintage uses a very practical Vintage Condition Chart, which specifically details the condition of each item you buy, from Mint to Fair, in order to prevent any bad surprise when it comes to purchasing online.
What we like: the majority of Adored Vintage pieces are priced under $100, which means you'll walk away with some serious steals.
Website: http://www.adoredvintage.com/
5 Things to Keep in Mind When Buying Vintage Clothing Online
Now that you have the where here is the how. Once you have an idea of what you want to purchase, here is a checklist for quality control and authenticity for vintage clothing online. Since buying vintage clothing online is not the same as rummaging through the sales rack and having a feel of touching the fabric yourself, here are some tips to make sure you are getting what you are paying for. This is to ensure the wait is over and once your package is delivered, it really is what was actually ordered in the first place:
#1. Distinguishing between what is vintage and thrift
Vintage clothing can be found on wholesale clearance sales sections, but you should ideally not find obvious thrift items in a vintage section. The concept of vintage is about having a special keepsake, items that have stood the test of time, and are essentially classic pieces. Whether it is in style, quality, and of cultural significance or heirloom pieces and accessories. The latter usually pertains to jewelry or handmade craftsmanship.
#2. History 101
While hunting for vintage clothing online, brush up on your fashion history. Analyze the images of the outfits before adding them to your wish list. Know your eras and know the style of that specific time period advertised on the website. Signs that a garment is the 1960s inspired include metal zippers, side closures, and seams as well as pastel and lighter shades and motifs. And if you are a beginner, you can never go wrong with the vintage little black dress. Whether it's Audrey Hepburn inspired or more Twiggy.
#3. Sources and Sellers
Since I've done the research for you, the above vintage clothing online portals have positive user reviews and positive feedback from buyers. It is vital that you look through the sellers' items and pay special attention to designer pieces and check for authenticity. Good people sell verified goods.
#4. The Devil is in the Details
When in doubt, ask. Vintage pieces are intricate and when it comes to motifs specific to the garment maker, find out about the original buttons, zippers, etc. This is in particular to branded goods and if it is not stated in the product description, do not hesitate to contact customer services or send a direct message to the seller.
#5. Fact Checking
What about after the fact? What if you received something from your vintage clothing online shopping adventures, but is not what you expected. There are websites that you can go to for checking if the goods are really, well good. In partnership with Glamour.com, the link below is an online platform for sending conspicuous goods and items, this applies to fake labels, discoloration, thread count, etc. http://www.fashion-vintage.com/authenticity.html
---
How about you? Are there any online market place you like to use to shop for vintage? Which ones do you particularly like, and why? Any shopping tips you use yourself to make sure that you are getting what you are paying for? Please feel free to use the comments section below to share your thoughts.