Mexico's fascinating tradition of Día de Muertos celebrations – or Day of the Dead –  has its roots in a vibrant mix of cultural influences. Dia de Muertos origins can partly be traced back to pagan times but some of the most popular elements of this Mexican celebration were invented not so long ago, at the beginning of the last century.
The Día de Muertos in Mexico is a celebration that lasts several days – from 31 October to 2 November, and encourages people to remember their deceased relatives and friends. Dia de Muertos graveyard visits are a tradition in many families, but they are not necessarily considered a sad occasion. Since it would be considered an insult to the dead to mourn them, the Day of the Dead celebrations are actually colorful and cheerful festivities that confront death head-on, but with a twist.
While representations of death in many cultures are intended to be frightening, the Día de Muertos characters are beautiful and often satirical and funny. We collected inspiring images and vintage illustrations that capture the spirit and origins of this dark, yet the colorful tradition of the Day of the Dead.
1. Día de Muertos: Fashionable skeleton ladies
Nowadays, the Calavera Catrina has become arguably the quintessential image of the Day of the Dead. Women in Mexico and all over the world recreate the look by wearing make-up, elegant traditional dresses, and flower crowns or large hats. Calavera Catrina makeup and Catrina flower crowns have become a popular Halloween costume all over the world. But where does this tradition come from?
2. Catrina Día de Los Muertos: The origins of Calavera Catrina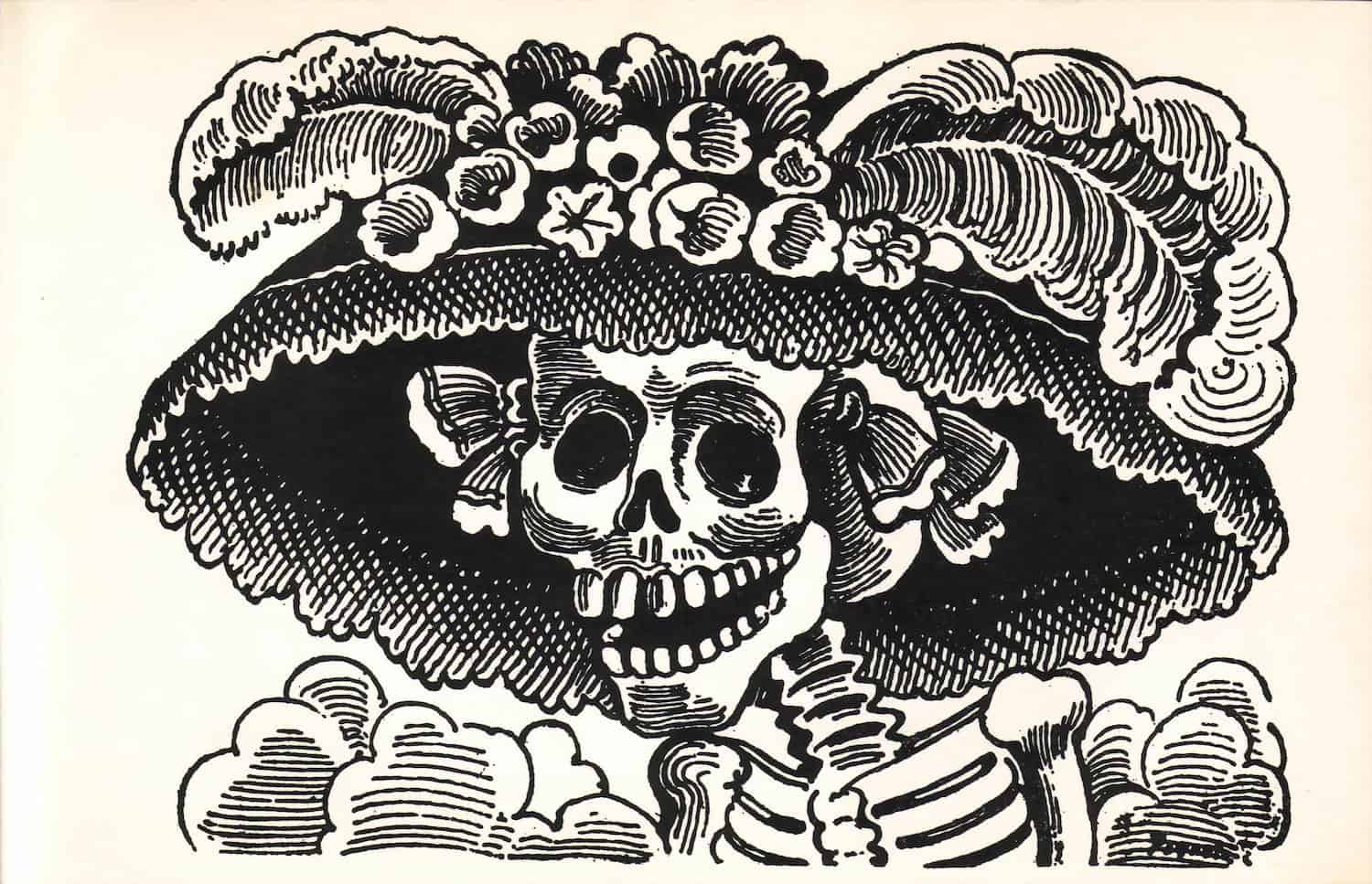 The most famous personification of death is called La Calavera Catrina, a character created by famous illustrator José Guadalupe Posada (1852–1913) in 1910. The so-called "elegant skull" (or "dapper skull") shows an elegantly dressed skeleton – a reminder that death knows no boundaries of class and social status.
3. A satirical look at death by José Posada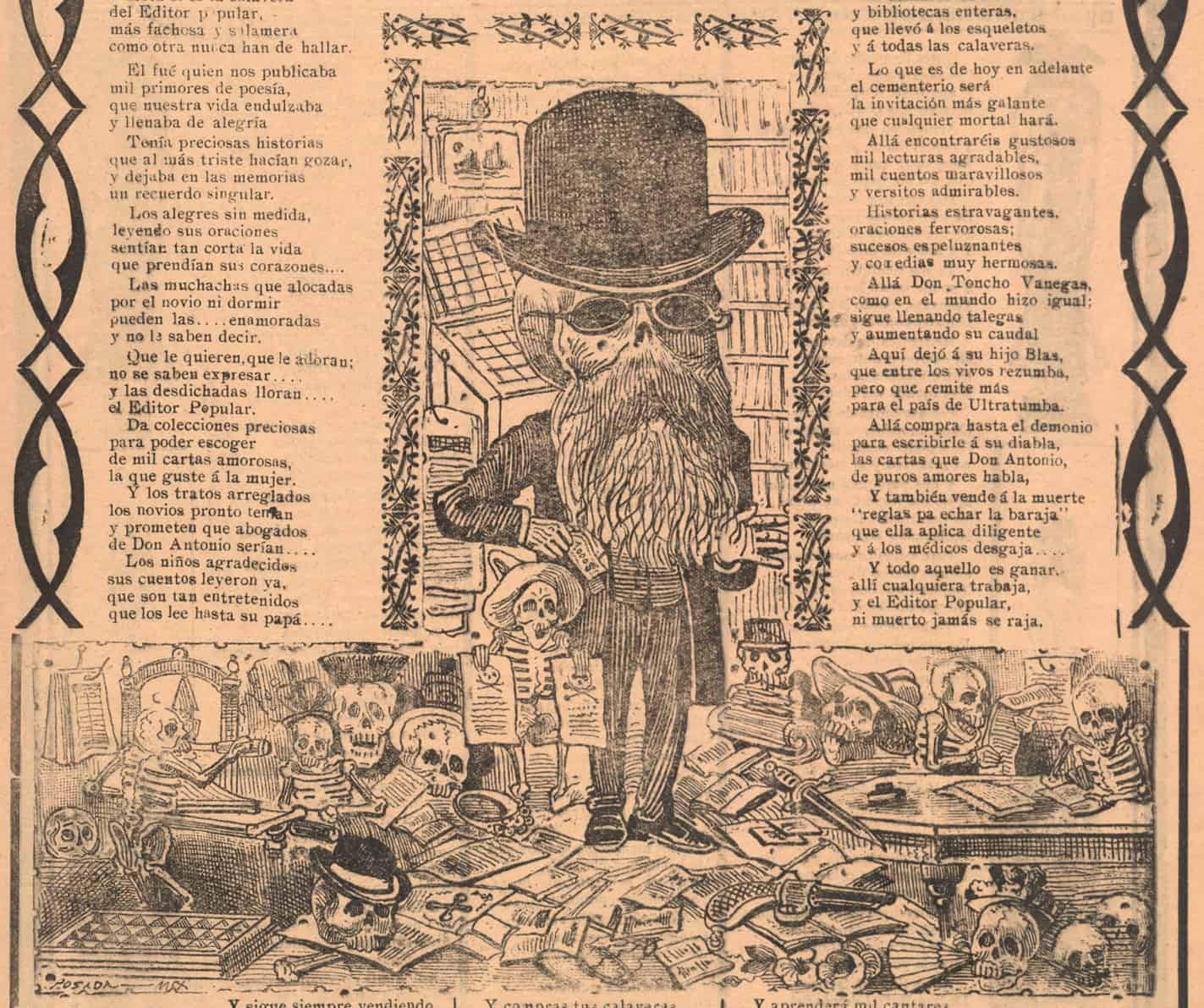 The creator of Calavera Catrina, José Posada, did not stop at only one drawing but actually produced many of his iconic illustrations of skeletal figures (Posada skeletons), at the occasion of the annual Día de Muertos celebrations. His drawings were not only amusing but often also satirical and highly political. Posada's Calaveras would sometimes appear as vain, rich people. Reminders that death awaits all of us, they were performing everyday activities like riding bicycles, playing the guitar or taking the tram. Other times, his drawings were celebrations, presenting sympathetic portraits of peasants, heroes, and revolutionaries of his time.
4. Famous skeletons: Posada skeletons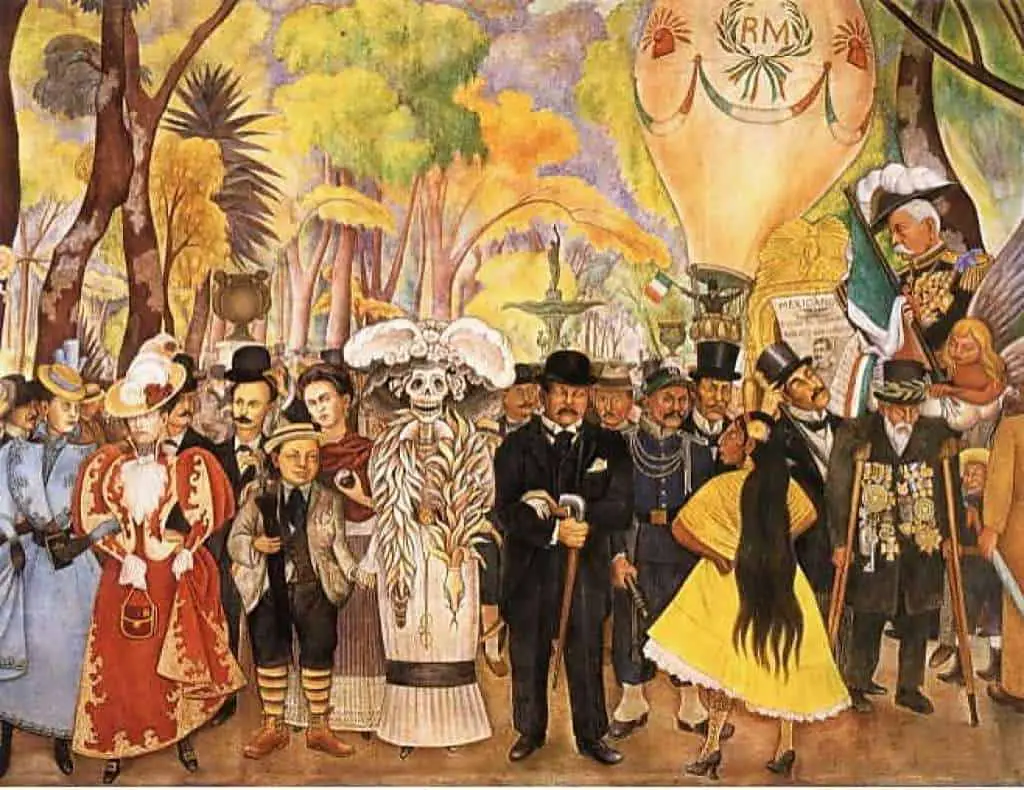 Posada's skeleton drawings became so famous, that he was even depicted in a mural at a famous hotel in Mexico City alongside his Calavera and an illustrious round of artists, poets, and celebrities of his time. Among them, famous painter Frida Kahlo and the poet Jose Marti, walking in Mexico City's Alameda Central Park. The mural was painted in 1946-1947 by Diego Rivera.
Tragically, Posada died in poverty and was largely forgotten by the end of his life. His work was mainly printed on very cheap paper, which means that only a small collection of his works remain. You would have to be incredibly lucky to come across one of his original illustrations, but if you scour Mexico's flea markets, be sure to look out for his work and hold on to it. Nowadays, Posada is considered the founding father of political and satirical comic strips in Mexico.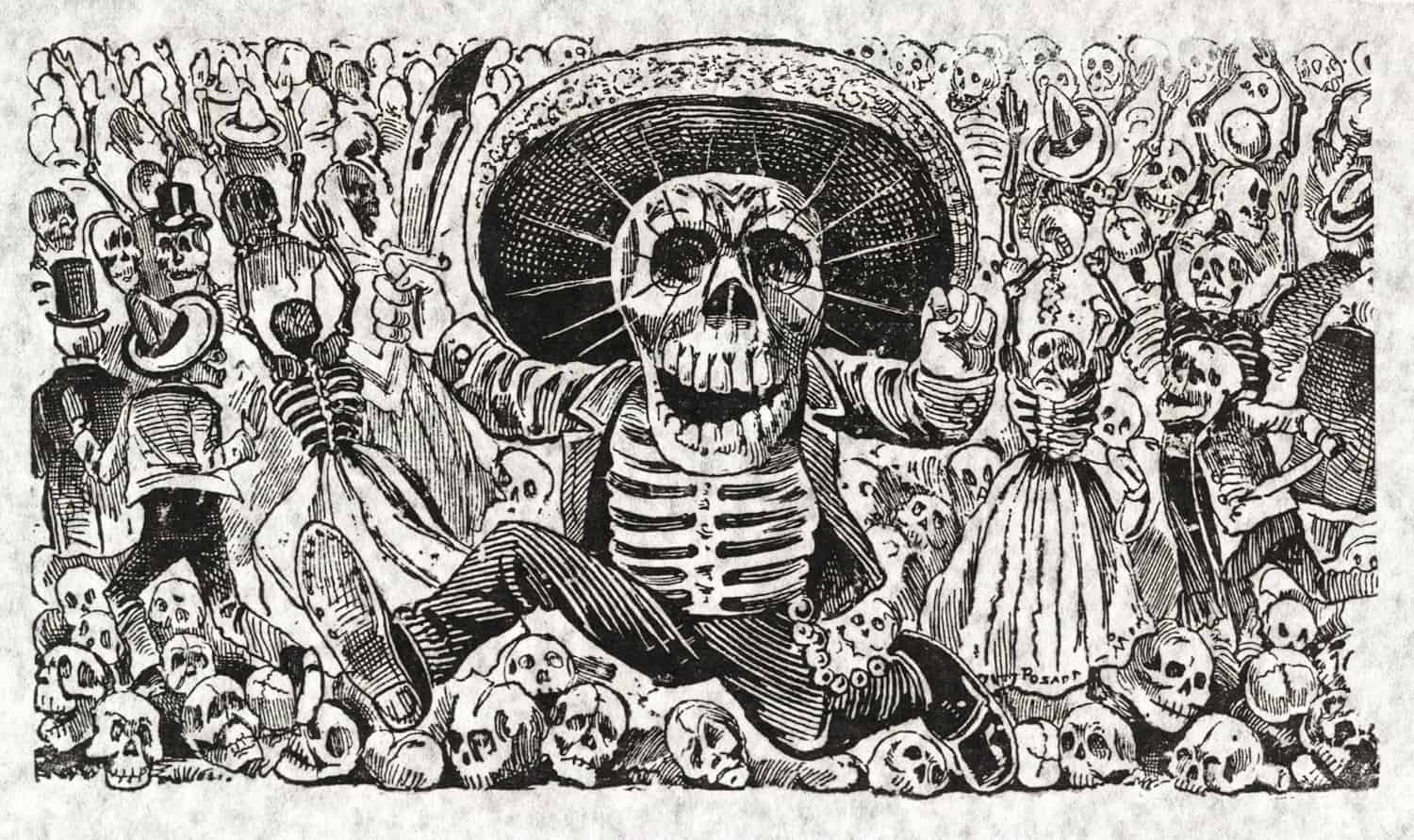 Día de Muertos Mexico: Pagan rituals translated into modern times
The Day of the Dead is celebrated in many cultures, but none has found a more colorful way to mourn the dead than Mexico. The Dia de Los Muertos holiday has roots in the Aztec culture, pagan European traditions, and Roman-Catholic beliefs. If you get the chance to visit Mexican markets around the end of October, be sure to stock up on sugar skulls (Calaveras de dulce), "death bread" (pan de Muerto) – a special type of sweet bread, and Calavera figurines (Calavera de carton) – and, if you are lucky, some original Calavera Catrina illustrations by José Posada.