Goa isn't known for specific products of any sort, but tourism lures market traders from all over India. While this means that you're unlikely to take home much that is genuinely Goan – besides a few bottles of feni (a liquor distilled from cashews or coconut milk) and packets of spices from Kerala – it also means that you can find almost anything like Karnatakan carvings, bags & bedspreads from Rajasthan, Tibetan sculptures & jewelry, as well as Kashmiri carpets.
And even though the waves of backpackers and tourists from Russia and Europe, as well as weekenders from Mumbai, has inevitably pushed market prices up, you can still find some good bargains if you know the right price.
The Anjuna Flea Market, Goa
The Anjuna Flea Market, Goa is named after the famous Anjuna beach. The Anjuna market is organized on Wednesdays on Anjuna beach. Every Wednesday, people from all over Goa come to this beach and become a part of one of the most popular shopping destinations in Goa. Shopping in Goa is a truly interesting pastime. There are a number of small souvenir shops in Goa that sell everything from antique coins to dried fish. Since Goa is mainly known for its lovely beaches, a number of people set up their stalls right at the beach to attract customers. The Anjuna Flea Market is the perfect example of this business sense.
The setting up of the Anjuna Flea Market was mainly the idea of foreigners who decided to earn some money buy selling small self made items and their own belongings. Over a period of time, the idea gained momentum and more and more people joined in. Today, it has become one of the most popular local markets in Goa.
Anjuna Flea Market – Merchandise
The Anjuna Flea Market in Goa offers a wide range of innovative items and products. Some of the must buy items sold at the market include:
European Style Jewelry
Semiprecious Stones
Incense
Embroidered Items
Hammocks
Crystals
Handicrafts
Bedspreads
Fancy Knives
Other Attractions at Anjuna Flea Market
There are also a number of other attractions at Anjuna Flea Market. You will come across professional European hair cutters and hair stylists who will cut and style your hair in the latest style or your preferred style at reasonable costs. There are also a number of body and nose piercing professionals as well as body painters who sit at the market. Be sure to bargain for all items, products and services. The market is extremely lively and you can just wander through, enjoying the bands playing music, snake charmers showing their skills and watch hippies do the juggling act.
The Saturday Night Market, Arpora, Goa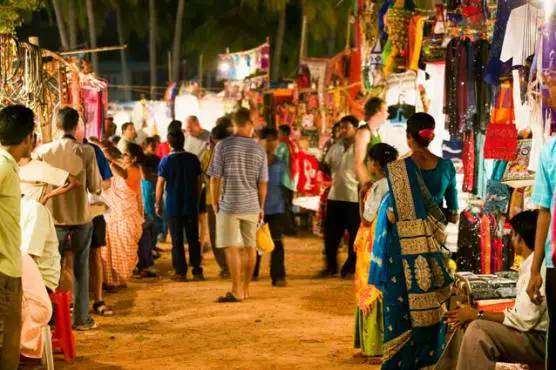 If you're in Goa for the weekend, make sure you stop by the Saturday Night Market in Arpora. Walking distance from the hip nightspot Club Cubana, this market has an eclectic selection of clothes, shoes, bags, handicrafts, jewellery, leather accessories, home décor, spices and festoons. Hippies operating out of tiny workshops sell silver jewellery for every part of the body you can imagine getting pierced, while local Goan folk have stalls laden with trinkets and souvenirs. There are also products by upcoming designers from the rest of the country. Whether you're looking for an original Desigual dress or authentic Kashmiri chappals, you'll find it here; just be prepared to look hard and bargain even harder. The market has plenty of food stalls and Goa's best restaurants are here, serving cuisines from all over the world. And if all this doesn't catch your fancy, there's plenty of live music and performances to keep you entertained for hours.
Arpora is in North Goa, a short taxi ride away from most beaches in the north. The market is opened on Saturday, from 6pm to midnight.
[source: CNN Traveller and Goa Trip]