Great news for the editorial team of Flea Market Insiders this morning: our iOS app for iPhone and iPad has just been voted one of "The 13 Latest & Greatest Apps To Download Right Now" by the lifestyle platform REFINERY29!  We haven't said much officially yet about our new app as we are still working on improving it, in order to make it the perfect travel companion. But you can already test it for yourself like the other 247 iOS users who downloaded it ; and please feel free to share your feedback: it means the world to us :)
One of the upcoming features of "Flea Market Insiders for iOS" will be the possibility to quickly access any flea markets from around the world, by location… so stay tuned for the official release, and in the meantime, feel free to share it with your fellow travelers & flea markets lovers!
"This app boasts amazing travel guides to the best flea markets and vintage and design shops from around the globe"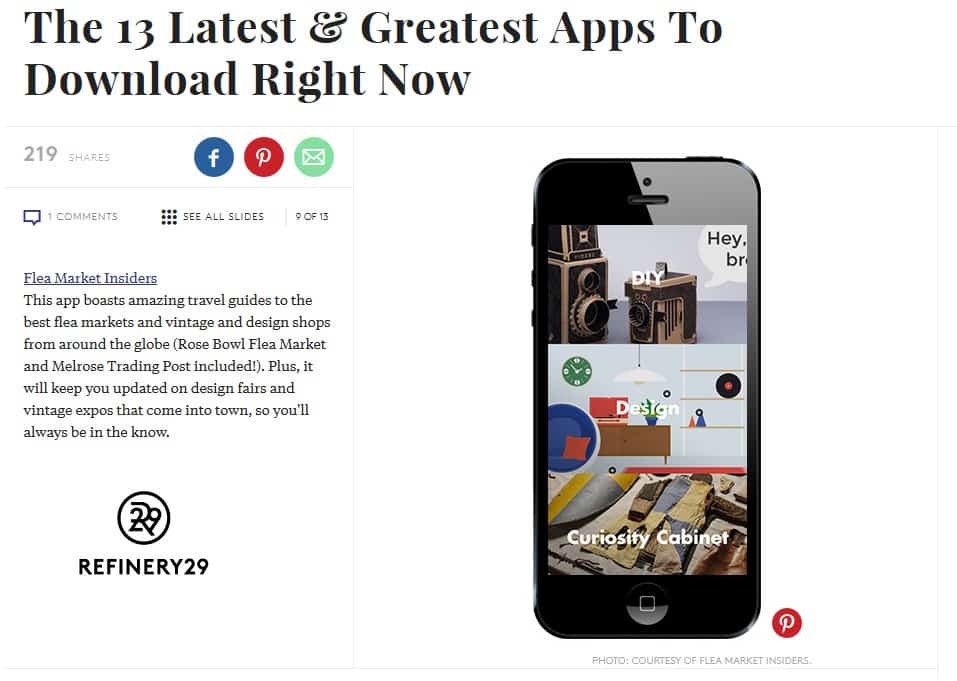 R29 in Numbers
Refinery29, the fastest growing independent fashion and style website in the United States, is a lifestyle platform that delivers nonstop inspiration to help women live a more stylish and creative life. It connects over 10 million monthly visitors and 1.25 million email subscribers with 24/7 programming covering everything from shopping and beauty to wellness and celebrities, giving readers all the tips, tricks, and tools they need to live a more beautiful life — and share it with the world.