Mercatino di Piazzale delle Belle Arti a Roma (PAUSED)
Note: this flea market is currently paused or discontinued. Our latest reviews of the best flea markets in Rome can be found here.
The Piazzale delle Belle Arti flea market takes place every fourth Sunday of the month, in the garden area immediately adjacent to the clearing of Piazzale delle Belle Arti, located below the hill of Parioli (between Viale delle Belle Arti, Viale Titian, Via Fratelli Archibugi and Via Flaminia). The location of the flea market, provides a 360° view of the surrounding area, in particular of the river Tiber. Therefore, a trip to the Piazzale delle Belle Arti flea market is a reward on its own, even if you don't take anything back home.
⚠ COVID-19: Amidst the coronavirus pandemic, show schedules might be subject to change. Please consult promoter's social media and website before heading out. COVID-19 live updates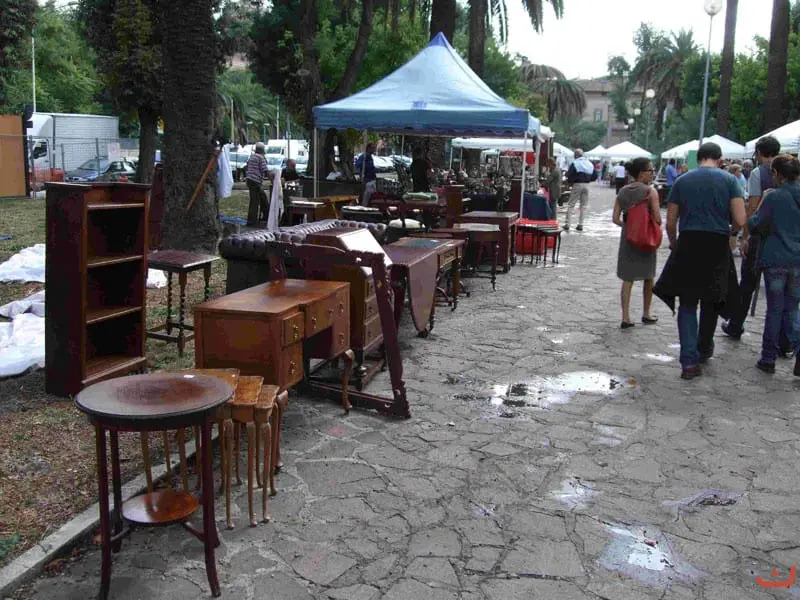 The Piazzale delle Belle Arti flea market hosts about 100 booths and more than 80 professional sellers, showcasing furniture and antiques, vintage crafts and collectibles gathered from around Italy and the rest of Europe. The flea market also offers a selection of vintage clothing and accessories, as well as regional products. Some contemporary artists, especially painters belonging to the school of Via Margutta in Rome, offer their paintings and drawings for sale.
The Piazzale delle Belle Arti flea market is frequented by a regular and attentive audience, animated by a lively curiosity and a true passion for arts and antiques.
Where: Piazzale delle Belle Arti – 00196 Roma, Italy
When: Currently paused, but should resume later this year. It is normally held every fourth Sunday of the month, from 9 am – 8 pm
Read: Full review of Piazzale delle Belle Arti flea market on Fleamapket