Intro
The custom of "chacharear", ie in spanish, to buy, sell and trade used items, dates back to before the Mexican colonial period, since in the seventeenth century the first market of "Baratillo" (or cheap stuff) already existed in the Zócalo (Historical center) of Mexico City.
Now, as a result of the worsening economic crisis and the growing unemployment rate in Mexico, "Tianguis" (flea market booth in mexican spanish) quickly started to spread on Mexico City's asphalt as ivy, with more ramifications that invade new streets.
Tianguis ("Mercado de Pulgas" in spanish or flea market), is a word of Náhuatl origin (the language spoken by the Aztecs), and as already mentioned above, is also called "baratillo", and "tenderete" in other spanish speaking countries.
The famous Lagunilla of Mexico City is the most traditional flea market in the city. This flea market takes place every Sundays and is attended by a variety of individuals, from antique dealers, to city dwellers and tourists in search for antiques ("antigüedades" in spanish).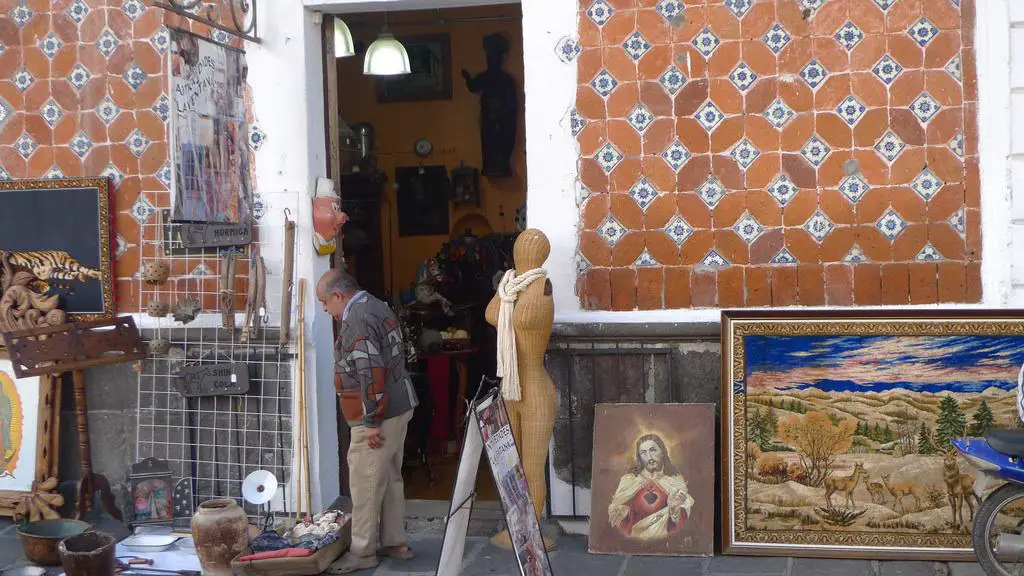 Historically, everyone in Mexico City has at least once in his lifetime heard the phrase: "I bought it in la Lagunilla flea market". There is even an anecdote according to which Guillermo González Camarena, the famous Mexican engineer who invented the color television, strolled the second hand booths of Tepito flea market and La Lagunilla flea market, looking for parts that allowed him to build his first video camera in 1934.
In la Lagunilla flea market, there is practically a little bit of everything, for everyone: While strolling down the stalls, a Philco radio from the early twentieth century emits the hard chords of a "danzón de Acerina", while Carlos Ibarra, a local bookseller, tells us that he is selling some part of his private library with the goal of creating a "postcard museum".
He explains us the importance of deltiología or the study of postcards, as this science allows our generation to see how a city, its buildings and streets used to look like in the past, which is essential in Mexico: "if there is something we have dedicated ourselves to, is to destroy our architectural heritage".
Jorge Zavala, a famous architect and restorer of historic monuments in Mexico, is an assiduous visitor to La Lagunilla flea market, where he hunts for books, masks, bottles, ceramics and other arts and crafts from nineteenth and early twentieth centuries. Jorge Zavala owns an impressive collection of Mexican masks, he started to put together 25 years ago, when La Lagunilla flea market used to showcase more books and antique furniture than now. Today, you can find all kinds of antiques, both originals and replicas.
Maria Felix, the diva of Mexican cinema, was also a prominent antiquarian. In 2001, shortly before her passing, she participated to the first Art and Antiques Fair, which was held at the Franz Mayer Museum.