Just like the way you dress, the kind of watch you wear tells a lot about who you are. And if you are looking for something more [pick the right adjective] original, pioneering, novel, pristine, quaint, or off-center than the regular watches available at your nearby watch dealer, be aware that there are some manufacturers out there who regularly release amazing – and affordable – models.
Here are our four favorite wristwatches of the summer.
---
Withings Activité: A Pure Blend of Traditional High-End Craftsmanship and Digital Technology
---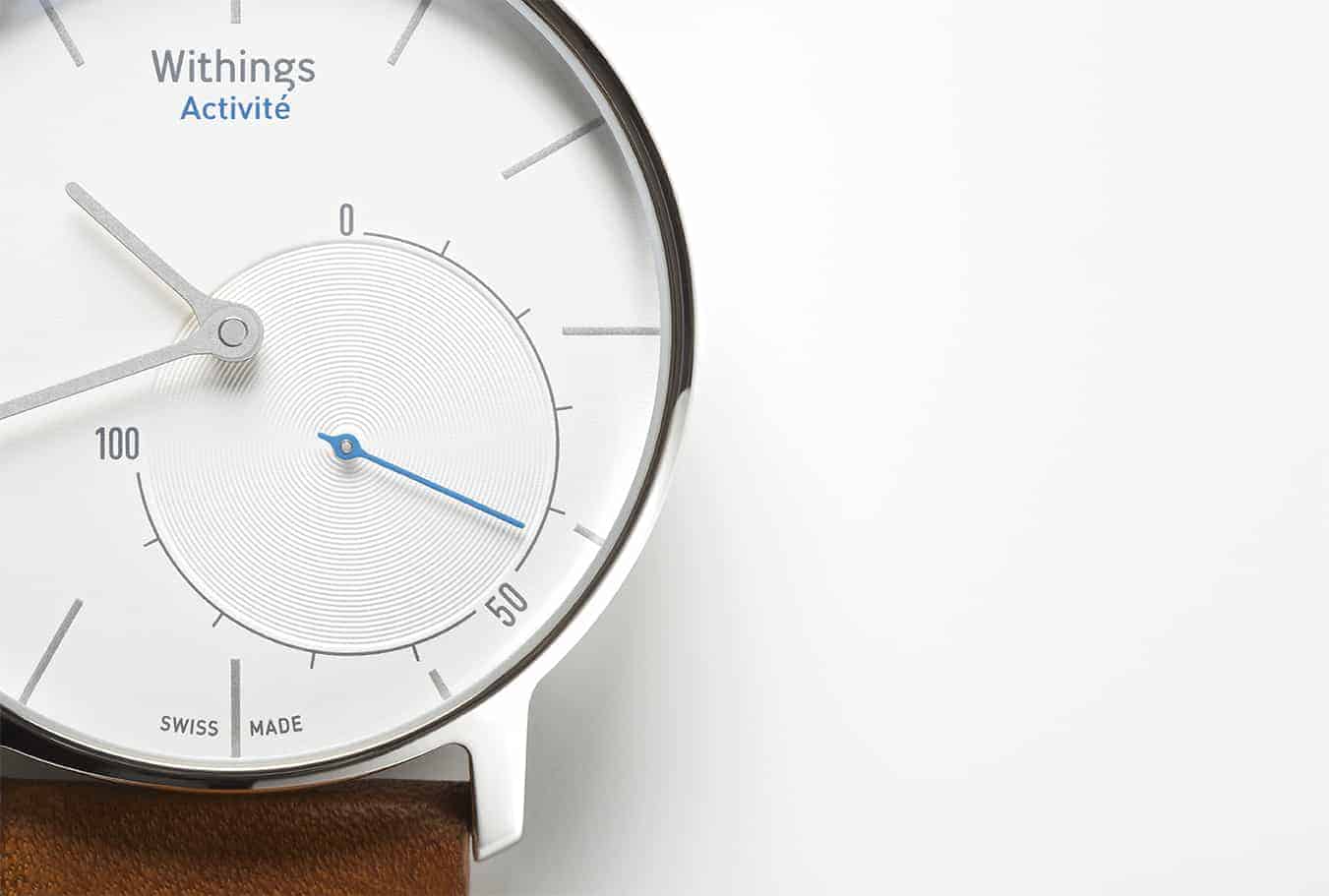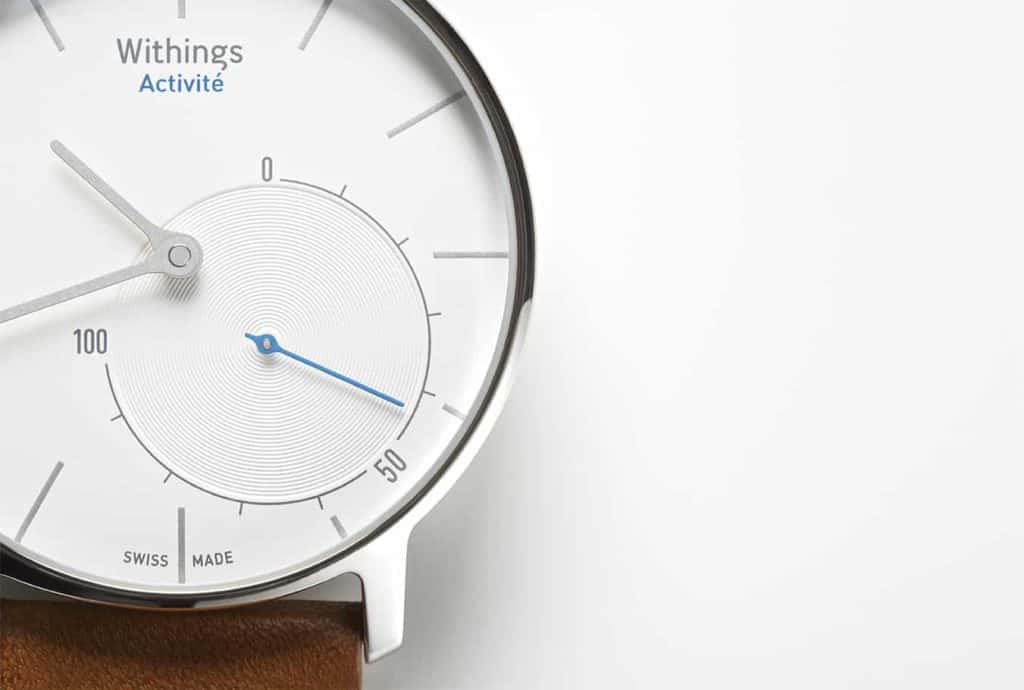 The Withings Activité sports dimensions and attributes of more discreet analog-era character, embedded with an array of active SmartWare technology. Under the guise of a very fine-looking timepiece (inspired by the original French pedometer, created in 1723 – a quick peek at an early pedometer at Museo Galileo shows that maybe that's not far off point) the Activité actually shares more features with rival fitness band makers like FitBit and Jawbone, than the device's wind-up timepiece heritage projects.
The two hand dials do indeed tell the time as watches have been offering for ages, but it's the smaller inset third dial that presents the user data tracks according to predefined activity goals set by the app, Withings' HealthMate app for iOS. The smartwatch and app work together to keeps tabs on the user's waking hour activity, including steps taken and swimming strokes, with sleep monitoring to aid wearers to establish 24-hour optimal habits. Reach your goal and the "100″ mark and the watch vibrates.
---
DURR: A Watch that Shivers to Investigate Time
---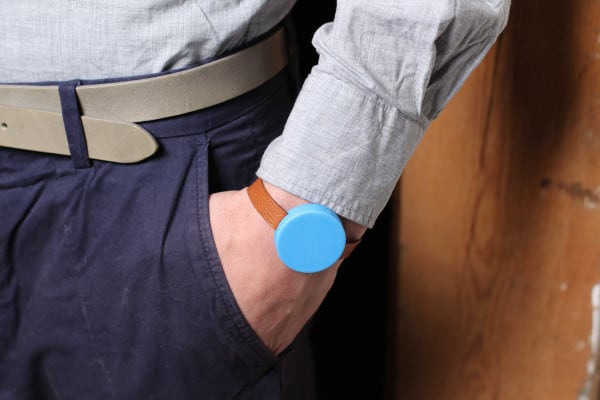 Handmade in Oslo, DURR is a simple, colorful little watch that shivers every 5 minutes to further investigate the subjective nature of time… Even though each 5 minutes chunk in an hour is objectively equally long, subjectively, however, it varies. In our head, time speeds up and down. Our ability to accurately estimate durations depend on a range of factors. With Durr you become aware of how your brain alters the length of a bus ride, how fast you finish a beer, how time flies by when you enjoy yourself and drags along when you wait in line at the post office.
"Standing in line might seem like forever. Great parties fly by."
By shivering every 5 minutes, the wearer can clearly feel how 5 minutes of waiting can feel extremely different than 5 minutes of watching TV. Pretty straightforward… and artsy.
---
Grovemade's Wood Watch: The Wood Watch Evolved
---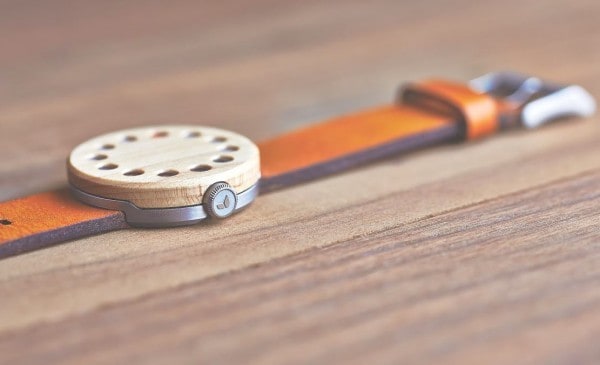 The Grovemade Wood Watch, designed in collaboration with Stefan Andrén, is timekeeping evolved. Instead of taking a typical watch and replacing the metal and plastic components with wood, Grovemade created the Wood Watch from the ground up, starting with a Japanese movement. Each material used was considered for its specific properties: a stainless steel core brings strength, the finest domestic vegetable-tanned leather straps soften with age, and the unique grain and beauty of premium American hardwoods (Oregon Claro Walnut and Eastern Hardrock Maple) are exhibited on the watch's face.
""The Wood Watch doesn't try to replace your smartphone; it offers another way to experience time.""
Starting at $199, the watch is available in Eastern Hardrock Maple or Black Walnut, hand-sanded and oiled for Grovemade's signature finish. There is also an option for a circular or square dial, and a leather or silicone strap. It will be available in Winter 2014.
---
Bottle Watch by Industrial Facility
---

The Bottle Watch is a unisex, analog watch with raised nodules around its glass perimeter, similar to those found on the bottom of a glass beverage bottle.
The unisex analog watch was conceived when the designers noticed that there are often exactly sixty of the nodules on any typical beer bottle. The function of the tiny raised extrusions is to avoid suction between the bottle and a flat surface. As a result, this observation allowed Nava Italia to correlate two, otherwise, distinct objects: a timepiece and a bottle. The nodules create a striking iridescent appearance on the watch when light hits its face at various angles.