Across Australia, Round She Goes Fashion Market is a must-see pilgrimage for any vintage fashion lover. The multi-award-winning market features over 60 stalls each selling unique vintage and exquisite designer clothing alongside stunning handmade jewelry, interesting crafts, and plenty of other accessories. With events in Melbourne (60 stalls), Sydney (60 stalls), and Adelaide (50 stalls), Round She Goes proves time and time again to be a perfect haven for a spot of retail therapy.
The stallholders are hand-picked and range from professional sellers all the way down to people just wanting to declutter their wardrobes. Don't be surprised to come across high-quality brands such as Marc Jacobs, DKNY, YSL, and Michael Kors alongside your more unique and traditional vintage designs. It would be impossible to attend this event without finding at least one item to fall in love with.
Tailored for the women's fashion world, Round She Goes will dazzle and amaze its visitors with its range of beautiful shirts, blouses, jeans, skirts, and dresses. See if you can discover your new favorite designer with a whole host of local emerging talent showing off their collections. Handmade jewelry stalls really stand out with some unusual and remarkable designs that will be the envy of all your friends.
Vintage Heaven at Round She Goes
Entry is a mere $2 per person and with hundreds of products at fantastically low prices, a red carpet to give you a special welcome, and amazing giveaways from stallholders throughout the day – Round She Goes certainly delivers on its promises – an excellent fun-filled day out for vintage shopping without breaking the bank.
If you ever fancied yourself as a designer, or want to create your own vintage print then Round She Goes has the stall for you. A 'Vintage Fashion Pattern Workshop' offers visitors the chance to create their own vintage blouse design pattern. Prices for this workshop are $45 and spaces fill up fast so visit the Round She Goes website to book your spot.
One word of advice is to bring plenty of cash with you. There are some stalls on-site that accept card or PayPal payments, but not all. If you are not able to attend the next market, then have a look at the online marketplace to see if you can bag a bargain: https://roundshegoes.com.au/shop/
Round She Goes only runs a handful of times throughout the year and is a special occasion each and every time. Each event runs from 10 am until 3 pm so it is worth getting down early to make sure you get the best picks. For full information visit the Round She Goes website.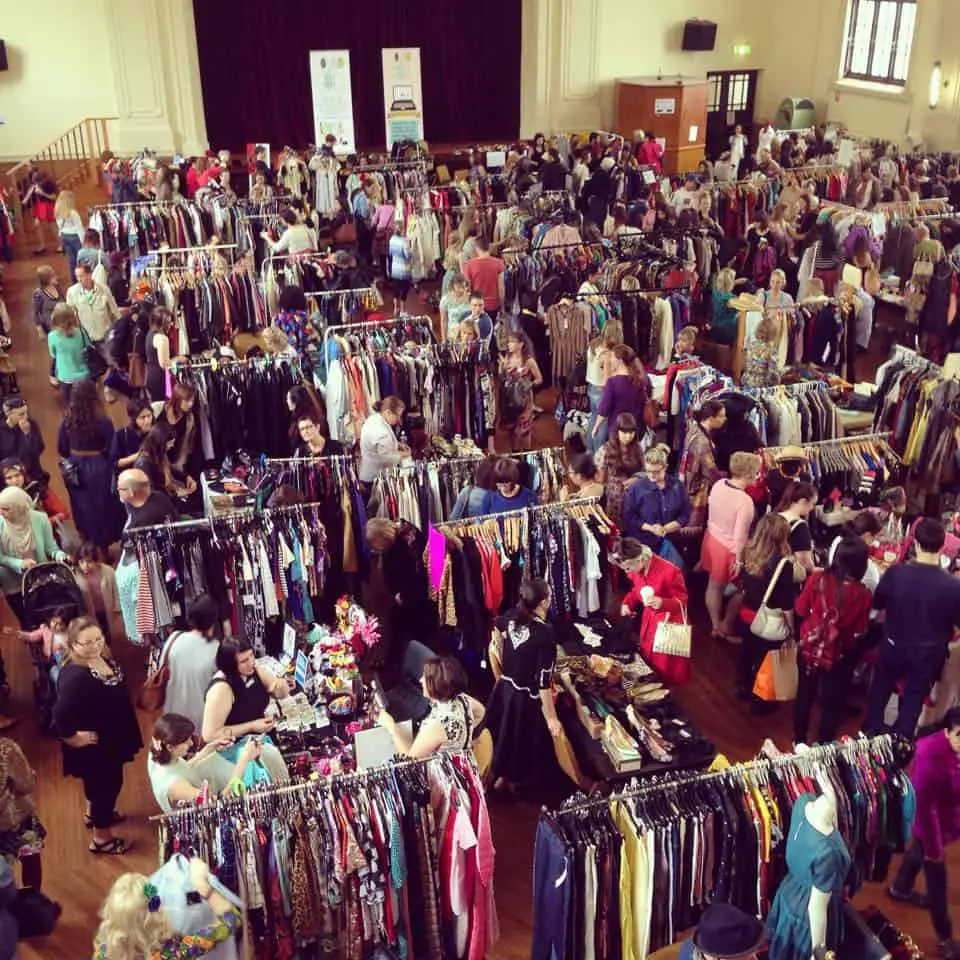 Round She Goes Melbourne – Coburg Town Hall, 90 Bell Street, Coburg VIC 3058

Round She Goes Sydney – Marrickville Town Hall, 303 Marrickville Road, Marrickville, NSW 2204

Round She Goes Adelaide – Woodville Town Hall, 74 Woodville Road, Woodville SA 5011