A year ago, on 24th July 2013, Tall Ship Astrid ran aground off the coast of Ireland, while attempting to enter the harbor near Kinsale, County Cork, and subsequently sank. Fortunately, the thirty crew members were all rescued from the tall ship. In total, four RNLI lifeboats and two Irish Coast Guard helicopters were involved in the rescue.
Astrid was salvaged on 9 September 2013, but as the cost of restoring her was too high she, unfortunately, was scrapped and broken up by April 2014.
However not everything was lost to everyone, and among the pieces that were eventually recovered from the ship, the sails and liferafts started a new existence under a peculiar shape: as travel bags designed & produced by the Irish company, Mamukko.
The philosophy behind the company founded by brothers Levente & Attila Magyar is pretty straightforward: to create authentic & original bags from selected reclaimed sails, leather & other textiles, which are all handcrafted in their workshop in Kinsale, Ireland. That's all, and to be honest they achieve that pretty well.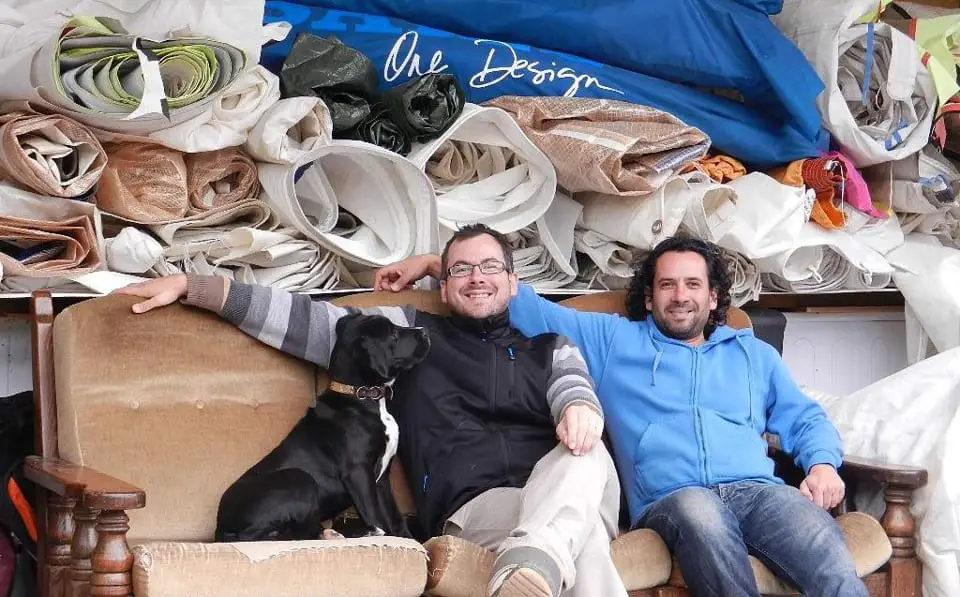 Once you go beyond the slightly bitter feeling conveyed by the idea that after all these nice bags are made from the remains of a sunken ship (even if they were no human casualties, some may find the idea a bit outraging or at least disturbing), you can't but appreciate the great work which has been done to give the sails & life rafts, a new shine & glory.
For instance, Mamukko's "Astrid Rafts" collections, are made from all four "DSB LR 97″ Astrid Tallship liferafts that were used to save the thirty crew members & passengers of the Astrid before she sank. Both the "Tall Ship Astrid Liferaft Duffle" and "Tall Ship Astrid Liferaft Rain Walker" offer a unique design and are made with the highest manufacturing standards in mind: the bags are cut into a waterproof rubber fabric (we're talking about a former liferaft here), they are decorated with brown leather components, are stitched to industrial strength with Adler sewing machines, and last but not least, every collection is available in a limited number of units (20).
Some of the bags of the "Tall Ship Astrid Liferaft Rain Walker" also feature an original liferaft valve on the side… talking about something really unique…
And that's no wonder why the "Astrid Duffle" won the Highly Commended award in Accessories Category @ Best Product Award – Showcase 2014, Ireland's Creative Expo.
"Working with upcycled materials is important to our ethos of sustainable and eco-friendly product development."

Levente & Attila Magyar
If you're more into the traditional sailor bag, the "Astrid Tallship" collection, doesn't stay behind: this collectors' edition bucket bag has been made from the 1986 Astrid Tallship's canvas mainsail & new leather. Since the Astrid sails were underwater for 6 weeks, the rust and sea have produced natural dyeing of the white sails, hence giving an original and unique character to the bags (don't worry, Mamukko says that the sails have been washed carefully before being used and that only the best parts were chosen to make the bags). The pictures speak pretty much for themselves.
Beside originality and quality, uniqueness is part of Mamukko's business & motto: each one of the "off" and "limited" editions of Mamukko has a unique serial number hand-written onto the bag or on a stitched in label. Stitched-in labels are made from upcycled sailcloth, and hold the name, serial number, batch number, fabrics used, of the bag or product manufactured by Mamukko.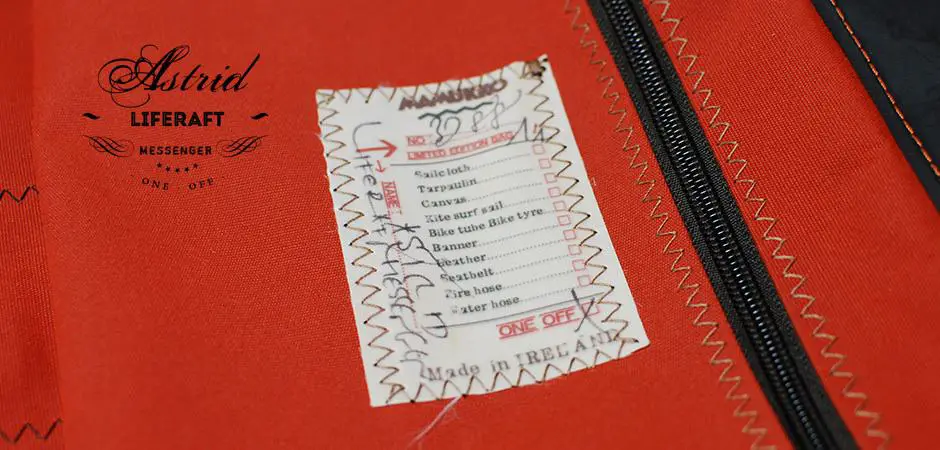 And because Mamukko is always "limited" to the fabrics they source, they only make one-offs & limited edition series. "Our business model & production style is not a traditional one. We design & make new products every single week. We keep templates of (nearly) all the products we make but as a result of the enormous amount of new designs we create we stop making some of the "old" designs", comments Attila.
Price-wise, Mamukko products don't come cheap: 495€ for a "Tall Ship Astrid Liferaft Duffle" and 375€ for a "Tall Ship Astrid Liferaft Messenger" (other products of the "Tall Ship Astrid" product line are priced under 200€ though). But you can be assured that at this price you will get something unique that will live over time. And if out of curiosity you google "upcycled sail bags" you will see that Mamukko's competitors, aren't cheap either and are far less original than what you might have seen so far.
So if you are ready to give away your quiet existence and willing to patiently answer the questions you'll be asked about "this awesome bag you're carrying", head to Mamukko's website. But remember: after that, there is no turning back; your life won't be totally the same as before.
---
Mamukko's Awards
---
"Silver Award" @ "Startup Awards 2013″ in "Green Startup of the Year Category"
"Highly Commended Award" @ "Showcase Best Product Awards 2014″ in "Accessories Category"
"Finalist" & "Green Awards 2014″ in "The Waste to Business Resource Award Category"
---
Tall Ship Astrid
---
Astrid was a 42-metre (138 ft) tall ship built in 1918 in the Netherlands as a lugger and originally named W.U.T.A. She was later transferred to Swedish ownership, renamed Astrid and sailed on the Baltic Sea until 1975. She then sailed under a Lebanese flag and was allegedly used for drug smuggling. After being found burnt out on the coast of England in the early 1980s, she was overhauled and used as a sailing training vessel. She was based in Weymouth, Dorset, United Kingdom and was informally known as "Weymouth's vessel".