Viktring Flea Market gives you a true taste of the countryside whilst providing one of Austria's largest open-air markets. Be prepared to get lost in the continual rows of vendors where anything goes.
Having recently moving to Austria and requiring lots of furniture and decorative objects for my new apartment, I was offered the opportunity to visit Viktring Flea Market and discover what made it such a famous name in the Carinthia area. Having been promised a guaranteed place to find exactly what I needed, I wasn't to be disappointed.
The moment you arrive in the extensive car park – already filling up at 9 am – you can feel the country air and the buzz of excitement around the fields. At first glance, it looks like your run of the mill market with countless second-hand vendors selling the usual bric-a-brac, vintage clothing, and vinyl records. On closer inspection, you find the fields to stretch back for miles and after three hours of walking around there is still more to discover.
The vendors at Viktring Flea Market are mixed and diverse, next to one 'garage sale' stall is a specialist in antique metal advertising signs. There are relics from across the ages. If you are seeking a piece of Austrian history then there are rare coins, stamps, medals, and literature aplenty. Scattered throughout the grounds are numerous glistening crystal vases, interesting designed fine china along with retro electronic devices, and mid-century antique furniture in impeccable condition.
If you are seeking one specific item then the sheer size and range of wares available can be a struggle to hunt through. However, if you arrive at Viktring Flea Market with an open mind just to discover what is at hand then you are in for an enjoyable search.
Top Tips For Viktring Flea Market
Arriving early is a good way to ensure you find the real gems before anyone else. The range of prices from stall to stall can vary so it is advisable to get to the back of the huge market and unearth something special.
Think ahead of how you will carry your purchases. The ground can be uneven in places so wear suitable shoes.  Space is tight due to the number of stalls and people present. It is possible to leave and re-enter as you take things back to your car, but this can be time-consuming.
Some vendors start to pack away as early as mid-day so plan your shopping trip right to make sure you get to see all that is on offer.
A mid-morning break for currywurst and a spritzer is a good way to recharge ready for round two – but a potential way to enhance the likelihood of an impulse buy you normally wouldn't make. (See the photo of the dog……….)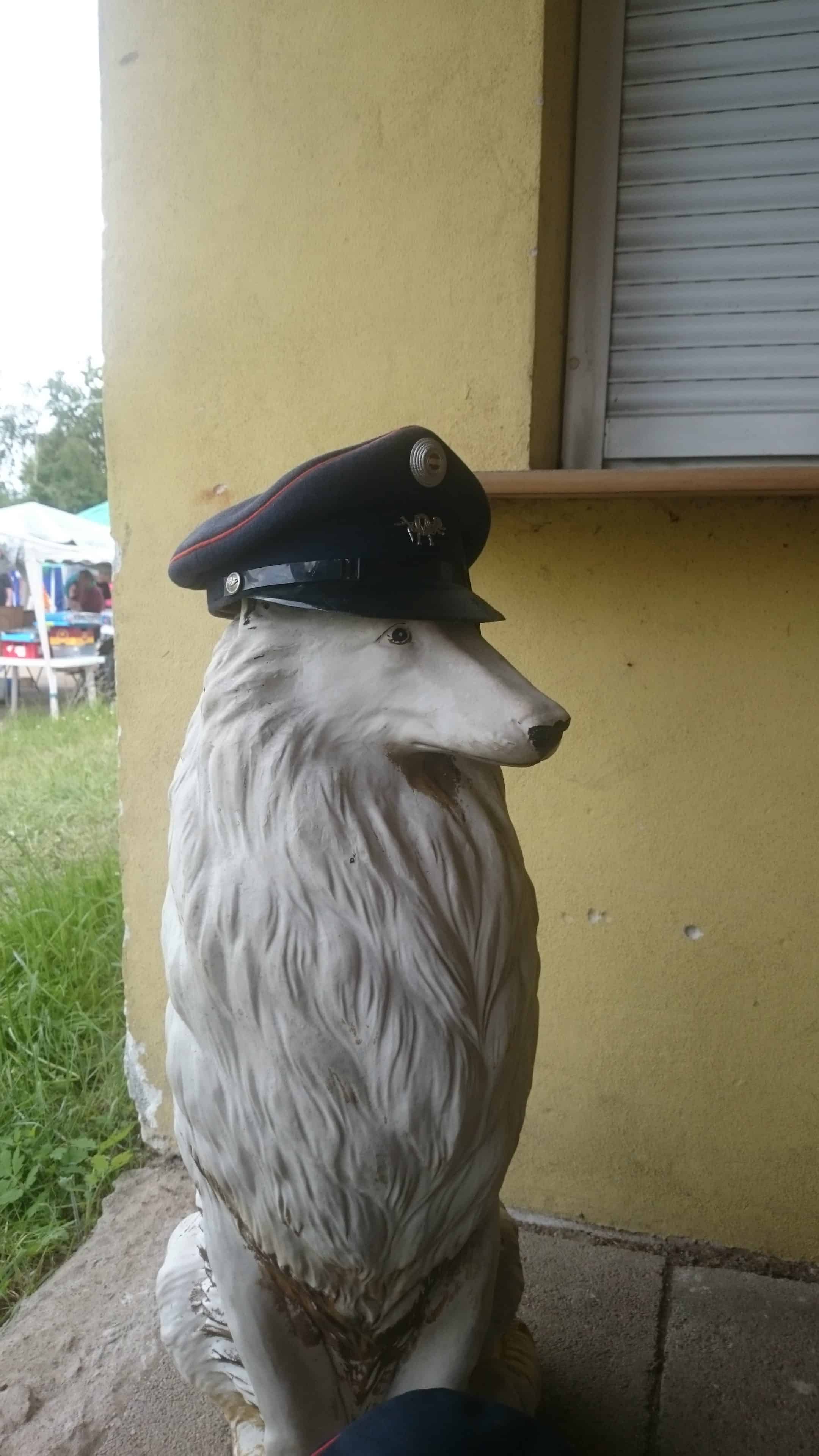 Viktring Flea Market opens at 8 am until 4 pm. Running over the May bank holiday weekend it offers a fantastic opportunity to shop and discover a truly beautiful area of Southern Austria.
Where: Keutschacher Str. 72, 9073 Viktring
When: Twice a year, on the first weekend of May and September, from 8 am until 4 pm
Web: facebook.com/flohmarkt.viktring