Derringer is a well known builder of custom, board track inspired motorized bicycles. We already wrote about the brand and its classic gas-powered Derringer "Bespoke" Cycle, back in 2012. What makes these motorized bicycles so desirable, beyond their amazing look & design, is that each Derringer bike is welded by a master frame-builder and individually hand-built to customer specification in Los Angeles, California. Talk about something unique and genuine: A real peace of art, that somehow justifies its $3,500 price tag.
As a matter of facts, the response of the market was so overwhelming and encouraging following the release of Derringer's "Bespoke" Cycles, that the company decided to take its flagship product a step further, and make it enter the 21st century. Announced back in January 2014, during its Kickstarter campaign which had unfortunately a mixed success (Derringer merely managed to raise half of its $75,000 goal), the Derringer Electric Bike has finalized its development phase and the company is now taking orders from customers.
Handmade Design made in the USA
The Derringer Electric Bike is the first e-bike from Derringer, and it is designed to evoke the styling queues of the Board-Track racers of the 1910s and 1920s whilst implementing newer, more sky friendly technologies. The new Derringer Electric captures the style and feel of its classic gas-powered Derringer "Bespoke" Cycle, and combines it with modern technology to create a one-of-a-kind mode of transport, as beautiful as it looks fun to ride. Adapted and refined from the classic gas-powered model, the frame was redesigned and CAD modeled in Los Angeles. It features chromloy construction, custom pistol shaped dropouts, and elegant flowing curves.
3 Models, 3 Configurations and Performance
Starting at US$3,500 the "entry model" Heritage Series e-bike is capable of reaching a range of 22 miles (35 km) thanks to its 37 V battery. Producing 750-watts of electric power allowing to achieve a top speed of 20 mph (32 km/h), the 37 V easily meets or exceeds most bike path speed limits. With a 4-amp charger the bike can be up and ready to go in three hours. Each bike is equipped with a lithium-ion battery capable of 1,000 charge cycles.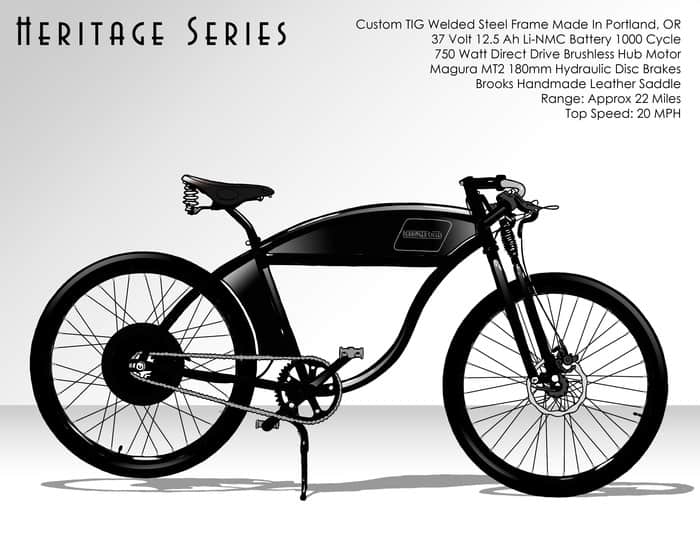 The 52 V model of the Signature Series comes with a geared hub motor which is designed to reduce weight via a planetary gearing arrangement. The faux gas tank hides the battery pack under the main crossbar and the controller sits in a vented case below the seat. Power is managed through a Magura electric throttle. An Analyst E-bike computer provides important riding information such as battery range, speed, distance and net energy. The Signature Series provides a range of 30 miles (48 km) and a higher top speed of 28 mph (45 km/h) thanks to the 2000-watts of power of its Direct Drive Brushless Hub motor. But these upgrades don't come free, as this series retails for US$4,500.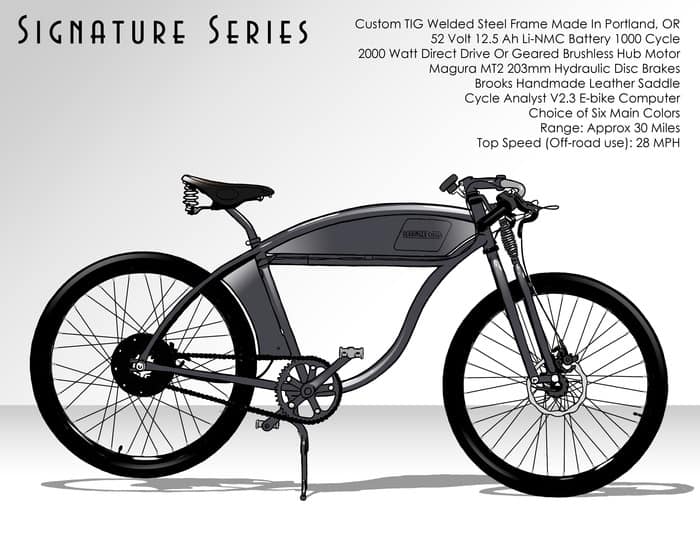 For those wanting to drop $6,500 on a seriously quick e-bike, Derringer's 63 V Bespoke Series is capable of delivering 2,800-watts of power to the back wheel. This wattage increase gives the Bespoke Series a top speed of 40 mph (64 km/h) and an improved no-pedal range of 38 miles (61 km). In addition to a 6-amp charger and a faster charge time of two hours, customers can choose seat and tire options, plus have the ability to configure the paint/color scheme on the limited 63 V edition – right down to the spokes, frame and fuel tank details.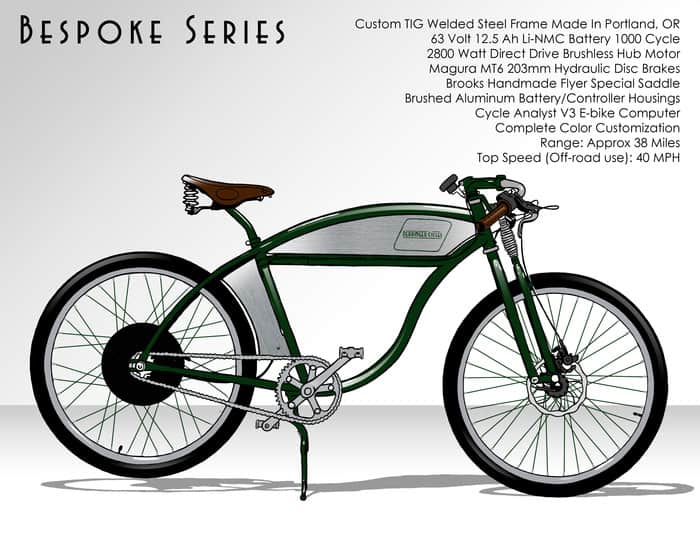 Last but not least, Derringer being known for customizability, the Derringer Electric is no exception. Depending on the Series they pick (Heritage, Signature or Bespoke), customers can have their bike tailored to their taste: from the saddle to the board track style drop bars, tire options or cruiser style risers, and even the color of the frame, rims, and spokes, as well as detail colors for the aluminum tank.
Conclusion
If you are looking for a classically head-turning styled, truly unique made in the USA electric motorized bicycle with ease of use, low maintenance, and great reliability, for daily commuting, weekend cruising, and everything in between (no oil changes ever required), you know in which direction to look for. The Derringer Electric bike should satisfy in more than one aspect, people looking for a simple, elegant, still sporty looking electric bike with a legendary touch and legacy.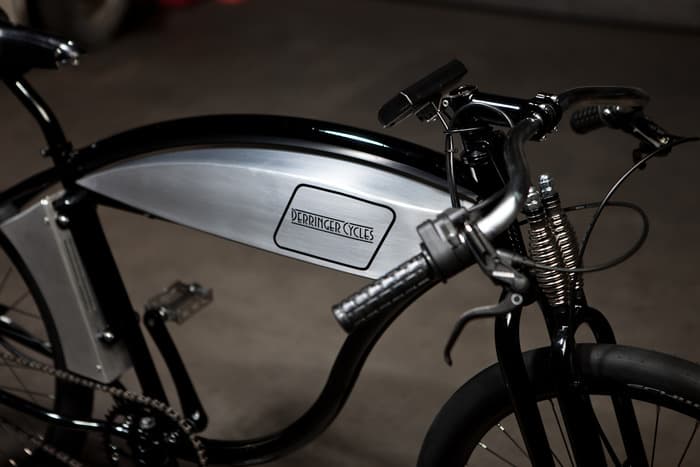 ---
Technical specifications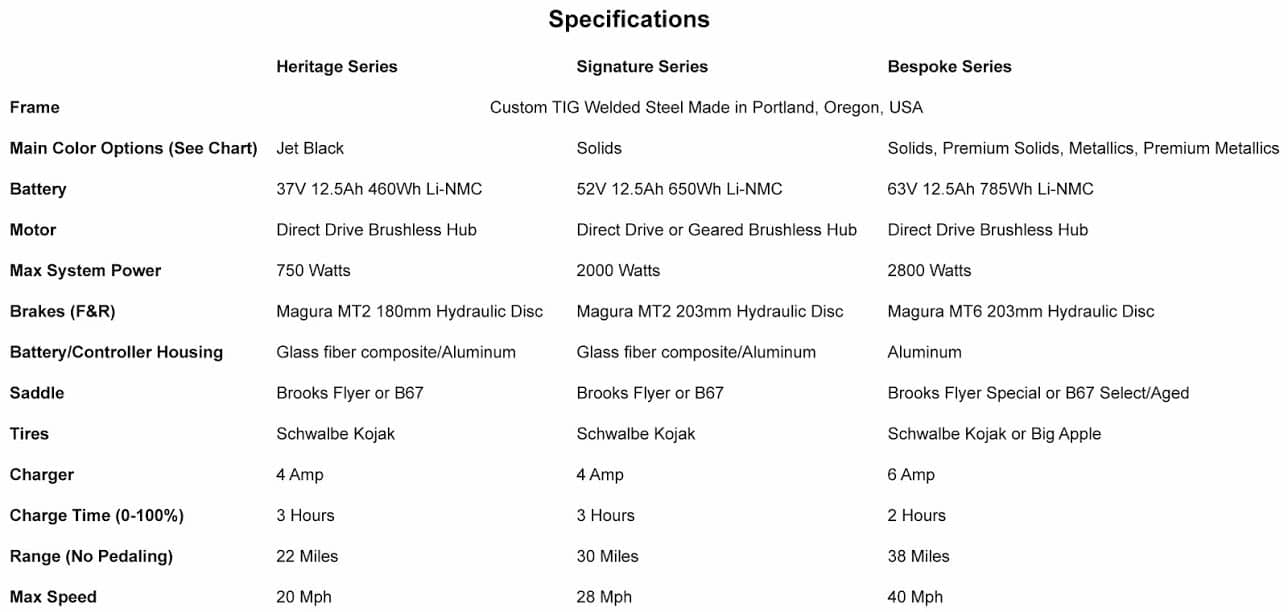 Web: derringercycles.com
Facebook: facebook.com/DerringerCycles
Photos © Derringer Cycles