If Polaroid made the joy of a whole generation in the 70s, the magic works again today ("vintagization" of our society?). However original Polaroid cameras like the iconic Polaroid SX 70 Land Camera are pretty expensive nowadays and not easy to find (and costly to operate: 8 exposures for 20 euros). There has been various attempts to bring the Polaroid back onto the market, like for instance the Polaroid Socialmatic which combines the nostalgic appeal of vintage Polaroid instant print cameras with the ability to share using the camera's built-in Wi-Fi and Android interface, or the bulky SnapJet which is merely a film printer for smartphones.
However, none of them were really convincing. Why carry an additional device when you already have a smartphone with a great camera?
That's what a french Startup figured out when they kickstarted Prynt: Their goal was to keep what was best from both worlds, and come up with an innovative still practical product.
Currently, there are two types of competing products. On one side there are the developments of the old Polaroid that are a little "digitized," but it's still a separate tool in addition to the smartphone. Not necessarily very practical. The second type of tool that has developed is more akin to miniature printers. It is easy to operate, but the user experience is not great: it is necessary to pair the printer with the smartphone, connect cables … We are far from Polaroid's original concept of getting a photo printed with one click.
The result is a smartphone case for iPhone (iPhone 5, iPhone 5c, iPhone 5s and iPhone 6) and Android devices (Samsung Galaxy s4 and Samsung Galaxy s5) that holds 10-30 sheets of paper and take fewer than 30 seconds to print thanks to better hardware integration and a direct physical connection between the phone and case (no cables, no hassle: just slide a smartphone in the case, and you're good to go). Hold the phone horizontally and you will have a hand-grip and trigger button on the right side of the Prynt case. Oh, and the Prynt case has its own battery.
Prynt also has the ability to instantly turn physical photos into videos thanks to an augmented reality feature which is built into the company's camera app: As you take a photo with the Prynt's camera app, it records a video of what your phone's camera lens is pointed at leading up to the actual moment you snap a photo, and sends it to the cloud. When you hold up the physical photo to your phone's camera with the app open, it is overlaid with a Play button that shows that video in place of the picture itself.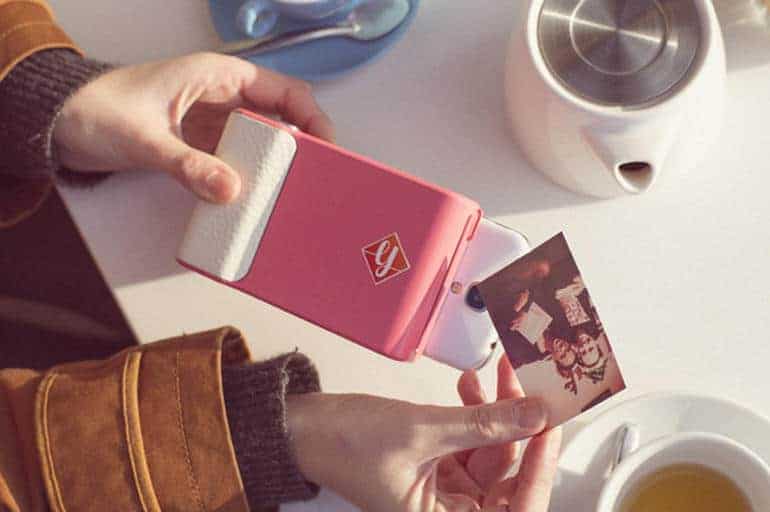 Prynt is currently running on Kickstarter and has managed to gather so far, more than US$690,000 (with still 25 days to go). Prynt is sold US$99 a pop with 10 sheets of photo paper ($25 for 50 extra sheets, which makes Prynt 6 times cheaper to operate than an original Polaroid camera). The company is also working on cases that will fit phablets like the iPhone 6 Plus.
But as dyed in the wool vintage photography lover, we think we'll stick around a little while with our Polaroid SX 70 Land Camera. Because in the end it's not always about the goal, but the journey itself.