There is an inherently synaesthetic quality to photography, a blending of the senses, a transformation of light into memories. The Polaroid 1000 camera is the embodiment of this truth, like a piece of magic candy that mixes the vibrant flavours of fruit with the evocative scents of warm summer nights by the sea.
Going deeper, the Polaroid 1000, which rolled off the production line in 1977, is a quintessential representation of its era. Wearing the bright, bold colours that defined the decade, it effectively embodied the zeitgeist of its time. It's wrapped in soft, creamy plastic, complete with round, firm buttons, a front-facing lens and the iconic rainbow stripe that has become a symbol of the brand's unique aesthetic identity. The Polaroid 1000 is not just a camera – it is an artefact from the era that defined modern photography, a nostalgic nod to simpler times.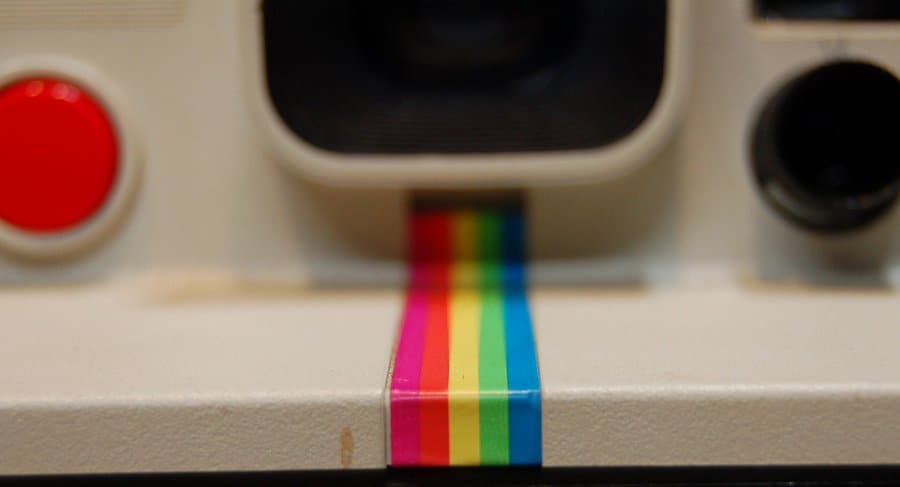 Here, the allure doesn't end. The Polaroid 1000 comes with two interesting options, one with a red shutter button and the other with a green one. It's a seemingly insignificant detail, but you'd be surprised at the passionate discussions that this little difference sparks among vintage camera enthusiasts, as they declare their allegiance to either the red or green button camp.
Unlike its siblings, the Polaroid 600 and Polaroid SX-70, the Polaroid 1000 is a non-folding camera, affectionately known as the 'box' type. Its clean, bold lines give it a daring look that reinforces its status as a creator of artful moments, sparking something spectacular with every shutter release.
Design Elements and Unique Functions
The Polaroid 1000 stands tall in the annals of camera history, endearing itself to both nostalgic photography enthusiasts and newcomers alike. Its distinctive design and its technical specifications make it an artefact of its time.
Size and Weight: Compact and Lightweight
Starting with its physical dimensions, the Polaroid 1000 is approximately 14 cm wide, 11 cm high and 9 cm deep. This makes it a fairly compact device that is easy to carry and store. It weighs around 425 grams (not including the film pack), so it's not too heavy to carry around for long periods of time, making it an excellent travel companion for photography enthusiasts. The camera's lightweight design doesn't compromise its rugged construction, giving it a sense of durability and long-lasting quality.
Design and Material: A Reflection of the '70s
In terms of design, the Polaroid 1000 is clad in a soft, creamy plastic that reflects the colourful craze of the 70s. The sturdy plastic body combined with the round, sturdy buttons, front lens and iconic rainbow stripe make it a truly memorable and visually pleasing piece of equipment. It comes with either a red or green shutter button.
Technical Features: User-Friendly Yet Versatile
In terms of optical specifications, the Polaroid 1000 has a fixed plastic lens with a focal length of 103 mm. This simple lens design is complemented by a range of shutter speeds from 1/4 to 1/200 second, allowing the camera to adapt to different lighting conditions. Despite the fixed aperture and focus, the camera offers the ease and convenience of shooting without the need for complicated adjustments.
There is, however, one caveat to bear in mind: while you're freed from the tedious task of focusing before each shot, it's important to keep a distance of around 1.5m from your subject to avoid blurred images. However, for those interested in something a little more abstract, this feature could be deliberately used to create a riot of colour for intriguing landscapes or night scenes.
The Polaroid 1000 also shares with the Polaroid 600 the 'darken/brighten' function, a feature that allows for minimal adjustments in varying light conditions. The camera also features a comfortable rubber eyepiece for ease of use and to keep out dust.
Viewfinder and eyepiece: Ensuring comfort and precision
The camera is also equipped with an easy-to-use viewfinder with a good, rubberised eyepiece. Not only does this eyepiece make framing your shots more comfortable, it also serves a practical purpose by keeping dust out and preserving the integrity of the lens and viewfinder.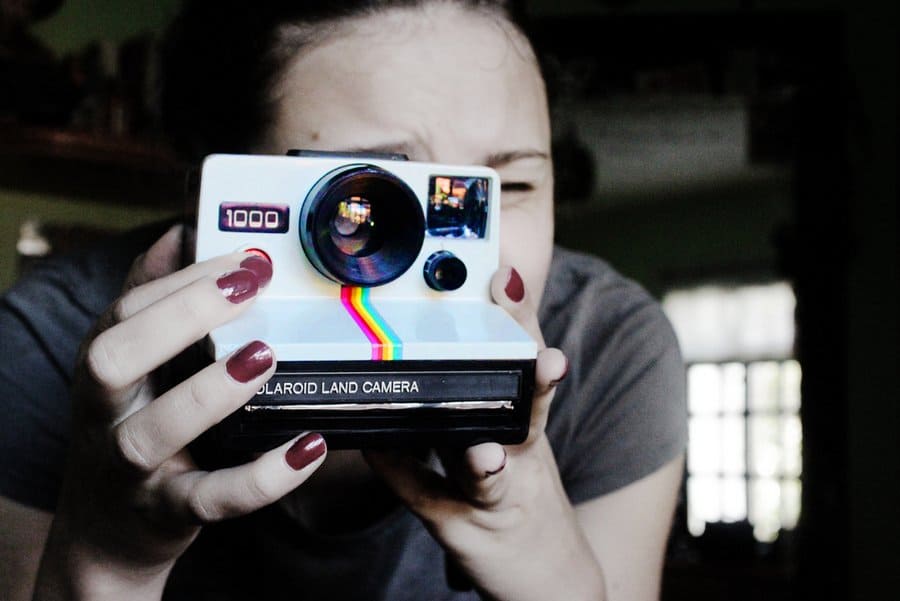 On the back of the camera is a handy frame counter – a useful tool for keeping track of remaining shots, especially when travelling, to avoid an unexpected film shortage. There's also a tripod socket on the back, but you'll need to buy the tripod separately as it's not usually included with the camera.
The Flash Bar: Illuminating the Scene
At the top of the camera is the Q-light, or flash bar. Designed for easy attachment and removal, the flash bar adds versatility to the Polaroid 1000. It blends in perfectly with the body of the camera, complementing its rainbow stripe., and works conveniently with any non-folding SX-70 camera.
Battery and Film Cartridge: Innovative and Convenient
One of the outstanding features of the Polaroid 1000 is its battery and film system. The camera is powered by a battery built into each film cartridge, eliminating the need to carry a separate charger. This innovation requires the user to make sure they use new film cartridges to ensure that the built-in batteries do not run out.
Once the shutter has been released, the photo must be developed in a dark place, such as a bag or rucksack, away from harmful sunlight.
The Polaroid 1000 works in harmony with the PX70 and PX100 films produced by the Impossible Project since 2009. With a simple online order, you can load your camera with colour or black and white film, with cartridges available in different frame colours.
Photography is a subjective art. This flexibility allows you to add mood or contrast to your subjects. Bright colours work well with black frame film cartridges, while white or gold frames seem to work better with softer, dreamier subjects. Ultimately, the choice is in your hands and, as with any Polaroid camera, spontaneous decisions often yield the most intriguing results.
Where to Buy the Polaroid 1000
The journey to owning a Polaroid 1000 could take you through flea markets, online platforms such as eBay or Etsy, or even the Impossible Project's dedicated website. When searching online, keywords such as 'vintage, analogue cameras', 'instant cameras' or simply 'Polaroid 1000' could yield rewarding results. In some markets it is also known as the Polaroid OneStep. A quick search on Etsy returns dozens of results for the Polaroid 1000.
As well as producing film, The Impossible Project also refurbishes and sells Polaroid 1000 cameras, providing a reliable, if more expensive, way of acquiring a working camera. If you're lucky, your purchase might even come with an original Polaroid leather case, either a simple black zip-lock bag or the more robust leather case designed specifically to fit the shape of the camera.
As with any second-hand camera, there may be occasions when you load new film and it does not work. This is a rare occurrence, but should it happen, a tip from Polaroid 1000 aficionados would be to remove the flash bar and then try to shoot.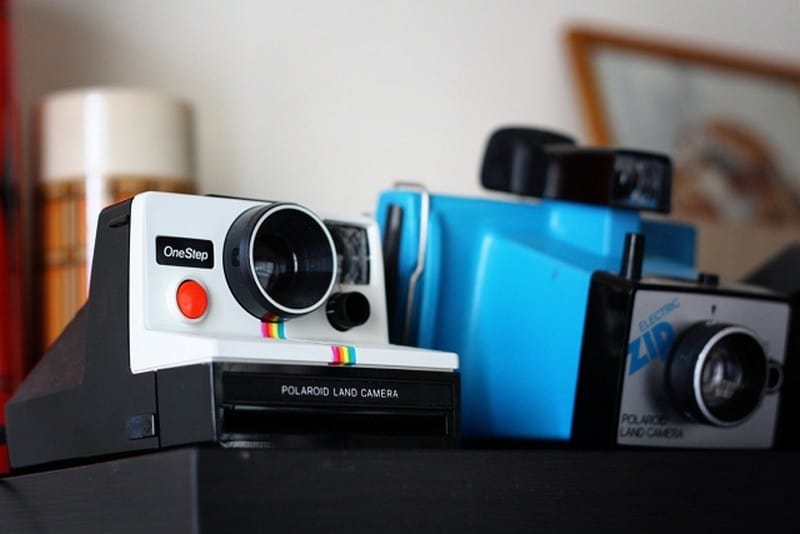 The Polaroid 1000: An Aesthetic Element Beyond Photography
The Polaroid 1000 has an appeal that goes far beyond its photographic capabilities. This timeless artefact appeals to a wide range of enthusiasts, from passionate collectors of vintage cameras to connoisseurs of retro aesthetics who appreciate the beauty of yesteryear. With its vibrant colours, distinctive design and iconic rainbow stripe, the camera has a captivating charm that adds a touch of nostalgia and visual interest to any interior design scheme.
The camera offers unconventional yet creative decorating possibilities. Instead of placing it in traditional locations such as a bookshelf or mantelpiece, consider an alternative approach. Try hanging it on the wall, using the handy neck strap. Present it in a large frame to create a unique centrepiece in your living space. Whether displayed on its own or grouped with other vintage gems, the Polaroid 1000 becomes a fascinating conversation piece, adding a sense of history and aesthetic charm to your home. It is a testament to the enduring appeal of vintage design, proving that its appeal truly extends beyond photography.
The Polaroid 1000: More Than Just a Vintage Camera
In conclusion, the Polaroid 1000 is not just a vintage camera; it is a piece of history, a marvel of innovation and a symbol of a bygone era. With its remarkable design, technical excellence and functional versatility, it transcends its original purpose to serve as a conversation starter, a nostalgic artefact and a testament to the relentless march of technology. Whether you're an avid photographer, a vintage collector or someone who appreciates distinctive home decor, this camera begs to be a part of your world.
Carrying it on your travels isn't just about taking pictures, it's about sparking fascinating discussions about the art of photography, the evolution of technology and the joy of appreciating objects from the past. Refusing to fade into the background, the Polaroid 1000 insists on standing out, attracting attention and sparking curiosity. It's an object that transcends the fleeting nature of time, offering a unique blend of beauty and utility that will ensure it remains a cherished possession for years to come.