Photography can be a highly synesthetic process and the proof for that can be simply looking closely at the Polaroid 1000 camera. For nostalgic and newcomers alike, this beautiful camera can pass as the visual equivalent of a kind of magic candy floss that combines fruit flavors with the smells of a warm summer night at the seaside.
On a more serious note, the Polaroid 1000 is the iconic model released by the company in 1977, hence its design and color scheme reflects the bright colors craze of that decade. The soft creamy plastic that makes up the Polaroid 1000's body, together with the round, robust buttons, the lens on the front, and the iconic rainbow stripe make it a truly memorable object.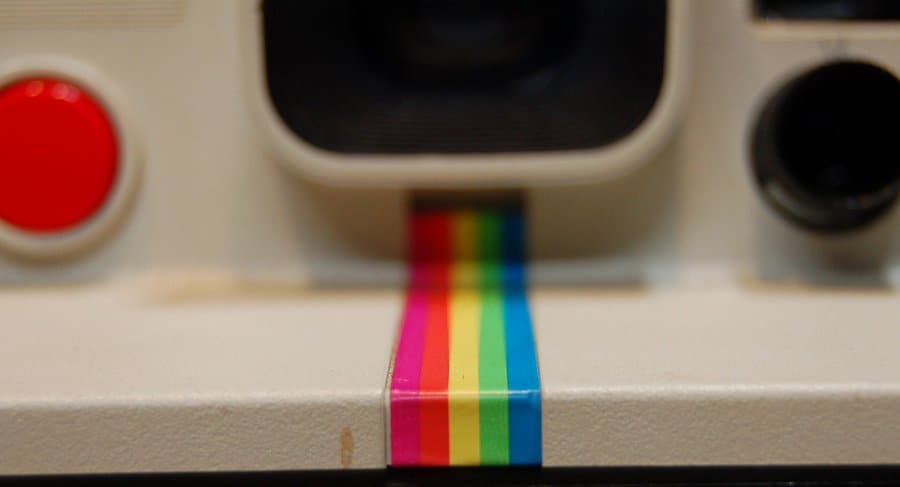 The Polaroid 1000 comes in two versions: with a red or a green shutter button, which is quite a nice quirky detail, dividing Polaroid 1000 buyers into the red or green button camps. And if this may seem a tiny detail, you may be surprised to know that enthusiastic collectors still argue over which was more popular when the camera was released in the 1970s.
Unlike other models like the Polaroid 600 or Polaroid SX-70, the Polaroid 1000 is a non-foldable camera, known as the 'box' type, with clear, bold lines, which makes it daring and gives it the air of a machine for creating something quite spectacular.
Technical Features
The Polaroid 1000 has a fixed plastic lens of 103 mm, a range of shutter speeds from 1/4 to 1/200 making it accessible for different types of light conditions, it has a fixed aperture and focus, which, as with all other Polaroid cameras, makes taking photographs an easy, pleasurable pursuit. Although you don't need to focus when you shoot, you do need to be about 1,5 m away from your subject, otherwise it will turn out blurry. Depending on what you're aiming to achieve in your photo, this is actually a good trick to know in case you may want to create a blurred, abstract pattern of colors, for an interesting landscape or night scene.
Just like the Polaroid 600, the Polaroid 1000 has the 'darken/lighten' function, and exposure compensation dial located around the electric eye, which allows for minimum adjustments in very bright or dark conditions. The viewfinder has a good, rubbery eyepiece which makes it comfortable to use and also keeps the dust away.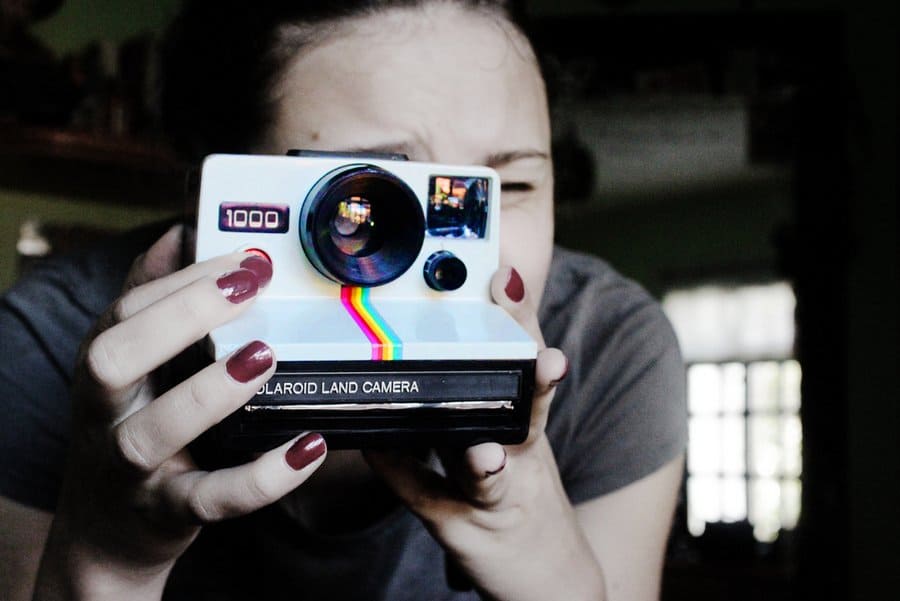 On the backside, the Polaroid 1000 has a useful frame counter which is always handy to check in case you're out or traveling, to avoid running out of film supplies. On the back, there is also a tripod mount. However, you have to purchase the tripod accessory as it normally doesn't come with the camera.
The flash bar, known as the Q-light, comes on top of the camera, it's easy to mount and to detach, and it actually it fits well on any SX-70 non-folding cameras although it was made to visually go with the Polaroid 1000 body with its rainbow stripe.
As with the Polaroid 600, you don't need to worry about taking a camera charger with you, because it works on the battery included in each film cartridge. This means that you need to pay attention to using a new film when you try out the Polaroid 1000 so that you make sure the integrated batteries are not out of date.
Once you take the photo, don't forget to put it away in a dark place (pocket, rucksack) so that it can develop and not be ruined by the sunlight.
The Polaroid 1000 works with PX70 and PX100 film that the Impossible Project has been producing since 2009 and which you can order online. You can load the camera with color or black and white film, and the cartridges come with different frame colors.
This is a little treat for those who want to give the subject they are shooting with a special mood or strong contrast: bright colors work well with a black frame film cartridge, whereas the white or golden frame resonate better with dreamy subjects, but the choice is all yours and, as with any Polaroid cameras, chance or a spontaneous decision makes photographing more interesting.
Where to Buy the Polaroid 1000
You can buy the Polaroid 1000 in flea markets, via eBay or Etsy if you use search terms such as 'vintage, analog cameras' or 'instant cameras' or simply Polaroid 1000. It was released under different names for the US and the non-US markets, so you may sometimes find it as the Polaroid OneStep.
The Impossible Project constantly refurbishes and sells Polaroid 1000 cameras, so this is a more pricy but safe choice for finding a good, working camera. If you're lucky, you might find it together with the original Polaroid leather bag, a simple black bag with a zipper, or with the sturdier leather case which takes the shape of the camera and is a bit smaller in size.
As with any second-hand cameras, it may happen that you load good, new film and it still doesn't work. This is a seldom reported fault with cameras bought off flea markets or online websites, so a good tip from Polaroid 1000 geeks is to try to remove the flash bar and then shoot.
Home Décor Ideas
The Polaroid 1000 is very attractive not just for collectors of vintage cameras but also for vintage enthusiasts who are looking for interesting objects for home décor.
If you want to go beyond just placing the camera on a mantelpiece or in the bookshelf, go for something less conventional and hang it on the wall by its neck strap, with a large enough frame around it, on its own or with a few others around.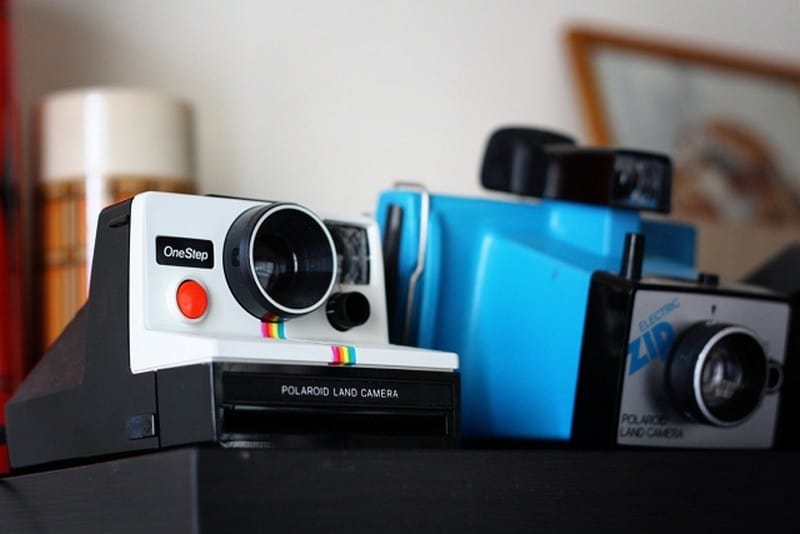 Overall, the Polaroid 1000 cannot miss from any serious vintage cameras collection. If you take it with you on your travels you'll most surely start a conversation about photography sooner or later because it is a camera that wants to be seen and will not go unnoticed.
Whether used as a camera, as an accessory, or a home décor element, it is the kind of object which you will keep for a long time.