The Electronics Flea Market in Silicon Valley is certainly one of the most specialized and niche-focused events among all flea markets in the San Francisco Bay Area. Indeed, as a worldwide hub for technology firms, what better place could there be to organize such an event than Silicon Valley, California? Electronics enthusiasts, amateur radio operators and collectors of vintage electronics all gather at this monthly market in Sunnyvale, CA.
What to expect at the Electronics Flea Market in Silicon Valley
At the Electronics Flea Market, a wide range of second-hand electronics, electronic components and vintage electronics and electrical appliances can be bought and sold. Expect all kinds of cables, connectors, radio equipment, classic computers and consumer electronics. You may also find software, specialized books and as well as tools at the market. Interesting oddities and long-forgotten electric appliances may be uncovered there and some of the vintage electrical devices certainly qualify as collectibles.
Founded around fifty years ago, the market is run by the Association of Silicon Valley Amateur Radio Organizations to the benefit of their member organizations' non-profit activities. For a long time, the market used to be held at the De Anza College premises in Cupertino, where the De Anza Flea Market takes place. Recently, the market moved to Sunnyvale where it is held at Fry's Electronics parking lot.
Insider tip: If you are serious about buying supplies and collectibles at the Silicon Valley Electronics Flea Market then you better get up early. Rain or shine, the market starts at 5 am and some vendors already pack up a few hours later, although the official closing time is noon. At 7 am or 8 am in the morning the market already starts to slow down.
The flea market is very popular among electronics enthusiasts and attracts an interesting crowd, which makes it worth a visit just for a casual stroll. Although very well attended, the market caters to the kind of specimen that has become rare nowadays – those who prefer to fix broken electronics and reuse them instead of throwing them away. As such, the market does not only benefit the non-profit organizations that volunteer to run it, but also the environment by helping to reduce electronic waste.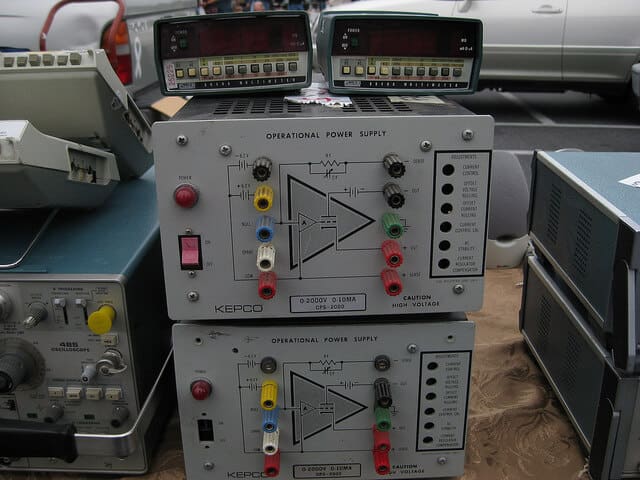 Silicon Valley Electronics Flea Market
Schedule: 5 am – 12 am, every second Saturday of the month, March-September. Please check the organizer's website for an up-to-date schedule.
Directions: Fry's Electronics, 1077 E Arques Ave, Sunnyvale, CA 94085
Admission: Free
Overview: The best flea markets in the San Francisco Bay Area >>
Next: Solano Way Swap Meet, San Francisco (Concord, East Bay) >>