The first, indelible impression that most visitors get of the Latvian capital is its majestic skyline, as viewed from the left bank of the Daugava River.
Travelers visiting Riga will find a breathtaking range of architectural styles in the historical center. After all, Riga is more than 800 years old. And each century has left its marks in the architecture in the Old Town and City Center, where the cultural heritage coexists with the quick pace of modern living.
This is not for no reason that Riga is known as the pearl of architecture: a city in which one can see together in one place, churches that were built at the city's very origin, the medieval buildings of the Old Town as well as wooden architecture which has survived for centuries. Furthermore, Riga's wealth of Jugendstil or Art Nouveau buildings, complete with their fantastically ornate flourishes, stands out as unparalleled anywhere in the world.
Proud of its heritage, Riga is a thoroughly modern city with a highly developed infrastructure and opportunities for a variety of activities. Leisurely shopping in the Old Town takes visitors from art galleries settled in narrow streets and little shops selling souvenirs, to Riga's revitalized Warehouse District which hosts one of the city's most awaited flea market.
Spīķeri Flea Market
Once a month, treasure hunters and vintage oddities enthusiasts gather in Riga's revitalized Warehouse District (Spīķeri quarter) in the neighborhood of the Central Market for some fun alternative shopping. The Spikeri district has served since the 14th century, as a huge warehousing area, where the cargo was loaded and unloaded before being traded in Riga. Therefore the Spikeri district is pretty familiar with this trading spirit.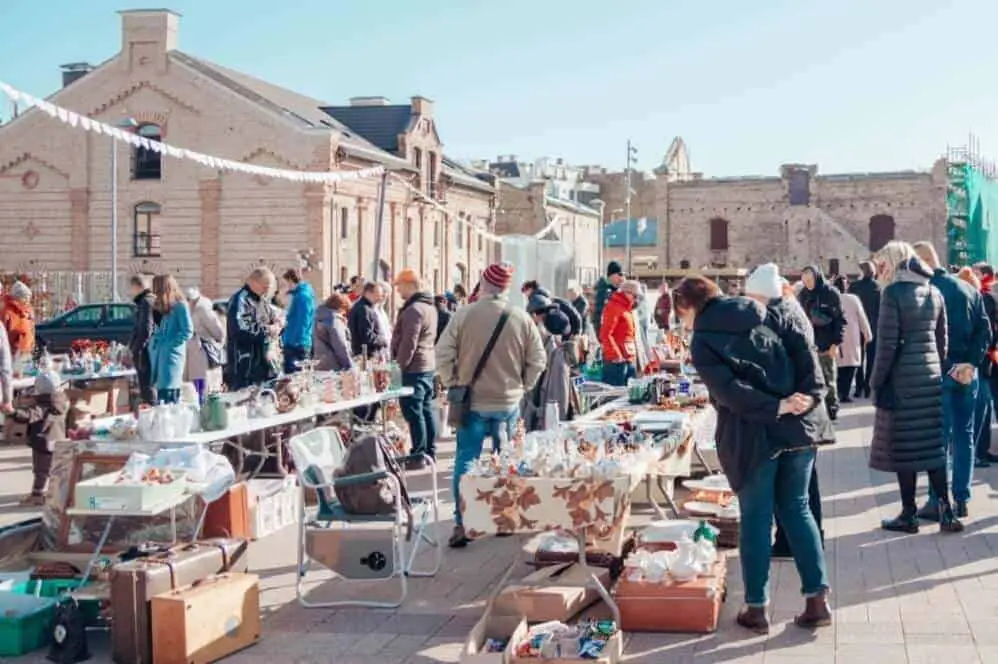 Nowadays, the renovated brick buildings surrounding the Spīķeri Flea Market are home to a variety of shops, galleries, and cafés. And on flea market days, visitors can buy antiques, vintage furniture, retro clothing, vinyl records, jewelry, and other knick-knacks.
Spīķeri Flea Market upcoming dates in 2020: 04.04.2020, 18.04.2020, 02.05.2020, 16.05.2020, 06.06.2020, 20.06.2020, 11.07.2020, 08.08.2020, 22.08.2020, 05.09.2020, 19.09.2020 (the organizers of the Spīķeri Flea Market try to host a flea market on every first full weekend of the month).
Spīķeri Flea Market
Where: Maskavas 8, Rīga, LV-1003, Latvia
When: Once a month on Saturday, 11 am – 4 pm.
Website: spikeri.lv
Latgale Tirgus Flea Market
The daily Latgales Flea Market (or Latgalīte Flea Market) is a legend among flea markets enthusiasts in Riga and is considered by many as one of the best flea markets in the whole Baltic region, even though it is located in the least popular part of Riga.
Travelers who do not leave the old town district during their stay in Riga may get the impression that this grand city does not have a host of economic struggles. But a short pop over to the Latgale Tirgus flea market will give them a relatively interesting glimpse into the past and present of this Russian, German and Scandinavian influenced town.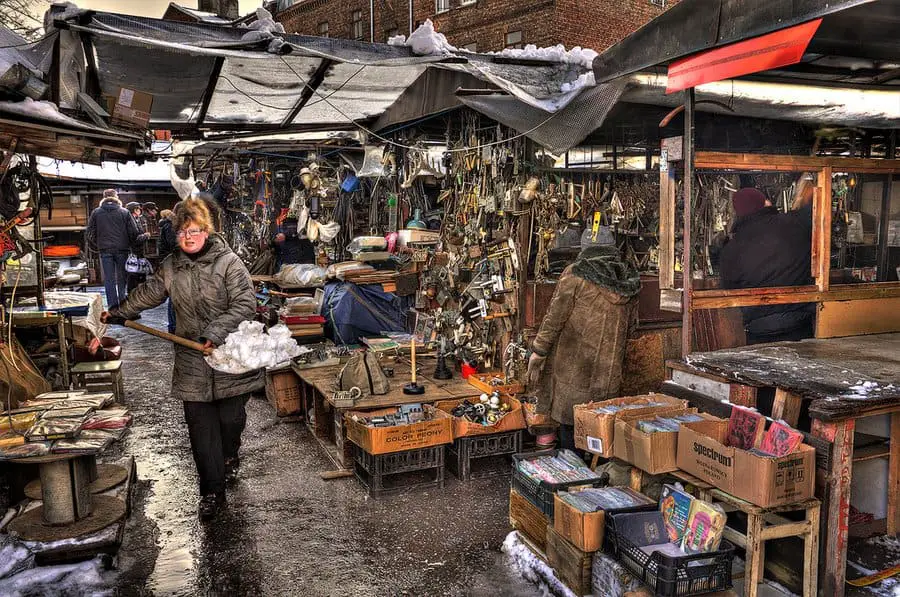 Basically, one can find almost everything at the Latgale Tirgus flea market, starting from old vinyl records, useful things for the home, different kinds of bicycles (this flea market literally overflows with bicycle parts…), obsolete electronics, suitcases, old coins, books and a seemingly endless assortment of junk. But the most interesting stalls visitors may come across, are those selling Soviet-era memorabilia like pins and uniform parts of the Red army.
So if you need to buy a gift for your friend or a souvenir from your trip to Riga, the Latgale Tirgus flea market is the place you want to visit. Even though the market itself caters mainly for hardware goods, there are plenty of hidden gems between the metal and tools! Also, you should visit the Latgale Tirgus whilst you can, as there are talks to decide on its future. Some parts of it have already been cleared out…
Most of the sellers in the market only speak Russian. But a few of them can also speak English. Also, note that, weirdly enough, taking pictures is not allowed in Latgale Tirgus.
Tips for shoppers
Go to the Latgalīte Flea Market in the morning. The flea market is open from 8 am to 5 pm, but some sellers are starting to leave already at 1 pm.
Be aware of pickpockets. Some shady people are hanging out at the entrance, others walking around the market.
Take a local person with you to ease up the communication and avoid spending too much money on a thing that is exotic for you, yet common in this region. (thank you Toms Mūrnieks for these great tips!)
Latgalīte Flea Market / Latgales Flea Market
Where: Firsa Sadovņikova iela 9, Rīga, LV-1003, Latvia
When: Open Tuesday to Sunday,  8 am – 5 pm