Sharing tips explaining how to make the most out of flea markets, over and over is never a loss of time. Kimberley Seldon of Style At Home today shares her owns.
There's an art to successful flea marketing. Some tactics (like keeping money tucked away) are useful at any flea market, while others are specific to a particular place. For instance, at a flea market in France, if you don't begin an exchange with "Bonjour, Madame/ Monsieur," you're finished. For those planning a trip to France, we've made a handy little guide about to make the most of a flea market shopping trip there, and a list of 10 idioms which are typical at French flea markets.
Whether you're on the search for that one final addition to a treasured collection, a perfect memento, brocante (a collectible with charm but little monetary value), or a specific item of furniture, you'll find it at a flea market. Here's a list of tips to help you score a great bargain next time you'll show up at the flea market.
Flea market tip #1: Arrive early
My motto is, "If you don't need a flashlight when you get there, you're too late!" The good stuff goes fast.
Flea market tip #2: Do your research
Confident negotiators are familiar with the qualities and price ranges of particular items. Also, doing properly your research will help you avoid getting fooled by a merchant selling fake merchandises.
Flea market tip #3: Determine quality
Look underneath furniture and inside drawers for clues to quality and state of repair. Are the joints dovetailed? Can you see finishing nails or glue? Has a dark stain been applied over the drawer interior or underneath the item, likely indicating a repair? (Note: A repair isn't necessarily a bad thing; it may make the item more affordable.)
Flea market tip #4: Ask the dealer
"What's been done to this piece?" This simple question implies that you have some knowledge and encourages the dealer to be forthcoming with information.
Flea market tip #5: You found it? Grab it!
Successful flea marketers rely on instinct. If you're considering a particular item for purchase, keep your hand on the goods. This signals to the dealer and other potential buyers that you spotted it first. It's one of the basic rules of shopping like a pro!
Flea market tip #6: Try to be creative when it comes to negotiate
I once challenged a dealer to a card game when he and I couldn't agree on a price. A sense of humour and an appreciation of the goods make any dealer more inclined to work with your budget.
Flea market tip #7: Keep your money tucked away
A waist belt is ideal since it frees up hands for shopping. Also, carry small change for coffee, lunch and little impulse buys.
Flea market tip #8: Measure before you purchase
Forgot your tape measure? Remember this: a Canadian dollar bill is 6″ wide.
Flea market tip #9: Show your enthusiasm
For a dealer's goods before venturing to make a deal. Negative comments like "You can't be serious—there's no way it's worth that much!" are unlikely to encourage positive negotiating. Keep in mind that the dealer has probably spent weeks acquiring the item in question, and he or she believes it to be of real value.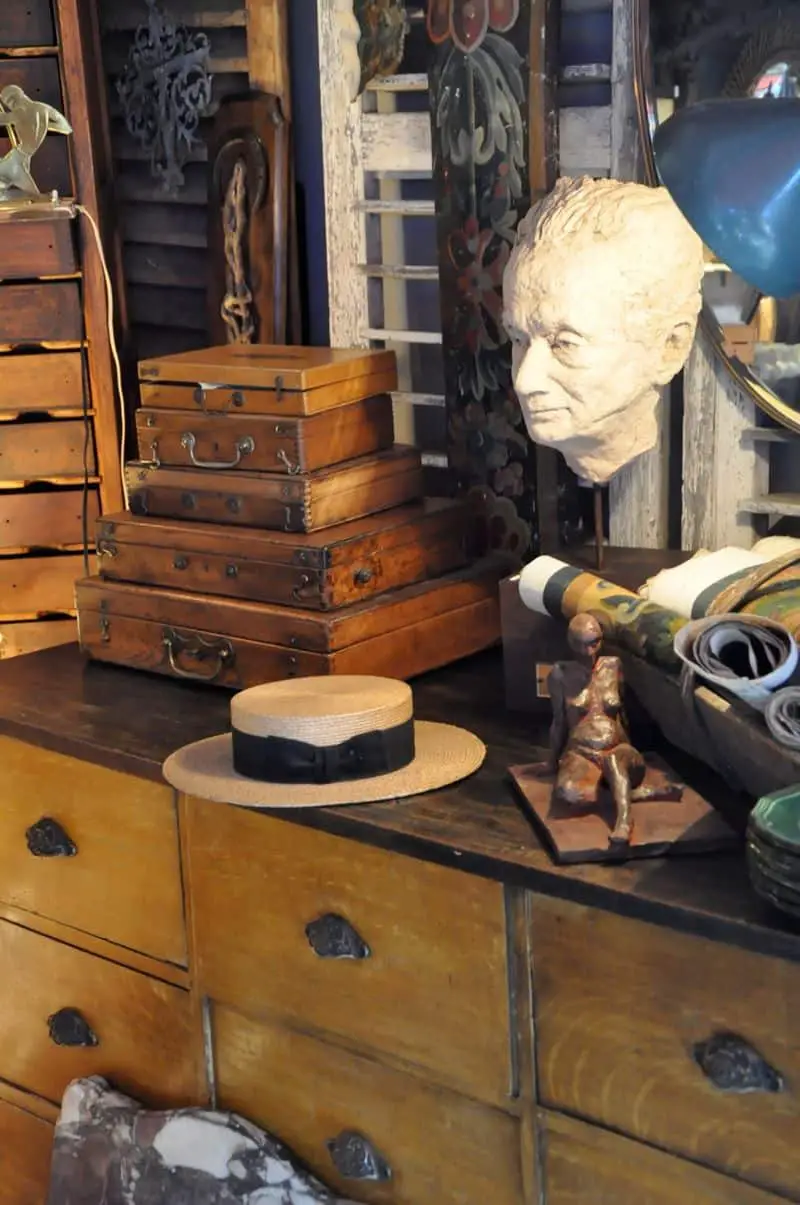 What to look for at local flea markets (particularly when traveling abroad…)
Suitcase smarts
For many of us, marvelling at and sampling local crafts, furnishings and foods is a major part of the whole travel experience. If you're like me, you'll agree that nothing compares with the satisfaction of buying at source.
Original artwork
Should be at the top of every traveller's shopping list. Unframed pieces are nearly indestructible, fit easily into suitcases, and carry fond memories for years to come. Look beyond the local marketplace for artists. A talkative shop or restaurant owner may tip you off to the location of a local studio where up-and-coming as well as more established artists show their work.
Antique boxes
Antique boxes are widely available in a variety of materials. I search out wooden boxes with inlaid marquetry (contrasting wood in different shades of stain), shagreen and lacquered finishes.
Serving trays
Serving trays lie flat amid folded clothing and are always welcome gifts. Regional examples might be made of tole (hand-painted metal), wood, pewter or silver.
Antique textiles and lace
Textiles can be framed or used to create decorative pillows when you get them home. Also, they can be easily transported, which is a pretty great advantage when you're traveling abroad (and save you the hassle and cost of having your flea market finds shipped back home).
Local delicacies
Local delicacies such as jam, pâté, cookies and tapenade can often be found at "foodie flea markets", and savoured for weeks following a trip. I search for beautiful sugars wrapped in unusual packaging, infused with lavender or decorated with fanciful details, to give away as hostess gifts once I'm home. Make sure you wrap packages in heavy sealable bags in case of breakage. I once opened a suitcase only to discover that everything in it was marinated in the olive oil I'd purchased in Tuscany.
Leather-bound books
Old books, though they're quite heavy, are often priced very reasonably at flea markets, fairs and antique shops. Vintage tomes look wonderful on bookshelves and tabletops.