For country-music fans and aspiring songwriters from all over the world, a trip to Nashville, Tennessee is the ultimate pilgrimage.
Because of its status as a major hub of music production and its vibrant music and entertainment scene spanning a variety of genres, Nashville attracts a wide array of singers, musicians, and songwriters. That ain't for no reason that Nashville is the heart and soul of the country music industry and why it is also nicknamed Music City!
However, besides its most revered landmarks – like the Country Music Hall of Fame and the Grand Ole Opry House – as well as its rough blues bars, historic buildings, friendly people, the lively university community, big-name sports, and excellent fried chicken, Nashville has something else that makes it truly complete:  one of the biggest flea markets in the US, the Nashville Flea Market, a big monthly event, also known as the Nashville Fairgrounds Flea Market.
The Nashville Fairgrounds Flea Market
On the fourth weekend of every month, from Friday to Sunday, the Nashville Flea Market takes over the state Fairgrounds. Thousands of shoppers flock to this truly massive garage sale, which has something for every type of vintage enthusiast who's willing to take the time to look around: From bric-a-brac to antiques, refurbished & vintage furniture, dollar items, wholesaler stuff, crafts, jewelry, vintage clothes – you name it, the stalls at the Nashville Flea Market probably have it.
And with over 1,700 booths (half indoors / half outdoors) and approximately 800 to 1,200 dealers and vendors from 30 states, the Fairgrounds Nashville has more to show than what the average person can see in one day! This explains why this flea market, which is dubbed one of the biggest flea markets in the U.S., can only be mastered with multiple trips.
All throughout the parking lots and through the buildings the Fairgrounds Nashville has some of the most interesting wares to show.  There is just no way in the world someone – not even a seasoned flea market shopper with years of experience – could actually embrace in one weekend, let alone in one trip or one single day, the full glory of this monthly event's shopping experience!
The thing is, the Nashville Flea Market showcases a lot of amazing stuff, and particularly antiques. And all of this can be a bit overwhelming if you don't have anything specific in mind – all the more so as if you're a newbie to this flea market.
On the other hand and for the same reason, some people do recommend showing up there with a minimal idea of what you want, and just buzz around until you stumble upon something you may need or didn't realize you needed. If you go to the Nashville Flea Market without anything in mind, one tip to find a good bargain is to simply keep your eyes open to the people that go there: you'll spot the regulars in a heartbeat, which may help you identify the sweet spots of the Fairgrounds Nashville and the aisles to avoid.
The same regulars will tell you one thing: it is possible to score some stellar deals on furniture and home decor if you're willing to dig through some junk and take the time to chat with the merchants: besides the excellent variety of booths, the vendors are very friendly, excited to talk about what they are selling, and willing to haggle –  especially if you can pay in cash. One couldn't ask for more!
You might hear people talk about the Nashville Flea Market as a place that merely sells "fake purses, diapers, packages of gum for 50 cents or tube socks for a dollar". If this is not what you're looking for, it is generally pretty easy to avoid booths that sell this kind of merchandise, since there are multiple buildings and several different outdoor areas around the Fairgrounds – most of the new stuff is concentrated in a couple of big buildings. After a time or two, you will get a sense of where to find the stuff that's right for you.
Last but not least: as always with flea markets, it usually helps to have little or no expectations. And the Nashville Flea Market is no exception to this rule: by doing so you'll thus be open to the magic of finding something you never expected!
Nashville Flea Market
Where: State Fairgrounds – 625 Smith Ave Nashville, TN 37203 (show on interactive map)
When: Fourth weekend of each month, January through November, and third weekend of the month in December. December – February: Noon to 5 p.m. Friday, 7 a.m. to 5 p.m. Saturday, 7 a.m. to 4 p.m. Sunday | March – November: 8 a.m. to 5 p.m. Friday, 7 a.m. to 6 p.m. Saturday, 7 a.m. to 4 p.m. Sunday.
Nashville Flea Market: 7 tips to make the most of your trip there
#1 Plan your trip in advance
The Nashville Flea Market only happens the fourth weekend of every month, Friday-Sunday. So be sure to plan in advance for this big event! You should allow yourself some serious time because this monthly event takes up the entire Fairgrounds. Plan to make a day of it, soak it in, watch the people: there is so much to see there.
#2 The early bird gets the worm!
Arriving early at the Nashville Flea Market (before 9 am when regular admission starts) will allow you to scope the vendors without the crazy number of people creating bottlenecks throughout the grounds. Also, keep in mind that many vendors might still be unpacking their stuff by the time you get there.
#3 Bring cash
A lot of vendors accept credit cards. But since they have to pay the credit company a commission on each sale made, it often turns really expensive for them to use those machines. And it can be difficult to pass on really great deals to shoppers who use a Visa or a Mastercard. This is the reason why most of the booths at the Nashville Flea Market take only cash. And since vendors are always open to bargaining, paying in cash will get you a better deal. There's a couple of ATM's in the buildings of the Fairgrounds.
#4 Keep your eyes open
You can easily get lost in the Nashville Flea Market, as every room has vendors. So you may actually miss an entire section of interesting items if you don't watch out. If you're specifically looking for great deals, then head to the tables which seem to only sell junk – basically the kind of booths that are not well branded or which do not have a business name.
#5 Stay open-minded when shopping
Be aware that you will see a lot of junk at the Nashville Flea Market, like in any other marketplace. However, something which at a first glance may seem like junk could become super cool if cleaned up a bit. And if you see something you are interested in, just get it and don't try to convince yourself that you will come back later: you probably won't remember by then where this item was located!
#6 Gear up!
You need to wear supportive shoes, as the Nashville Flea Market is definitely not a place to wear flip-flops – even when the day is really warm. If you plan on spending the whole day rummaging, then you need to wear comfy shoes or you will be sorry at the end of the day. Also, don't forget to wear sunscreen and a hat. True veterans always bring carry rolling carts, wagons, or cases on wheels for serious shopping. If you're planning to bring back heavy objects like pieces of furniture, do bring a cart or wheelbarrow of some kind, because you'll need it to carry your findings.
#7 Find the right place to park your car at the Nashville Flea Market
The Nashville Flea Market is admission-free. However, shoppers and merchants who get there by car will need to pay a parking fee. Some of the people living in the neighborhood of the Fairgrounds allow parking on their property for $3. Alternatively, it is also possible to find legal parking in the nearby streets. The secret to a good parking spot is to come in from Bransford Ave.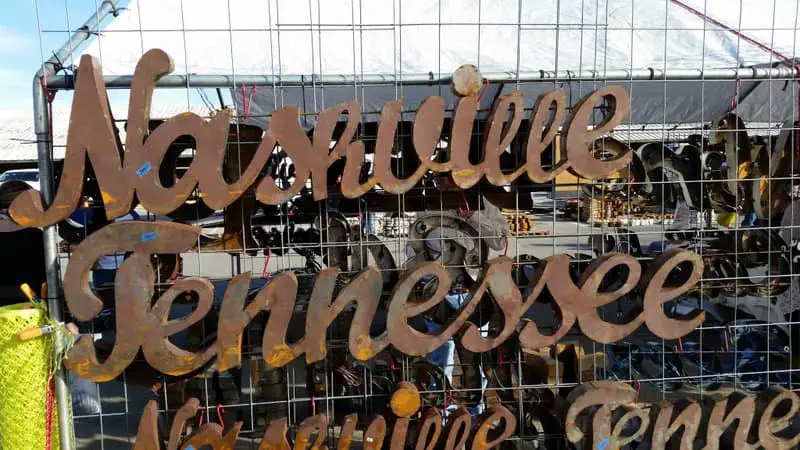 When is the best time to go to the Nashville Fairgrounds Flea Market?
All months or days are not created equal when it comes to flea market shopping and selling. Since the Nashville Flea Market operates all year long – January through December – there are days that are more convenient than others.
For instance, Sundays have the best deal, particularly if you're looking for a big object: Sunday after 2 p.m., the dealers will really work with you because they generally don't want to have to pack up their bulky items and move them. Also, attending the Nashville Fairgrounds Flea Market on Friday or on Sunday is going to get you some better prices and crowds will be less.
Another piece of advice is to try to go to the Nashville Flea Market on a cool day, so you don't end up too tired and cranky after a long day at the flea. In fact, the best months with the most selection are generally the ones at the peak of Spring and Fall. Winter is the worst because it is really cold; but you also may get a really good bargain because, in Winter, the vendors really need to sell whatever they have in order to break even.
Did you know that?
The nickname Music City dates back to 1874, where after receiving and hearing a performance by the Fisk Jubilee Singers, Queen Victoria of England is reported as saying that "These young people must surely come from a musical city".
---
Bonus: US flea markets on a map!
You can now visualize the best flea markets and antique fairs in the US, on a map! Not only have we included all the above flea markets, but we've added to the mix some of the country's most acclaimed antique fairs. Just click on the image below to access our map feature for free.