Hey, what's with that piece of conceptual art. I don't get it. Like, I could do that.
Who hasn't heard or felt compelled to say this sentence out loud when looking at a piece of particularly minimalist artwork? Art can indeed sometimes be tricky to grasp, particularly when prices obscenely exceed the apparent level of dexterity of the artist.
Some artists in the beginning of the 20th century, took on new approaches to material, purposefully avoiding showing off technical skill, and for lots of good reasons. Like for instance, to question the value of unique objects, to upset the dominant art trends at the time, or to undermine the commercial system of art by creating work that is unlikely to be trophies for the rich. A total rupture with art as we knew it.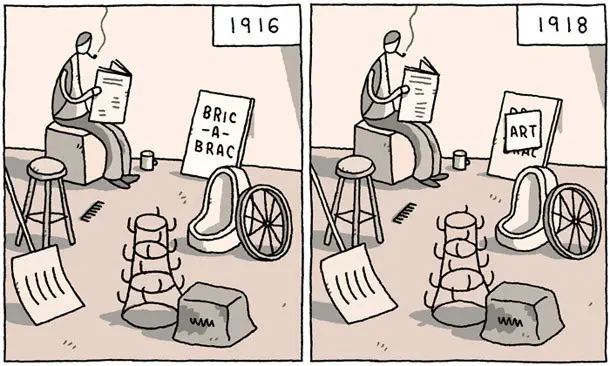 The most extreme example in the 'what is art' debate, is probably Found objects. Found object, also known as "readymade", originates from the French objet trouvé, describing art created from completely unaltered everyday objects selected by the artist and designated as art. Nowadays, readymade artworks sell for millions of dollars, one of the most famous sales in recent years being Marcel Duchamps' Bottle Rack (which recently reached the stellar price of 13 million euros).
And if you're wondering what prevents you from owning your own "readymade" artwork at home, the answer is absolutely nothing! You don't even need to put a mortgage on your house anymore! The answer my friend is simply at the flea market.
Here are 6 flea market finds for you to create your own (home-made) "readymade" artwork.
Porte-Bouteilles (Bottle Rack) – Marcel Duchamp, 1914
The Bottle Rack (also called Bottle Dryer or Hedgehog) is an artwork created in 1914 by Dada artist Marcel Duchamp. Duchamp labeled the piece a "readymade", a term he used to describe his collection of ordinary, manufactured objects not commonly associated with art. Marcel Duchamp claimed to have bought the Bottle Rack at a department store called Bazar de l'Hôtel de Ville near the Paris city hall.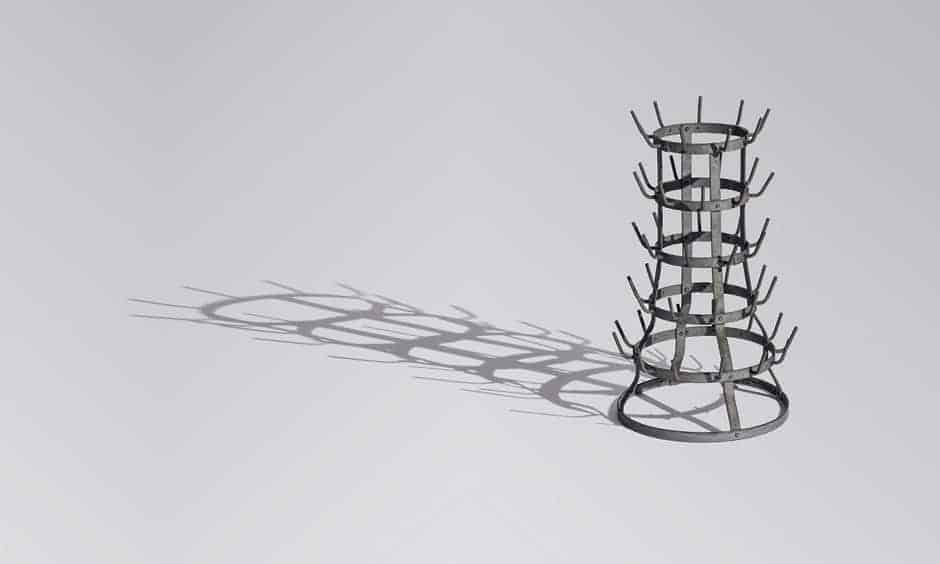 The Bottle Rack was a typical, metal rack used for the drying of bottles, but the spiky, aggressive appearance of the piece earned it the name of Hedgehog. Unlike the earlier Bicycle Wheel (1913) or Pharmacy (1913), the Bottle Rack was not modified in any way, making it the first, "true" example of a readymade.
Location: Various private collections and museums such as the Philadelphia Museum of Art, the Norton Simon Museum, the Moderna Museet, and the Rauschenberg Foundation
Specs: Bottle Rack, from 50 x 33 cm (1921) to 73.8 x 35.6 cm (1963)
Gallery Price: estimated 12.9 million euros (Porte-Bouteille 1960, New York – Rauschenberg Foundation)
Flea Market Price: €45 – €250
Source: Wikipedia
En prévision du bras cassé (Prelude to a Broken Arm) – Marcel Duchamp, 1915
Prelude to a Broken Arm (En prévision du bras cassé in French) is a 1915 sculpture by Dada artist Marcel Duchamp that consisted of a regular snow shovel with the title and "from Marcel Duchamp 1915" painted on the handle. An antidote to what he called "retinal art", this sculpture was the second of a series of sculptures that he called "ready-mades", the most famous of which is his 1917 Fontaine (Fountain). At the time, the term "ready-made" referred to manufactured goods as opposed to handmade goods, but Duchamp used the term to describe "an ordinary object elevated to the dignity of a work of art by the mere choice of an artist".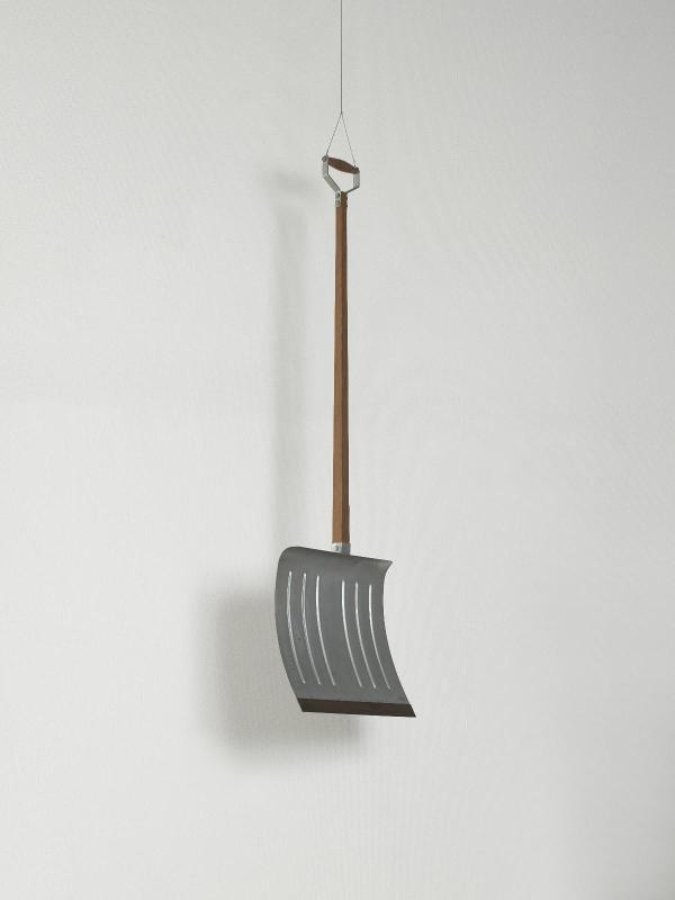 The original was hung from a wire in the studio and has since been lost. It is believed that the shovel was mistaken for an ordinary snow shovel and was removed to move snow off the sidewalks of Chicago.
Location: A replica of the sculpture is on display at the Yale University Art Gallery in New Haven, Connecticut.
Specs: Wood and galvanized-iron snow shovel, 132 cm (52″) high – 1964
Gallery Price: n.a.
Flea Market Price: $30 – $120
Source: Wikipedia
Indestructible Object (aka. Object to Be Destroyed) – Man Ray, 1923
Object to Be Destroyed is a work by American artist Man Ray, originally created in 1923. The work, destroyed in 1957, consisted of a metronome with a photograph of an eye attached to its swinging arm. It was remade in multiple copies in later years, and renamed Indestructible Object. It is considered a "readymade", following in the relatively new tradition established by Marcel Duchamp of employing ordinary manufactured objects that usually were modified very little, if at all, as works of art.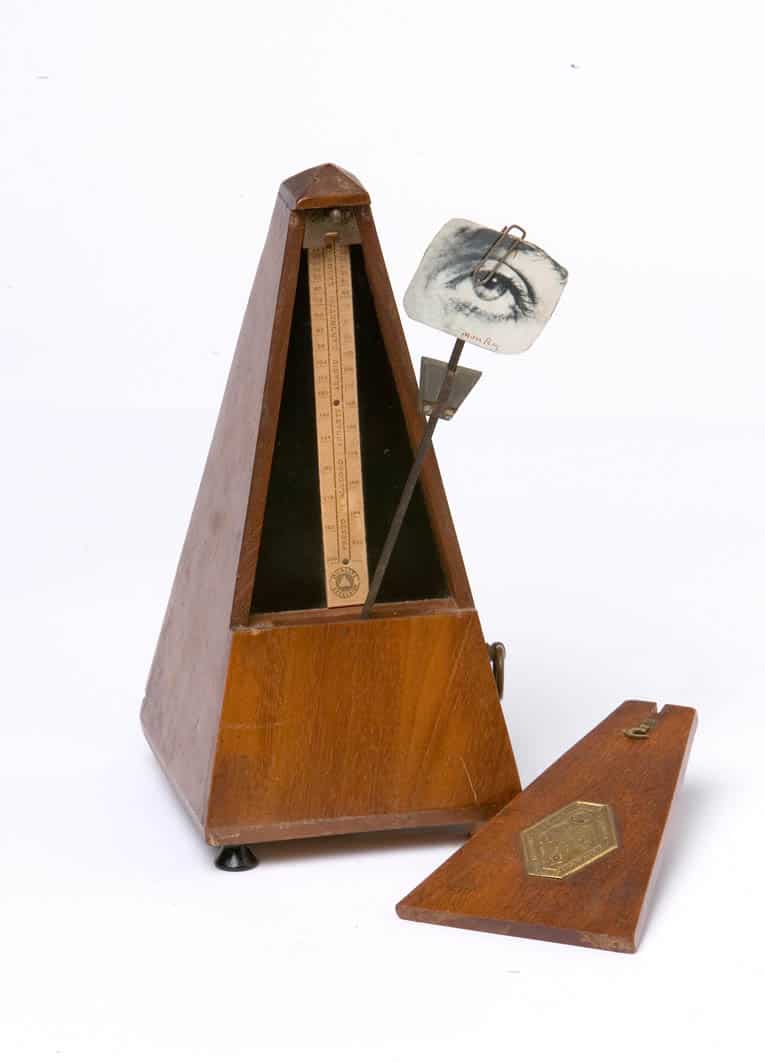 The work consists of two elements. One element is a metronome manufactured by the Qualite Excelsior company. The other element is a small cutout of a black-and-white photograph of a woman's eye. The particular metronome is a mass-produced product that might be commonly found in many homes. It was probably secondhand when Man Ray reconfigured it as an art object, as it is marred, worn, missing minor parts, and stands on mismatched feet, though its mechanism is in fair working order.
Location: Examples of the work are held in various public collections including Tate Modern London, MOMA New York, and Reina Sofía, Madrid.
Specs: Metronome with cutout photograph of eye on pendulum, 8 7/8 x 4 3/8 x 4 5/8″ (22.5 x 11 x 11.6 cm) – 1923 – 1964
Gallery Price: n.a.
Flea Market Price: $15 – $164
Source: Wikipedia
Tête de taureau (Bull's Head) – Pablo Picasso, 1942
Bull's Head (French: Tête de taureau) is a found object artwork by Pablo Picasso, created in 1942 from seat and handlebars of a bicycle. It is described by Roland Penrose as Picasso's most famous discovery, a simple yet "astonishingly complete" metamorphosis.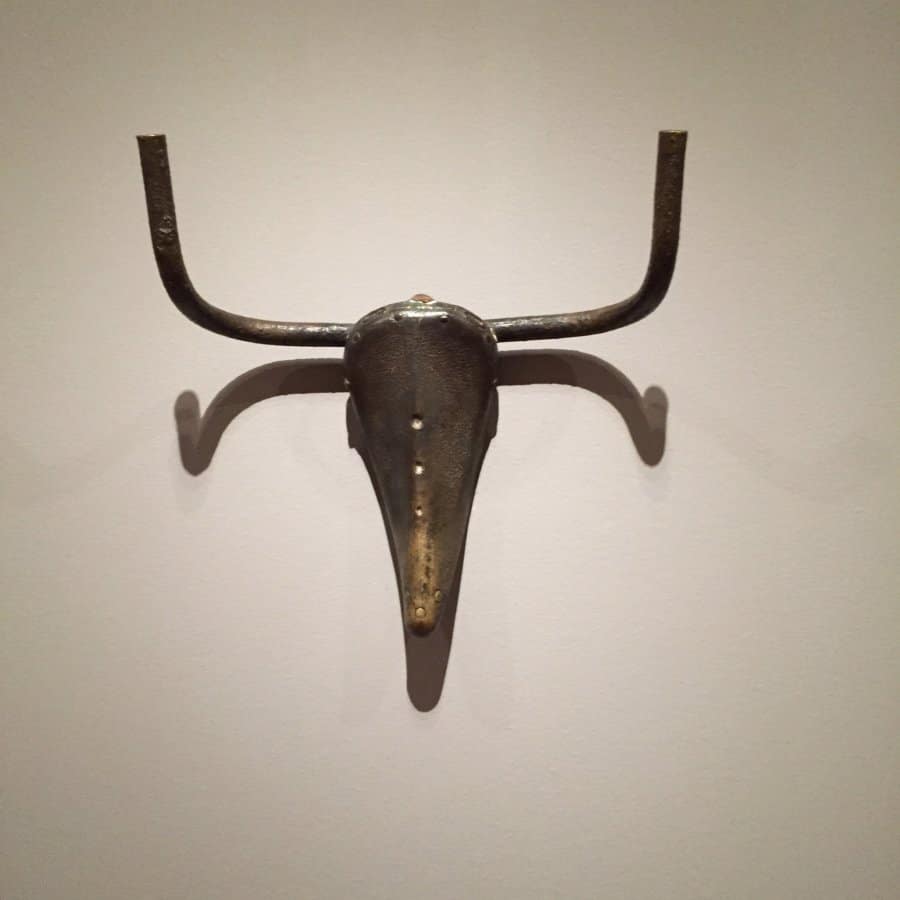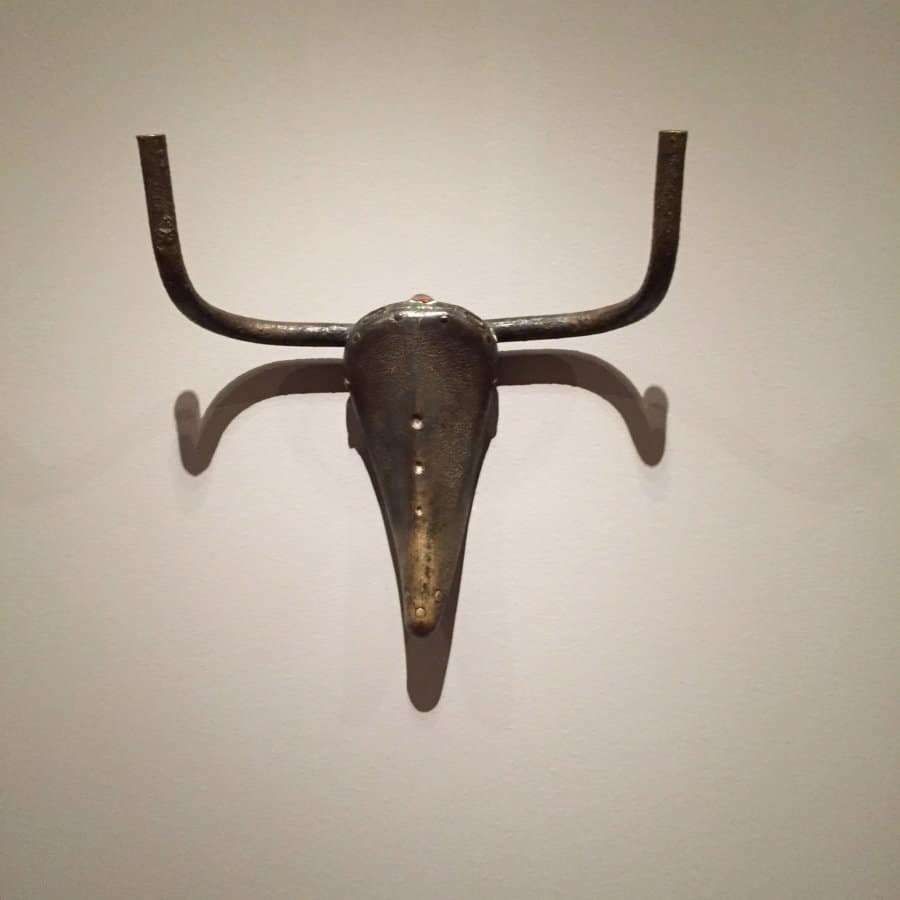 Picasso described the artwork in 1943 to visiting photographer George Brassaï, saying "Guess how I made the bull's head? One day, in a pile of objects all jumbled up together, I found an old bicycle seat right next to a rusty set of handlebars. In a flash, they joined together in my head. The idea of the Bull's Head came to me before I had a chance to think. All I did was weld them together… [but] if you were only to see the bull's head and not the bicycle seat and handlebars that form it, the sculpture would lose some of its impacts."
Location: The sculpture is in the permanent collection of the Picasso Museum in Paris.
Specs: bicycle seat and handlebars, 33.5 x 43.5 x 19 cm
Gallery Price: n.a.
Flea Market Price: $22 – $180 (vintage bicycle seat), $70 (vintage handlebars)
Source: Wikipedia
Grapes – Ai Weiwei, 2011
Grapes is made of 32 Qing Dynasty (1644–1911) stools woven together to form a semi-spherical bowl. Ai Weiwei has asserted that these three-legged stools are a fundamental expression of the aesthetic of rural China; they are crafted with no nails or glue, and every countryside home would have one or more, often passed down from generation to generation.
In re-purposing the stool into an entirely new form, the artist points to the potency and rapidity of the social, economic, political, and artistic changes facing China in the 21st century. Just as these humble household objects have abandoned their passive purpose and are knitted together with consummate strength, we can imagine individuals across his Internet-restricted country connecting and uniting online. The organic form of Grapes suggests it has sprouted naturally and might continue to grow into a whole impenetrable sphere.
In creating this sculpture, the stools, while modified, have not been destroyed. In fact, the artist has not only relied on their inherent shape but also on the assistance of local artisans using traditional carpentry and joinery techniques.
Location: Private collection
Specs: 32 stools from the Qing Dynasty 191 by 184 by 151cm.; 75 1/4 by 72 1/2 by 59 1/2 in.
Gallery Price: sold for £437,000 in 2015
Flea Market Price: $160 – $250
Source: Sotheby's
Darwin's Nudlradl Collection – Daniel Spoerri, 2013
Daniel Spoerri is a Swiss artist famous for his signature "snare-pictures." These assemblages of objects—most often the remains of a meal, including the plates, silverware, and glasses – are fixed to a table or board and displayed on a wall, thereby making the horizontal-vertical.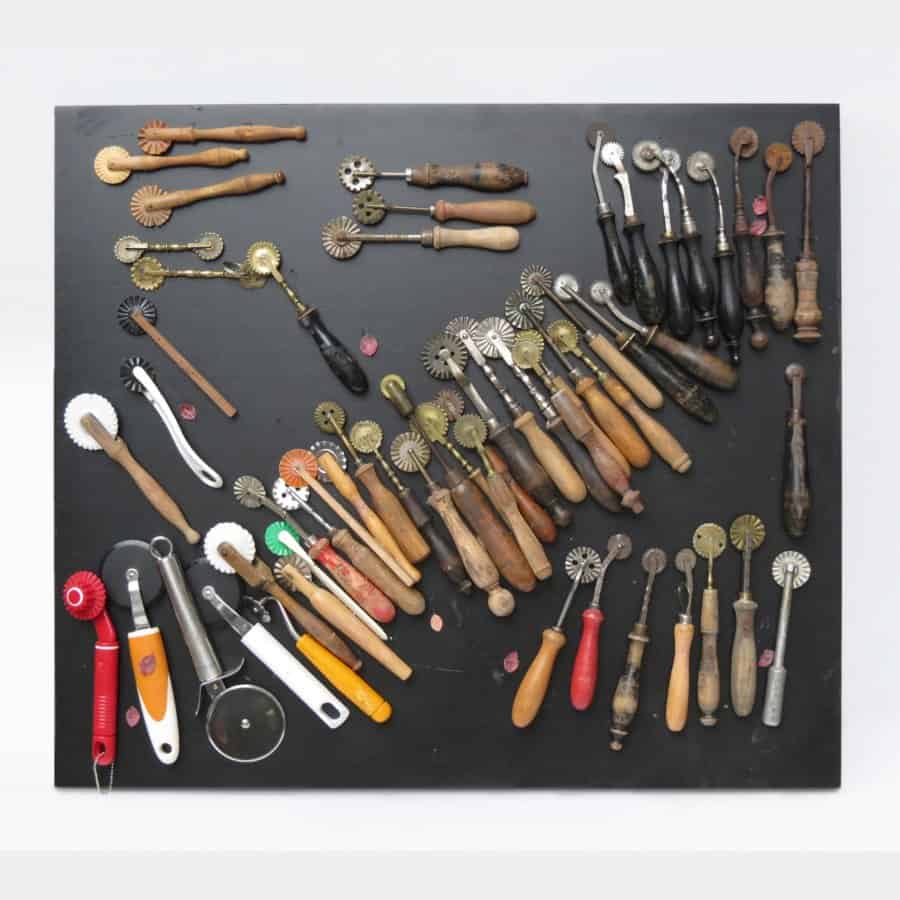 One snare-picture, made in 1964, consists of the remains of a meal eaten by Marcel Duchamp. This work holds the auction price record for Spoerri, selling for €136,312 ($200,580) in January 2008, distantly followed by another snare-picture from 1972, which sold for €44,181 ($69,860) in April 2008.
Spoerri continued to make snare-pictures, including snares of eaten meals, into the 1990s. He also has created assemblage works, mounting objects on reproductions of 19th-century medical illustrations as backgrounds. Spoerri has also produced serigraph and bronze versions of his works.
Location: Levy Galerie, Hamburg
Specs: Assemblage 60 x 69.5 x 5 cm. (23.6 x 27.4 x 2 in.)
Gallery Price: up to €136,312 ($200,580)
Flea Market Price: from $12 Vintage Pasta Wheel Cutter 
Source: Wikipedia, Artnet